The Genuine Article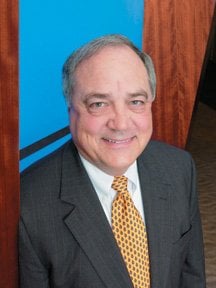 It was spring break of Phil Jacobs' senior year at Denison University, a small school in Granville, Ohio. So Jacobs did what college-age kids have been doing since Dionysus tended bar in ancient Greece. He went South. Not for beaches and booze. Instead, Jacobs and his new bride Jenny pointed their old Buick Opel toward Atlanta, where they hoped to find their future.
"We wanted to live in a big, emerging, kind of young city, so we narrowed our choices to Atlanta, Houston and Phoenix," Jacobs, 55, says, letting his memory cruise out of the meeting room in BellSouth's Lenox Park campus, back to 1973. "Atlanta was closest, so we jumped in the car, drove down for the week, stayed in a little fleabag hotel. We didn't know a soul, we just drove around the city dropping off applications."
Jacobs, an English major, had a sports show on the college radio station and did play-by-play for the Denison football team. He wanted a job in sports marketing or broadcasting, so he made the rounds to some of Atlanta's professional teams.
He also applied at Southern Bell, which was developing its sales and marketing program. That's who offered him a job. "It was a career pick in the dark, one that I was extremely fortunate to make," says Jacobs, president of Georgia operations for BellSouth, and Georgia Trend's Most Respected CEO for 2005.
In some ways, Jacobs' story is classic corporate Americana, the guy who climbs to the top from a low rung. He's the guy who started on the ground floor in a non-management sales and marketing gig, schlepping phones and service; the guy who worked his way up through a vertical maze, finding success at top executive posts in a Fortune 100 firm with 70,000 employees nationwide (about 18,500 in Georgia) and annual revenues exceeding $24 billion.
Friends and colleagues say Jacobs has maneuvered his way into power without leaving bloody footprints in his path. They use words like decency and magnanimity when they talk about him, and describe him as solid and focused.
"I don't think Phil has ever met a stranger in his life," says Rod Odom, BellSouth's president of network services. He's known Jacobs for more than 25 years. "Phil has a manner that when he's engaged with someone, he's totally engaged. All too often in today's business environment you find yourself sitting down with people who are obviously thinking about the next thing they want to do or say. But Phil is very real, and you find yourself believing very strongly that he is sincere in everything he does."
Jacobs is sincere when explaining his own work ethic, his anti-micro management style. "My belief is, you give people clear direction and set expectations, then get out of the way and let them do their jobs," he says. "The other thing is, I like to surround myself with people who are smarter than I am, let them be creative and give credit when something goes well, let them enjoy the success. It's unbelievable to me when I see managers who like to take credit for everything that goes well and then blame [subordinates] for what doesn't go well."
Tough maxims to sell for a top executive at a telecom corporation that has disconnected about 20 percent of its workforce in the past three years, but Jacobs looks you in the eye, and enthusiastically believes it. Job cuts, says Odom, "are the hardest thing we have to do. The difference with Phil is, I don't think anyone who works with him ever doubts that he cares. It's not a personal agenda with him. The people who work with Phil have confidence that, whatever the decision is, it's not based on a personal agenda. It's based totally on what he believes will create the most successful environment for the majority of the people in the company."
Chris Mangum, managing principal at Atlanta management consulting firm Venture X, calls Jacobs the "genuine article. What you see is what you get."
TUNED IN
What you see is something like a big kid with a major jones for music – all music. Jacobs has more than 2,000 CDs and almost 700 vinyl albums in his collection. By now he has loaded about 700 songs on his iPod. "I can listen to that little thing for 20 days, 24-hours-a-day, and never hear the same song twice," Jacobs says with a tone of endearing adolescent braggadocio. "I have zero musical talent, but I have good ears."
He's a typical Baby Boomer who loves the Beatles, the music of his youth, bands from the '60s and '70s, especially the Rolling Stones, The Who, The Grateful Dead. He's seen them all perform, including the Dead, when Jerry Garcia was alive and picking. Every year he and Jenny shuffle to Chastain to catch the old Motown acts, and he keeps his collection current with new stuff, like Cold Play. He loves Cold Play.
Jacobs is also something a movie buff. He likes films from the 1930s, the film noir stuff of the '40s and is hooked on modern action-adventure films, like the Indiana Jones trilogy, "Back to the Future," "Lord of the Rings." He has a state-of-the-art home theater and owns about 400 titles. In fact, he offers to show a visitor his inventory list, the one he carries with him everywhere in his briefcase.
At the office, his movie list stowed safely in the briefcase, Jacobs is responsible for overseeing all of BellSouth's business in Georgia, a transforming telecom arena, where 65 percent of the company's revenues come from businesses that didn't exist when Jacobs joined the firm 32 years ago.
Back then, before the divestiture of the Bell System, Southern Bell was one of 22 operating companies owned by AT&T, the monopolistic system that Jacobs grew up in. His father worked for the Chesapeake & Potomac Telephone Company, retiring as president of the company's Maryland operations, a position that foreshadowed Jacobs' current job. But Jacobs, who wanted to be a radio or TV broadcaster, says, "Growing up, I never made the connection with telecom. I never watched my dad and said, 'Gee, that's what I want to do.'"
Jacobs cut a circuitous path to his role atop Georgia ops, living or working all over the state (Athens, Augusta, Rome, Savannah) and the Southeast (Birmingham, Charlotte). But his most interesting post, both geographically and educationally, took him to Australia, where he spent almost two years as chief operating officer of Optus, a communications company partially owned by BellSouth at the time. Based in Sydney, Jacobs managed operations of a $3 billion firm that was competing against an established monopoly.
In 1998, Jacobs came back to Georgia, succeeding Carl Swearingen as president of BellSouth operations in the state. The Telecommunications Act of 1996 helped encourage competition for local phone customers. Not long after Jacobs' arrival back in Atlanta, the national economy went belly up. Facing an increasing number of rivals in the midst of a brutal economic tailspin, BellSouth was now cast in the role of the heavy.
"Things were getting very competitive and people were seeing a different side of BellSouth, a side where they were taking off the gloves and going after the competition," Mangum says. "People don't like to see that side of a trusted corporate citizen. But Phil, because of his magnanimity, has been able to inject a sense of grace while working under a tremendous amount of pressure. He's got this way about him that allows him to rise above the fray without being petty or vengeful."
That grace and magnanimity hasn't stopped Jacobs from actually entering the fray, though. Most recently, his big fight was in support of tort reform. As chairman of the Georgia Chamber of Commerce last year, and this year's chairman of the Georgia Department of Economic Development's board, he's been one of the most influential forces in the successful effort to reform Georgia's medical malpractice laws.
He's weighed in on other battles, criticizing state and federal telecom regulations, including the controversial Unbundled Network Element-Platform (UNE-P) rules which limited the rates the Bells could charge Competitive Local Exchange Companies (CLECs) for access to the Bells' established networks. Last year a federal court struck down the UNE-P rules. At BellSouth, there was much rejoicing.
Critics say the move is crushing competition. Jacobs, obviously, disagrees. "It doesn't mean less competition, it means different competition, facilities-based competition that doesn't require us to give away our network elements at below cost in order to support a competitor."
Jacobs describes the regulatory environment as "an ongoing melee. I'm very much a free enterprise person. Let the market determine who is successful and who isn't. Regulation is a surrogate for competition."
Competition, he says, is alive and well in Georgia. BellSouth has signed agreements with 35 CLECs to provide the same access and service, but at a commercially based price rather than one dictated by the government.
Cable companies, like Comcast, continue to duke it out with BellSouth over the broadband market. According to Jacobs, 93 percent of the zip codes in Georgia have at least two broadband providers and the struggle for Mr. and Ms. Consumer's wireless soul is fierce. In Savannah alone, at last count, nine wireless network providers were competing. Every metro area in Georgia has at least six such providers.
"Anybody who says there isn't competition in the wireless world doesn't have their eyes open," Jacobs says. "Broadband has just exploded. We don't have a majority share of the business, no one does. The cable guys and us are slugging it out every day, and there's a whole host of new providers coming to the market. Unfortunately, there's still this strong regulatory mentality that insists government is better at manipulating competition than the market is at encouraging it."
When Jacobs pauses for a moment to think of how much the industry has evolved, how far he has come, he almost staggers.
"Our industry has been completely redefined. Here we are, 30 years later, and there are more cell phones than wire line phones in Georgia," he muses. "There was no such thing as fiber optics back then, and here we are now with thousands of miles deployed around the state. Something I took an interest in a few years ago, when the broadband business started to explode, was making a commitment to include the rural parts of Georgia in this accessibility."
He's talking about Swainsboro here, which this year became BellSouth's first Connected Community, a corporate project that creates a broadband telecommunications infrastructure in the hinterland comparable to any found in a major metro area. The idea is to help rural communities attract more business and industry by using cutting-edge technology as the bait.
"Phil had the foresight and leadership we needed to become competitive," says Andy Riley, president of the Swainsboro/Emanuel County Joint Development Authority, which is trying to fill up a still-developing technology business park. "Phil was determined that we be the pilot community; he came up with the 'Connected Community' idea. We needed a champion like that to help us move up to the next level and give us credibility."
COMMUNITY CONNECTION
Before the terrorist attacks of Sept. 11, 2001, before the first anthrax scare scattered the offices of CBS, Jacobs presented the U.S. Congress with a frightening scenario. He was testifying before the House Subcommittee on Labor, Health and Human Services on behalf of the Centers for Disease Control (CDC).
"I told them that if this country ever faced a disaster like an anthrax attack, coupled with a flu outbreak, we would not be equipped," Jacobs recalls. "Who knew what was going to happen? Lo and behold, six months later anthrax is sent to CBS. Samples are sent down here to the CDC in Atlanta, and a 40-year-old electric cable that provides electricity to one of our Level 4 (biosafety) labs burns up. There was a 24-hour delay in analyzing that anthrax, so people who thought they might have been exposed were in limbo. If we'd had the proper facilities, we'd have had a quick answer. Now we have those facilities."
Jacobs is a major reason. In 1999 he and Kent "Oz" Nelson (retired CEO of UPS) started talking about creating a group to lobby on behalf of CDC, focused entirely on improving facilities. They called it "Friends of CDC." Home Depot co-founder and philanthropist extraordinaire Bernie Marcus joined them.
"I've worked with Phil in education and with the CDC, and he brings a terrific passion and energy to the work," says Nelson, who chairs the CDC Foundation board. Jacobs is chair-elect. "He's been a key player for us on the Hill and in recruiting other CEOs and companies to get involved. And it's paid off."
Since Friends of CDC was formed, the group has helped secure more than $1.2 billion in federal dollars to fund improvements such as a new emergency operations center, a communications building and new infectious diseases lab. It has recruited companies such as GE Energy, Merck, Cox Enterprises and Southern Company. "If you drive to the CDC campuses at Emory or on Buford Highway, and you see all that construction, it's a result of the message that we successfully delivered," Jacobs says. "I'm really proud of that."
Next year Jacobs will replace Nelson as chairman of the CDC Foundation. It's the sort of volunteer job that keeps finding him. Jacobs has been tapped to serve on or chair a dizzying array of boards. Along with the board of the Georgia Department of Economic Development, he's chairing the Georgia Partnership for Excellence in Education.
Some of Jacobs' fondest memories of raising his three children were the times they spent reading together, and with his first grandchild on the way, the idea of storytelling and reading to tiny tots has particular appeal. But the statistics of what happens without a literate upbringing scare him.
"In Indiana they use third-grade reading scores to project the number of prison cells they'll need in 10 years," he says. "In this state over 80 percent of the people incarcerated don't have high school diplomas. It's a function of not having a solid foundation in education, and you start building that foundation with good reading habits."
Jacobs says he has selfish motivation for all of that work in education, economic development and public health. "When Georgia creates jobs, grows in a healthy way, more people buy cell phones, and broadband services and communication services."
See, he's thinking ahead. Tomorrow's customers don't live in Georgia yet, some of them haven't been born. For 32 years Jacobs has been thinking ahead, trying to anticipate the next new thing. And it has served him well. What's more, according to Jacobs' boss, it has served BellSouth and Georgia well.
"It's not just for today. It never is with Phil," says BellSouth Chairman and CEO Duane Ackerman. "Years from now, what he is doing is still going to be felt all over the state."