Trading Partners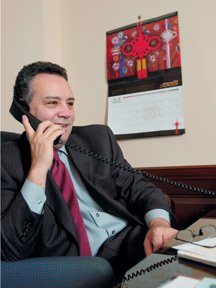 Sam Zamarripa is multi-tasking. In his small, paneled office in the state Capitol, papered with huge maps of his district, the state senator works some chewing gum, checks and occasionally talks into his vibrating Blackberry (in Spanish), and answers a reporter's questions (in English).
Even the latter is a contact sport: As he speaks, Zamarripa rocks back in his chair, stabs the air with an index finger, leans forward on his elbows. Once he gets going on his favorite subject, Georgia's international trade, he lapses into the excited lingo of his youth, calling a piece of trade-related legislation he sponsored "a groovy little bill."
For Zamarripa, the subject isn't just an amorphous collection of numbers, or the cold, impersonal purview of bankers and businesspeople. For him, the state's international trade is its future — nothing more or less.
A few of those numbers demonstrate just how important global trade is to the state right now: There are 51 countries represented in the Metro Atlanta area with 19 career consulates, 30 honorary consular offices and 15 trade and investment agencies. Peru and El Salvador opened consular offices in February.
According to third-quarter projections, Georgia will leap from 14th in the nation in exports in 2003, to 11th in 2004, with a 20 percent increase over its 2003 figure of $16.3 billion in goods (not including services).
"That's a nice trajectory," says Craig Lesser, commissioner of the Georgia Department of Economic Development (GDEcD).
The number takes on added importance when you consider, as GDEcD Deputy Commissioner Carlos Martel points out, that exports are critical to local job creation. "Companies that export create more jobs than those that do not," he says.
In fact, GDEcD studies demonstrate that companies that export create and/or retain twice as many jobs as domestic-market companies. Those workers aren't just low-wage earners, either — one logistics job is created for every manufacturing job, with exports-related employment paying 13 to 18 percent more than other jobs.
Although Atlanta is the state's economic engine (the city's economy would rank 28th in the world on its own, generating more than $188 billion annually), international companies are located all over the state, employing 116,744, including 5,692 in Muscogee County, and 15,727 in Cobb County. Representative countries include Liechtenstein, Luxembourg and Singapore.
Although "international trade" is a catchall term that often refers to both imports and exports, businesspeople generally mean "exports" when they talk trade. Most of Georgia's exports (40 percent) go to Western Hemisphere countries. The state's number one partner, by far, is Canada. (Canada is also the foremost trading partner with the U.S.) Georgia's exports to Canada, worth more than $4.2 billion annually, are more than double those of our next trading partner, Japan.
However, Mexico is number three — with a bullet. Mexican exports rose more than 28 percent last year, to $1.495 billion, almost matching Japan's $1.546 billion industry. After Mexico, the United Kingdom, the Netherlands, China and our traditional European allies, the list continues with Singapore, Korea and South American trading partners such as Brazil, Honduras, Costa Rica, El Salvador, Guatemala, Venezuela and Argentina.
The top goods Georgia exports: Perhaps not what you'd expect. First is transportation equipment (including Lockheed jets), at 23 percent, followed by computer and electronic products (such as Scientific Atlanta converters), at 13 percent, machinery (including Agco farm equipment and Lessco textile machinery), at 12 percent, chemicals (12 percent) and paper (7 percent).
Signature Georgia agricultural products come under the "all other products" grab bag of 33 percent, with peaches and peanuts among the 3.6 percent food and kindred products category, cotton a part of the 1.7 percent agricultural category, Georgia pine in 0.7 percent of wood products, and Georgia shrimp among the 0.06 percent state fish industry.
The Secretariat
Atlanta's primary role in the state's trade takes on increased importance in the context of the proposed Free Trade Area of the Americas (FTAA) pact. In 1994, 34 democratically-elected presidents of the Americas agreed (in theory) to create the biggest free trade area in history, including every Western Hemisphere country except Cuba, stretching from the North Pole to Tierra del Fuego.
Once the pact is in place, the FTAA will need a home, or secretariat. The FTAA's host city will benefit economically, culturally and politically, say the pact's supporters. A number of North and South American cities are working hard to win the secretariat, including Atlanta.
Until recently, city supporters say, Miami was the widely favored choice. But as negotiations over the pact have delayed its implementation — and selection of a headquarters — local supporters say they believe Atlanta is coming up fast, and is perhaps now on a par with what local boosters will describe only as "that other city."
A wide network of FTAA supporters has blossomed among the state's public and private sectors, from Gov. Sonny Perdue and Atlanta Mayor Shirley Franklin to private partners such as Delta and Georgia Power.
On the front lines for the effort to reel in the coveted secretariat are politicians like Zamarripa, who is perhaps the state legislature's point man for the effort, Metro Atlanta Chamber President Sam Williams and Hemisphere, Inc. chief Jose Ignatio Gonzalez, whose company was formed to bring the FTAA to Atlanta. Others, like former Canadian ambassador Gordon Giffin (now working in international law at McKenna Long & Aldridge), also lend their energies to the effort.
GDEcD officials Lesser and Martel are firmly convinced that the FTAA agreement in general, and securing the FTAA headquarters for Atlanta in particular, represent unparalleled opportunities for the state's growth. A University of Georgia study says the headquarters could bring $500 million into the local economy annually, creating 16,000 jobs by 2015. Martel compares its potential impact as equivalent to hosting the 1996 Olympics and last year's Sea Island G-8 Summit. "It demonstrates to the world that we are an international player," he says.
That would be another step along the road to true world-class status for Atlanta, Williams says. "The Olympics catapulted us into a realm of our own," he says. "We used to be confused with Atlantic City."
At one time, the state's major export was thought to be Gone With the Wind; today it's CNN, the airport, Home Depot, Scientific Atlanta and "Los Bravos." Williams believes Atlanta is "neck-and-neck" with Miami in the secretariat horse race. "In Argentina and Brazil," he says, "Atlanta is business and trade, and Miami is language and culture." He believes Atlanta's cultural and public health organizations are added bonuses, with CARE, the CDC, Emory University, the Carter Center and the King Center recognized worldwide as icons for civil society.
Jorge Fernandez, vice president of international and alliances at Delta, agrees. "Florida has a lot of investment, but it's passive. Georgia and Atlanta are not only a transportation hub, but a hub for educational and research centers, for intellectual capital."
That intellectual capital — creativity, curiosity, education and the ability to make dreams a reality — is what Zamarripa believes must be invested in the state's future. He's well aware, as are FTAA's other supporters, of critics' charges. In North Carolina, billboards have sprouted, warning, "If you thought NAFTA was bad, wait till FTAA." In Atlanta, handbills paper light poles, with a clenched fist smashing a document: "FTAA: No!" It all brings back memories of one-time presidential candidate Ross Perot's warnings of "a giant sucking sound" of lost jobs with the passage of NAFTA.
Even successful businesspeople like Lamar Brown, president of Lessco International, a Dalton company that makes textile equipment for companies worldwide, state what many fear for areas like his factory-job-reliant hometown. "It will happen," he says of job losses to lower-wage competitors like the Chinese. "I don't think it will happen in my lifetime, but sooner or later, it will."
In fact, since the North American Free Trade Agreement (NAFTA) passed in 1994, Mexico has gained jobs, most of them low-wage manufacturing and textile. Some states, such as the Carolinas, suffered more. However, Martel's figures demonstrate that in Georgia, fears about NAFTA were misplaced. In 1993, before NAFTA, Georgia's exports to Mexico totaled about $411 million.
By 2004, that figure had jumped to $1.5 billion, with the state garnering more than $1 billion in additional exports in the decade following NAFTA's passage. Despite job losses in textiles that had begun before NAFTA, and continued after its passage, "within a few years," Martel says, "we had a big net gain" of income and jobs.
The GDEcD specializes in reeling in jobs and investment for the state, in partnership with the U.S. Commerce Department, the Small Business Administration, the University of Georgia, Georgia Tech, the Department of Agriculture and others. GDEcD's role ranges from hosting a wealth of data on everything from transportation to culture on its Web site (www.georgia.org) to consulting and sponsoring trips to overseas trade shows, critical for introducing Georgia's businesspeople and goods to the international marketplace.
Dreams And Dreamers
As Lesser sees it, the question becomes, "How do we compete, not on low wages, but on unique and innovative products?"
In other words, dreams. And if nothing else, Atlanta has long been a city of dreamers. Zamarripa, an investment banker who began his political career by working on Andrew Young's gubernatorial campaign, was weaned on old-school Atlanta politics, and his heroes are a pantheon of forward-thinking local leaders, including Maynard Jackson and Ivan Allen, Jr.
He describes his optimistic, hopeful commitment to "shameless promotion" of his state as "Youngian." He believes that the ability to envision a future (or as native son Martin Luther King, Jr. famously called it, a dream) is critical — to mankind, whole nations, young people. Just as it was to Zamarripa at a critical turning point in his youth.
For generations, Zamarripa's family has lived astride two cultures. His paternal grandparents are from Zacatecas, Mexico, and his father was a career military man (now deceased). His mother was a Florida Baptist whom he says wanted little more from life than to enjoy it and love her children.
After his parents divorced in the early '60s, he rarely saw his father. His mother worked in a cafeteria, and a mentally handicapped sister was institutionalized. Zamarripa fell in with a crowd of idle boys. When he was in his early teens, he and his friends were caught breaking into cars, stealing eight-track tape players. Zamarripa spent a few days in "juvie," and then went before a judge, who ordered him to apologize to the owner of the car he'd broken into.
The car's owner turned out to be Lawton Chiles, then a Florida state senator, who would later become a U.S. senator, and then governor. Populist, progressive, idealistic and ambitious, Chiles would carve a place for himself by his support for civil rights, as well as his fight (eventually successful) against tobacco companies, and his innovative programs to benefit Florida's children.
Like many other Floridians who were spurred to public service by Chiles' influence, Zamarripa's interest and involvement in community began with that meeting, his first glimpse into a world beyond his narrow neighborhood of stunted expectations. "He had these deep blue eyes," Zamarripa remembers. And he expressed the most damning sentiment of all to the young miscreant: "He said he was disappointed," Zamarripa says. "He didn't want to see me back there again."
However, Zamarripa would see Chiles twice more before the governor died, just two weeks before the end of his last term in office. Once was after Zamarripa graduated from college — the first in his family to do so — and once more, after he'd finished graduate school and made his fortune as an investment banker, ready to take on politics with Andy Young's campaign.
Carving A Future
As a young man, Zamarripa had also joined some VISTA-like community organizations that taught him empathy for the disadvantaged, as well as the best methods to help them. In the company of Northeastern, educated liberals, he formed his political philosophy of "tortillas and cornbread," as he calls it: "I found a future." He has long specialized in trade matters, twice serving as the Clinton Administration's delegate to the Summit of the Americas conferences.
A future, he says, is what the state must also carve for itself. Officials continue to dicker over FTAA, with intellectual property agreements one sticking point. (Some have begun to wonder whether the missed deadline of January 2005 for signing the pact will stretch into infinity.) But Zamarripa and others believe that Georgia can only benefit from continuing to promote itself in the global economy. (Atlanta's new Peruvian and El Salvadorian consulates are byproducts of the FTAA effort, supporters say.)
"If you let detractors define the future," Zamarripa says, "people will stick their heads in the sand. You have to find your niche with every ounce of creativity. According to Adam Smith, the 'magic hand' of the market is agnostic. In other words, these jobs are not 'our' jobs. They're jobs. We've gotta be in front of it.
"Who would have thought, that when I went to vocational high school, that the number one skill I would learn, that I use most today, would be typing?" he asks.
The Internet has made real-time global employment a reality. "We're talking about opportunities for people's heads, not their hands. We're talking about knowledge jobs. And anyone with good common sense can do a knowledge job.
"South Georgia's economy is tied to our global success," he says. "Our future is in our special products — peanuts, apples and especially Vidalia onions. Things that no one else can do or make." Like Atlanta native Usher's R&B hits, the Cartoon Network's off-the-wall series or Ellijay's cider; Sweet Grass Dairy cheeses from Thomasville or Alice Walker memorabilia from Eatonton.
"If I were a mayor of a small town in Georgia, I'd start right now, staking out a claim that that town is going to make on the international marketplace."
He shrugs off Doomsday what-if predictions: What if the Euro replaces the dollar? If China and Brazil replace the United States as economic powerhouses?
"Ain't gonna happen," he says. "We are always going to be the center for marketing and creativity."
"We shouldn't be afraid," he says. "Our opportunities for the future are better than ever."