Growing Pains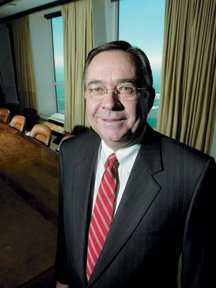 The report of the Metro Atlanta Quality Growth Task Force reads, in places, like a final entry in the ship's log of the Titanic: "…we are not well-positioned for continued success at this time." It also makes clear that, like passengers on the Titanic, the millions of us who embraced the gilded image of Atlanta as an unparalleled place to live, raise a family, pursue a career and otherwise enjoy life, are steaming toward disaster.
By 2030, the task force's benchmark date, an additional 2.3 million people will live in Metro Atlanta. That's 6 million total residents. No longer small town emigres or relocating Northerners: half will be offspring of current residents.
By 2030, Metro Atlanta's youthful, go-go image will begin to gray. Seniors aged 65 and older will triple; those over 45 will double. The percentage of residents with school-age children will decrease by a third. Take these demographic trends, factor in available resources and straining infrastructure, and the end result may well be a glut of McMansions on parched, outsized lots with no swings in the yard and no timely means of getting in or out.
"We're going to hit the wall," predicts Georgia-Pacific President Lee Thomas, referring to the unhappy mix of traffic, air pollution, over-extended infrastructure, vanishing greenspace and limited water resources that will inevitably slow the inflow of jobs and corporate relocations that have fueled Atlanta's boom. "Growth is an issue that people don't want to confront. It will require political will and political leadership at both the state and local level to resolve."
In Atlanta, blue ribbon commissions are as numerous as Braves' pennants and about as likely to be taken seriously as that team's World Series championship bids. This time, however, nothing less than the region's future is at stake. The task force is essentially charged with turning the Titanic around: finding ways to manage the inevitable, continued, dramatic, explosive growth. "We're very close to overwhelming our infrastructure," says task force chairman Tom Bell. "Once we do that we're on the slippery slope and it's very tough to recover."
Task force members say they have a plan that will not only offset surging population and other challenges, it will actually make things better than they are today. The key is managed growth: increasing population density in certain underused "centers" and "corridors" around the area by creating a mix of "live-work-play" communities. Zoning easements and infrastructure improvements will encourage private sector redevelopment. All the research and evidence from projects, they say, demonstrates the demand for such communities is already vibrant.
Chaired by Bell, president and CEO of Cousins Properties, the panel, put together by the Metro Atlanta Chamber of Commerce, drew 46 heavy hitters – not only chamber types, but politicians, academics and environmentalists – from across the region. At first, many members agreed on very little beyond the fact that things had deteriorated to the point that something had to be done to head off disaster. Lee Thomas and Sam Olens, the highly regarded chairman of the Cobb County Commission who is also chairman of the Atlanta Regional Commission, were the committee's vice chairmen. Also on board were Mayor Shirley Franklin, King & Spalding Senior Partner Joseph Bankoff, Cherokee County Commission Chairman Mike Byrd, developer John Wieland, The Georgia Conservancy's John Sibley, Catherine Ross, director of Georgia Tech's Center for Quality Growth and Regional Development, Roswell Mayor Jere Wood and high-end realtor Jenny Pruitt.
A 30-Year Ride
Atlanta's problems are hardly surprising given the fact that the region has been steaming full speed ahead for 30 years. Tendrils of exurban sprawl now extend north to the Tennessee border. Some 165 separate governments operate in a 28-county area. Residential lots average three-quarters of an acre, largest in the nation. Sprawl capitals like Los Angeles and Dallas, for example, have far greater population densities. Atlantans spend more time gridlocked than three out of four American commuters. Congestion is getting worse. State and federal dollars for transportation and infrastructure are vanishing. Air pollution is increasing dramatically.
The reasons for today's troubles are complex, rooted, in part, in the region's laissez-faire political and economic tradition and, in part, in pure rapacious development. However, no economist, conservationist or city planner could have foreseen the explosive growth the region has experienced in the last decades. "Because Atlanta has no mountains or oceans to hem us in, we have acted as though open land and money were in infinite supply," reads a particularly telling section of the report. "As a result…Atlanta may be the fastest spreading settlement in human history."
"How far out can we go?" asks Cobb County's Sam Olens. "We've created a scenario where some of the reasons that got us here – cheap land and affordable housing – are now hindering us. We literally have congestion and sprawl all the way to Chattanooga and Macon."
Against such a tide, well-meaning, but shortsighted development decisions and vast, but narrowly focused expenditures provide temporary fixes at best. (Try negotiating Georgia 400 north of I-285 during daylight hours.) Across the region, municipalities have zoned large lot (i.e. low density) residential development in an attempt to enhance quality of life while restricting overcrowding. (Metro Atlanta averages roughly 2.3 persons living on an acre of land, compared with 11 per acre in Los Angeles, 5.7 in Phoenix and 4.6 in Dallas/Fort Worth.) Unforeseen consequence: pollution, congestion, rampant sprawl, unaffordable housing choices for the majority of residents, two-thirds of whom earn less than $40,000 a year.
Today, a new arrival in the metro region consumes twice as much land as his counterpart did in 1970. The region's towns, employment centers and key road and transit corridors account for barely 10 percent of the land. Translation: millions of us fighting to get to work, fighting to go shopping, struggling get on a crowded Interstate to get to some other place.
Higher Density
"Quality Growth" is, in effect, an attempt to overlay higher density, mixed use "corridors" onto existing development. Such developments bring together workplace, housing, recreation and shopping facilities. Enticing top drawer developers (by easing zoning variances and other daunting and costly hurdles), convincing businesses and home seekers to buy into the "new urbanism," the thinking goes, will relieve the relentless pressure pushing the region's boundaries and stretching infrastructure to the breaking point.
By optimizing development patterns in approximately 10 percent of the metro region, (typically "dead and dying shopping centers and malls, old industrial land," according to the report) the scheme will actually decrease traffic congestion and air pollution while leaving more than 100,000 acres of land unspoiled, even factoring in the region's 2.3 million population increase. On the other hand, without these changes, and despite $50 billion in transportation improvements, congestion (average time spent stuck in traffic per day) will increase by 22 percent.
The scheme is predicated on the assumption that transportation investments, funneled through the Atlanta Regional Commission, the Georgia Department of Transportation and the Georgia Regional Transportation Authority, will be available and prioritized to support these new developments. Investments will be leveraged against revenue from the increased tax base mixed use redevelopment will generate.
"We have limited transportation dollars, so we have to chose where infrastructure investment makes the most sense," Olens says. "Where should the roads be widened? Obviously where they have close access to the Interstates, where they can make cross-regional linkages."
Under Olens, Cobb County has been quick ahead, rubber stamping mixed use projects like John Wieland's Ivy Walk at Vinings (Atlanta Road and Cumberland Parkway) and the Pacific Group's Chattahoochee Bluffs townhouse project near Akers Mill and I-75. Ivy Walk was developed on 20 acres of vacant land unhappy locals had labeled "The Desert." With upscale townhouses nestled amid 64,000 square feet of commercial space, and quick access to I-285 and I-75, the project has not only been a resounding success, it's been a magnet for other developers.
"I couldn't begin to tell you how many hundreds of variances would technically have been necessary for us to approve the project," Olens says. "You have restaurants, you have residences on top of it, you have three- or four-story residences and behind them a parking deck. You have a little village."
When the Pacific Group's Woody Snell broke ground on Chattahoochee Bluffs, Olens says, prospective buyers were lining up outside the trailer's door looking to put down deposits. Interestingly, the project was built on the rezoned site of a failed office tower. "We're seeing older folks as well as newlyweds," Olens says, "two-income families who heretofore haven't been offered this kind of a housing choice, particularly in the suburbs."
Every section in the metro area, task force members say, has an area ripe for redevelopment. Parts of Memorial Drive, Highway 78, Old National Highway, and areas around both Cumberland and Perimeter malls have already been identified; Cherokee County is interested in developing a demonstration project. Atlanta's Camp Creek Parkway area and East Point, ideally located and possessing underused infrastructure, are ripe for overlay zoning and mixed use development.
The obvious question is "Why has this taken so long?" The answer is equally obvious. Turning the Titanic is no easy task. Area politicians and planners have operated under a raft of unchallenged, often unfounded assumptions – e.g., low density residential zoning is always a plus – for decades. It now seems clear, given the aging population and ongoing decline in the number of families with children, that single-family homes on large lots cannot be the area's only housing choice. Yet that is the typical development pattern elected officials have supported in the region. "The common view is constituents are against any sort of density, anywhere," Bell says. "We learned that is just a misconception."
"Our residents are ready for mixed use developments, but our elected officials are not," Olens says. "Demand is there, but we haven't permitted it. Ask an elected official where they want more growth and he or she will tell you 'Nowhere.' They take heat on it at every zoning meeting. Ask that same official, 'Are there areas of your county or city where the infrastructure is best suited to handle growth?' and they'll point to one or two areas where they'd appreciate new development. We found that if we encourage growth close to the Interstates or close to areas that are ripe for higher density development, the communities are much more open."
The task force drew upon the international expertise (delivered pro bono) of the management consulting group, Bain & Company, which conducted the research and came up with scenarios based on "status quo" and "alternative" development patterns. Status quo put Atlanta directly in front of the "iceberg."
"Public policy usually only changes in response to crisis or some threat of crisis," Bell says. "This was the first time anybody came up with any really hard data that demonstrated if we do these things, it will get better not worse."
Recommendations of the Metro Atlanta Chamber's Quality Growth Task Force have no weight save as a call to action. The arm-twisting and glad-handing now falls to developer Larry Gellerstedt III, who as chairman of Beers Construction built the Olympic Stadium and the Georgia Dome. Gellerstedt is heading an offshoot committee, the Quality Growth Coalition, with the "sole purpose" of promoting the findings.
"Our members may not agree on a whole lot, but they do agree on the task force's core principles," he says. "When you go see a county official to get some zoning or land use change, it's important they know you represent an entity that includes business interests and environmental interests and political interests." If recent history tells us anything, the hour is late and Gellerstedt and his crew have a titanic job ahead of them.