Back From "The Dead"
Even in his Tech gridiron days, Sid Williams could make a comeback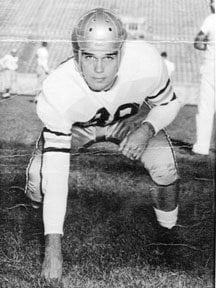 To paraphrase a line from an old Broadway tune, "I ain't dead yet." Such is the mindset of Dr. Sidney Earle Williams, the former Georgia Tech defensive end turned chiropractor, known in his playing days as "Dead Man."
It was 1951 and Tech was playing Vanderbilt's Commodores in a torrential downpour in Nashville. Dudley Field was a quagmire. Vandy had the ball and All-American quarterback Bill Wade was high-stepping toward Williams' flank. Williams got directly in Wade's path, and with dynamic force the two collided.
The sound of leather popping could be heard halfway up the west stands. Wade staggered to his feet but Williams, covered with a sea of mud, was unconscious and flat on his back. Tech tackle Bill Thaden took one look at him and yelled, "He's a dead man!"
Williams was carried to the Tech sidelines where he regained consciousness and was declared physically fit. But from that point on he was known as Tech's "dead man." At 170 pounds, Williams was lighter than some of Tech's backs. "For his size," Coach Bobby Dodd had said, "he is the finest end in America. There is no way to overestimate his value to our team. He is one of the finest players I have ever coached."
What Williams lacked in size he made up for in speed, determination and a flaming competitive spirit. That's the way it's been for him all his life. His efforts as quarterback and end at Atlanta's Tech High School, propelled the team to a 1946 state championship.
"If Sid was only half as good a blocker as he is he would still be the best in the state," wrote late Atlanta Constitution Prep Sports Editor Charlie Roberts.
Williams has exhibited the same relentless drive and uncanny ability to get off the deck when knocked down in his professional life as he did on the gridiron. For instance, when Marietta's Life College — which he founded and grew into the largest chiropractic college in the world — lost its accreditation and he, his wife, Vice-President Dr. Nell Kimbrough Williams, and his entire staff were booted out into the streets, Williams did not hold a pity party. Instead, he placed renewed emphasis on the "Dynamic Essentials" seminars for which he has about 30 requests a month from chiropractors nationwide.
When I interviewed him for this column, he had just returned from a five-day lecture series in Puerto Rico, on the heels of two-day seminars in Montana, Texas and California. No, he "ain't dead yet."
Williams credits his never-say-die attitude to his late mother, Jessie Broadwater Williams. "Mother kept pointing me in the right direction," he says. "She always insisted I push myself to the limit. And then push some more. She said I could always do better than I thought I could."
Williams listened to his mama. Growing up in Oakland City in southwest Atlanta, he joined the scout troop and went from Tenderfoot to Eagle. At Tech High School, he was president of the student body, co-captain of the state championship football team, Cadet Colonel of the ROTC, and "Best All-Round" student. He received seven football scholarship offers, including Tech's. Williams was named to Tech High's all-time football team and Georgia Tech's Athletics Hall of Fame.
At Life College (which has regained accreditation but without Williams at the helm), he fielded national championship teams in men's and women's basketball, soccer, rugby, track and ice hockey. Under the direction of former Tech All-American Roger Kaiser, his basketball teams won back-to-back NAIA titles and Life's 3,000-seat gymnasium was filled for almost every home game. All told, Life athletics teams won 30 championships and produced seven All-Americans.
Today, at age 76, Williams is in excellent health and weighs only 10 pounds more than he did 53 years ago at Tech. He and his wife, who live in Cobb County, have two children, Susan Kimbrough, a teacher, and John Sidney Williams, a chiropractor. And just like his dad, John, too, was an all-state prep quarterback.