Tough Competitor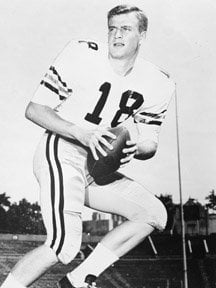 No season passes without Kim King making the journey. He slips out of his Midtown offices, drives past Fifth Street's bustling new office, retail and residential space, points his black Lexus south heading for the somnolent neighborhoods of the West End. On these trips, King, one of Atlanta's top real estate developers, is not massaging a deal or hunting an investment opportunity. Neither is the 58-year-old former football star looking to revisit his glory days. He's going home.
He drives by the house he grew up in on Westhaven Drive, wondering, perhaps, if the hopes and dreams he held as a south Atlanta boy struggling up in the 1950s now beat in other hearts. He lets himself drift and for a moment becomes the boy on the bike running errands for his mom, the teen gulping Coca-Colas at the neighborhood fountain. "I miss that and I long for that," he says. "When I go there I can escape." He pauses, then adds, "Not escape as much as appreciate and reconnect. This was my support system, my community, the extended family where I was nurtured and inspired."
Growing up, when other neighborhood boys headed off for a weekend or summer camp, King stayed close to home and his mom. His father was a salesman for a flooring company and traveled a lot. Kim King became a man on the athletic fields, taking poundings in sandlot games, always testing himself against older, tougher, more experienced competition, hardening himself for what lay ahead.
For the next 35 years, King would see football as metaphor for life; real estate an opportunity to run up the score. If one didn't stop to look too closely, existence could well be imagined a kind of perpetual Sugar Bowl in which the man who scored bigger deals, more land, money, farms, beach houses, the man who smoked longer cigars and shot better golf, came out a winner. Yet, Donald Kimbrough King's life is much more complicated than that. A family man, Kim King loves his wife Gail, son Beau (who is in business with him), daughters Angela and Abby fiercely. He loves Georgia Tech, his extended family, almost as much.
King, president/CEO of Kim King Associates, is Georgia Trend's Most Respected CEO for 2004.
Those who know him say he's a loyal, devoted friend, but a famously hard man in a business deal. "If he grabs hold to a deal he's gonna make it happen," says Johnny Gresham, a standout Georgia Tech halfback turned real estate developer (now chairman of the Georgia Department of Transportation).
Others speak of his generosity. In 1987, when Bill Curry quit Tech to become Alabama's head football coach – a decision, to put it mildly, that engendered bitterness on both campuses – he says, "the most painful thing I had to do was go find Kim." To King, who'd help recruit Curry, the move was a terrible blow. So the two big men got together and poured their hearts out in King's car. "We rode around with sunglasses on because neither one of us wanted to show the other guy we were slobbering," Curry recalls. He says King was one of the few Tech guys "who would come to see me in Alabama. He transcended all that."
Guts And Vision
As he eased into his middle years, King was beginning to rethink things. "I said to myself 'You need to step out. To have guts and a little vision. To start leading rather than following.'" He began to turn away from strip malls and suburban office parks. The great white flight of the 1960s to the suburbs, the decades of explosive population growth, the unchecked development were bearing bitter fruit. The importance of the kind of community he knew as a boy was flooding back.
"Originally, people wanted to get out of what they perceived as crime and into a community where they could establish a base, have neighbors and interact," says King. "Then came the 24/7 lifestyle, the endless go, go, go. Everything programmed. Get up at six, shower, dress, eat, get to the office, work. At the end of the day, drive back to the suburbs, pull in your garage, get a little bite, read a paper, watch TV, read a book, go to sleep. You do the same thing day-in and day-out. The suburbs keep growing and still there's no community."
These realizations took decades to piece together. "When I started, I didn't have a lot of vision," King says, unconsciously echoing the old "Luck is preparation meeting opportunity" line Bear Bryant made famous: "Vision is a product of study, preparation, knowledge and experience. You learn vision." And then, because he was focusing so intently on this vision, he was blindsided when disaster struck.
The Natural
As a teenager, Kim King was a natural – agile, quick, explosive. Early on, he exhibited the workaholic streak, intensity and pragmatism that contributed to his business success. When he graduated from Brown High School in 1963, the lefty quarterback had scholarship offers from across the SEC, and free passes out of Atlanta to Notre Dame, USC, other schools and other places. That he would choose Tech was never in doubt.
"Bobby Dodd was the coach and I was a big fan," he says. "My father and grandfather, neither of whom had gone to college, were Tech fans." Dodd showed up at King's house to close the deal. As a Tech sophomore King broke passing records that had stood for 14 years. Atlanta Constitution columnist Furman Bisher called him " . . . the greatest quarterback Tech has ever seen."
As a junior, King, playing with a broken right arm, led Tech to a 1966 Orange Bowl berth. "There was this thing when we were growing up," says Bill Curry, a College Park native who preceded King at Tech. "We Southside people were the lower, lower middle class. Part of what drove Kim was the need to be the best at what he did. So on the field, he played with a vengeance."
Says King: "I was infused with this burning sensation that I had to win, I was going to win and I would keep fighting." And yet, after being named a college All-American and being drafted by the Pittsburgh Steelers, he turned the NFL down. "I didn't have an interest in playing," he says simply.
This wasn't the NFL of superstars and mega-contracts. It was ultra-violent (think Sam Huff and Ray Nietzsche) low-paying, brutal – like WWF wrestling only outdoors, and the hits were real. King, an honor student, had other options. Dodd himself advised him to move on.
"Coach Dodd gave his players that kind of advice," recalls Johnny Gresham. "He said 'Johnny, you can play in the NFL. Pick out a team you want to play on and I'll get you a contract.' But then he said 'Johnny that ain't what you want to do. You got great name recognition. You need to go into business in the Atlanta area.'"
At the time developers like Tom Cousins and John Portman were changing the face and the future of Atlanta. "I had a lot of football friends who'd graduated from Tech – Johnny Hunsinger, Ewell Pope, Johnny Gresham – who were in real estate," King recalls. "My relationship with them and the excitement of seeing all of these things starting to break loose led me to conclude that real estate was really where I wanted to be. It was fun, challenging, exciting, a chance to make money. I jumped in at a point in time when Atlanta really made the transition from a sleepy, Southern town into an urban city."
He began in the mortgage department at Adams-Cates, a commercial real estate company, absorbed what he thought he needed to know; he resigned in a bonus dispute and started his own company in 1972. By 1974, the recession triggered by the Arab oil embargo had gutted Atlanta's real estate boom. King's lifestyle reflected the downturn: He went from a Jaguar to a Toyota pick-up. Like his father, he was forced on the road; instead of flooring tile, he shopped nondescript strip malls in rural South Carolina. Bert Lance, later Jimmy Carter's director of the Office of Management and Budget (then president of the National Bank of Georgia) saved King from bankruptcy with a $30,000 loan.
Times changed, King got back on his feet. He diversified into banking, radio stations and cable TV. His good guy image took a hit in the mid-1980s – a scheme to buy out and redevelop the Aberdeen Forest residential subdivision near Georgia 400 blew up in his face when a single resident refused to sell out. When he won the battle, the game was over. In real estate, like football, timing and execution are everything. King helped Roy Barnes get elected governor and was named chairman of Georgia Public Broadcasting.
If anything, his ties to Tech – the umbilical cord that nourished him for so many years – grew deeper. He helped found the Yellow Jackets Club, appealed to Jimmy Carter to get the Arthur B. Edge Athletic Center project on track. For years, King sat alongside Al Ceraldo in the broadcast booth during Tech games. Tellingly, he was on the presidential search committee that brought Wayne Clough to Tech. Clough is the man marching Tech's vest-pocket campus across the yawning chasm of the Downtown Connector and into Midtown.
The Enemy
Multiple myeloma is a relentless, incurable disease. It killed billionaire Sam Walton. It's a cancer that develops in the blood, specifically in plasma cells that produce the antibodies our bodies marshal to fight disease and infection. (Plasma cells, in turn, evolve from stem cells in the bone marrow.) When these cells – for whatever reason – become malignant, they divide unchecked, travel through the bloodstream and collect in the bone marrow where they destroy healthy tissue. Often the disease process is asymptomatic and then traumatic.
In the spring of 1999, Kim King was golfing with a bunch of buddies in Myrtle Beach. He was 53 years old and in "great shape" when the pain kicked in. "I said 'Guys, I've got to go home. Something's wrong.'" In Atlanta, an X-ray confirmed his T-10 vertebra was crushed. "I said, 'Playing golf?' I thought I had a bone spur or a pinched nerve." A day or two later, he got that ill-fated call from his internist Thorne Winter: "'What are you and Gail doing tomorrow at 7 a.m.?' I said I have meetings ? 'This is serious. You got cancer.'" An oncologist confirmed multiple myeloma. "I said, 'How long can I expect to live if I don't get on top of it?' He said, 'Eighteen months is about average' I got mad. "Eighteen months isn't enough! I need to live longer!' Stupid me! Here I am negotiating with the doctor."
Like any quarterback trailing in the fourth quarter, Kim King went for the long ball. In Little Rock, a desperate Sam Walton had endowed a multiple myeloma research facility at the University of Arkansas Medical Center. Gail King, who has shepherded Kim through his illness, turned up a researcher, Dr. Bart Barlogie, who offered a glimmer of hope. Post Properties founder John Williams, another loyal south Atlanta boy, insisted King fly to Arkansas in his private jet.
What happened over the next two years seared away all Kim King's illusions. "I had a broken back and I had cancer," he says. "I had more than 1,200 hours of chemotherapy in two years . . . two stem cell transplants . . . interferon [a genetically engineered natural immune system stimulator]," he says. "I took thalidomide [a drug linked to catastrophic birth defects in thousands of pregnant women in the 1950s] because it was found to inhibit blood vessel growth in tumors. I lost all my hair . . . I lost feeling in my nose, tongue, feet and fingertips. The side effects were so intense I had out-of-body experiences." He forced himself to go to his office, dumping bags of chemotherapy on his desk and working while the chemo pumped through a catheter into his body.
The businessman who'd once bragged that if "I went broke tomorrow, I could come back and be rich again in a relatively short time," was shedding his pride along with his hair. He was weak, constantly afraid of death. The strength to survive came from other places. "A long time ago, my mother had convinced me and my brothers that nobody could keep us down if we didn't want to stay down," King says. "She told us 'You get sick, hurt, whatever, you fight.'"
Finally he handed over the ball. "I reached out to my God and asked for deliverance – and acceptance," he says. "I just sort of let go and it was like someone taking a plug out of me. All the pressure, tension, worry and fear didn't totally dissipate – I wouldn't be human if I didn't have a little bit of that – but I accepted my cancer." Neither the toxic chemicals nor the disease could poison his competitor's heart. "I told myself," he says, "I'm gonna lick this."
Coming To Pass
When he went into remission two years later, things King had foreseen, even planned on, were coming to pass. His Centergy One office development, part of Georgia Tech's Technology Square Project, was a rousing success, luring, among other tenants, Royal Canadian Bank (RCB Centura) out of Buckhead. In March 2004, plans for a 500,000-square-foot Centergy Two were in the final stages. The suburban wave was cresting, choked by traffic and overbuilding and quality of life issues. People were looking to move back to Atlanta. Instead of the Tech students and hardcore urbanites King had imagined when he signed off on his Mid-City Lofts, a Midtown condo complex, he was seeing young couples, empty-nesters, well-heeled baby boomers with cabins and second homes at the beach, business types who used MARTA to get to the airport, shopaholics addicted to Perimeter and Lenox Malls.
"It may sound trite," he says, "but people want to walk down sidewalks. They want retail shops fronting the street like all of us had growing up. They want to see a neighbor every couple of days; see how the kids are doing or the local sports teams, or whatever. They're yearning for interaction."
At an Atlanta Urban Marketplace conference held at the World Congress Center earlier this year, Kim King is a featured speaker. The next wave of intown developers – hundreds of them now – hang on to his every word. If you listen closely, you can hear that yearning as he tries to explain the thing that pulls him back to the West End. It's as if King realizes he's playing in overtime now and driving toward the goal line. "I'm yearning for a sense of satisfaction and contentment," he explains. "My wife tells me all the time 'You're there. You've given to so many causes, given so much of yourself.'
"Yet, in my soul I don't feel contentment. I know the answer is not building more buildings or making more money. Instead of earning and taking things, I want to give things. It would give me satisfaction and joy to finally be at a point where I do more giving than receiving."