Catch-22
Organizations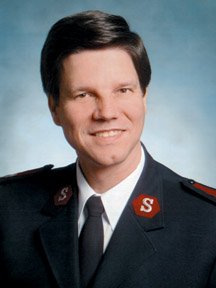 The Salvation Army just received the most generous philanthropic gift ever made. So why is it still raising money?
The good news is that your organization received a $1.5 billion donation. And the bad news is that your organization received a $1.5 billion donation.
The Salvation Army found itself in this dilemma after Joan Kroc, widow of McDonald's founder Ray Kroc, left the nonprofit what is probably the biggest one-time donation by an individual in the history of charitable giving.
The problem with the gift is that "it's very restrictive," says Maj. Larry Broome, general secretary for Georgia and area commander for Metro Atlanta. "We're still getting it interpreted but it lays out exactly what the money can be used for and basically it's new stuff. It doesn't apply to any existing projects, operating expenses or any endowments."
Because the gift is restricted, national Army leaders actually contemplated refusing it. "There was a lot of discussion about accepting the gift because of the restrictions and because it also requires the local communities to raise a significant amount of money," he says.
Another concern was that donors, thinking the Army was swimming in dollars, would funnel their money elsewhere. Broome said it's too early to tell if that is happening here; but national leaders are so worried they're planning a national public awareness campaign explaining the gift's limitations.
Kroc's will stipulated that half of her money be used to build community centers in low-income neighborhoods with the remainder subsidizing the centers' operating costs. Each of the Army's four U.S. territories should receive about $400 to $500 million to build more than two dozen centers across the nation.
Apparently Kroc viewed community centers the way Andrew Carnegie regarded libraries – as a way for residents of low-income neighborhoods to improve themselves and help transform their communities. She built a prototype for the type of centers she envisioned in San Diego. The 12-acre $40 million facility has basketball courts, three swimming pools, a regulation ice hockey rink, an arts center, an indoor skateboard park, childcare facilities and worship space. Kroc underwrote part of the center's operating expenses but expected future expenses to be raised locally.
"Mrs. Kroc wanted the community to accept the responsibility to support these centers," Broome says. "It's not a 100 percent funding. Each community has to match the endowment or the operating expenses."
Generating community-based financial support for the centers is exactly what worries Salvation Army officials, both on local and national levels. It's estimated that each community that gets a center will have to raise between $40 million and $60 million annually to sustain the facilities.
"Not only is that a lot of money and a lot of money to raise, but it is in addition to raising the money for the operating expenses of our other centers and projects," Broome says. "It's a lot of stress on local resources. We have a lot of projects that need renovations or upgrading. We're experiencing growing pains."
In this flat economy, says Broome, donations are down. Reduced United Way support over the last two years accounts for $500,000 of the Army's current $700,000 budget deficit. The Metro Atlanta Army's operating budget is $13.5 million.
"We're running a deficit and we're in a financial crunch," he says.
The local Army is wrapping up a $36 million capital fund drive to help support 12 projects – an effort that has drawn money away from donations earmarked for operating expenses and placed additional strain on the budget.
But the fact that the capital campaign still has not funded all its projects may lead to Atlanta's receiving some of Kroc's money to build a 20,000-square-foot community center. The Army has raised about half of the $7 million needed to build such a structure near its training facility on Metropolitan Parkway. Because construction hasn't started, it would qualify.
"Nothing is certain but the gift would allow us to dream bigger and become even more service-oriented," Broome says. "There won't be an ice skating rink but it will have a strong educational focus. We will use the gift wisely and in a way that honors Mrs. Kroc's wishes."
But the center – if it comes – has a price tag. "When the economy is down we are needed more and we need that compassionate spirit of giving to help us stay on our feet and help."