Top Dawg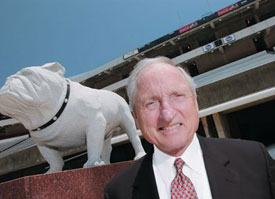 Tiger Harper has come to Bulldog Mecca dressed for the occasion, in bright red pants and a gray University of Georgia t-shirt, with its Bulldog logo peaking out from behind the enormous gold crucifix that hangs from her neck, as if she expects to save lost souls or rid Athens of vampires. But she is here for another kind of religious experience, a few minutes with her pen pal, Vince Dooley.
"We've been corresponding for years, me and Coach Dooley," says Tiger. "He'll probably be gone after next year, so this might be my last chance to see him." Like so many followers of the Bulldog path, 70-year-old Tiger hopes that Dooley will somehow survive, that he will somehow outlast Michael Adams, the resolute president of UGA.
In the glassy Butts-Mehre Heritage Hall, where the elevator buttons say "Hunker Down" and "Hunker Up," Tiger waits patiently outside Dooley's upstairs corner office, the throne room in a multi-million dollar athletic kingdom Vince built through the rabid generosity of grown men and women who spend autumn Saturdays barking like dogs, packed tightly together in an ever-expanding coliseum that was constructed during the Hoover administration. Vince doesn't disappoint, chatting for a few moments and posing patiently for photos with Tiger, her daughter and granddaughter. "This is the bravest Bulldog fan I know," Dooley says of Tiger, who lives in Gainesville, Fla., and proudly flies the red and black in enemy territory.
The ladies have gone and Dooley, sitting among his books, video tapes, paintings, trophies and other memorabilia from 40 years as Georgia's top Dawg, says quietly, "I told Dr. Adams I'm not ready to quit. I've got a lot of energy, and there's a lot I want to get done. There's work on the stadium and other facilities. We just hired a new basketball coach, and we just started a new capital campaign. For all of those reasons and many more, I'm just not ready to retire."
Dooley, who turns 71 in September, told Adams last March that he wanted to add four more years to his contract, which expires at the end of June 2004. Then he waited for a response. "When I didn't hear anything for two months, I thought I'd give Dr. Adams something else to think about – instead of four years, two years. I thought that would help resolve the issue, but he'd already made up his mind."
Adams' response: No way, this is it, end of an era and so forth, thanks, see you later. This time, it seems, the UGA president may have succeeded where he failed in 2001, when he tried to oust Dooley before agreeing to a contract extension that ran through December 2003. Adams then granted Dooley another six months as athletic director. After that, Dooley is supposed to serve another year in a fundraising capacity.
"I made a decision jointly with Coach Dooley a few years ago, an agreement that we both thought was good for him, good for the university and good for me," says Adams. "I still think that was a good decision. And I think it's a good idea to make these types of adjustments at a time of strength."
In spite of the controversy of the past year within the basketball (head coach Jim Harrick forced to resign in the midst of investigations into academic fraud) and football (players selling SEC championship rings) programs, and within the university hierarchy (Adams vs. Dooley), there is no doubting the strength of Georgia's athletics department – on the field, on the ledger sheet and in the halls of national power. And most, if not all, was guided by Dooley's hand.
A two-time NCAA National Coach of the Year, Dooley was inducted into the College Football Hall of Fame in 1994. He coached Georgia's football team for 25 years, posting a record of 201-77-10. His teams played in 20 bowl games, won six Southeastern Conference titles and the 1980 National Championship.
As Georgia's AD, he's charted a prosperous course: 18 national championships and 74 conference titles since Dooley assumed the title in 1979; millions of dollars in new facilities and expansions, $55 million during the 1990s alone. Georgia has always been able to generate net revenues under Dooley's watch.
Only Dooley has served as president of both the American Football Coaches Association (AFCA) and the National Association of College Directors of Athletics (NACDA).
"Across the country he's looked upon as the tower of stability and ethics," says Grant Teaff, executive director of AFCA. "Whenever there's an important committee, you will find Vince either chairing it or sitting on it. That's an important point because you don't chair one of these committees unless you bring something significant to the table."
So whom does Georgia get to replace Dooley? Adams says, "I don't have the formal job description in front of me, but a strong leader, someone who is collegial and willing to work with important groups of people, someone with substantial leadership experience and hopefully someone who has the capacity to enhance the program through fundraising and effective management."
Someone like Dooley, basically.
"I've never said Coach Dooley did not have those qualities," says Adams. "But I've said, and I think it's true, that we've gotten together and gotten along on more things than not." It's that whole subject of job security that they ultimately could not see eye-to-eye on.
But if this is really it, if Dooley is indeed forced to retire to his famous flower and shrub garden, he says he won't change, not after 40 years – Mr. Consistency, Mr. Reliable, Mr. Two-yards-and-a-cloud-of-dust. He's not leaving early.
"My plans are to honor the commitment, which means to remain as AD for another school year then fulfill my commitment for another year in fundraising," says Dooley. "What comes next hasn't crossed my mind."
Cool Under Fire
UGA's athletics programs have suffered and heads have rolled in the wake of crisis and scandal, but Dooley always has emerged smelling sweeter than the flowers in his famed garden.
"You stay in this business long enough and you're going to go through a series of crises, because of the tremendous visibility of college athletics, football and basketball in particular," Dooley says. "And you have to address those issues in the proper way. I do think there's confidence out there among people with the NCAA that we will address the issues in the right way. And I guess that's why we've minimized the damage that might have been done otherwise."
Back in his cluttered office, with thick, dog-eared volumes on horticulture and history and art lying about, Dooley plucks Truth and Consequences: How Colleges and Universities Meet Public Crises off a top shelf. The chapter called "Bulldog Determination: The Jan Kemp Case at the University of Georgia" is marked with a yellow Post-It note. (Kemp successfully sued the university in the mid-'80s, saying she had been fired for protesting preferential academic treatment given to student athletes.)
"This was one of the most trying and challenging periods that we have been through," Dooley says, the words coming very slowly. "It was like every part of our body was split open and a flashlight flashed on everything inside. A faculty investigation, an NCAA investigation and Board of Regents investigation. We got a black eye, we were bruised, and we felt the repercussions for many years afterward. But when it was over, we were still on our feet and we had a better program."
And Georgia was minus one university president, Fred Davidson, who often came across as arrogant and inflexible, and had virtually no sense of public relations. Dooley, on the other hand, masterminded a brilliant game plan, reminiscent of his football team's spectacular upset of Texas in the 1983 Cotton Bowl.
In that game, the Bulldogs played defense all day long, held onto the football and waited for the Longhorns to make a mistake. Georgia won 10-9 and denied Texas a national championship. In the Kemp case, Dooley played it quiet and conservative again. He didn't rush to comment, but found a way to say, "We were wrong," and sell it. That Dooley was the only prominent figure in the Kemp trial to keep his job "is a tribute … to his achievements, his political savvy, and his down-home yet polished style," writes Jerrold Footlick in Truth and Consequences.
Throughout his career, Dooley has been like a human heat shield. "His public relations ability is immense," says DeLoss Dodds, the athletics director at Texas and a longtime Dooley observer. "It's one of the reasons for his longevity. But you can't stay in this business as long as he has without integrity. He has an abundance of it. He's still setting the standard and he's a state-of-the-art kind of guy."
Coach Whassisname
Loran Smith was there in December 1963 when then-Georgia AD Joel Eaves introduced Dooley, the 31-year-old former Auburn freshman football team coach, as the man who would lead the Bulldogs.
"I suspect most people didn't know who the hell he was," says Smith, who has been a Bulldog backer and color commentator for Georgia football broadcasts for what seems like forever. "At the press conference, it was evident, because President Aderhold kept referring to him as 'the bright young coach from Auburn.'"
After hiring the unknown Dooley, the Georgia braintrust was so worried about fan reaction it spirited him into Athens. "Coach [Dan] Magill picked me up at the airport and put me in the backseat of his car, made me lie down back there," Dooley says. "He slipped me, unseen, into the Holiday Inn. I could have walked down the middle of Athens and nobody would have recognized me. But they hid me in that hotel room until they came and got me for the announcement."
In hindsight, Eaves was a genius. "He had the courage to do what I doubt anybody else would've done," says Dooley. "When he said he hired a guy named Vince, everybody was thinking Lombardi. I mean, who the heck is Dooley?"
Dooley is a student, a politician who considered, but never actually ran for state and national office. An intellectual and Renaissance man. Every spring he takes courses in what interests him at the moment. History, art, horticulture. Last spring it was the Civil War.
"That's one of the great things about living around a university," says Dooley. "If you've got a curiosity about something you can satisfy it, and I have. When I was getting interested in politics, I took political science courses. Then I got interested in plants and trees, and I took a course under Michael Dirr, a real expert." Dooley and Dirr have become pals on a continuing quest, taking trips across the world to Europe to watch gardens grow.
"The great thing about taking classes for me is, when an exam comes along, I can get up and wish the students good luck, then wave goodbye as I leave. I've always wanted to go to class where I don't have to take an exam. I've been there already, I've done that."
Dooley earned his B.S. in business administration at Auburn in 1954 and, after a stint in the Marines, earned a Master's in history. "He has so many interests," says Barbara Hedges, athletics director at the University of Washington, who has served with Dooley on countless committees and like him is a former president of NACDA. "One that we share is horticulture. The last time I saw him, we didn't even talk about sports – the subject was flowers. I've been to his house in Athens, and it's an amazing place. I probably need to pick his brain a little more."
Steady As She Goes
Hedges says the rest of the country looks at UGA as a model of balance and opportunity when it comes to gender equity. Georgia's women's sports programs have been among the most successful in the country, with national or conference titles in gymnastics, basketball, swimming, golf, tennis, track and volleyball. It's a careful balancing act for Dooley and Georgia – more money is spent on women's sports in the athletic association budget, to balance out the money that goes to football scholarships. From his first day on the job as Eaves' successor in the AD role, Dooley's greatest challenge was meeting Title IX mandates.
"I thought we jumped out ahead of the curve in meeting those responsibilities. The first hire I made was Andy Landers [women's basketball coach]," Dooley says. "We added women's track soon after that. Then we added soccer and softball and now we've added equestrian, and that's proven to be a great decision, because it's brought us a new group of supporters in Georgia that loves horses, a source we never had before."
In other words, a deep-pocket resource. Equestrian enthusiasts are not found on sandlots. It doesn't take much horse sense to know that football, and to a lesser degree men's basketball (the only two revenue-producing sports at Georgia and most major universities), can't possibly pay for everything. Under Dooley's leadership, Georgia's stable of competitive sports has grown to 21 programs. Football funds 80 to 85 percent of the athletic association budget ($48 million in 2004), and men's basketball maybe 10 percent. Gymnastics is the third-leading revenue producer and it loses about half a million bucks a year.
The ticket is fundraising, getting money from all those barking attorneys and accountants in Sanford Stadium. The athletics department annual fund raised $13.4 million this year – up from $11.175 in 2002, $9 million in 2001. The fund was $76,500 during Dooley's first year as a head coach (1964) and $825,342 in 1979, his first year as AD. Georgia boosters don't know what a down economy is.
"People have a great passion for college sports. Even in the most difficult economic times, people will put their money where their interests are, and football is one of them," says Dooley. As soon as Georgia added 5,500 seats to Sanford Stadium, they were sold. Next year 27 skyboxes will be added, and they're already sold.
Dooley's approach to running a multi-million dollar business is the same as it was to running a football program: "Hire good people you believe in and let them do their jobs." Especially in finance, he says.
"Coach allows us our different approaches," says Damon Evans, senior assistant athletics director of Internal Affairs – the athletics department's chief financial officer. "For example, I'm more a risk-taker financially and he's the same fiscally as he was as a coach – conservative. We put our different approaches on the table and were able to put together the bond issues that are allowing us to build several projects. I'll jump head-first into something, and his timing is always perfect."
Michael Adams, the university president whose popularity rating in Georgia hovered somewhere between Gen. Sherman and Steve Spurrier following June's announcement, thought his own timing was perfect – to make a change, "to move to the next level … Coach Dooley and I clearly have a difference of opinion on this, but it's a respectful difference of opinion from my standpoint. This seems like the right time to move ahead," says Adams.
The Board of Regents backed Adams' decision, but most of the Bulldog nation disagrees. They've erected billboards, written letters, created Web sites and, perhaps most important, withheld money from the university's capital campaign. Typically, Dooley hates the controversy, but adds, "the reaction from Georgia fans and supporters has been very humbling and heartwarming."
After 40 years, Dooley thought he should be allowed to write his own ticket, good for a few more years. But a strong-willed university president thought otherwise, and it seems an anticlimactic end for an indestructible guy who built an athletics empire.
"When a person is as vital and vibrant, and as valuable to an organization, as Vince Dooley is and has been, there's no question that he should be able to write his own contract," says Teaff, the former Baylor football coach and a longtime Dooley pal. "He should decide when it's time to retire to the flower garden."