Best Companies For Women – What Women Want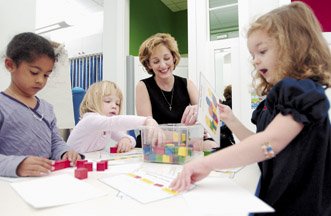 Toni French, employee development manager at Atlanta-based law firm Alston & Bird, actually loves her morning commute. That's because she shares it with her four-year-old daughter. Sometimes her daughter asks her to pop in a Disney tape and rocks out to the music; other times she just wants to wake up quietly on the ride into Midtown. But either way, French says the two get some good quality time together — not to mention the fact they can take the HOV lane — before French drops her off at the Alston & Bird-sponsored daycare center a few blocks from her office.
Sharon Douglas, vice president for human resources at AFLAC in Columbus, is constantly on the go. Both she and her husband work full-time, but their jobs aren't over when they leave the office: With two boys in school, they attend just about every sporting event known to man. Douglas is glad she doesn't have to worry about what to fix for dinner. She just stops by the company cafeteria at lunch and orders her take-home meals (if she's too busy to come by, she can email the order). It's ready when she leaves in the afternoon, and costs about $8 for her family of four. And, she says, "I am a queen when I get home."
Geri Gonzalez often avoids a morning commute altogether. She lives in Duluth, but instead of driving in to Deloitte & Touche's offices in downtown Atlanta, she grabs a bit more family time with her two and a-half-year-old daughter by telecommuting three or four days a week. "I can be more relaxed, instead of rushing and seeing my family for 10 minutes before I leave for work," she says. "And I can transition to family life after work a bit quicker." The telecommuting arrangement hasn't diminished Gonzalez' career options; in fact, she recently moved into a new position, as sector manager of Deloitte Career Connections.
In addition to juggling work and family responsibilities, these women have something else in common: They all work for companies that regularly make the lists of best companies to work for. Georgia companies that are usually fixtures on such lists include AFLAC and Synovus; others, such as the Final Four accounting firms of Deloitte & Touche, Ernst & Young, KPMG and PricewaterhouseCoopers, have significant operations in the state (see page 24). All pay particular attention to the needs of working women, although even the women who benefit from such options as flex-time, job sharing and telecommuting are quick to point out that male employees take advantage of these programs, too.
For such companies, offering what seem like special programs targeted to women is a matter of plain economics — the economics of talent. At Deloitte & Touche, which began a "Women's Initiative" in 1993, the impetus was simple: the firm was losing talented women. "We were hiring 50 percent women off college campuses and we weren't keeping them," says Dawn Patrick, lead tax partner at Deloitte and leader of the Women's Initiative in Atlanta. "And they weren't going home to have babies. They were still in the workforce; they just weren't with us." She points out that even with enlightened spouses, women still deal with issues of work/life balance. Deloitte offers such programs as flexible work schedules, parental leave and adoption assistance, and it also has a program that holds company leaders responsible for advancing women through the ranks.
"We are a service company. All we have is our people," says Patrick. "We couldn't afford to see that amount of talent leaving our organization. You can't replace it without a huge cost. So why not spend time, energy and money, quite frankly, to make sure you have programs that benefit the people you want to keep? And what that did was propel us into being an employer of choice, period. Not only did it benefit women, it benefited our entire employee base."
Everyone Benefits
"HR programs are for everyone," says Patrick, who notes that Deloitte has a number of men on flexible work arrangements. In fact, she says she's surprised how many men have taken advantage of programs created initially for women. "The work/life balance issue is everyone's issue," she says.
Karen Kaplan, general manager of Fleishman Hillard's Atlanta office, says much the same. The firm was recently named to Working Mother's 100 Best Companies for Women. "Our people are our greatest asset," she reasons. "If you burn them out or they're not happy, they're not going to be productive." Kaplan, who joined Fleishman in 1998 and whose career in public relations has spanned both various agency and corporate cultures, says that she appreciates the firm's "focus on the individual, male or female." Her children are older, but when they were young she chose to remain home, consulting on her own with a couple of clients instead of working full-time. She praises Fleishman's focus on "allowing mothers to have the flexibility to ensure they are happy both at home and at work. When you are a mother, you can't be happy with your home life unless you feel you've been able to focus on your kids."
Toni French had originally decided to stay home with her children (in addition to her daughter, she has a six-year-old son) when she accepted a part-time position at Alston & Bird three years ago. Soon that part-time gig blossomed into a full-time job. "Part of my decision was based on having [company-sponsored daycare]. I had to let go of the guilt of not being home as a full-time mom. I had to get real with myself about that," she says. "There's a part of me that thinks I am a better mother by balancing my professional needs with my family." Knowing that her daughter is only a few blocks away — French often drops by at nap time to tuck her daughter in — has made the decision to go fulltime much easier.
For Terri Henry, a manager at AFLAC who has three children, onsite daycare is a big help. "Making sure the kids are taken care of while I'm at work is a top priority," she says. "Although as a single mom, working is a top priority!" She likes being able to attend class acitivites and it eases her mind to know that if her children need her — one required stitches for a minor injury a few weeks ago — she's only a minute away.
It isn't just the demands of children, however, that put pressure on working women. For baby boomers, aging parents often require care. That was the case for Pat Lovich, an assistant at Alston & Bird, who was caring for her elderly mother. Flex-time "has been a lifesaver," says Lovich, who has worked with the same attorney for her 10-year career at Alston. She works a four-day week and job-shares on Fridays with another Alston employee. "It allowed me to continue on. I didn't want to give up working, but it was very difficult. [Flex-time] took an awful big burden off me." Lovich's salary reflects her reduced schedule, but she still qualifies for all full-time benefits. "It really has been quite easy and successful," she says.
That's not to say setting up such programs is easy. Bigger companies have the advantage, because they have more resources (both in terms of people and money). However, smaller companies can use technology to make work more flexible. When Women in Technology (WIT) recently surveyed tech companies to determine which ones were best for women, both large and small companies responded, says WIT president Mary Lou Heastings. "Smaller companies tended to do things without calling them a program," says Heastings, who is director of enterprise e-business at Worldspan. "You didn't see the expensive things like mother-care rooms [or daycare]. But at the individual level they listen to employees and try to customize things for them, ranging from working at home to a one-on-one mentoring program. It's their culture." Tech companies tend to be more comfortable with options such as telecommuting, in Heasting's opinion. "Companies see that people are willing to commit time at home if they can be flexible with employees. They don't mind dialing in on the weekends if they are given the latitude to leave early on Friday for a PTA meeting."
Cathy Benton, director of human resources for Alston & Bird, admits that it's harder to manage staff with flexible schedule and job-sharing. But, she adds, it's well worth it. "I would talk to other law firms and they said, 'We don't allow it because it's too difficult,'" she recalls. "What we get back in return is too important not to do it. We have been able to keep excellent staff with the firm. We've found that people who work a reduced schedule or work one day from home actually work harder, to make sure it isn't a burden on anyone else. We easily get more than 100 percent out of them." The key, she says, is for employees to be dedicated to making an arrangement work. Communication between two people sharing the same job is crucial, as is a good mesh of personalities.
But culture is crucial, too. "When we first started, I got a lot of push back from people saying, 'I don't know if this is going to work,'" says Benton. "I always worked full-time and raised two sons without these opportunities, and I wanted to see them work for other people. I just kind of never let up."
Team Players
A team-oriented environment at Alston & Bird helped pave the way for such programs. Teri McMahon, a partner with the firm who is a working mother, notes that being an attorney is hardly a 9-5 job. "We can't control the times our clients need us," she says. "It could be 10 o'clock on a Saturday night." A team approach relieves some pressure, because, as McMahon says, "I'm not the only one who can answer a question." She also recalls several years ago when her children (now 10 and 12) were younger and she was faced with an every-Monday-morning meeting at 8:30. But she had to drop her children off at school at 8. "All it took was for me to go to the leader of that meeting and say, 'Can we move that back 15 minutes?' The answer was a quick, 'That's an easy fix.' You can't solve every issue with one policy or another, but what you can do is be flexible."
While work/life balance is a big factor in determining the best companies for women (and men), the number of women in leadership roles is another key element. Many national surveys weight a company's score based on that factor — in other words, a company might have terrific work/life balance programs, but without women in senior leadership roles, it's not going to make any top 100 list. The National Association of Female Executives (NAFE), in fact, won't even consider a company for its "best list" unless the firm has two women on board. While there may be no direct link between the number of women in leadership positions and a company's family-friendly focus, NAFE president Betty Spence does see a correlation. "As more and more women have gotten on boards, they have said it's easier for them to raise issues related to women," says Spence. "When there is only one woman on the board, she doesn't want to be considered a one-issue person. When there are two, it's more comfortable. When there are three, they can talk about whatever they want."
"Men want balance, too, let's not lose that point," says Mary Buckle, a consultant for national search firm Egon Zehnder and president of the Board of Directors Network (BDN), an Atlanta organization that tracks the number of Georgia companies with women on their boards. "But when you have women moving into senior roles, you can't help but think about bringing that additional perspective." Buckle, who was also one of the judges for WIT's Best Companies for Women survey, says that "always coaching and training and mentoring is vital in big companies, small companies, public companies, private companies'whether it's male to female or female to female, one mentor is never enough."
Really, it comes back again to culture — especially how the company holds itself accountable for meeting goals, whether it's moving more women into leadership or developing family-friendly policies. Deloitte & Touche has a formal mentoring program and ties managers' compensation to meeting its Women's Initiative goals. AFLAC's Henry says company CEO Dan Amos makes a point of telling his managers that family comes first, and implements policies to back up his words. And for Alston & Bird partner Janine Brown, it's a company culture that lets her feel free to say she has to be in the car-pool line rather than claiming she has an early-morning appointment.
"People realize that if you are unavailable at that time, it can mean you can be on a conference call earlier in the morning, before everyone gets up and is racing off to school," says Brown, who is co-chair of the technology practice group and mother of a three-year-old. "Sometimes I think it makes it easier for our male lawyers to say, 'I can't be there because I'm going to my son's baseball game.' We're all trying to balance those competing commitments."