2002: 40 Under 40
Meet Georgia's Rising Stars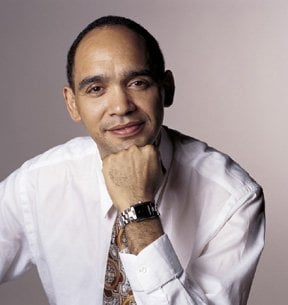 This year's list of up and coming young Georgians draws from business, government, education, academia, medicine, the arts, the nonprofit sector and the judiciary. The Class of 2002, selected by the editors of Georgia Trend, and profiled by Paige Bowers, Jerry Grillo and Kenna Simmons, are entrepreneurs, innovators, healers, painters, lawyers and public servants. The roster includes six elected officials, four doctors, two chefs, a science teacher, a veterinarian and a quarterback.
A few of our 2002 stars have familiar family names: Michelle Nunn's public service has taken a slightly different course than that of her famous father, former U.S. Senator Sam Nunn. Billy Blanchard, Ben Tarbutton, Pano I. Karatassos, Reed Dulany III and Khary Lewis are working in their family's business.
This year's list of 40 includes representatives from 21 different Georgia towns and cities.
Appearing on the cover are Dr. Andrew Agwunobi, South Fulton Medical Center CEO; Sara Blakely, founder and president of Spanx; Luis Morales, a Gainesville realtor; and Billy Blanchard, vice president of corporate banking at Columbus Bank and Trust.
Meet these four Georgians and their 36 colleagues who are this year's 40 Under 40.
Dr. Andrew Agwunobi
South Fulton Medical Center was a beat or two away from the big sleep when Tenet Healthcare stepped in with a golden defibrillator — $17 million to pull SFMC through the critical state. Tenet also committed to spending about $30 million in capital improvements and staffing to ensure a total recovery for the 369-bed hospital in East Point.
But the best investment Tenet made for South Fulton Medical's future is the hospital CEO, a young black pediatrician with a Stanford MBA, who boasts an African surname and a light Scottish accent.
"The real change at South Fulton is in the attitude and morale," says Dr. Andrew Agwunobi, 37, who arrived in the U.S. from his native Scotland in 1992. "This staff loved the hospital before, but that feeling has only gotten stronger. The other day I had someone come in for an interview, and she said, "Andy, I was waiting in the corridor to meet you for a few minutes, and five different people approached me and asked how they could help."
"Even the emails I get from the community are encouraging. They're so happy this hospital didn't disappear, and they like the direction we're going in."
Agwunobi isn't your typical hospital administrator. He has his own practice and does occasional shifts at South Fulton, and meets regularly with staff and physicians and investigates every complaint the hospital receives. He's quite proud of the hospital's accomplishments: Every floor is being renovated and more than $400,000 in new equipment has, or will be, purchased. Women's services are being improved, a cardiovascular center and a new $7.5 million emergency department are in the works.
"Most important, we've hired 100 nurses in the last four months," says Agwunobi. "That's huge in today's environment, with such a massive shortage of nurses. And we've added a lot of physicians — our medical office building is full now." ?
— JG
Sara Blakely
Pantyhose mogul Sara Blakely tried out her tag line — "Don't worry, we've got your butt covered" — on her mother before she put it into use. "That's my focus group," says the former sales trainer and motivational speaker, who also moonlighted as a stand-up comic. "If she laughs and isn't offended, I put it on the package." Her Atlanta company, Spanx, started making footless pantyhose in 2000, after Blakely searched in vain for something to wear with a pair of cream-colored slacks and sandals — something that would shape hips and thighs, yet leave feet bare. Her invention was dismissed by a number of manufacturers until one had a change of heart — after his daughter demanded to know where she could get a pair.
Since then, Oprah's professed her love for the product; Neiman Marcus, Saks and Nordstrom stock them, and People and Forbes have come calling on Blakely, who received the 2001 Ernst & Young Emerging Entrepreneur of the Year award in the Southeast. Blakely, who's 31, says she always knew she had a winner. "I am a woman who loves clothes and shoes, and if I was that frustrated that the right undergarment didn't complement my wardrobe, there had to be many other women who felt the same way."
Now Blakely is turning her attention to high fashion and comfort, two phrases one doesn't often hear in the same sentence. Expect Spanx to move into bodywear and other fashion areas, although Blakely won't reveal details yet. She does have more hosiery products up her sleeve — or more appropriately, up her leg — that will be out in three to six months.
Despite the success, Blakely says she still loves being a human demonstration model. "I love seeing women react when I show them this product," she says. Ever the comedian, she also cracks, "I'm always lifting my pants up, not down!" Her mother will be glad to hear it.
— KS
Billy Blanchard
His friends describe him as "hard-working, down-earth," and it just tickles Billy Blanchard to hear that. "Because it's something my parents have tried to instill in my brothers and me," says Blanchard. "They taught us that everybody is the same when you boil it down."
To Blanchard, his friends' assessment proves that the acorn stays pretty close to a big tree — his father is Jim Blanchard, the guy who spun mighty Synovus Financial Corp. out of Columbus Bank and Trust. Synovus has $17.3 billion in assets and is always ranked among the top 10 companies to work for. CEO Blanchard, with his philosophy on servant leadership and balancing work with the rest of life, is the key to Columbus' mighty financial engine. His son is poised to carry on that tradition.
To some, working in such a shadow could be a suffocating experience. For Billy Blanchard, it's a blessing.
"My dad's a great guy," says Blanchard, a VP of corporate banking at CB&T. "The positives outweigh any drawbacks or pressure there might be. Because of my dad, a lot of doors have opened for me in my career."
Billy, 31, spent a year and a half working on a Colorado ranch ("I got to be a cowboy") following graduation from Berry College in 1993. Then it was time to put that business administration degree to work in his dad's world.
He's taken to the four-walls and a-roof routine quite nicely, and has extended his talents out into the community. He's chairman of the local Young Life chapter, a relationship ministry for teens; and earlier this year was named chairman of the Columbus Chamber of Commerce's economic development committee.
"I'm still new at this, but it gives me a chance to get plugged into the community," says Blanchard. "It's a trial by fire."
— JG
Luis Morales
When Luis Morales arrived in metro Atlanta, the Sutters Mill for real estate prospectors, he planned to work on all kinds of markets — commercial, residential, whatever.
"My first year was so busy — my second year, I was in a state of shock," says Morales, who found an eager, empowered Latino market waiting to be served.
"There were so many buyers, and not too many realtors to represent their needs," says Morales, 34, an associate broker and realtor with Prudential. A Nicaraguan by birth, New Yorker by habit, Morales and his family moved to Queens when he was four, in 1972, year of the earthquake that leveled their hometown, Managua.
Seven years ago he moved to Georgia, to the Buford-Gainesville area, started working for Prudential, and hasn't stopped moving since. He's been among Prudential's top 50 producers in Georgia five years in a row, and is in the company's top 3 percent nationwide.
At the start of this year he helped organize two new real estate initiatives with the bulging Latino market in mind. In January he founded the Georgia Association of Real Estate Professionals, and in February he opened a bilingual Prudential office on the Atlanta Highway in Gainesville, the heart of a thriving Spanish-speaking community.
"We were seeing such tremendous growth in the Latino homebuying market, it seemed like a natural thing to do," says Morales, who underestimated just how natural. In the Gainesville area, Latino homebuyers are increasing at a rate of 50 percent a year.
The bilingual office opened in February. Through June, the five sales associates (including Morales) had accounted for $5 million in sales. Morales predicted 30 to 40 closings for the first five months. They closed on 100 properties, including 40 homes in a new development almost directly behind the Prudential office.
"Declining interest rates are helping us make the American Dream possible for a lot of new Americans," says Morales.
— JG
Kevin Abel
President, Abel Solutions
Alpharetta
Age: 37
Revenues last year of $2.2 million. An unbroken string of consecutive profitable quarters that runs from the day of the company's founding in 1997 to now. No outside investors. Marquee projects like building Coke's NASCAR site. And did we mention this is a tech company? Not many entrepreneurs can boast that kind of record. But the modest and unassuming Abel, a 2001 finalist for the Atlanta Business Chronicle's Small Business Person of the Year, who runs a 22-person IT consulting shop with his wife Cindy, doesn't tend to brag. Instead, he talks about the company's strong work-life values. "We just came off two big projects, and people did work some overtime, but we didn't want them working 80 hours a week. The majority of the time people don't work much more than 40 hours a week," he says. "And we focus on selling in Atlanta so people don't have to travel."
— KS
Hugh Acheson
Owner/Chef, Five and Ten
Athens
Age: 30
What if Hugh Acheson's wife had decided to go to grad school somewhere else? Then Athens might have been deprived of the restaurant that's done for its dining scene what REM did for its music scene — put it definitively on the national map. Fortunately, Acheson's wife is a southerner, born and bred. "We like Athens," he says, admitting that he's had offers to move elsewhere (Atlanta calling, among others). "It's a really good artistic town. I commute to work in four minutes." Food & Wine magazine had no trouble locating Acheson, naming him one of America's best new chefs in 2002. The self-taught chef, whose menu Food & Wine described as "merging soul food with Old World cuisine," says the restaurant is a very personal effort that reflects his philosophy on food: "Good solid technique and really fresh ingredients, and simplicity." Or to put it another way, says Acheson, "Life's too short for bad food."
— KS
Thomas Arvid
Artist
Atlanta
Age: 38
Thomas Arvid always knew he wanted to be an artist, but it took a while before he found his muse: wine. "I stumbled into wine," he says. "I was painting everything, and I decided on a red series. Someone bought a red wine painting right off my easel. I had to paint another one for my series, and someone bought that." His lush, photorealistic still lifes of wine bottles, glasses and popped corks are so inviting you want to reach into the canvas and take a sip. Arvid says the real attraction for collectors, many of whom commission a painting, is that the work reminds them of a special time in their lives — an anniversary or birthday celebrated with a special vintage. Demand has been so fierce Arvid and his wife have created limited edition prints of his original oils. You can see Arvid's work at the Vinings Gallery in Smyrna.
— KS
Matt Beasley
Mayor
Hartwell
Age: 36
Matt Beasley was a student at UGA when he ran for the state legislature at age 23. "I got the stew beat out of me, but it was a valuable experience," says Beasley, who uses his experience in public office while teaching his high school government class. Beasley served six years on the city council before defeating long-time incumbent mayor, and next-door neighbor, Joan Saliba, last fall. Since being elected, Beasley has been involved in several innovative public-private partnerships, including an Audubon signature golf course built on city-owned property, where treated wastewater is used, and an affordable-housing subdivision. Hartwell is undergoing an aggressive program to replace old gas and water lines, renovate the downtown area and expand the affordable housing program with assistance from a private developer.
— JG
Stephanie Stuckey Benefield
State Representative/Attorney
Decatur
Age: 36
Stephanie Stuckey Benefield will probably become the state's Mother Protector now that she's juggling child rearing with her work as a family law attorney and state legislator. Think about it: Three years ago — long before she gave birth to her son — she helped pass a law mandating gender equity in school athletics. Since then, she has faced off with county review boards statewide to ensure girls get the funds they need to play the sports they want. "You have to carve out a niche for yourself or else you'll run yourself ragged and be ineffective," she says. "She's a terrific role model," says law partner Holly Manheimer. "The fact that she can do all the things she does and can still be an awesome friend is great."
— PB
Mike Boggs
State Representative/Attorney
Waycross
Age: 39
Mike Boggs is law enforcement's good buddy under the Gold Dome, and for a very logical reason — it runs in the family. His father was an agent for the ATF (Bureau of Alcohol, Tobacco and Firearms) and his brother is a DEA man (Drug Enforcement Administration). "Law enforcement has been part of my rearing," says Boggs, who serves on the Government Affairs, Judiciary and Public Safety committees. "I've always gravitated toward that." Elected to serve the 168th District (Ware County) in 2000, Boggs made important friends early on, quickly earning the favor of Speaker Tom Murphy and fellow South Georgia Democrats Larry Walker and Terry Coleman. Those powerful connections have worked wonders for Boggs, who used a little help from his friends to rescue a state public health lab in Waycross from budgetary extinction, and convince the state to build a new $12 million regional lab in its place.
— JG
Justine Boyd
Assistant General Manager of External Affairs, MARTA
Atlanta
Age: 39
MARTA's Justine Boyd is a "ball of energy" who some people say will end up in public office or in a big company's corner office. "Justine is an extremely focused young executive who demands the very best of everyone she works with," says consultant and "Georgia Gang" panelist Jeff Dickerson. "She has the ability to direct a team of people with the expectation that they'll do what she asks. Not a lot of women can do that, but she does it with style and class." The former Fulton County Clerk is also known for being an innovator; she created and co-produced "Fireside Chats" with WSB-TV and spearheaded the book Atlanta Women Speak, a collection of 48 speeches by prominent women in the city. Now Boyd's busy taking MARTA by storm, directing the organization's outreach to government, the community, customers and the media. Given all the emphasis on Atlanta's traffic woes — not to mention MARTA's budget troubles — it's not a job for the faint-hearted, Fortunately, no one would ever describe Boyd in those terms.
— PB
Steve Brown
Mayor
Peachtree City
Age: 38
Steve Brown lost a fight in 1999, and it put him in the mayor's office. Brown unsuccessfully tried to stop Home Depot and Wal-Mart from building superstores at the intersection of Ga. 54 and 74. Two years later, he was elected mayor on an anti-development platform. "My philosophy is, don't allow growth to destroy what made the city attractive in the first place," Brown says. "I have no problem with mixed-use development. I insist on development that creates a sense of place." Brown, who had never held elected office, has certainly stirred the pot — a 90-day moratorium on development was overturned by the court, there's an ongoing flap about who runs the city's tennis center and amphitheater, and the mayor even filed an ethics charge against himself, after a staffer drove his daughter to golf camp. " love debate," says Brown. "You cannot develop an answer if you have never raised the question."
— KS
Carl Camon
Mayor
Ray City
Age: 34
In his Air Force days, he used to drive generals. "Now," says Camon, "I drive with generals." The first black mayor of Ray City (approximate population 1,000, about 78 percent white, six miles from Moody Air Force Base), Camon is serving his third two-year term. "When I took office, it was a shock for this area," says Camon. "The community embraced change, but carefully." And change has been good. Since Camon has been in office, he's played a lead role in water system improvements, using grant monies (and lowering customers' bills); establishing the first municipal-owned pre-K school in the state; and building a new city hall with SPLOST bucks. In 2000, Camon, the father of four, started the Mayor's Youth Leadership Institute, for kids from 10 to 17. "This is a way to increase awareness and promote community involvement at an early age," says Camon.
— JG
Doug Carter
President/Broker
Don Carter Realty Co.
Gainesville
Age: 38
Carter's most ambitious project in his hometown hasn't even broken ground yet, but the multi-use Preservation Plaza promises to be the finishing touch on the makeover of Gainesville's historic town square. He also just finished representing the city's school system in acquiring two tracts of land for two new elementary schools. "That's the one I'll look back on in 50 years with pride," says Carter, a product of the city school system and Wake Forest University. The former campaign coordinator and administrative assistant to then state school superintendent Werner Rogers, Carter has held or still holds chairmanships, board positions and memberships to state and local chambers of commerce, development authorities and leadership programs, but says he's fondest of his role as a board member for the North Georgia Community Foundation, which manages 112 charitable funds and has $12 million in assets and more than $65 million in bequests.
— JG
Dr. Karen Cornell
Surgeon/Assistant Professor
College of Veterinary Medicine
University of Georgia
Athens
Age: 38
The upside to living nowadays is longer lifespans. The downsides are increased cancer risk, hip replacement surgery, renal transplants, pacemakers — and that's just for dogs. There's no question Americans are demanding high-tech health care for their pets — everything from chemotherapy to CAT scans to alternative treatments such as acupuncture. "We're caring for pets better, so they're living longer," says Cornell, recently recognized with UGA's Norden Distinguished Teacher Award. "And virtually anything we can do for humans, we can do for pets." Cornell, a small-animal surgeon, is dog's (and cat's) best friend, and is on the cutting edge in oncology research, studying a rare and deadly form of cancer in cats that is triggered by routine injections. She's also been pretty good for the students at UGA's vaunted veterinary school, developing novel video and interactive approaches to teaching. Dr. Cornell played a key role in the treatment of Honey, the stray dog that was set on fire by an Atlanta youth. "Honey is living like a queen now," says Cornell. "She's earned it."
— JG
Len Cripe
Director of Savannah Film and Video Festival/Director of Studios
Savannah College of Art and Design
Savannah
Age: 35
Len Cripe has always been a manager among artists. "Everyone in my family was an artist — painters, sculptors," says Cripe, who has five brothers and sisters. "I wasn't. But I got my desire to manage in an art environment from that family experience." So naturally, he became an Army Ranger. "The Rangers taught me self-discipline, organization, logistics — works really well with what I do in the art community, making it easier for artists to turn their creative ideas into reality." Cripe spearheaded the rapid growth of the acclaimed Savannah Film and Video Festival over the past two years, doubling the number of submissions and increasing attendance almost 50 percent. This year's festival highlight: a lifetime achievement award for Debbie Reynolds, a Charlie Chaplin retrospective and screenings of some of the best entries from that other film festival in Cannes. Cripe says running the film festival might be more stressful than being a Ranger. "As a Ranger, you just settle the issue."
— JG
J. Antonio DelCampo
Judge, State Court of DeKalb County
Decatur
Age: 33
In July, 2002, DelCampo took a step down in pay but a step up in stature when he was sworn in as the first Hispanic judge in DeKalb County State Court. A civil attorney, DelCampo was appointed by Gov. Roy Barnes to replace Denise Majette, who stepped down to run against U.S. Rep. Cynthia McKinney. The native Peruvian also gave up the presidency of the Georgia Hispanic Bar Association. While heading up the regional office for the National Hispanic Bar Association, he lured that group's national convention to Atlanta this year. But DelCampo is most known for a case he got involved in through his Spanish-language radio talk-show. A caller told him six Mexican bricklayers had been arrested by Smyrna police for working after 6 p.m., so DelCampo took the case pro bono and won, arguing that the ordinance was unconstitutional. "That was my 15 minutes of fame," he says. Somehow we doubt that — it's more likely that Georgia will be hearing plenty about DelCampo in the future.
— JG
Amy Denty
Science teacher
Jesup
Age: 35
Science teacher Amy Denty is one to watch. She may not have political aspirations right now, but there's no question she has what it takes to be State Superintendent someday. After all, this national-board-certified teacher was named the state's 2000 Teacher of the Year and selected to serve on the Governor's Education Reform Study Commission, the Closing the Achievement Gap Commission and the Standards Commission. Though her star is on the rise statewide, she says she's still happy making slime or conducting science experiments with sixth graders. "People have asked me whether I have political aspirations," she says. "I've often thought about creating change on a broader level, but for now I'm happy in the classroom. I'll never say never, though, because I'm still fairly young." Don't be surprised if she changes her mind in a few years.
— PB
Reed Dulany III
President/CEO, Dulany Industries
Savannah
Age: 33
Since buying majority interest in the family business two years ago, and in spite of a national economic downturn, Dulany has watched his firm double annual sales to $26 million. Not bad for a guy who says he was the "dumbest person in the classroom." Of course, he was talking about Oxford — England, not Georgia. "Studying there was a defining moment for me," says Dulany, whose firm is parent company to a diverse collection of businesses — Southern States Chemical, Savannah Laboratories, SeaGate Handling and Evergreen Garden Center. "I don't sleep a lot," he says. Being single helps him find time to run the store and enjoy his hobbies — flying airplanes and helicopters. Preservation is another passion for Dulany, who is a partner in a company that restores historic properties in Savannah (he lives downtown) and serves on the corporate advisory board of the Georgia Nature Conservancy.
— JG
Michael Dunn
General Manager
Macon/Rome Braves
Macon, Rome
Age: 34
Mike Dunn may be the toast of Rome, but for him the 2002 baseball season was no game. In fact, the whole experience was a good argument in favor of human cloning. "I'm easily working 100 hours a week now," Dunn said during a season in which he ran operations in both Macon and Rome — 2002 was the Braves Class-A affiliate's last season in Macon and 2003 will be its first in Rome. Dunn's chores? Make sure the players' travel, lodging, eating and living needs are taken care of; run sales and marketing operations; manage the facility; make sure there are enough bats and balls to go around; listen to complaints (from the Major League club, employees, fans, the press); make sure construction of the new $15 million stadium in Rome is going smoothly, and sell the naming rights to that ballpark.
— JG
Josh Fenn
Executive Director
Downtown Waycross
Development Authority
Waycross
Age: 24
Only 24 years old, Josh Fenn brings a dose of energy to downtown Waycross, where he's secured more than $4 million in public and private investment. He's been at the job less than 18 months, arriving on the scene at a time when the DWDA had several projects in the works. "My honeymoon period lasted about a week," says Fenn. "And it's been non-stop ever since." Fenn has aggressively sought grants and revived the Waycross Main Street Program — making the DWDA eligible for more grant money. He is overseeing numerous downtown projects, including a state-funded feasibility study for the historic Phoenix Hotel and renovation of the old freight and passenger depots. "We're on the fence, and we can fall either way," says Fenn. "We can keep going forward, and become the commercial center of Southeast Georgia once again, or we can get stuck in the mud."
— JG
Kelly Fleming
President, Pickles & Ice Cream
Thomson
Age: 37
For a German teacher, Kelly Fleming knows a thing or two about growing a business. She left the classroom to grow her family — two children within 16 months. Being pregnant inspired her to start her own business. "It seemed like I was in maternity clothes all the time, and it was hard to find anything I liked that wasn't overpriced," says Fleming. "Even then, I had to drive to Atlanta." So in 1997, she and a partner invented Pickles & Ice Cream, a maternity clothing store, open by appointment only, in the back of an Augusta stationery store. Fleming bought her partner's share a year later, and today has 11 franchise locations across the Southeast and soon will operate four corporate stores. "The first time I went to market, I wrote a check for $2,042 for clothing samples," says Fleming. "And I thought we'd never make it back."
— JG
Heath Garrett
Chief of Staff for
Rep. Johnny Isakson
Marietta
Age: 33
Heath Garrett is Congressman Johnny Isakson's chief of staff and conventional wisdom says he'll probably be his replacement someday. "If I were looking for a young guy to run for Isakson's spot, I'd vote for Heath in a minute," says Micky Blackwell, who works with Garrett on the Marietta Redevelopment Task Force. "He's got a warm, engaging personality that makes people want to rally around him." There's something likable about an idealistic guy who cares about family, church and community and who left a potentially lucrative law career to work for someone he believed in. "I felt Johnny was someone I'd want to be associated with," Garrett says. "Learning from him has been worth every dollar I didn't make practicing law."
— PB
Ernest Greer
Attorney, Greenberg Traurig
Atlanta
Age: 36
Attorney Ernest Greer is the go-to guy for Atlanta's prominent African American business owners. "He's a bright young man who knows his law," says Harold Dawson Sr., chief executive officer of the Harold A. Dawson Company. "Plus, he's a people person who gets in your face and communicates with you. He can't be denied. We like to have him represent our company." Companies like to get Greer's advice; he serves on several corporate boards of directors, but shrugs it off as "not as difficult as you'd think. I don't deal with the day-to-day managerial issues." Active in 100 Black Men of Atlanta and the Antioch Baptist Church, Greer prides himself on his "two wonderful girls and wife."
— PB
Lori Grice
President, Lori Grice Photography
Statesboro
Age: 33
"God feeds the sparrows, he'll feed you too," says Lori Grice, who believes her deep faith augments artistic and business skills that have led to her rapid rise in south Georgia — sales have increased 400 percent in five years. World-renowned evangelist Michael Guido is on her list of portrait subjects, as are Lt. Gov. Mark Taylor and former Secretary of State Lewis Massey, among others. Grice, a Georgia Southern graduate, mentors prospective entrepreneurs as a member of the business school's advisory board. And she's done quite a bit to enhance the look of Statesboro: A downtown renovation project expanded her studio to 7,000 square feet, including a fine art gallery. Her selection as a 40 Under 40 member is something of a family affair: her husband, DeWayne, made the list previously. A tech entrepreneur, he now works for the company his wife started.
— JG
Kojo Griffin
Artist
Atlanta
Age: 31
A critic once described Kojo Griffin's paintings as Saturday-morning cartoons crossed with Saturday-night specials. That doesn't do the paintings justice: On these canvases, figures with animal heads and human bodies pose in vaguely or sometimes outright threatening scenes: A horse pulls a gun on a teddy bear, an elephant offers candy to two young bears, a soldier prepares to shoot two blindfolded animals. The artist, who grew up in Boston before moving to Atlanta with his family, says he aims for the universal in his paintings. Griffin studied child psychology at Morehouse, and his work certainly plumbs the depths of childhood hurt and innocence, but these canvases invite the viewer to invent a narrative rather than reflect on Griffin's personal experience. National recognition has come with inclusion in the Whitney Biennial (2000) and the Studio Museum in Harlem's "Freestyle" exhibit (2001). You can catch his work at the Museum of Contemporary Art of Georgia, Feb. 1 – March 30.
— KS
Dr. Leon Haley
Emergency Room Deputy Chief of Staff and Chief of Service,
Grady Health System
Atlanta
Age: 37
Some describe Grady Hospital's Dr. Leon Haley as a short man with a large presence. It's little wonder. Haley somehow manages to work grueling hours juggling patients, physicians and staff in the state's busiest emergency room and live a normal life of dropping kids off for school, doing community service, hitting the gym and making 8 a.m. meetings. "Here he is, working a demanding schedule and doing all the things a normal parent does," says Delores Furlow, an administrative assistant at the hospital. "Somehow he still manages to find the time to come in and talk to you. He has it all pulled together and is real down to earth." That kind of balance isn't so easy, Haley says, especially when your wife's a physician who works as hard as you do. "I just try to stay as organized as I can be so I can stay on top of things," he says.
— PB
Bill Hamrick
State Senator
Carrollton
Age: 38
Bill Hamrick feels like he has spent the past couple of years running for office. Hamrick was first elected in March 2000 in a special election to serve out the last few days of his predecessor's term. When that term ended, he had to run for office again. Last year's special session on redistricting forced him to run yet again. In spite of that, he's managed to establish himself in the Senate through his legislative work on corruption prevention and a wiretapping statute that would allow state authorities to share intelligence with their federal counterparts. Somehow, he's even managed to build his law firm. "All this has been difficult, but I had two choices," he says. "Either to get a handle on it in a hurry or, well, not."
— PB
Dr. Sheryl Heron
Assistant Residency Director,
Department of Emergency Medicine, Emory University
Atlanta
Age: 39
Emory's Dr. Sheryl Heron could be the first black female head of the Centers for Disease Control. Or this nationally recognized speaker on domestic violence issues could wind up in a government post helping battered women and children. She's got a reputation for being so dynamic, so compassionate and so professional, there probably isn't much she couldn't do. "She's a fantastic emergency doctor and a great clinician who works well under high pressure," says colleague Dr. Philip Shayne, residency director for Emergency Medicine. "She delivers good, compassionate care and is a fantastic teacher." Heron was recently appointed to the Georgia Commission on Family Violence, where she helped craft physician's guidelines for identifying and caring for abuse victims. She also serves on the board of the Women's Resource Center and trains Emory residents in professionalism and cultural sensitivity.
— PB
Dr. Dionne Hoskins
Biologist/Research Professor, NOAA/Savannah State
Savannah
Age: 31
Dionne Hoskins has always been interested in the secrets at the bottom of the sea. "My mom used to take me crabbing every week. After a while, I'd get bored and dive off the dock into this murky water," says Hoskins, who grew up on the coast in Georgetown, S.C. "It's always fascinated me that you put a net down there and food comes up. Basically, I'm interested in who lives in the mud." A graduate of Savannah State, Hoskins works at her alma mater as a liaison for NOAA (National Oceanic and Atmospheric Administration), the federal agency that tries to predict changes in the Earth's environment, while conserving and managing marine resources. She's involved in cutting-edge research in benthic (bottom-of-the-sea) ecology to define essential habitats for important species, like shrimp and blue crabs. In other words, research critical to keeping people fed.
— JG
Dr. Ken Howard
Family practice/cardiac rehab
Harbin Clinic (Calhoun)
Rome
Age: 37
Yes, some doctors do make house calls. Howard makes about eight a month, mainly for elderly folks or patients who can't get to his office. It's one of the reasons he feels a kinship with Doc Hollywood. "Yeah, that's pretty close to the way it is," he chuckles. "My biggest problem is getting patients to stop bringing food. The summer is especially bad because everyone around here has a garden." A graduate of Morehouse School of Medicine, Howard practiced in an underserved area of the state to repay his med school bills and decided to stay. It helped that his wife, also a physician, has a practice in nearby Rome. From his Calhoun office, Howard is making an impact by running an indigent care program that allows patients easy access to needed medicines, and serving as a preceptor for med-school and nursing students.
— JG
Lucy Wellborn Jones
Executive Vice President,
The Woodruff Companies
Columbus
Age: 32
If she wanted to, Lucy Wellborn Jones could be mayor of Columbus. After all, the executive vice president of The Woodruff Companies is so busy and active in the community it makes the average person's head spin. "I've been at this for 30 years and don't think I've been around anyone with the energy level, charisma and maturity she has," says Otis Scarborough, president of The Woodruff Companies. "That's what makes her so special. She's sincere and communicates just as comfortably with the head of a corporation as she does with anyone else." People skills serve her well. She's involved with just about everything in town, from the Columbus Botanical Gardens to Hands on Columbus and the Junior League. "My parents raised me to believe that the more you give, the more get," Jones says. "I was raised to give a lot to the community."
— PB
Pano I. Karatassos
Executive Chef, Kyma
Atlanta
Age: 31
It was natural that Pano I. Karatassos, youngest son of Buckhead Life founder Pano Karatassos, would become a chef."I was pulled toward working where my father was," says the younger Pano, whose first job was garde manger at Pano's & Paul?s. Still, he spent a number of years away from Atlanta, graduating from the Culinary Institute of America and working in four- and five-star restaurants before returning home in 2001. At Kyma, the restaurant that celebrates Greek cuisine, Karatassos believes that "clean smart cooking techniques [should] let great products stand on their own. I buy five varieties of fish from Greece," he says. "I'm not going to fly them over to Atlanta and then cover them with a rich sauce or some kind of chili rub. I'm not going to slow down the flavors or muffle them." It's a philosophy that diners and critics alike agree on.
— KS
Khary Lewis
Marketing/business development Southeastern Facility Management
Columbus
Age: 24
"Dad always told me it takes more than eight hours a day to be successful in business," says Lewis, who is still at his desk at half-past six in the evening. In 1986, his parents, Matthew and Dianne Lewis, started the full-service facility management firm (janitorial, HVAC, operation and maintenance and food services). 10 years ago annual sales were about $1 million. Today they're close to $13 million. SFM operates in four states and counts mega-companies like AFLAC, Synovus and Georgia Power among its clients. Young Khary is a big reason for that growth. Specializing in marketing strategies and developing business plans, he secured the business of sporting-goods giant Russell Corporation and he'll soon introduce cutting-edge, new-technology floor care to the company's list of services. "It'll keep us ahead of our competition while reducing our labor costs," says Lewis, still going strong at quarter-past seven.
— JG
Jim Murphy
Chief Executive Officer
Afterburner Seminars
Atlanta
Age: 37
Former fighter pilot Jim Murphy practices the flawless execution he preaches to corporate managers and salespeople. As a result, his red-hot corporate training company is on the Inc. 500 list of fastest growing businesses and he's putting the finishing touches on a second book called Flawless Execution in Business and Life and You. This Peter-Drucker-in-a-jumpsuit says business is combat, and he's been able to come out ahead thanks to great, focused employees who help him concentrate on Afterburner's mission. Now Murphy's branching out, bringing his message to schoolchildren with a program called "Flight Plan for Life" that teaches kids about goal setting and focus. "He's a wonderful leader who knows when to be all business and when to have fun," says Vicki Kibler, Afterburner's director of operations. "This company has grown over the past couple of years, but he has, too, and he does what he can to stay a step ahead of everyone else."
— PB
Michelle Nunn
Executive Director, Hands On Atlanta
Atlanta
Age: 35
You could say public service is in Michelle Nunn's genes — her father is former Sen. Sam Nunn — but that wouldn't be giving enough credit to the woman who has helped make the first Saturday in October a city-wide service day. Hands on Atlanta Day, which draws more than 10,000 volunteers, is the nonprofit's most visible project, but the organization provides volunteers for everything from schools to senior centers to food banks. Nunn has been there since 1989, when Hands On Atlanta was "created out of a living room with 12 Atlantans who had a vision for getting people more involved in volunteer service," she remembers. "It was very much a grassroots effort with each of the founders contributing $50 to $100 to get started." The budget has grown to more than $5 million, but the can-do spirit remains. "I believe Hands on Atlanta will continue to evolve into the central gathering place for service and civic action for the city," says Nunn. She'll be happy to sign you up.
— KS
Dexter Sharper
City Council Member
Valdosta
Age: 30
What doesn't Dexter Sharper do? He?s the youngest member ever of the Valdosta City Council (elected at age 28), but that's only one entry in a resume that would more likely belong to someone twice his age. A full-time paramedic, Sharper is also a gospel recording artist (with his group, the Sharper Brothers), president and founder of the Georgia Paramedic Association, a motivational speaker and a youth minister. He's on the board of the Lowndes County Partnership for Health and active with Boy Scouts and American Cancer Society. Oh, and he's also prepping for a solo gospel album. He may sound too good to be true, but his fans include Mayor Jimmy Rainwater, who nominated Sharper, a lifelong resident of Valdosta, to Ebony's list of Top 30 Future Leaders in 2001, praising his "maturity and wisdom." When Sharper says, "I strive to be the best role model I can be," you can believe it.
— KS
Ben Tarbutton III
Assistant Vice-President
Sandersville Railroad Company
Sandersville
Age: 30
The Sandersville Railroad Company only has 30 miles of track — but it's been a vital link between the area's rich kaolin mines and destinations all over the country. "We're not as long as Norfolk-Southern and CSX, but we're just as wide," says Tarbutton, the heir apparent to the 109-year-old railroad company. A family business since 1916, the company has made most of its living hauling kaolin from point A to a Norfolk-Southern interchange. Just about the only hat Tarbutton doesn't wear at the office is the Casey Jones-looking engineer's cap. But some of his greatest contributions have come away from the office — former president of the Georgia Railroad Association, board member for both Georgia's Chamber of Commerce and Rural Development Council, member of the local development authority, member of Sandersville Technical College Foundation board and former chairman of the Washington County Chamber.
— JG
Michael Vick
Quarterback
Atlanta Falcons
Atlanta
Age: 23
Last year, fans were paying $95 for Michael Vick'?s signature before he even took his first snap for the Falcons. Money follows money. Shortly before the autograph signing event, Vick signed a rookie-record contract that guaranteed him $15.3 million and could be worth up to $62 million. This year, he starts earning it. Because he often exudes confidence beyond his years, comparisons to future Hall of Famer Steve Young (Vick's boyhood hero) are inevitable — both are lefties, and at times the swashbuckling Vick evoked memories of the former 49ers star, rushing for 305 yards (second on the team in 2001). But he also fumbled six times and completed just 50 of 113 passes. Then quarterback Chris Chandler was released in February, and the Vick era began. In the words of Atlanta Journal-Constitution columnist Mark Bradley, "[Arthur] Blank owns Atlanta's NFL franchise. Vick is the franchise."
— JG
Debbie Young
Owner, Windham Castings
Plains
Age: 39
It's a good thing Debbie Young listens to her parents. After getting a master's degree in public administration, she realized she hated it. "It was so boring," she says. "I'm not the type to sit behind a desk." Her mother suggested an alternative: importing furniture from Mexico, where Young discovered outdoor furniture made of aluminum casting. In 1997 she opened her own company in her family's barn — "It was free" — making and selling $450,000 worth of outdoor furniture. Two years later, she moved the company into a warehouse formerly owned by President Jimmy Carter, who, says Young, paid her parents a visit the day after he learned about her company and worked out a deal for the space. Today the company is a mainstay employer in Plains, and has its own foundry, which Young opened when she couldn't get the quality products she wanted from other suppliers. Windham Castings did $6 million in sales last year, and saw its owner named Georgia's 2002 Small Business Person of the Year.
—KS