Georgia's Medical Mismatch
With the aging population and too few geriatricians, more doctors are needed to care for the state's older patients.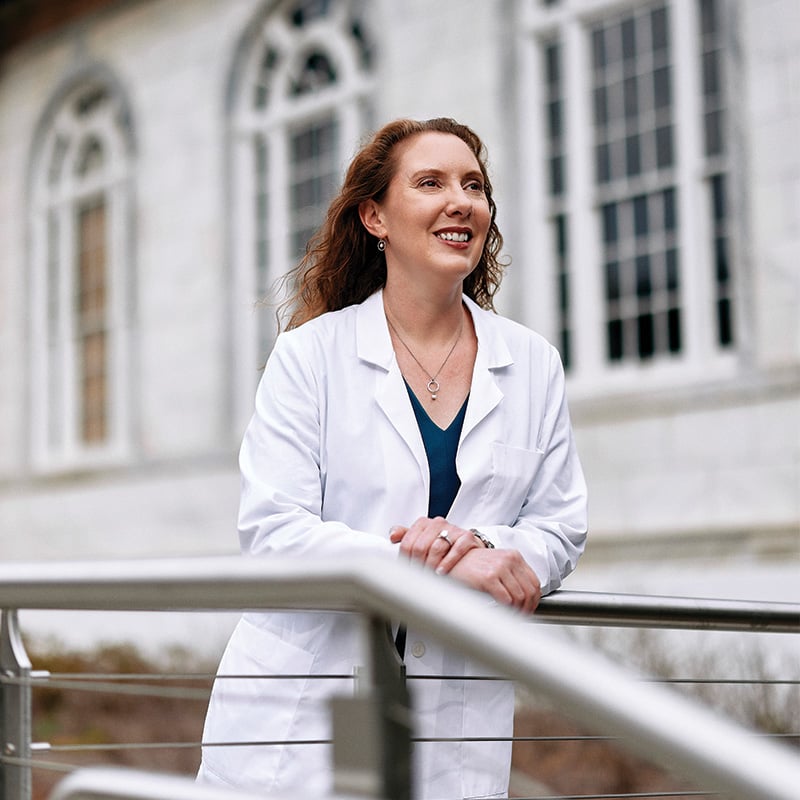 Dr. Anna Mirk was a resident in internal medicine and contemplating her options of specialties when she discovered what she loved most was working with elderly patients. "I considered a lot things – cardiology, gastroenterology – but I really ended up feeling kind of bored doing the same thing all the time when I did my rotations in those," she says. "When I did my geriatrics rotation, I absolutely loved it. The patients were wonderful. I felt like I could really help them. You get to have that continuity of care with your patients over time."
Today Mirk uses her love for working with geriatric patients and her years of medical training to focus on treating the complex health problems that may come with getting older. These include cognitive declines; changes in bones, joints, muscles and organ systems; frailty; falls; and complications from medicines. As an associate professor at the Emory School of Medicine and program director of Emory's Geriatric Medicine Fellowship, she is training a new generation of doctors to do the same.
Treating multiple health problems in older people can be a challenge, Mirk says. But perhaps the bigger challenge is training enough doctors to meet the aging population's needs.
---
A Specialty in Short Supply
Just as pediatricians are important for treating the unique needs of children, doctors specially trained in geriatrics are important for treating the needs that come with aging. "It is not just an adult that has gone from 60 to 80. There are things that are unique to an 80-year-old that are different from a 60-year-old," says Dr. Florence Baralatei, director of the Geriatrics Fellowship Program at Atrium Health Navicent's The Medical Center in Macon.
Baralatei and Mirk are among just 139 geriatricians who were practicing in Georgia in 2021. In a state where about 1.6 million individuals are currently 65 and older, that translates to one geriatrician for each 11,500 members of the senior population, who could now – or eventually – benefit from seeing one.
While the number of geriatricians in Georgia is lower than that of most states – for example, our neighbors North Carolina and Florida have 253 and 418, respectively – a shortage of geriatricians is not just a Georgia problem. Nationwide, as of 2021, there were only 7,454 certified geriatricians – just over a third of the number required to meet the nation's current needs, according to the American Geriatrics Society. And the U.S. population continues to age, creating an even greater need for geriatricians. The American Geriatrics Society predicts a 50% increase in demand for geriatricians between 2018 and 2030. But unfortunately, the medical specialty is not growing.
Training for geriatrics, as for many other medical specialties, involves a one- or two-year fellowship following medical school and residency, typically in internal medicine or family medicine. Each year about 400 fellowships – including four at Emory and two through Atrium Health Navicent – are available to doctors nationally, but more than a third of those fellowships go unfilled, says Mirk. "The number of family medicine or internal medicine residents who decide to go into geriatric fellowships has been about the same over the past several years – about 250 or 260 fellows train in geriatrics [nationally] every year," she says. "So there is no way we will ever meet the need of our country at the rate we are training."
---
Not a Popular Choice
Experts cite a number of reasons why geriatrics is not as popular as other specialties: Cases are often complex and tedious, students don't see working with older people as exciting and many students don't know what the specialty entails. Many mistakenly equate geriatrics with taking care of people in nursing homes, says Dr. Wanda Jirau-Rosaly, a geriatrician and associate professor at Augusta University's Medical College of Georgia (MCG). While that certainly can be a part of geriatrics, she says her goal for treating people as outpatients is to keep them out of nursing homes.
But the main reason more students don't pursue a geriatric specialty is financial. "In terms of economics, basically it is not like other specialties where you get more money by becoming a geriatrician – you kind of don't," says Jirau-Rosaly. "It takes a lot of energy to take care of these patients but you don't necessarily get paid as much as you would in another specialty, so the interest to become a geriatrician may not be there."
Students go through medical school at great cost and often expect a big re- turn on their investment. According to a survey of medical school graduates by the Association of American Medical Colleges, the median medical school debt for students graduating in 2021 was $200,000, which did not include debt they incurred as undergraduates.
During their residencies following medical school, young doctors earn a modest salary. Those who choose to specialize and continue their training through a fellowship must delay their earning potential another year or more – often with the promise of making a significantly higher salary as a result.
But for many geriatricians, that promise is never fulfilled. "Those who spend an extra year [of fellowship] at a fourth-year resident's salary never make that up," says geriatrician Dr. Harry S. Strothers III, chief of family medicine for Atrium Health Navicent and chair of the Department of Family Medicine at Mercer University School of Medicine. "Geriatricians don't get paid any more for doing that fellowship."
According to salary.com, a provider of employee compensation data, the median salary for geriatricians in Georgia, $206,753, is less than that of internists and family physicians, who do not complete the additional training and certification. Furthermore, a geriatrician's salary is often half or less than what other specialists in Georgia – such as radiologists, cardiologists and plastic surgeons – get paid.
The major reason for the salary difference is who is paying them. "Geriatricians frequently get paid less because most of their patients have Medicare or Medicaid, which pays less than commercial insurance," says Strothers. "If you have a practice that is full of Medicare and maybe some Medicaid patients, the reimbursement is so low students can't pay off their school loans," says Dr. Folashade Omole, professor and chair of the Department of Family Medicine at Morehouse School of Medicine in Atlanta. "So they go into specialties like radiology and dermatology, where they can make $500,000 or more, instead of geriatrics where they would make $250,000 or less. They're like, 'I have maybe a half-million or quarter-million [dollars] in debt. I better pay this money off.'
"Unless reimbursement from Medicare improves and actually until all of the specialties are set at the same salaries, you are not going to have people going into the specialties that are needed [most]," says Omole.
---
Attracting More Geriatricians
Efforts to increase reimbursement by the Centers for Medicare and Medicaid Services (CMS) are among the solutions proposed by organizations such as the American Geriatrics Society and the American Academy of Family Physicians (AAFP). But so far, efforts to increase Medicare reimbursement have met with little if any success.
"We were disappointed that Congress's end-of-year legislation did not fully address outdated Medicare physician payments," AAFP president Dr. Tochi Iroku-Malize stated in an email. "A major area of focus this year will be to advocate for Medicare physician payment policies that bolster primary care, keep pace with increasing practice costs and stop the annual threat of Medicare cuts that can jeopardize access to care."
Other efforts have included shortening the length of the fellowship training period, increasing the salaries of geriatrics fellows and establishing loan forgiveness programs to ease the financial burden of practicing primary care, including geriatrics.
Two programs administered by the Georgia Board of Healthcare Workforce – Physicians for Rural Areas Assistance Program and Georgia Physician Loan Repayment Program – were created to increase the number of doctors in Georgia's rural counties, where the population is often older than that in cities. Both programs cancel up to $25,000 of student loan debt per year for up to four years for physicians practicing in underserved counties with a population of 50,000 or less.
Emory students can also apply for funds from the Kathelen and Dan Amos Medical Student Loan Forgiveness Program: Improving Access to Primary Care in Georgia – regardless of where they practice in the state. The program, which was established with a $5 million gift to Emory University School of Medicine, encourages more students to enter the lower-paid primary care disciplines – including geriatrics. It reimburses young doctors $40,000 per year (up to $160,000) if they pledge to stay in Georgia and practice.
Emory and other medical schools in Georgia are also working to attract more students to geriatrics through week-long introductions to aging issues during the students' first year. Medical College of Georgia's Program for Aging Research in the Summer recruits rising second-year medical students to study and work with MCG scientists doing basic science on aging. The program also enables students to shadow MCG and Augusta University Health physicians who treat patients with health issues related to aging.
---
Training for All Doctors
Medical schools are also increasing their focus on geriatrics training for all students and residents, recognizing that almost all doctors will likely treat older people, who tend to require more healthcare. "Do we need more geriatricians? Absolutely," says Dr. Jean Sumner, dean of Mercer University School of Medicine, while adding that well-trained primary care physicians can provide much of the care most older people need.
"I am an internist but I took care of older people most of my life," Sumner says. "In the same way you understand how to take care of a diabetic patient, you have to understand how to take care of a geriatric patient." She says Mercer School of Medicine is focused on turning out well-trained physicians –mainly primary care physicians – who have strong clinical skills. "Really good primary care people who understand geriatrics are critical to this population." At Philadelphia College of Osteopathic Medicine (PCOM), which has campuses in Suwanee and Moultrie, geriatrics is incorporated into the daily curriculum from day one. (Osteopathic medicine combines muscle and joint manipulation with conventional medical treatments.)
Following a recent curriculum revision, special populations – including the geriatric population – are discussed in every first- and second-year course, says Dr. Marla Golden, associate dean of clinical education at PCOM South Georgia. "Whether it is musculoskeletal medicine, cardiology [or] pharmacology, the elderly population will have distinctly different responses to treatment. There are special considerations [with older patients], and they are brought to light in every course." Geriatrics becomes more of a focus for third- and fourth-year medical students at PCOM and Georgia's other medical schools through electives and rotations, which offer hands-on experience working with older people.
"Emory [has] an elective that fourth-year medical students can do in geriatrics, where they get exposed to things that they probably don't see anywhere else, like going into a nursing home, going into an assisted living [facility], seeing patients in specialty clinics, like
Alzheimer's clinics, continence care, sleep clinics, things that are kind of specialized in geriatrics," Mirk says. For medical school graduates, geriatric medicine is part of virtually all residency programs, particularly for those who pursue family or internal medicine. "The residents – at least the family medicine residents – get a significant amount of education in the care of older people," says Strothers.
At Morehouse, family practice residents go into nursing homes and Veterans Administration facilities to provide care for geriatric patients, says Omole. "The patients we take care of [are older] – I would say about 40% are geriatric patients – so [the residents] are cognizant of the aging population."
The residents are evaluated on how they manage the patients' care, Omole says. "I tell my residents, 'If I am hard on you, I am hard on you for a reason. Call me selfish, but I need to be sure you can do this well because you are the ones who are going to be taking care of me in the future.'"
---
It Takes a Village
While training doctors to treat geriatric patients is essential, it is only one part of providing care to the growing elderly population, says Mirk. "You have to train the whole healthcare workforce to treat older adults."
"I always tell everyone that geriatrics is really a team sport," says Mirk. "We are one of the specialties where we consult all of our friends – physical therapy, occupational therapy, social work, psychology, pharmacy, nursing. It takes a village to care for an older adult.
"I think some specialties like to be the king of the hill and say 'I've got it all,'" she adds. "But we realize sometimes a doctor is not what you need; sometimes a social worker is what you need. So really being able to connect people with the care they need is a big part of geriatrics, too."