From the Publisher: Transforming Trails and Transit
Georgians continue to seek and adapt their lifestyles to healthier experiences.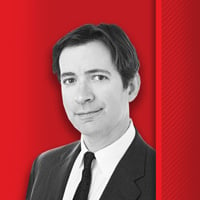 It's exciting to read about the transformative projects taking place throughout Georgia in this month's issue. The BeltLine section on page 90 was particularly interesting because of the impact it's had on Atlanta and the potential to replicate it in other Georgia communities with similar rail-trail potential.
Money is already flowing to some other transformative projects that are opening up underused spaces.
In December, the Atlanta Regional Commission announced $235 million in federal funding for road, transit and trail projects around the 10-county metro region. Projects include the Atlanta BeltLine's Southside and Northeast trails, bus service between Stockbridge and McDonough, 35 road projects, 25 bicycle-pedestrian trails and eight transit projects.
One project will extend Rockdale River Trail in Rockdale County to connect to Johnson Park, linking with the Panola Mountain and Arabia Mountain Trail systems. Environmental and design work for a Bus Rapid Transit line along Satellite Boulevard in Gwinnett County is also included.
Another will extend the PATH 400 trail along Georgia 400 north into Sandy Springs, connecting Perimeter and Buckhead. Sandy Springs will kick in T-SPLOST money to complete the project, which will extend the existing trail from Lourdes Drive just north of the Glenridge Connector for approximately 2.3 miles.
The City of Sandy Springs also approved a $7.8 million bid in September for a trail linking Morgan Falls Overlook across Orkin Lake and along Cimarron Parkway to Roswell Road. A grant from the Georgia Department of Natural Resources will cover 38.5% of the costs.
In Cobb County, commissioners approved $1.4 million for three trail projects, including a million dollars for the Cumberland Sweep, which is part of the much larger Chattahoochee Riverlands Project that aims to link trails along the Chattahoochee River from Buford Dam to Newnan. The Sweep will link Cobb Galleria to I-285, where a pedestrian bridge will connect to Truist Park and the Chattahoochee National River Recreation Area. Plans also include the Austell-Powder Springs Trail, which would connect the Silver Comet trailhead to downtown Austell – part of a larger plan to link all seven cities in Cobb with trails.
In September, the Chestnut Family Foundation pledged more than $1 million to support trail development in eight metro Atlanta parks, totaling 23.7 miles. New trials are planned for Allatoona Creek, Moore's Bridge, Chattahoochee Bend and South Rockdale parks, and an expert-level trail is planned for Quarry's Edge Park south of Atlanta. A hard surface Velosolutions pump track is planned for Cobb County.
In August, the Georgia Department of Natural Resources announced $1.5 million in grants awarded through the Georgia Recreational Trails Program. Projects include the rehabilitation of the Canal Single Track Trail in Augusta, the Mulberry Riverwalk in Braselton, the Silver Comet Trail in Cedartown, the Thomasville Community Trail and the Dinglewood Park Trail in Columbus.
The recent T-SPLOST that passed in Athens-Clarke County will provide $150 million for 34 projects, including $7.5 million for the Firefly Trail. Ultimately linking Athens to Union Point, Firefly is an integral part of the ambitious Hi-Lo Trail, which is planned to connect trail projects to form the longest continuous paved, road-separated trail in the country, stretching 250 miles from Athens to Savannah.
These are beautiful areas that are fun to explore. Planners see the green trend of people increasingly preferring pedestrian as well as vehicular options in Georgia communities.
In the case of the Atlanta BeltLine, here is a project that is so popular it has upended the conversation about transit in general. For one thing, does increased trail and rail access diminish the need for new transit investment? In Georgia's nice climate, trails have increasingly become the go-to "last mile" option linking attractions and existing transit infrastructure.
Technology advancements in non-vehicular transportation are another wild card in this planning trend. Will e-bikes, scooters and bikeshares become more dominant last-mile connectors as the price of Uber and other rideshare services continues to rise? What will this mean for light rail planned on corridors like the BeltLine loop?
Transit along the BeltLine is still the goal. Other transit projects in the city include bus rapid transit along Campbellton Road and through the Summerhill neighborhood.
The conversation is ongoing, but it's a good one to have as Georgians new and old continue to seek and adapt their lifestyles to healthier experiences.