Georgia Trustees: Donna Hyland and Dan Amos
The recipients of the state's highest honor share a commitment to help heal children and support a healthier future for them.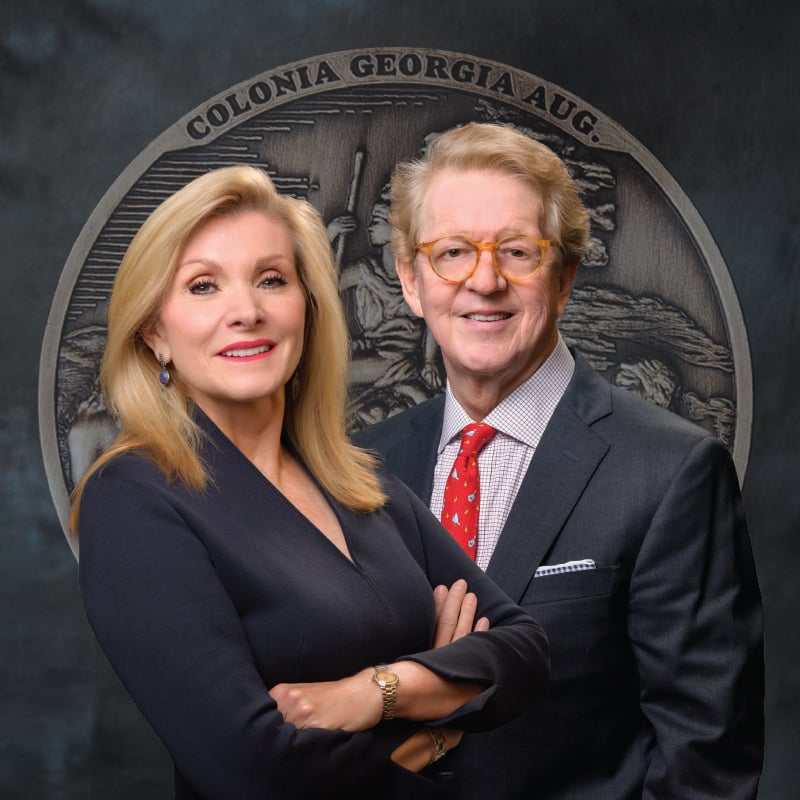 Non Sibi Sed Aliis. The translation from Latin means "not for self, but for others." It's the motto of the first Georgia Trustees who were charged in 1732 by England's King George II with establishing the new colony of Georgia.
Fast forward 291 years and this year's Georgia Trustees – Dan Amos, CEO and chair of Aflac, and Donna Hyland, president and CEO of Children's Healthcare of Atlanta – continue to be the living embodiment of that motto. Selected as Trustees by the Georgia Historical Society (GHS) and the Governor's Office for remarkable leadership throughout Georgia and the world, Amos and Hyland will formally accept the state's highest honor on April 22 at the Trustees Gala in Savannah.
Since 2008, GHS and the Governor's Office have recognized Georgians whose community service and accomplishments reflected the highest ideals of those original Trustees. However, Amos and Hyland are connected by more than their ability to grow highly respected organizations and provide leadership in their communities. Their bond has been forged by the commitment they share to help heal children and support a healthier future for them.
Find out more about these influential leaders – and how they serve others – on the following pages. – Mary Ann DeMuth

---
Donna Hyland
Improving Kids' Care 
As Donna Hyland has grown in her career, she has led the growth of a pediatric healthcare system that is among the best in the country.
Donna Hyland has always been a numbers person. Growing up in Bowling Green, Kentucky, and attending college in the Bluegrass State, the president and CEO of Children's Healthcare of Atlanta liked numbers well enough to major in accounting with an eye toward being a tax lawyer – until she worked in a law firm as a summer intern and quickly changed her mind. She loved accounting, though – especially the business side, auditing, tax. A sign that something else might be in store came not too long after she had been working a few "first jobs" after graduating. That's when she moved to Atlanta and started as a corporate accountant for The Home Depot, in 1983.
This was back in the day when the home improvement megacorp was "tiny," she recalls. "I got to meet Arthur Blank and Bernie Marcus way back when." Although it would be years before the two founders had the enormous philanthropic resources they later amassed, eventually gifts from both men were instrumental in the rise of Children's to prominence as one of the top pediatric health systems in the country. Marcus founded the Marcus Autism Center that became a part of Children's in 2008 and Blank's family foundation kickstarted the 446-bed Arthur M. Blank Hospital and 78-acre campus taking shape in Atlanta. The Marcus Foundation also recently gave $30.9 million to create a center for advanced cellular therapy at Children's.
It's a story Hyland loves to tell because, she says, "Who in the world back then would have ever guessed I would have ended up doing what I'm doing?"
In many ways, though, Hyland's story is Children's story.
---
Blessed by Perseverance
After a stint at The Home Depot, Hyland worked for a company that wanted to move her to Boca Raton, where the median age was not that enticing to someone in her 20s, used to going out in Buckhead and having fun. "It was like a big SEC football game every weekend," she says with a laugh. In 1986 her former boss, now CFO at what she described as "a little children's hospital" – Scottish Rite Medical Center, founded in 1915 – recruited Hyland to be the controller there.
It was a culture shock. Although The Home Depot had been "like the wild West, in that it was new and growing," she never had to worry about financial resources. But on her first day at Scottish Rite, her boss handed her a box and said, "There's $700,000 worth of checks here that need to go out. The problem is, we only have $400,000 in the bank."
Hyland remembers giving her an "are you kidding me?" look, whereupon her boss turned around and, on her way out of Hyland's office, said, "I never said it would be easy."
Hyland laughs about it now, but it was a seminal moment that's influenced her leadership over the years. Beyond teaching her the value of doing due diligence, the process she used that day sounds a lot like the one she's refined as CEO. Back then, "I went next door to my buddy who ran materials management … and we sat down and went through the checks," Hyland recalls, figuring out what had to keep running and be paid, going check by check.
Her challenges are different now, but Hyland says she approaches problem-solving by asking and listening to the people who are involved, and then breaking down the issue and working on it step by step. "I do try to really listen to the people who know most about that challenge," she says, crediting a former chair of Children's board with advising her to "show up, watch, listen, gather facts and then come back." She describes herself as being "blessed by perseverance," and says, "You just have to keep solving it bit by bit and making progress…making those incremental moves until you can finally get to the point that, hopefully, you can claim victory."
That trial-by-fire also gave her the drive to build financial reserves at Children's. "If you don't have the resources, you're scratching every day to try to keep the doors open," she says. "It has probably been a big influence [on] why I've worked hard to build the balance sheet for Children's. Because this place has to be here a hundred years from now."
---
Creating Children's Healthcare of Atlanta
Hyland became CFO at Scottish Rite at age 29, winning the job after a national search. "I look back on it now, and I think, my gosh, I had no clue how to be a CFO, but somehow I got the job," she says. Then, in 1998, Scottish Rite merged with Egleston Children's Health Care System, which was home to the Aflac Cancer and Blood Disorders Center and the Sibley Heart Center. Hyland became CFO of the new entity, Children's Healthcare of Atlanta.
Like Atlanta itself, the two hospitals grew quickly in the 1990s. Scottish Rite was "recruiting doctors from all over the country," Hyland says. "Atlanta was a vibrant city and it was easy to get people to move here. So we started building programs." With a long history in orthopedics, and led by Medical Director Raymond Morrissy who literally wrote the textbook used to train pediatric orthopedic surgeons, Scottish Rite doubled in size from 1983 to 1998. "We recruited phenomenal doctors to do craniofacial surgery, general surgery, neurology, emergency, our neonatal program," Hyland says.
But the growth also led to competition between the two hospitals. Hyland says it was like an arms race. "The relationships weren't good," she recalls. "When we merged, I remember thinking, 'Is this going to work?'" It did – in part because while Scottish Rite excelled at orthopedics, neurosurgery, general surgery and emergency services, Egleston led in cardiac and cancer care and had an organ transplant program. "You could start to see how you could get the best of both," Hyland says. "It was pretty amazing because the people were very similar – they were all working hard and they were super dedicated to kids."
With money saved from eliminating duplicate efforts in marketing, finance and administration, the new Children's started to invest in programs. The first was cancer research and care. Dan Amos, CEO of Aflac and himself a 2023 Georgia Trustee, and his wife Kathelen had given an initial $3 million donation in 1995 to create the Aflac Cancer and Blood Disorders Center at Egleston. After the merger, Children's decided to focus on pediatric cancers and recruited an internationally known physician, William Woods, to lead the center. (He retired in 2015.)
"At that time we did very little research," Hyland says. "Now we are the largest clinical trials research enterprise in the country. We have over 125 faculty members. We're part of the Children's Oncology Group [which consists of] 200 cancer centers for kids across the country. We all contribute our data, results and outcomes into a big database so that we're constantly looking at what are the best treatments for rare cancers."
The Aflac Cancer Center is routinely ranked in the top 10 in the U.S. for pediatric cancer and blood disorders, and Hyland estimates Aflac's support over the years has totaled more than $140 million and had a big impact on Children's reach. "It's one of the most amazing relationships I've been a part of," she says. "It's cool that Dan and I are being honored [together] because I know what he's done…he and Kathelen get to know the kids and the families. This is from their heart."
As the only pediatric Level 1 trauma center in the state, Children's treats patients from all over Georgia. But it isn't just emergency services that brings kids and families here. The cardiology program is one of the largest in the country and performs the majority of pediatric open-heart surgeries in Georgia, according to Hyland. She notes that the cardiac program offers care for heart problems from minor to major, as well as performing heart transplants and engaging in cutting-edge research in partnership with Emory School of Medicine and Georgia Tech's biomechanical engineering department. Neurology and orthopedics are also top programs.
"Our goal is that any child in Georgia should be able to get to us and not have to leave the state to get the care they need," Hyland says, noting that Children's served kids from all of Georgia's 159 counties in 2021. She says Children's is working with partners including the Georgia Rural Innovation Center at Mercer University to improve care in rural communities.
Children's recently announced plans for a new behavioral health center, a few months after recruiting a nationally known pediatric psychiatrist as its first chief of behavioral and mental health. Spurred by a gift from David and Helen Zalik of a 10-acre property close to the new hospital, Children's will establish a mental health campus focused on outpatient services. Hyland says mental health is one of the biggest challenges in pediatric care, made even more urgent by the isolation caused by COVID-19 restrictions and precautions. "We've made so much progress in physical health," she says, citing vastly improved survival rates for childhood cancer, organ transplantation and neonatal care. "The mental health issue has absolutely exploded. So how do we marry those two together and make sure we're helping as many kids as we can to be both physically and mentally healthy?"
---
Leadership Lessons
As Children's has grown over the years – in 2006, it assumed management of another children's hospital, Hughes Spalding, in downtown Atlanta – so has Hyland. She credits her mentor, former CEO James Tally, with helping shape her career and calling. Tally was the one who asked if she would be a candidate for the CFO role, and then later asked whether she had aspirations to lead the organization. She recalls asking him what experience she would need to be a good candidate. "He said, 'You would need to run operations, because I think it would be hard to go straight from CFO to CEO,'" she recalls. After serving as COO for five years, she stepped into the CEO role when Tally retired in 2008.
"Jim Tally took me under his wing and taught me a lot," she says. "There was a lot of hard feedback he gave me. And it was so important to help me develop. Now I'm at the point where I need to spend time helping teach other people, and if I can help them avoid some of the stumbling blocks I had, that's a big obligation." Recalling all the board members who offered advice and leadership lessons, Hyland says, "We really have to think about how to lift up the next generation of leaders and give them the same leg up that somebody [gave] me."
The motto of the Georgia Trustees – not for self, but for others – means something both simple and profound for Hyland: "That you spend your time thinking about how you're going to help others and make the world a better place," she says. "I have the perfect job to be able to do that because that is [the] Children's mission – to make kids better today and healthier tomorrow."
---
Dan Amos
The Man Behind the Duck
Dan Amos's steady, focused leadership and commitment to diversity have made Aflac one of the world's most admired companies.
Under Dan Amos's leadership, Aflac, the Columbus-based supplemental insurance giant, grew its revenues from $2.7 billion in 1990 to more than $22.1 billion by the end of 2021 and raised its philanthropic profile with sponsorship of the Aflac Cancer and Blood Disorders Center at Children's Healthcare of Atlanta.
But Amos may be best known as the man who launched the innovative ad campaign that introduced the now-famous duck, perhaps the most recognizable of all corporate mascots – still quacking "Aflaaaac" after 23 years.
And that's just fine with Amos. Within a week of the first duck ad in January 2000, the company's name recognition had taken off and the company itself was well on its way toward top international brand status, more than justifying the decision to break from the somber tone that characterized insurance commercials of the time and have a little fun with the company name.
"I said 'I'm going with the Aflac duck,'" Amos recalls. "I'll live or die with the duck."
The decision – and the results – are emblematic of Amos's tenure, which has combined steady, focused leadership with a finely honed sense of timing.
---
Entrepreneurial Spirit
Aflac was started in 1955 by Dan's uncle John as the American Family Life Assurance Company of Columbus – later shortened to its present name. He brought in his two brothers, Bill and Paul (Dan's father). "We chose Columbus because it was the largest city in the South that didn't have an insurance company. Just about every mid-sized city had an insurance company in some shape or form," Amos says. "My dad, the youngest, was the salesperson. Bill Amos was the administrative guy. John was the founder and lawyer. None had been in the insurance business."
He describes Aflac, today a publicly traded Fortune 500 company that insures more than 50 million people worldwide, as "an example of the American Dream and entrepreneurial spirit."
Some 70% of the company's business comes from Japan, where one in four households has an Aflac policy. John's visit to the Osaka World's Fair in 1970, where he saw health-conscious citizens wearing surgical masks – long before COVID made them a familiar sight – prompted Aflac's entrance into the Japanese market. He was told that people used the masks because they did not want to pass on colds or other diseases. "If they'll do that," John Amos said, "they'll buy health insurance."
It took until 1974 to secure the necessary license, but the resulting success more than justified the effort. "That catapulted us to another level of business," Amos says. At one point Aflac was licensed in 10 foreign countries, but Amos made the decision to focus efforts on the U.S. and Japan.
In the company's early years of selling small life insurance policies, Amos says, "We were basically a debit insurance business, which meant you [agents] went door-to-door and you collected the money. My grandfather became ill with cancer, and they realized the costs that were associated with that. So we ended up coming up with cancer insurance. That's really what built the business. We have diversified and become much different, but that's what started it."
Aflac actually pioneered the practice of selling policies through the workplace, rather than knocking on doors.
Dan, who had joined the company as a salesperson in 1973, became CEO in 1990 at age 39, after his uncle John died. Bill had retired in the 1970s and Dan's dad, then chair of the company's board, wanted a smooth transition. Dan became chair of the board in 2001, when his father retired.
---
Successful Strategy
When he took over, the company's stock price was less than $1 a share (adjusted for stock splits). Last fall the share price topped $70. In the early days, stock was sold door-to-door like the insurance itself. "There are still people alive who were original stockholders," Amos says, many of whom, it is safe to say, have seen a tidy profit.
Aflac has been on Fortune magazine's World's Most Admired Companies list for 21 years and is a fixture on The Ethisphere Institute's World's Most Ethical Company listing. It has been included on the Bloomberg Gender-Equality Index and the Dow Jones Sustainability North America Index. Amos himself has been recognized five times by the Harvard Business Review as one of the 100 Best Performing CEOs in the World.
Aflac's product line has broadened over the years from life and cancer policies to include other types of supplemental insurance – vision, dental and short-term disability among them – to cover gaps that traditional health policies do not.
And to help explain the notion of the gaps Aflac seeks to fill, the duck has gotten some company in the ads, in the form of University of Alabama Head Football Coach Nick Saban, who's been doing Aflac commercials for three years. (Amos, a proud University of Georgia alum, says he takes a lot of ribbing for that selection.) They've been joined more recently by former NFL (and Atlanta Falcons) luminary Deion Sanders, aka "Coach Prime," who was head football coach at Jackson State and is now head coach at University of Colorado, and a goat that bleats, "gap."
"In the insurance business, most advertising is about property, casualty or auto insurance," Amos says, the kind of insurance people have to have. "In our products, we have to explain what it is and why [buyers] need it."
To run the company, Amos relies on three key principles of risk management – learned, he says, in a classroom at the University of Georgia business school: Don't risk a lot for a little; don't risk more than you can afford to lose; and consider the odds. "I use those three principles in every decision I make."
His firm hand and adherence to a solid business strategy have helped Aflac weather economic downturns, recessions and threats of recession. "You've got to invest constantly and find ways to do that with higher interest rates that do offset some of the issues. We invest about $10 million a day in new money" from premiums.
---
Good Business Decisions
Amos takes obvious pride in Aflac's financial success ("I've never missed an earnings [projection] in 32 years"), but he is just as quick to note the company's commitment to diversity and to philanthropy.
"My staff is made up of diverse people," he says, "people of color, women. I've got young, old. I don't need to know how a 60-year-old White guy thinks. I was one. I want to know what an African American female thinks, or I want to know what a Hispanic male that's young is thinking. That's a formula for success. I'm trying to sell to the American public, and that's a diverse group of people. You have to have those people around you to know what's happening." He says roughly half of the company's employees are people of color, some 27% in senior management.
"Most important," he says, "64% of our board are people of color or women."
It was more than 25 years ago that Aflac was approached for a $25,000 donation to the cancer center at Egleston Hospital, now part of Children's Healthcare. Amos recalls looking over information about the center and noting that there was a naming opportunity available for $3 million.
"We'd never given big gifts. We gave a lot of money to a lot of important things but in smaller increments. But because we were in the cancer insurance business, it just resonated with me how important that would be. We made a proposal that we would be a sponsor," he says, laughing at the memory. "And they liked to drop dead because they asked for $25,000 and we wanted to do $3 million."
Today the total Aflac contribution tops $175 million – the company's giving and that of its agents and employees. (In the early years, Amos personally matched those individual gifts up to $100,000, to get the effort started.) He relishes what he calls the synergy – "their brains and our money" – between the company and the center, one of the top pediatric cancer centers in the country, and says candidly that it has been a good business decision.
---
Overcoming Challenges
Despite the successes, it hasn't always been smooth sailing for Aflac and its CEO. Amos remembers the financial crisis of the late 2000s as "a scary time – we learned a lot, but we never cut our dividend and we made it through." But it was the 2011 T¯ohoku earthquake and tsunami and the subsequent meltdown and explosions of three nuclear reactors at the Fukishima nuclear power plant in Japan, where so much of Aflac's business is done, that truly tested the company and its leadership.
"We did not know how bad it was," he recalls. "My phone was ringing off the hook," with calls from investors and the press. "I got on the first plane I could get on" and headed to Japan.
Apart from the devastating loss of lives and damage to property, there were grave business implications for the company, which faced an unknown number of claims. Investors wanted to hear that everything was going to be all right, Amos says, even as lawyers were telling him not to comment at all.
But he believed it was important to speak up. The company had calculated the risks of natural disasters, like earthquakes; but the effects of the nuclear disaster and resulting radiation exposure were not known. Amos and his actuarial team drew on research involving the 1986 nuclear accident at Chernobyl, which had established the value of iodine tablets in helping prevent thyroid cancer in the aftermath of radiation exposure; they were aware that the tablets were to be used in Japan. He used that information to craft a simple statement.
"So I said, 'I don't know what's going to happen, but we know what happened with Chernobyl, and based on that I think we're going to be all right.' If I didn't say anything, then the stock would have dropped. If I did say something and the stock stayed up and later we did have a problem, I'd have had shareholders mad." His cautious but timely response proved to be the right one, and there were no dire stock consequences.
Even as he was dealing with all that, he got a call from a Columbus reporter, telling him that the late Gilbert Gottfried, then the voice of the Aflac duck – presumably trying to be funny but failing – had tweeted some very offensive things, post-tsunami, about Japan. Within 20 minutes of getting the call, Amos had contacted key people in the company to tell them Gottfried had to go – immediately. "We had to pull every commercial because of his voice," he recalls, then get busy finding a new voice.
As is true of many companies with long-term stable leadership, Aflac has taken on the persona of its CEO – solid, respected, generous.
"All things being equal," Amos says, "you want to work for a company that is interested in diversity, interested in giving back to the community, and that makes a good profit and is going to be there for a long time – and, finally, the product you give is a good one that people want and need."
---
Past Trustees
2022
Shirley Frankin
Former Atlanta Mayor
Dan T. Cathy
Chick-fil-A Chair
---
2021
David Abney
UPS
Former CEO
---
2021
Juanita Baranco
Baranco Automotive Group
Co-founder, COO, Executive Vice President
---
2020
Robert Brown Jr.
RL Brown & Associates
President & CEO
Robert Jepson Jr.
Jepson Associates
Founder & CEO
---
2019
Frank Blake
The Home Depot
Former Chair & CEO
John Schuerholz
Atlanta Braves
Vice-Chair Emeritus
---
2018
Ed Bastian
Delta Air Lines
CEO
Paul Bowers
Georgia Power
Former Chair & CEO
---
2017
Duane Ackerman
BellSouth
Former CEO
A.D. "Pete" Correll
Georgia-Pacific
Former CEO
---
2016
Jim Blanchard
Synovus, Former CEO
Philanthropist
Muhtar Kent
The Coca-Cola Co.
Former Chair & CEO
---
2015
Alana Shepherd
Shepherd Center
Founder
Paula Wallace
Savannah College of Art & Design
Founder & President
---
2014
Arthur Blank
The Home Depot Co-founder
Atlanta Falcons Owner
Atlanta United Owner
Billy Payne
Atlanta Olympics Visionary
Former Augusta National Golf Club Chair
---
2013
Truett Cathy
Chick-fil-A, Founder
Author, Philanthropist
Herman "HJ" Russell
H.J. Russell & Co., Founder
Civil Rights Leader
---
2012
Tom Cousins
Cousins Properties Founder
Philanthropist
Andrew Young
Former United Nations Ambassador
Former Atlanta Mayor
---
2011
Vince Dooley
University of Georgia
Former Athletics Director & Football Coach
Sam Nunn
Former U.S. Senator
Nuclear Threat Initiative Founder
---
2010
Hank Aaron
Atlanta Braves
Baseball Legend
Ted Turner
Businessman
Philanthropist
---
2009
Bernie Marcus
The Home Depot Co-founder
Philanthropist
Marguerite Neel Williams
The Georgia Trust for Historic Preservation
Founding Trustee