Engineering a Better World
Atlanta University Center Consortium's Dual Degree Engineering Program is a national model for building diversity.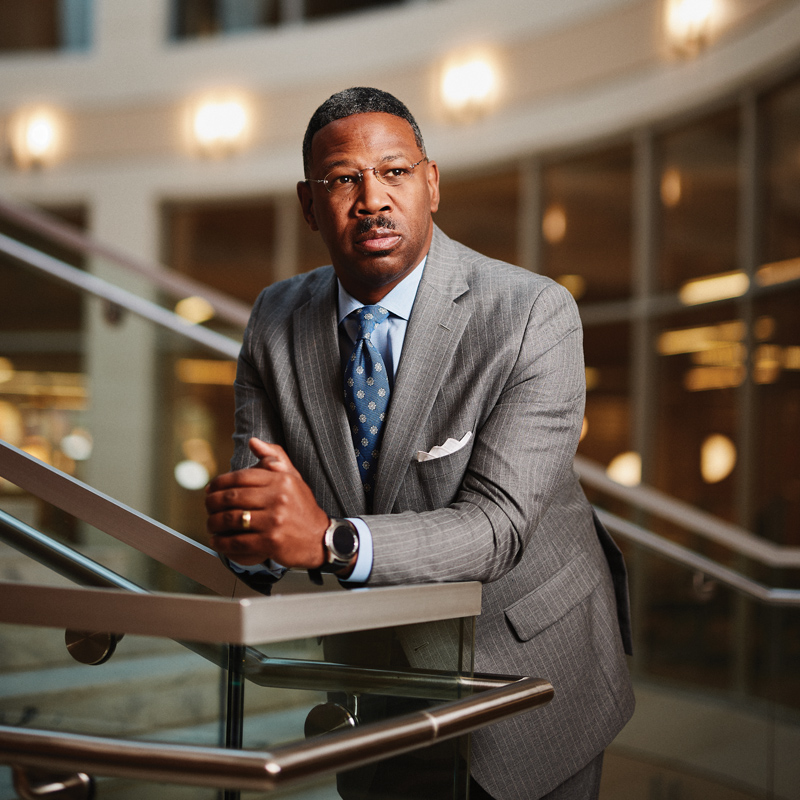 The phone call seemed to come out of nowhere. The city of Los Angeles Public Works wanted to know if Morehouse College senior Chase Garrison was interested in helping analyze an engineering problem.
In fact, the Los Angeles program was targeting two issues: engineering quandaries in public works and the dearth of Black engineers to help solve them. Garrison is enrolled in a dual degree engineering program at the Atlanta University Center Consortium (AUCC), a collaboration of Morehouse, Spelman College and Clark Atlanta University (three of the AUCC members) with a mission to increase the number of Black engineers nationally. In the program's 54-year history, about 4,000 have graduated with degrees from one of the three participating historically Black colleges and universities (HBCUs) as well as from an engineering program at a partnering university.
Garrison, 21, an applied physics major who will transfer to an engineering school next fall to study mechanical engineering, had previously connected with the Los Angeles agency to learn about internship opportunities. He submitted his resume for the Los Angeles HBCU Innovation Research and Tech Day program, was formally selected to participate and soon had his assignment. Ninety-six million plastic shade balls float atop the Los Angeles reservoir — plastic balls filled with water that protect the reservoir water from contamination and evaporation — but the plastic has a lifespan of 10 to 15 years before it begins to degrade. How could the water district reuse or recycle those balls?
Garrison was paired with a project partner, Morehouse sophomore Matias Germain, and they had less than three weeks to come up with some viable ideas. They calculated that each ball is filled with 200 grams of potable water, for a total of about 5 million gallons that could be reclaimed by the drought-stricken city. The carbon-black balls, made of high-density polyethylene, are 4 inches in diameter. Melted down, that would total 8.4 million pounds of plastic that could be recycled into playground equipment or other products.
But Garrison and Germain offered a simple, more cost-effective solution: The balls could be incorporated into poured concrete slabs, reducing the amount of concrete needed in construction and thus cutting carbon emissions, cost and weight. The Morehouse students were among six students selected to make a formal research presentation to the LA Board of Public Works.
For Garrison, the experience confirmed that he's on the right career track. "There's a recognition of the need for Black engineers," says Garrison, a fourth-generation Morehouse man who grew up in Lithonia. "It started to help me realize my worth to the world of engineering."
---
Partnering for Diversity
The AUCC Dual Degree Engineering Program began in 1969 with a partnership with the Georgia Institute of Technology, at a time when fewer than 1% of the nation's engineers were Black.
Hoping to open opportunities for Black students, a Morehouse professor made a proposal to the New York-based Olin Mathieson Charitable Trust, a philanthropic arm of the chemical and manufacturing company, to support a new cohort of engineering students. The trust donated $265,000 to fund the dual degree program, which was the first cooperative agreement between a historically Black college and a White university in the South.
Over the years, the dual degree program has expanded greatly. It now sends students to eight additional partnering schools: Auburn University, Indiana University-Purdue University Indianapolis, Missouri University of Science & Technology, North Carolina A&T State University, Rensselaer Polytechnic Institute, Rochester Institute of Technology, University of Michigan and University of Notre Dame.
Students pursue a major in math or science at one of the three HBCUs, where they benefit from skills and career coaching, networking and other support, typically staying on campus for three years. Then they transfer to a partnering engineering program for two years and graduate with two bachelor's degrees – one in math or science and a second in engineering.
This fall, thanks in part to a $500,000 donation from the South San Francisco- based biotechnology firm Genentech, the program will add a new 4+1 option for students to stay four years at the HBCU and transfer to a partnering institution for a year-long master's degree program in engineering.
The students graduate with strong critical-thinking, communication and leadership skills that are a core part of a liberal arts education, as well as technical know-how, says Said Sewell, director of the AUCC's Office of Academics, Research and Student Success. Companies value that background, and they view diversity as integral to staying competitive, he says. "Having employees with various perspectives and life experiences helps a company meet the changing demographics of society and think about their service or their product delivery in a diverse way," says Sewell, who oversees the dual degree engineering program.
The program has become a national model; in November, the AUCC announced the launch of the Institute for Dual Degree Engineering Advancement (IDEA) to share best practices with colleges and universities around the country, including Hispanic-serving institutions and other HBCUs. A $4 million capital campaign for IDEA was seeded with a $1.5 million donation from the
A. James & Alice B. Clark Foundation, which supports initiatives in engineering education. IDEA will eventually serve as a hub for private liberal arts institutions that seek to support students interested in engineering as a career and will promote interdisciplinary research in engineering education, Sewell says. It will also include a student innovation "maker space," a gathering place and meeting rooms, he says.
---
Paying It Forward
To realize what's possible through this pathway from an HBCU to an engineering school, just look to the roster of illustrious alums:
• Nzinga Tull (Spelman/Georgia Tech) has worked on the Hubble Space Telescope mission operations team since 1998.
• Theodore (Ted) Colbert III (Morehouse/Georgia Tech) is executive vice president of The Boeing Company and president and CEO of Boeing Defense, Space & Security.
• Dionna Daniel (Clark Atlanta/Georgia Tech) led the innovation and commercialization team for the Tea Beverage Portfolio at The Coca-Cola Company before launching her own logistics company.
"To this day, when I'm speaking to early-career teammates [at Boeing], I still reference this program and its incredible impact on my personal and professional journey," says Colbert, who was named 2022 Black Engineer of the Year at the Black Engineer of the Year Awards (BEYA) STEM Conference.
"I learned a lot of the confidence and foundational skills from Clark Atlanta, and at Georgia Tech, I got the hardcore preparation to be an engineer," Daniel says. Being at an HBCU was formative. "Over time, you become kind of like family and you build those bonds [that have] been life-lasting," she says.
This high-achieving alumni network supports and mentors dual-degree students. "They're coming back and paying it forward, showing students what they did to get where they are," says Chris Ellis, program manager for the Dual Degree Engineering Program at the AUCC.
The students graduate into a field that has been slow to diversify. Black engineers make up just 5% of the workforce, a statistic that hasn't budged in the past decade, according to a report by the Georgetown University Center on Education and the Workforce. Between 1990 and 2019, the number of Black college graduates who earned a bachelor's degree in engineering rose from 2,100 to 4,900, but as the field expanded the proportion of all engineering graduates who are Black remained stuck at 4%.
"We are making progress. Things are getting better but they're not getting better at a fast enough pace," says Nicole Smith, chief economist at the center and co-author of the 2021 report, which is titled Mission Not Accomplished: Unequal Opportunities and Outcomes for Black and Latinx Engineers.
Georgia Tech seeks to recruit and support a diverse student body through its Center for Engineering Education Diversity (CEED), and it graduates more underrepresented minorities than any other U.S. college of engineering. "You see a national movement in this space, focused on what we need to be doing to increase the numbers of African Americans in STEM fields, particularly engineering and technology," says Felicia Benton-Johnson, assistant dean of Georgia Tech's College of Engineering and director of CEED, referring to science, technology, engineering and math.
---
Supportive Community
For Alana Burrell, a computer science senior at Spelman College who will transfer to Georgia Tech this fall to study computer engineering, words of encouragement and a supportive environment made all the difference.
When she was in high school, Burrell thought business marketing would be a practical degree. She had struggled with math in the past, but she decided to launch in with a dual-enrollment algebra course at Georgia State University. After completing the course, Burrell asked her professor for a recommendation for a scholarship application. He saw her major and remarked: "You have such a technical mind. Why are you not going into engineering?"
With that comment, she reframed how she imagined her future. She began studying engineering at Georgia State University Perimeter College and later entered the dual degree engineering program at Spelman. It enabled her to take science and math classes without being the only Black woman in the room who was a STEM major. "You don't have to work as hard to be recognized, and I really deeply appreciate that," says Burrell, 24, who is from Stone Mountain.
In an internship last summer, she worked with the Siri team at Apple in Pittsburgh. That further opened her horizons. "I like being able to work at the frontiers [of technology]," she says.
There's more to the AUCC program than the camaraderie of being with students who share similar life experiences. For students who want to boost their math and science skills, the Summer Bridge Program provides seven weeks of intensive preparatory classes between high school and college, as well as industry tours and other opportunities to learn about the subfields of engineering. "The Summer Bridge Program allows the students to create a collaborative mindset as they prepare for what they will experience in class," Sewell says.
Throughout their years at the AUCC, dual degree students attend professional development workshops, where they connect with alumni, meet engineers from a range of companies, gain interview and career skills and learn about job opportunities. Students are expected to complete at least one internship before transferring to a partnering engineering school.
Once they transfer, the AUCC students continue to support each other, and they also become involved in campus organizations, says Benton-Johnson. "The students who transfer to Georgia Tech do well academically and they're just natural leaders," she says.
Alexis Parker appreciates her time at Spelman. As a nuclear engineering student at Georgia Tech, she is accustomed to being the only Black woman in her classes, but those initial years at an HBCU built confidence, she says. "You have the opportunity to meet other Black women who are interested in STEM," says Parker, 21, who is from Atlanta. "Then you have the opportunity to network with other Black women who are already in the field, who can tell you about their experiences."
Ultimately, the dual degree program has broad impact, she says. "What you're doing in whole is becoming a phenomenal person of color who's changing the world for people who look like you," she says. "[We're] impacting what this community of scientists and engineers looks like. That's the point of the program."
---
Building Connections
On a fall evening, AUCC dual degree students gathered in a meeting room of the Atlanta University Center Robert W. Woodruff Library to engage in a Zoom conversation with two alumni who now work at ExxonMobil near Houston. This professional development workshop – part of a series typically held in person – focused on internships.
"You need to be very particular about where you intern and what you try to accomplish while you're there," advised Tamia Middleton, a Macon native and ExxonMobil facilities planner who graduated in 2020 with a bachelor of science (BS) in chemistry from Spelman and in 2021 with a BS in chemical engineering from the University of Michigan. "While you all are in the AUC, I would definitely advise getting your foot in the door at whatever company you think you might be interested in [working for]."
Michelle Mason, a senior market developer, suggested students develop an "elevator pitch" summarizing their skills and career goals. Mason and Middleton explained how to build connections from job fairs, and they shared insights about what to expect during an internship. "We want to help you meet your career aspirations," said Mason, who graduated with a BS in chemistry from Spelman in 1984 and a BS in chemical engineering from Georgia Tech in 1985 and later received an MBA from the University of Memphis.
This hands-on alumni support bolsters the success of the AUCC dual degree students. Darius Broughton, a vice president at the global infrastructure solutions firm HNTB Corp., is a leader on the teams that plan and implement major construction projects for MARTA and the Georgia Department of Transportation. He remembers when he was often the only person of color in his high school gifted classes in Conyers. Now Broughton spends as much time as he can volunteering with students in elementary and high school and networking with AUCC's dual degree students.
"Personally, I feel a charge to reach back. I knew very few Black engineers when I was coming through the engineering track," says Broughton, who graduated with a BS in applied physics from Morehouse in 2004 and a BS in bioenvironmental engineering from North Carolina A&T State University in 2003. He later received an MBA in global business from Georgia Tech.
"We have to give all the kids every opportunity to see what we're doing," Broughton says. "The bottom line is exposure. The more you can show diverse students the opportunities [they can have], the more possibilities they can dream up."