The Future of Clean Energy?
Georgians are waiting to find out how a historic new federal law will be implemented – and how it will impact the state.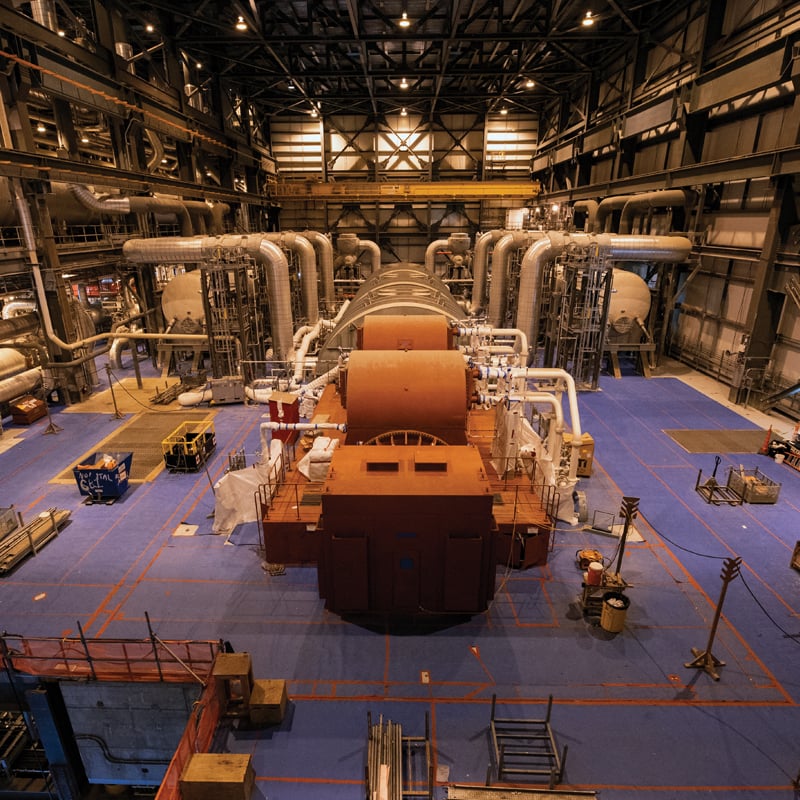 Georgians will find out this year how much truth is in the English proverb, "Good things come to those who wait.
In this case, individuals, small businesses, state and local governments, manufacturers and utilities, among others, are waiting to find out the exact benefits they will receive from the energy portion of the Inflation Reduction Act (IRA). The Biden Administration touts the new law, signed by the president in August, as the most significant legislation in U.S. history to tackle the climate crisis and strengthen American energy security. There are many cost-saving provisions in the approximately $700 billion package, which will also attempt to lower healthcare costs and reduce the deficit.
A major promise of the new law is that it will lower energy costs by making it more affordable for families to purchase energy-efficient appliances, make repairs around their homes and save money on their utility bills each month. The act, according to the White House, will achieve this by offering rebates to millions of eligible low- and moderate-income households that will cover 50% to 100% of the cost of installing new electric appliances, including super-efficient heat pumps, water heaters, clothes dryers, stoves and ovens.
Additional benefits of the Inflation Reduction Act include:
• Discounts on the purchase of new and used electric vehicles (Evs)
• Job growth in clean-power generation and storage and new manufacturing technologies
• Tax credits for energy-efficient improvements to commercial buildings and clean-energy commercial fleets.
Georgians need to wait, though, to learn the details of the new law's benefits. That's because states can't apply for any benefits until the U.S. Department of Energy (DOE) finishes writing the rules and regulations for how the IRA's tax credits, grants and rebates can be used. No one knows just when that process will be completed.
Once it is finished and the federal government gives the green light, the administration of IRA benefits will fall to the energy division of the Georgia Environmental Finance Authority and the National Association of State Energy Officials (NASEO). The NASEO, which is based in Alexandria, Va., is the only nonprofit organization that represents governor-designated energy officials from each of the 56 states and territories.
One thing Georgia officials do know is that benefits from the IRA will differ from other major funding bills that have sent large amounts of federal dollars to the state. Last year's passage of the Bipartisan Infrastructure Law, for example, increased the Georgia Department of Transportation's federal funding program by $9.27 billion. While the IRA does include direct funding, its benefits will mostly accrue through tax credits and incentives, grants and rebates.
---
Paying Close Attention
State utilities, their partners and nonprofit groups focused on economic, environmental and energy security are paying close attention as the DOE finishes writing rules and regulations for how tax credits and grants can be used. Here's where several major utilities are in the waiting game.
Georgia Power is working with its parent company, Southern Company, and various stakeholders to evaluate the programs and options for customers resulting from the IRA. While the company does not yet have specific plans to share, there are certain areas it believes could benefit its customers. For example, Georgia Power believes the legislation will reduce the cost of transitioning its energy-generation fleet to clean energy.
The company is also studying potential opportunities around grid resilience, battery storage, renewable energy, electric transportation and more. As additional details are released from the federal government on these programs, the company will further evaluate how Georgians may benefit.
Georgia's electric membership corporations (EMCs) are also actively contemplating the IRA and the financial incentives for clean energy that could be available to them and their member-consumers. "There is still a lot of uncertainty on how the bill will be implemented, so it is too early to determine if the bill will have a major impact on our business," says Dennis Chastain, president and CEO of Georgia EMC, a trade association representing the state's 41 EMCs, Oglethorpe Power Corp., Georgia Transmission Corp. and Georgia System Operations Corp. "We are watching closely for federal agencies to issue guidance that will explain the rules and regulations for how tax credits and grants can be used."
EMCs in Georgia are well positioned with an energy portfolio consisting of 33% emission-free energy, according to Chastain. By 2025, he says that portfolio will increase to approximately 42% carbon-free generation. The jump in carbon-free energy is largely due to the EMCs' investment in the new units at nuclear Plant Vogtle and growth in solar energy, according to the 2022 Environmental, Social and Governance (ESG) Report by Oglethorpe Power, a wholesale power supply cooperative that is owned by and serves 38 of the state's EMCs.
Georgia Power and Oglethorpe Power are among the joint owners of Plant Vogtle. The nuclear plant's new units 3 and 4 represent the first advanced commercial nuclear project in the U.S. in more than three decades. Originally scheduled to be operating by 2016-2017, units 3 and 4 are now projected to come online in 2023. These units are projected to add more than 600 megawatts of emission-free nuclear energy to Ogle-thorpe Power's generation portfolio.
Once the new units are generating electricity, Plant Vogtle will produce more carbon-free, clean energy than any other U.S. facility. "When units 3 and 4 come online, we project that coal will account for less than 5% of our diverse energy portfolio, down from 51% in 2005," says Mike Smith, president and CEO of Oglethorpe Power.
Other clean energy sources in the EMCs' power mix include renewables such as solar, hydro and landfill gas facilities. Georgia's EMCs are the national leaders in solar energy deployment among all U.S. electric cooperatives.
"The not-for-profit EMCs and our generation and transmission partners will be thoughtful and measured as we analyze the IRA, keeping our focus on reliable, affordable and environmentally responsible energy for the more than 4 million rural and suburban Georgia energy consumers we serve," adds Chastain. The population base that Georgia's customer-owned EMCs provide with electricity and related services represents nearly half of Georgia's population, across 73% of the state's land area.
Georgia Transmission, which plans, builds and maintains high-voltage transmission lines and power grid infrastructure and serves as the link between the state's energy generators and EMCs, is joining other Georgia energy leaders in reviewing the IRA to determine if and how the act may impact its transmission business.
"The transmission grid in Georgia is already strong," says Craig Heighton, director of external affairs for Georgia Transmission, of its more than 3,500 miles of high-voltage transmission lines and more than 760 substations. "That is because our planners work with our EMC planners to ensure they have the right infrastructure to meet their member-consumers' electric demand. We continuously maintain and upgrade our transmission system equipment when and where improvements are needed."
---
Potential Transportation Impacts
Like state utilities and their partners, Clean Cities Georgia is paying close attention as the IRA process plays out. The Clean Cities Program is an initiative of the federal DOE and focuses on strategies to reduce petroleum consumption in transportation. As with nearly 100 Clean Cities Coalitions across the country, Clean Cities Georgia represents the entire state. It holds the distinction of being the first coalition chartered by DOE.
Others may have uncertainties about the IRA, but Clean Cities Georgia is sure it will enhance alternative-fuel vehicle activities across the state. For instance, says Frank Morris, executive director of Clean Cities Georgia, most of the federal highways that run through Georgia already have EV charging stations spaced out every 50 miles and no more than five miles off the highway. What Georgia doesn't have is the minimum of four charging ports at the higher 150kw delivery rate and within one mile of the highway exit to meet the high-speed EV charging station specifications in the new law.
Private industry and Georgia Power have done a good job in Georgia of being strategic when they located charging stations, according to Morris. But there is still a lot of installation required for Georgia to be fully "built-out" according to the National Electric Vehicle Infrastructure (NEVI) formula. The goal of the NEVI program is to deploy a national network of EV charging stations that provide a convenient, reliable, affordable and equitable experience for all users. Toward that end, the program is providing nearly $5 billion nationally over five years, beginning last fall.
The IRA emphasizes clean vehicles and related tax credits, says Morris. He uses the term clean vehicles for a reason. "Clean Cities Georgia is alternative-fuels agnostic," he says. "We are the only advocate for all alternative fuels in transportation. There is a right fuel for the right application, and one fuel does not meet [all] the needs of the transportation industry or, for that matter, the family carpool. It's important for the state and national discussion to focus on all alternative fuels."
The IRA will do that, he says, because it includes tax credits for hydrogen, fuel-cell and plug-in hybrids in addition to electric vehicles. As always, he adds, "the devil is in the details," as income limits will apply on the $7,500 tax credits for new EV purchases and $4,000 tax credits for used EVs.
Made-in-America cars and battery components as well as vehicle type and price will also matter. For example, SUVs and trucks that cost more than $80,000 will not qualify for credits, nor will cars that cost more than $55,000. In addition, the IRA will remove manufacturing production restrictions and increase competition among manufacturers beyond today's prominent EV makers, Tesla and Rivian.
While the devil does lie in the IRA's details, perhaps Georgians shouldn't be too worried about whatever minutiae may be in the final rules and regulations when they come down later this year. Through the spirit and intent of this legislation, the IRA will touch millions of Georgians in every community across a state that has gotten a head start.
---
Georgia Leads by Example
As Georgians wait for federal agencies to finish writing rules and regulations for the state to apply for benefits under the Inflation Reduction Act (IRA), it's a good time to ask a simple question: What exactly is clean energy?
The answer isn't so simple. The definition depends on who is offering it and for what reason. In the case of state utilities, for example, those that apply for clean-energy grants and programs have varying needs and requirements, hence different definitions of the term.
Perhaps the best definition lies in examples of actions energy generators and distributors in Georgia are already taking that embrace the emission-free, clean-energy spirit of the IRA.
In defining "emission-free," Georgia Power refers to energy sources that do not have carbon dioxide or other combustion-related emissions. These include renewable-energy sources like solar power projects in Georgia and wind projects in Oklahoma that produce power sold to Georgia Power, as well as hydroelectric sources.
Nuclear energy is also emission-free. Georgia Power Chair, President and CEO Chris Womack recently said of Plant Vogtle, "We're making history here in Georgia and the U.S. as we approach bringing online the first new nuclear unit to be built in the country in over 30 years. These units are important to building the future of energy and will serve as clean, emission-free sources of energy for Georgians for the next 60 to 80 years."
In addition, the goal of Georgia Power's parent, Southern Company, is "net zero" by 2050, by which it means no direct emissions across its electric and gas businesses, and working with partners and customers to reduce upstream and downstream emissions.
The diverse generation portfolio for the producer of much of the electric power that electric membership corporations (EMCs) deliver to millions of Georgians includes nuclear energy from Plant Hatch and Plant Vogtle's legacy units 1 and 2 as well as units 3 and 4 that are currently under construction.
Georgia's EMCs are also heavily invested in solar energy which, like nuclear, does not produce any carbon dioxide emissions. One of the most visible solar energy projects in the state is the Houston County solar site just off I-75 in Elko near Perry. The energy generated by this 68-megawatt site is shared by 30 EMCs across the state and generates enough carbon-free, renewable energy to help power 11,000 EMC households annually. Additionally, the solar site practices regenerative agriculture, which seeks to reverse climate change by improving soil health, sequestering carbon and boosting water quality.