2023 Hall of Fame: Calvin Smyre – Lawmaker and Statesman
Lawmaker and statesman Calvin Smyre is the 2023 inductee.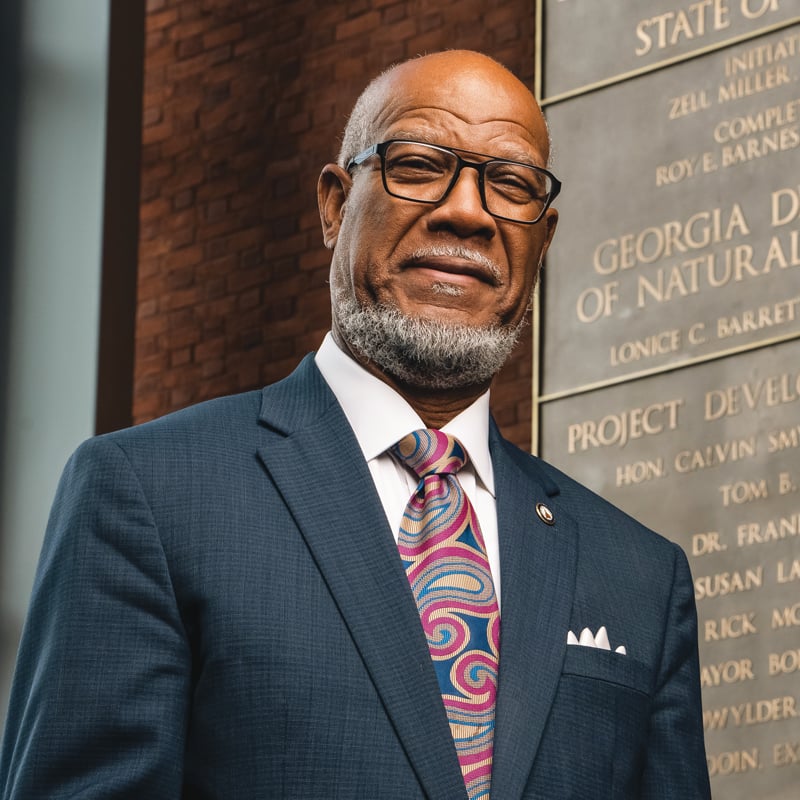 It is hard to imagine the Georgia House of Representatives without its dean: Calvin Smyre, the Columbus Democrat who served for 48 years and was the longest-tenured member of the legislature when he retired last year.
An early mentor told him, "Politics is public service," and, he says, "a bell went off in my mind." That simple statement guided and defined his career, as he became one of the most esteemed and influential lawmakers in the state and one of the first Black House members to have a significant leadership role at the Capitol. His next challenge: President Joe Biden has nominated him to be ambassador to the Bahamas. It is an exciting new chapter for a man who has left his mark on Georgia. Smyre, who was elected in 1974 when he was 26, served under seven Georgia governors as a member of the majority and, post-2002, the minority party. He was a force – often the force – in advancing some of the most important legislation of his era: establishing MLK Day as a state holiday; changing the state flag; funding transportation and transit initiatives; creating the HOPE Scholarship; passing a hate-crimes bill; and repealing the Civil War-era citizen's arrest law.
His mastery of the legislative process earned him the respect of Republicans as well as members of his own party. Gov. Brian Kemp called him a statesman, and the late House Speaker David Ralston deemed it "an honor to have served with him."
Smyre was born in Columbus and grew up in a military family. After his graduation from Fort Valley State University, he returned to Columbus and involved himself in community activities. When reapportionment created a new House seat for Columbus, one that likely could be won by a Black Democrat, Smyre was persuaded to run. He defeated several other candidates with what he modestly calls "a nice majority."
Once in the legislature, he set about working in what would become his signature low-key fashion – negotiating, building consensus, finding common ground. It was a modus operandi that earned him the attention of some powerful leaders, like the late, legendary Speaker of the House Tom Murphy, who told him early on that he had a great future and appointed him to key committees.
He credits his time in the 1980s as former Gov. Joe Frank Harris's assistant floor leader and then floor leader – he was the first African American to serve in that capacity – with burnishing his working style. "My job was to advance somebody else's agenda, play the role of getting things done and attending the press conference rather than being the press conference. That's how my career was molded.
"All politics is local. Everybody comes from a particular district," he says of the mammoth 180-member House. "You have to be understanding and tolerant of the politics of each respective member. The key is one vote plus a majority in terms of getting what you want. I've been on the side of a lot of victories and on the side of losing as well. In a deliberative body you have to find coalitions to try and get to a majority."
Two especially noteworthy victories came in 2020 and 2021, as he led efforts to pass a hate-crimes statute – Georgia was one of four U.S. states that lacked one – and to repeal the 1863 citizen's arrest law. Both measures acquired a sense of urgency following the murder of Ahmaud Arbery, a Black man killed by White men as he was jogging in Brunswick.
"I told Arbery's mother, I promised her that if we could get the hate-crime [bill] passed, then we would do citizen's arrest," Smyre says. The hate-crimes bill passed in 2020. "And we came back the next year and did citizen's arrest."
Initially, there was opposition to both bills. "I knew we could not do both at the same time," he says. "There had to be a lot of education, a lot of give-and-take and a lot of discussion. I sensed that people knew it was better for the state if we did this. I remember saying it was a defining moment for Georgia – I still feel the truth of that."
The thread of Georgia's progress as a state runs through Smyre's career. He calls the 2015 transportation funding bill and the 2018 transit bill transformational. "I saw that as a quality-of-life issue – it was bipartisan. They changed the landscape of Georgia."
He was able to deliver for the state as a whole, but he delivered for his constituents as well. He was a prime force in bringing about the Columbus RiverCenter for the Performing Arts. Smyre's working life was spent at Synovus, the Columbus-based financial institution, where he had a 38-year career. He started as a management trainee and rose to the position
of executive vice president for external affairs and president of the Synovus Foundation.
As for his legacy: "I want to be known as a person who gave everything he had."
---
Past Inductees
2022
Doug Hooker
Former Executive Director, Atlanta Regional Commission
---
2021
Ann Cramer
Senior Consultant, Coxe Curry & Associates
James Cox Kennedy
Chair, Cox Enterprises
---
2020
Johnny Isakson
(1944-2021)
Former U.S. Senator
---
2019
Michael Cassidy
Director, Emory Biomedical Catalyst
Maria Saporta
Founder & Editor, SaportaReport
Former writer & columnist, Atlanta Business Chronicle
---
2018
T. Rogers Wade
Chair, Governor's Defense Initiative
Chair, Georgia Public Policy Foundation
Philip Wilheit
Sr. President, Wilheit Packaging
---
2017
Hank Huckaby
(1941-2021)
Former Chancellor, University System of Georgia
Alicia Philipp
Former President, Community Foundation for Greater Atlanta
---
2016
Arthur Blank
Co-founder, The Home Depot
Owner, Atlanta Falcons and Atlanta United
Alana Shepherd
Co-founder, Shepherd Center
---
2015
Bill Bolling
Founder & Former Executive Director, Atlanta Community Food Bank
Saxby Chambliss
Former U.S. Senator
---
2014
John Lewis
(1940-2020)
U.S. Congressman
Civil Rights Leader
Robert Shaw
Chair & CEO, Engineered Floors
Former Owner, Shaw Industries
---
2013
R. Charles "Charlie" Loudermilk
Founder & Chair Emeritus, Aaron's Inc. Monica Pearson
Former News Anchor, WSB-TV
Monica Pearson
Former News Anchor, WSB-TV
---
2012
Otis Brumby
(1941-2012)
Publisher, The Marietta Daily Journal & Neighbor Newspapers
Bobby Cox
Former Manager, Atlanta Braves
2014 Baseball Hall of Fame Inductee
---
2011
Ray Anderson
(1935-2011)
Chair, Interface Inc.
David Ratcliffe
Former CEO, Chair & President, Southern Co.
Franklin Skinner
(1931-2018)
Former CEO & Chair, BellSouth Telecommunications
---
2010
Joseph Lowery
(1921-2020)
Minister
Civil Rights Leader
Bill Shipp
Journalist
Political Columnist
---
2009
Spurgeon Richardson
(1941-2019)
Former President & CEO, Atlanta Convention & Visitors Bureau
---
2008
Hank Aaron
(1934-2021)
Baseball Legend Founder & Owner, 755 Restaurant Corp.
Mack Mattingly
Former U.S. Senator
Former Assistant Secretary General (NATO)
Former U.S. Ambassador (Seychelles)
Carl Patton
Former President, Georgia State University
Herman J. Russell
(1930-2014)
Founder & Chair, H.J. Russell & Co.
---
2007
A.D. "Pete" Correll
(1941-2021)
Former Chair & CEO, Georgia-Pacific Corp.
Bernie Marcus
Co-founder, The Home Depot
Philanthropist
William S. Morris III
Founder, Chair & CEO, Morris Communications Co.
---
2006
James Blanchard
Former Chair & CEO, Synovus Financial Corp.
Zell Miller
(1932-2018)
Senior Strategic Advisor, McKenna Long & Aldridge LLP
Governor, U.S. Senator
Betty Siegel
(1931-2020)
President, Kennesaw State University
James Blanchard
Former Chair & CEO, Synovus Financial Corp.
Zell Miller
(1932-2018)
Senior Strategic Advisor, McKenna Long & Aldridge LLP
Governor, U.S. Senator
Betty Siegel
(1931-2020)
President, Kennesaw State University
---
2005
Tom Cousins
Founder, Former Chair & CEO, Cousins Properties Inc.
Philanthropist
Vince Dooley
Athletic Director Emeritus, University of Georgia
---
2004
Tommy Irvin
(1929-2017)
Georgia Commissioner of Agriculture
Manuel Maloof
(1924-2004)
Longtime DeKalb County CEO & Commissioner
Sam Massell
Former President, Buckhead Coalition
Former Mayor, City of Atlanta
J. Mack Robinson
(1923-2014)
Businessman & Philanthropist
Ted Turner
Founder, CNN, TNT, TBS
Environmentalist & Philanthropist
---
2003
Griffin Bell
(1918-2009)
U.S. Attorney General U.S. Circuit Court Judge
S. Truett Cathy
(1921-2014)
Founder, Chick-fil-A Philanthropist
Jimmy Carter
Nobel Peace Prize Winner
Former U.S. President
Rosalynn Carter
Former First Lady
Mental Health Advocate
Thomas B. Murphy
(1924-2007)
Longtime Speaker, Georgia House of Representatives
Sam Nunn
Former U.S. Senator
National Defense Authority
John C. Portman Jr.
(1924-2017)
Architect, Developer, Entrepreneur
Carl Sanders
(1925-2014)
Governor, Attorney
Dr. Louis Sullivan
Founding Dean, Morehouse School of Medicine
Former U.S. Secretary of Health and Human Services
Andrew Young
Former Mayor, City of Atlanta
Former U.S. Ambassador to the United Nations