The Key to Prosperity
Collaboratively addressing educational challenges will help improve Georgia's workforce.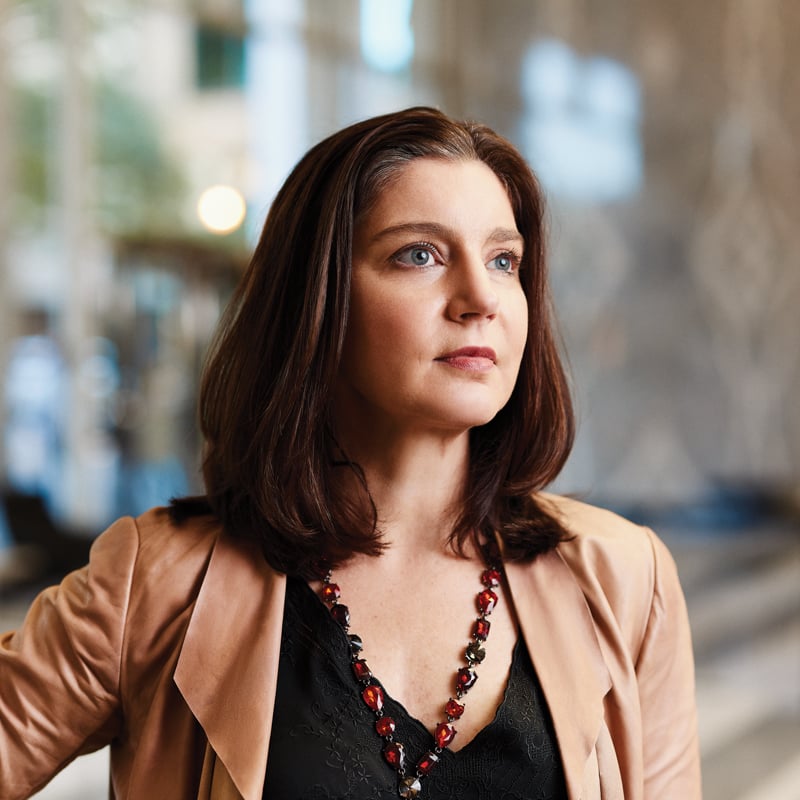 Few would argue with the premise that today's educators need allies, especially as schools become a place to address the broad needs of families and communities. Fortunately, a network has grown to provide that support. The Georgia Partnership for Excellence in Education, an umbrella organization founded 30 years ago, has become a fierce advocate for educators.
"We are the place where business leaders, education leaders, advocates and elected officials come together and try to rise above the noise and tackle these issues around education and workforce development," says Dana Rickman, president of GPEE. "They're really complex issues."
Through publications, advocacy, relationships and networks, GPEE works to influence state education policy. The organization works with local and regional agencies on a host of health, education and workforce issues to help ensure that babies are born healthy, then have access to a high-quality early learning and public education system before graduating and moving on to postsecondary education and the credentials they need for a career of their choice, with the capability to support a family.
"That takes a lot of community engagement, community planning and helping individual communities and regions insulate that pipeline and come up with goals for themselves of how they want their communities to look," says Rickman.
As an organization, GPEE asks communities what their education system needs to look like to meet its economic development and education goals. Data shows that by 2025 more than 60% of Georgia's jobs will require some form of postsecondary education or certification. Today, just 47.9% of Georgia's young adult population qualify. In January 2023, GPEE will release its EdQuest Georgia policy framework that unites around an ambitious 10-year goal – ensuring 65% of Georgia residents ages 25 to 64 hold some form of postsecondary credential by 2032.
"That will be key to Georgia's prosperity moving forward, individually, regionally, as a state," Rickman says.
---
Connecting the Dots
The opportunities are here. Georgia's technical college system is extensive and affordable. The University System of Georgia is comprehensive, offering everything from two-year colleges to four-year research universities. The state is home to a host of private colleges and universities, as well. Students can earn college credits while in high school through such programs as Dual Enrollment, Advanced Placement and Career Pathways. The challenge arises when high school students – many coming from homes where postsecondary education is not the norm – begin looking at their options. Many students lack understanding of basic tasks associated with a college search.
To assist its mission, GPEE has thrown support behind a number of organizations and programs across the state dealing with teacher burnout, the effect a school's climate has on learning and teaching, the challenges found in rural schools and other issues. Among those GPEE supports are boots-on-the-ground programs like OneGoal and Achieve Atlanta that stepped into the planning and advisement space at Atlanta Public Schools (APS) and effected real change in a system where 80% of students identify as Black or Hispanic/Latinx and many are first-generation college students.
OneGoal is a multicity organization with an Atlanta presence that works to increase the number of students from low-income communities and federally-funded schools for students at or near poverty levels who move on to postsecondary education through a unique classroom-based model.
"We are partnering with Title 1 schools working with the middle 50%, students who absolutely can go on to a postsecondary pathway – and want to – but typically need a lot more support," says Taylor Ramsey, executive director of OneGoal in Metro Atlanta. "These students take OneGoal as a class their entire junior and senior years and then we support them for 15 months post-high school graduation. We get them all the way through their freshman year of college and into their sophomore year to make sure we're fully bridging that transition."
Each OneGoal class is taught by a committed teacher, adept at building student relationships. OneGoal provides coaching and teacher training in the curriculum, takes students on college visits and holds an annual OneGoal Student Summit. Teachers help students identify their "why" (who they are and what they value), then outline the postsecondary steps students need to accomplish their goal. Once students make a "best fit" list of institutions, they receive help completing the Free Application for Federal Student Aid (FAFSA) – a requirement for any student loan or assistance – deciphering student aid packages and applying to at least five strong-match institutions.
OneGoal is funded through a combination of philanthropy and school funds and currently serves 785 students (called fellows) at seven APS high schools. Its work segues neatly into the work of Achieve Atlanta, an Atlanta-based program to help APS students access, afford and earn postsecondary credentials.
Like OneGoal, Achieve Atlanta helps chip away at barriers to postsecondary access, whether that's closing college advising gaps or using a $532,000 Gates Foundation grant to build a data platform that helps students identify better "match and fit" colleges. And because Georgia is one of only two states in the nation that doesn't provide comprehensive needs-based financial aid, Achieve Atlanta helps fill that space for metro students. Since 2016, the organization has provided needs-based scholarships, thanks to funding from the Joseph B. Whitehead Foundation.
Achieve Atlanta provides $5,000 per year to eligible scholars going to four-year institutions, $1,500 per year to those going to a two-year or technical college. It has provided more than $40 million in scholarships and by the end of 2022 will have funded more than 1,000 college graduates. Students may apply for small-dollar loans, $500 or less, through an emergency grant program.
In January 2022, Achieve Atlanta received a $700,000 gift from the Tull Charitable Foundation, earmarked to provide 70 completion grants of $10,000 each (used to help students finish college). Even bigger news came in September 2022 when philanthropist MacKenzie Scott donated $8 million to the organization.
"It's very humbling," says Tina Fernandez, founding executive director of Achieve Atlanta. "I'm very aware of the abundance that has come our way, especially this last year."
The organization is taking a deliberate approach to the Scott gift.
"We want to engage in a process where we talk to stakeholders, but not just about this gift," Fernandez says. "Achieve Atlanta has been around for seven-and-a-half years and we're going to have our independent evaluation soon. The data is good and affirms that our approach is working. What we want to do is engage stakeholders in thinking about how we can increase our impact, how can we build on what we've already done to better serve APS students and our partners."
---
Those Who Can, Teach
In June 2022, Cherie Bonder Goldman, Georgia's 2022 State Teacher of the Year, presented the findings of a report, "Teacher Burnout in Georgia," examining the complex issues of teacher retention and burnout. The results were the work of a task force convened by the Georgia Department of Education (GaDOE) and assisted by the Carl Vinson Institute at the University of Georgia. State School Superintendent Richard Woods asked Goldman to chair the task force.
A 13-year classroom veteran, Goldman taught third-graders before becoming an English to Speakers of Other Languages (ESOL) instructor at Herman E. Hesse K-8 School in the SavannahChatham County Public Schools System.
Teacher burnout and retention was on the state's radar as far back as 2015. The issues identified then – mandated tests, teacher evaluation methods, lack of teacher autonomy – were only exacerbated by the pandemic. With release of the task force report, the state acknowledged the challenges and is attempting to make changes that will support teachers and ultimately support students.
Eliminating redundant testing requirements, creating uniformity of grading practices and policies and lowering the weight of high-stakes testing in the teacher evaluation system are among the report's action items.
In 2022, Georgia teachers received a pay raise from the state budget and some teachers and support staff received one-time bonuses, thanks to COVID relief funds. But well-intentioned spending in the direction of education doesn't by itself solve the problem of teacher burnout or retention. "If teachers don't feel respected in their job and the stress level is more than they can manage, if their voice isn't heard or they feel they're being treated unfairly, they're going to walk away from their job," says Goldman. "It's beyond the issue of pay. Teachers are walking away."
As evidence of that, a fall 2021 survey conducted by the Professional Association of Georgia Educators found that of the 4,583 members questioned, roughly 31% of respondents reported they are unlikely or highly unlikely to remain in education for another five years.
---
Climate Change
Goldman says there's an overall lack of understanding of the types of problem-solving teachers engage in daily.
"It's not just children that come to school," she says. "The struggles of our communities come into school. The issues of our families come into school. It's simplistic to think [that] all a teacher does is teach a student how to read, write and do math. It is much more complicated than that."
Teachers must decipher regulations, understand codes of conduct and mete out discipline (or not). They must manage a classroom of students and may need to guide a student who requires social services or behavioral or mental health services. Fortunately, outside organizations are stepping up to help.
The Georgia Education Climate Coalition (GECC) assembles stakeholders from around the state – 46 organizations at last count – working to create more equitable and affirming school climate and discipline policies supporting children, their families and communities. (School climate refers to the way students and teachers experience the school and what impact that experience has on a student's education.)
"GECC doesn't typically come out with a position [on an issue] because of the diversity of the membership, but we'll coordinate efforts into working groups. The strength is the flexibility to respond in the most appropriate way," says
Michael Waller, executive director of Georgia Appleseed Center for Law & Justice, the convener of GECC.
In the past, GECC played a role in the discussions of laws concerning gang violence to make sure the laws didn't harm students or school climate. Currently, GECC is supporting four school-based behavioral health policy recommendations for 2022-2023. These are: expanding school-based behavioral health services to every Georgia public school and to every child who needs it; engaging the community in topics of school-based community health; educating and expanding the workforce needed for school-based community health; and increasing funding and coordinating services for children with behavioral health challenges.
Issues of school climate and behavioral health are linked. The Georgia Child and Adolescent Health Coalition (CAHC) was founded in 2015 by Voices for Georgia's Children in partnership with the Georgia chapter of the American Academy of Pediatrics. The organization advocates to improve health outcomes for Georgia's children, and this past legislative session it was instrumental in helping secure $5.66 million to maintain school-based mental health services through the state's new mental health law – known as the Mental Health Parity Act.
In the upcoming legislative session, CAHC has four top-ticket items.
"To get a study committee for after-school and summer enrichment," says Polly McKinney, advocacy director of Voices for Georgia's Children. "We'd like to see expansion of funding for evidence-based home visiting in high-needs counties. That's when certified home visitors come to the homes of parents with new infants to help them navigate questions they may have, learn about resources they may need, make sure parents have access to those resources and make sure any other children in the home are doing well. They're great at helping prevent child abuse [and] neglect. Helping all the children navigate special needs – IEP, developmental disability, special services – [and] identifying maternal depression."
The organization is also looking at the topics of school safety and of continuous eligibility for assistance as pandemic aid winds down. The list goes on. Its advocacy platter isn't just full, it's overflowing. There is bipartisan legislative support for many items, especially childcare and out-of-school care/enrichment, according to Katie Landes, director of the Georgia Statewide Afterschool Network.
"There's a greater understanding for what these programs do," she says. "It's not just a snack and a place to go."
Schools are increasingly viewed as a place to access healthcare, especially in rural areas.
"That's where the issue of school-based health clinics come in, being a hub [that] not just young people but their families frequent," Landes says. "Thinking about the services [they need] beyond health – what are the services that can be brought to where we know where people already are? Schools are a great hub."
---
Rural Response
In July 2021, Bronwyn Ragan-Martin was tapped to head the state department of education's Office of Rural Education and Innovation (REI). From the location in Camilla, Martin assembled a team of veteran educators to address challenges that have dogged rural districts for decades: links between literacy and poverty, lack of access to infrastructure such as broadband and workforce development in the form of teacher recruitment and retention. The team is hyper-focused on the Southwest and Chattahoochee Flint Regional Educational Service Agencies (RESAs) in the southwest corner of the state where they pilot the work, then deliver what works to rural districts in other RESAs. There are 115 rural districts defined as counties with populations of 35,000 or below.
Among the piloted instructional programs is a virtual computer science class taught by instructors in Forsyth County who created a computer science curriculum for middle and high school students. Because of the lack of a program or teacher, computer science was unavailable to some districts in the Southwest RESA.
"Some of the districts down here chose to take the computer science class through Forsyth County with facilitators here," Ragan-Martin says. "The teachers are learning from the teachers in Forsyth County to build the capacity of teachers down here."
In an initiative meant to address non-academic barriers to education performance, the REI team implemented vision and hearing screening in grades 1, 3, 5 and 7, then partnered with state agencies to provide glasses or hearing aids for kids who need them.
Regarding recruitment, the region hopes to cast a wider net using a national database, allowing districts to reach out to qualified teachers who are willing to move. And they'd like to grow from within with the "para-to-teacher" pipeline.
"We're looking at the paraprofessionals in our system who are invested the schools, who live in our communities and live in the rural areas," Ragan-Martin says. "If they're working to get a degree or become certified, we're looking at ways to best support that pipeline. If we can provide more support for that kind of staff, that 'grow-your-own' initiative, I think we'll have success."
Challenges exist, but there's also consensus that solutions are within reach.
"It may be a slow process," says Goldman. "Some change is immediately actionable, but other things will require time, policy, money or legislation. But I believe wheels are starting to turn."