Dalton | Whitfield County: Championing Diversity
Diversified economy, healthcare and amenities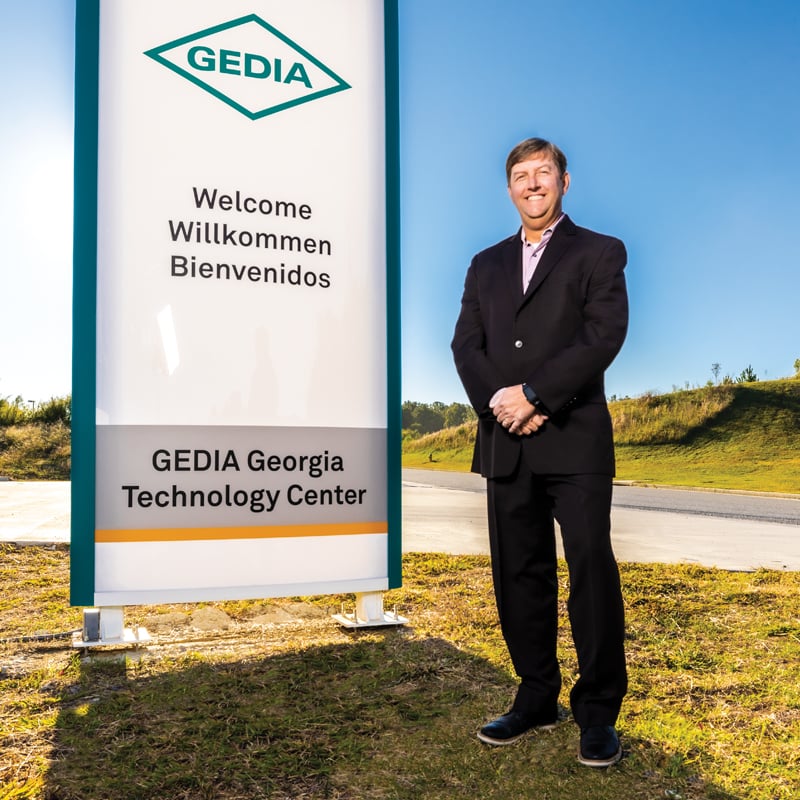 With world-class medical facilities, competition-level recreation venues, a top performing state college and a growing number of industries, Whitfield County is embracing change and diversification.
County Administrator Robert Sivick is a relative newcomer to Whitfield County and says diversifying the local economy is at the top of his to-do list.
"Part of that is having a good tax base and, therefore, a more diverse economy," he says. "When I came down here about a year ago, one of the things that I discussed was the need to diversify the economy of Dalton, which rightfully is called the flooring capital of the world."
His concern isn't the flooring industry specifically but rather the fragility of "one-industry towns," like Detroit or Pittsburgh, he says. Sivick wants to see additional industry in the county, perhaps the high-tech field. He's excited about current projects in that direction, such as the expansion of Qcells, manufacturer of solar panels.
One challenge to a diversified economy in Whitfield County is a housing shortage. Though Dalton's population is 35,000, an additional 30,000 commuters cross the county line to come to work, primarily for large employers such as Mohawk Industries and Shaw.
"A lot of them would like to live here but cannot because of the shortage of housing, so we're working on some big projects. We're beginning to look at things on a long-term basis, not just in terms of finances, revenue and expenditures, but also to increase our amenities," says Sivick.
One new offering is the multipurpose Rocky Face Ridge, which opened over the summer. The park's approximately 1,000 acres, accumulated over the past 20 years, preserves the site of two Civil War battles. The park is a work in progress but already offers mountain bike and hiking trails, picnic facilities and restrooms. His ultimate dream is to get Rocky Face Ridge Park in such good shape that it can be turned over to the federal government for a national battlefield park, like Chickamauga just over the state line near Chattanooga.
---
If You Build It
Efforts are underway to alleviate some of the housing shortage, says Carl Campbell, executive director of the Dalton-Whitfield Joint Development Authority, namely about $200 million in single-family and multifamily developments.
That includes new downtown living in Dalton. Bob Caperton, president of Barrett Properties, recently completed renovations of the Belk-Gallant building, once a Belk department store. It now features 18 loft apartments, office and rec space, first-floor retail and a bustling restaurant and bar, The Gallant Goat.
Embracing the trend toward intown housing, he's already set his sights on another downtown project, the Telephone Company Building on the edge of downtown Dalton. Comparable to the Belk-Gallant project, it will offer 26 residential units and 3,000 to 4,000 square feet of retail storefront. Work is slated to begin before the end of the year, he says.
That available housing will be crucial with the new and expanding industries in Whitfield County. News about Qcells keeps getting better since it committed in 2018 to a $130 million investment and 525 new jobs at a solar panel manufacturing facility in Whitfield. Qcells is already at 800 employees in two Whitfield facilities and this summer announced a major expansion with $171 million for a third facility and the creation of an additional 470 new jobs, says Campbell, a move that will double the current production of 13,000 solar panels a day.
A $100 million project announced in 2020 by German auto parts manufacturer GEDIA is now fully operational, pressing structural steel parts for Mercedes-Benz, says Campbell. GEDIA will ramp up from 75 workers to about 200 over the next couple of years, he adds.
Announcements of another $500 million in new industry and expansions are anticipated by the end of 2022, says Campbell. In the meantime, Whitfield has about 500,000 square feet of spec industrial space recently completed and under lease. Another 1.5 million square feet is currently underway on the south end.
---
World-class Recreation
About a year ago, Andrew Parker switched roles from public works director to Dalton city administrator, focused on making Dalton the best place to work, live and play in Georgia.
"Everything we do and everything we focus on is looking through that lens," he says. "We're making strategic investments to our parks system, trying to add new amenities and improve the existing amenities."
The city will soon break ground on a much-anticipated state-of-the-art aquatic center. While all four public high schools have active swim programs, they share a single pool. With a planned 10-lane, 50-meter competition pool and a multipurpose pool, the new aquatic center will qualify to host regional competitions.
"We feel like it will be a hub for Northwest Georgia as it relates to regional swim competition," says Parker, who hopes the facility will be operational by August 2024. The $23 million center will be located next to the Dalton Convention Center.
Aquatics isn't the only sport Dalton embraces; it was named Soccer Town USA this summer by The New York Times.
"Basically, all of our high schools competed for the state championship in their respective classifications," says Parker, noting the recent completion at Heritage Point Park of a $7 million soccer complex with two FIFA-regulation synthetic-turf soccer fields, in addition to two regulation fields in other areas of town. Like the aquatic center, the soccer complex could be a Georgia hub for tournaments, he adds.
Parker also reports that downtown Dalton is booming. "For the first time in a long time, we've got a parking problem downtown. There are so many new small businesses and occupied storefronts that we're looking at building a new parking deck at some point in the next couple of years," he says, adding it's a good problem to have.
Going up downtown is The Carpentry, a boutique hotel that is being developed by State Rep. Kasey Carpenter. And completion is slated for spring 2023 of the $1.5 million Mill Creek Riverwalk, a 1.1-mile trail connecting the historic Crown Mill area in downtown Dalton to Hag Mill Lake Park.
---
Better Together
With the latest census showing the local population to be 51% Hispanic, community leaders are increasing engagement with Hispanic residents about opportunities in business, education, local government and the arts. Greater Dalton Chamber of Commerce President and CEO Jason Mock, who arrived earlier this year, is encouraged by the diversity in Dalton.
"In my short time it's been a very bright thing to see. It just shows that Dalton is not a little old sleepy North Georgia mountain town. It's actually more diverse and more collective than most communities across the state," says Mock.
Much of the Hispanic population has been attracted by the industry and opportunities to grow in Dalton, a community that has a lot to offer.
"They're leading the charge and working in upper-management-level positions across the spectrum of companies, and there's a vibrant and growing Hispanic- led business community in town," he says, adding that Dalton is a place where people feel comfortable and safe, which is part of the attraction.
While the percentage of Whitfield's Hispanic population has greatly increased, efforts to be an inclusive community aren't new, says Zabdiel "Zab" Mendez, senior vice president and market president of North Georgia National Bank and a member of the Hispanic community who moved to Dalton in 1991. Mendez, a graduate of Dalton High School and Dalton State College, has remained in banking since his high school apprenticeship program in 1995.
"These efforts go back well over 25 years, and now we're starting to see the actual results of the work that's been done by so many in the past," says Mendez, whose parents are missionaries. His father came to Dalton in 1991 to help minister to the growing Hispanic community.
"I think the [inclusivity] gap is much smaller than what it used to be. We still have some work to do, but I think that goes back to commitment, to finding those individuals in our community that are truly committed to stay the course with you," he says.
The diversity of Whitfield County is also visible at Dalton State University, one of only two federally designated Hispanic-serving institutions in Georgia, which means at least 25% of students are Hispanic. Having reached that threshold about five years ago, the school reported an overall enrollment of 4,500 students last year, 35% of whom were Hispanic.
The designation is important because it unlocks eligibility for special federal grants, says President Margaret Venable. "In fact, we've gotten a couple of big grants already in these few years, nearly $9 million in federal grant funding. Just for context, $9 million is almost half of our annual state funding."
Last year 84% of graduates responded to a survey and of those students, 70% indicated they were already employed before graduation. Eighty-two percent were employed in the immediate Northwest Georgia region, and 91% were employed somewhere in Georgia.
Embracing Hispanic culture through the arts is also a focus of Dalton's Creative Arts Guild, says Executive Director Amanda Brown. One of the guild's newest annual events is a Dia de Los Muertos celebration, also known as Day of the Dead or All Souls, a traditional Mexican holiday where families honor the dead.
"It's a celebration of the people who have passed and remembering them in a beautiful light. And that's something all of us – all of humanity – can share," says Brown, adding that an advisory group, including members of the local Hispanic community, helps establish the authenticity of planned cultural events.
During the height of the pandemic, the arts guild worked toward developing the Robert T. Webb Sculpture Garden, the first permanent project of its size in the state, says Brown. By purchasing and curating pieces from all over the world, the guild was able to give some business to artists and galleries during a difficult time.
---
Serving the Region
Hamilton Health System pushed through the early months of the pandemic to complete three major projects, including an open-heart surgery program, the Peeples Cancer Institute and the Anna Shaw Children's Institute.
Opening in January 2020 and April 2021, respectively, the $46.3 million Peeples Cancer Institute and the $30 million Anna Shaw Children's Institute for children with autism and developmental disorders are both freestanding facilities, named for the two families whose donations made the projects possible.
The Anna Shaw Institute "is probably the most unique one in the South in that we don't just diagnose kids with autism and developmental disorders, we also treat and provide all of the therapies under one roof," says CEO Jeff Myers, noting they won Healthcare Design's top award for pediatric outpatient facilities the year it opened. "I'm given to understand it is the most full-service center in the South for the treatment of autism and developmental disorders."
Incorporated within the main hospital, the open-heart surgery program has conducted over 200 procedures since opening in February 2021.
"We had built the operating rooms and the [catheterization] labs for structural heart and interventional heart [procedures] already, so we were able to incorporate those into our existing facilities," says Myers. The project cost an estimated $10 million to $20 million.
In addition to the new facilities, Hamilton also started an internal medicine and family practice residency program during that time. In March, the American Medical Association ranked the internal medicine residency program 13th out of 122 residency programs in the state. "As a startup program, we're pretty excited about that," says Myers, noting they are approved for 54 residents in the three-year program.
Regardless of how they get there and why they come, residents in Dalton County have every opportunity to become part of the community. Its thriving offerings in recreation, culture, education, and business and industry are sure to entice newcomers. As Dalton continues to evolve and redefine itself, it's apparent that this area is far from being the sleepy little carpet industry town it was decades ago.
---
Local Flavor
Teens Tackle Business and Finance
Inspired by the Chick-fil-A Discovery Center that opened at Georgia World Congress Center in 2013, several Junior Achievement (JA) Discovery Centers have since opened across the state. One of the newest is on Hammond Creek Middle School Campus in Dalton. Covering a large geographical area in Northwest Georgia, the center currently serves 8,766 students, says JA of Northwest Georgia Director Anna Young Adamson.
Inside the JA Discovery Center is a virtual town with 17 storefronts representing partners from various businesses and industries. School district partners agree to send all sixth- and eighth-grade students through the program and to cover 20 curriculum-aligned lessons in the classroom to prepare students for their five-hour simulation experience.
Sixth-graders operate JA BizTown, running a simulated economy for the day by taking out a business loan and working to pay it off by the end of the day. Participants create a marketing plan, sell real items to make a profit and learn about business-to-consumer and business-to-business transactions.
"So, they are playing the CEO, CFO, CMO, you name it, and they are operating and running a business with a group of their peers," Adamson says. "A lot of our students think to be a CEO you have to be someone that they are not. Shifting that mindset is huge, so they can visualize themselves in these roles in a business."
Students return as eighth-graders to participate in JA Finance Park, receiving a randomized persona for the day. They might be married or single, with or without debt and children, etc. Using that information, they build out a personal budget.
"They're looking at all of these lessons through the lens of financial literacy," says Adamson, adding that decisions during the day might include whether they can afford to take their family of four out to dinner. "This is when we have the aha! moment of just how expensive things are.
"JA can act as a liaison between the business community and the school districts in its region," she says. "It's a turnkey way for our business community to be involved in our school system. I think both entities want to help one another out."