Specialized Care for Athletes
Sports medicine is an important piece of the healthcare puzzle.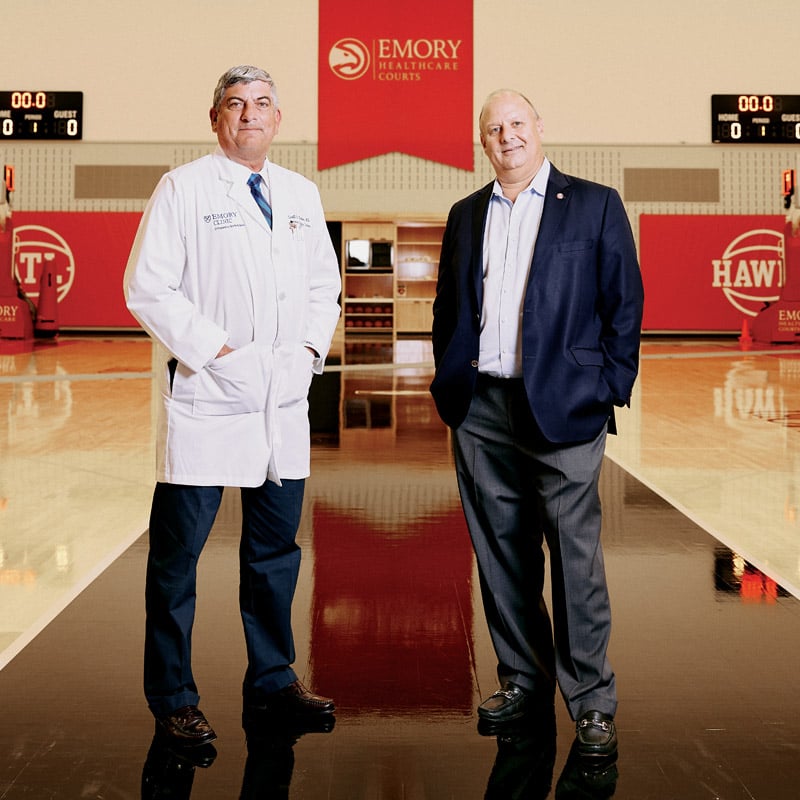 Sports medicine is about more than treating a sports-related injury. Whether it's an eight-year-old Little League player or a 35-year-old WNBA basketball player, being observed and treated by a healthcare provider who specializes in sports medicine – or a team of them – can help athletes return to play faster and can prevent injuries in the future.
"Sports medicine is a team of healthcare providers with specialized training who help athletes and active individuals at all levels get back to the activities they enjoy," says Rebecca Joyner, team lead at the Southeast Georgia Health System Sports Medicine Program in Brunswick. "This team of providers all work together to help you get back to physical activity as quickly and safely as possible."
Their education and training prepare them to manage a wide array of possible on-field emergency conditions, from ankle sprains, open fractures and concussions to catastrophic life-threating injuries like sudden cardiac arrest, exertional heat stroke and injury to the cervical spine. Many sports medicine programs are led by a board-certified family medicine or orthopaedic physicians with additional training in sports medicine, Joyner adds. Other healthcare professionals who are critical in delivering sports medicine care include certified athletic trainers, physical therapists and registered dietitians.
---
Pediatric Patient Focus
Gone are the days when a coach tells young athletes to "just rub some dirt on it" and sends them back onto the field or court. Now kids' teams, from baseball and basketball to soccer and football, have access to sports medicine designed for pediatric needs.
Rob Willson, MD, an orthopaedic surgeon with a specialty in adult and pediatric sports medicine at Augusta University Health System, recalls a 10-year-old athlete who had been treated without surgery for several years for repeated dislocation of the kneecap. Eventually the child had so many dislocations that they were afraid to go to school, where they often fell.
Dr. Willson says this is an example of a case in which seeing a pediatric-trained sports medical professional early on would have greatly benefited the growing athlete. "Earlier intervention with a pediatric-trained sports medicine provider may have reduced the time to receive appropriate surgical intervention and secondary damage to the joint," he says. Such specialized training allows children to see someone who is comfortable doing procedures to fix a particular injury on patients who are still growing.
Most of Dr. Willson's patients are between 12 and 24 years old and many are students at 20 local high schools. The bulk of his practice is focused on ACL reconstruction, ACL repair, patellar (kneecap) instability and shoulder instability. "ACL reconstruction [results] a lot of times from high-contact sports like football and basketball," he says. "Soccer is also a pivoting sport, so you're going to see a lot of non-contact ACL tears there."
Like other pivoting sports, soccer involves frequent, high-speed changes in direction. "In one study involving ACL tears, women's soccer was found to have the highest rate of injury," Dr. Willson says, adding that he commonly sees teenage soccer players who have suffered an ACL tear.
"I can't overstate the importance of having an athletic training presence, especially in underserved schools," he says. "It is such a tremendous difference for those kids, where otherwise those injuries may never be diagnosed or go untreated." He adds that some patients don't necessarily have the means to be treated in clinics like his, but that would give them access within their high school sports program to a pediatric-trained sports professional who knows and cares about the student-athlete. "That unto itself is a huge deal, and it extends beyond orthopaedics, [to] the wellness of a child," says Dr. Willson.
Southeast Georgia Health System has agreements for full-time sports medicine and athletic training services at Brunswick High School, Glynn Academy, Frederica Academy, McIntosh County Academy, Brantley County High School and the College of Coastal Georgia. The system is also the official sports medicine provider for Camden County and Charlton County high schools. In this capacity, the health system provides certified athletic trainers (ATCs) to schools, in addition to working closely with athletic directors, coaches and school nurses to help create and implement sound policies to oversee the health and safety of student-athletes. If an athlete needs a higher level of care, they can follow up with a pediatric-trained sports medicine physician at Southeast Georgia Health System.
"Research demonstrates that schools with ATCs have lower serious injury rates, better concussion identification rates and fast return-to-play rates," says Joyner, who adds that ATCs like herself are multiskilled healthcare professionals whose services may include primary care, injury and illness prevention, wellness and education, emergent care, examination and clinical diagnosis, therapeutic intervention and rehabilitation of injuries and medical conditions.
Joyner's colleague, Beau Sasser, MD, a board- certified orthopaedic surgeon, is medical director of the health system's sports medicine program.
In addition to serving thousands of middle school and high school student-athletes in the local area, Dr. Sasser's team provides sports medicine services to many community events throughout the year, including 5K and 10K runs and half marathons, as well as children's sports camps. "I find that our sports medicine program is an important safety net for athletes," he says. "The last thing I want is for an athlete to not get the proper care for an injury that may affect the rest of their life. Very few of these kids are going to play past their high school years, but they have plenty of years of adulthood ahead of them."
---
Treatment and Prevention
The adage "an ounce of prevention is worth a pound of cure" holds true for sports medicine, especially when it comes to treating growing athletes playing on a Major League Soccer (MLS) academy team. S. Clifton Willimon, MD, orthopaedic surgeon at Children's Healthcare of Atlanta, is also medical director of the MLS' Atlanta United FC Academy. "This role includes the diagnosis and treatment of orthopaedic injuries, injury prevention and preseason medical clearance, as well as the coordination of medical care for non- orthopaedic medical problems with my other specialists at Children's, such as cardiologists, ENT surgeons or rheumatologists," he says.
Children's has been the official pediatric healthcare system and sports medicine program of Atlanta United since it affiliated with the team in 2017. Academy players are between 10 and 19 years old, and there are about 120 players in the program.
"We focus not only on treating injuries in teens but also in preventing injuries," Dr. Willimon says. "There is so much research now showing the risk for injury and re-injury is different in teens, and even the surgical techniques used in adults don't work as well in kids and teens." Dr. Willimon's team takes a comprehensive approach to injury prevention. "Before the season, we perform assessments of the athlete's strength, mobility and joint motion. Using this, we are able to identify athletes who may be at a higher risk for injury," he says. An injury-prevention plan is then included in the athlete's training and conditioning program. It may include components like nutrition, stretching and mobility, focused strengthening and movement training. "Form and technique are certainly very important for proper kicking mechanics, but it is also important when athletes are sprinting, cutting and pivoting that they are doing it with proper form to avoid injury," Dr. Willimon says.
Matt Lawrey, director of the Atlanta United Academy, says the partnership with Children's has been a huge benefit to their players, families and coaching staff.
"Children's not only helps us in providing the academy with highly knowledgeable trainers and doctors, but also with outside support, including education and mental health," says Lawrey. In addition, a good "bedside manner" is helpful. "When working with youth, a friendly, recognizable face like [Willimon's] is very important, both for the players and the families," Lawrey says.
---
One-stop Healthcare
The University of North Georgia (UNG) in Dahlonega has four athletic trainers on staff who support upward of 250 student-athletes on 13 different teams.
Adam Daum, head athletic trainer at UNG, says his team helps assess and care for any number of ailments and injuries, including musculoskeletal or orthopaedic, that student athletes may experience on the court, field or during practice. "It's important for student athletes to have such readily accessible care," Daum says. "We can educate a student athlete as to what's going on with their bodies, let them know what the process is going to look like, help put some of their fears at ease and hopefully eliminate some uncertainty, especially if it's the first time they have sustained an injury."
Some of the more common sports-related injuries they see are ankle sprains and injuries, followed closely by muscle strains, says Daum.
Daum's team also works closely with UNG's official healthcare partner, Northeast Georgia Health System in Gainesville. Chris Huckle, DO, at Northeast Georgia Physicians Group, part of the Northeast Georgia Health System, diagnoses and treats sports-related injuries in student athletes and helps prevent them.
"One of our goals as a medical team is to help prevent injuries prior to them occurring," Dr. Huckle says. "This is normally done through nutrition, progressive loading in workouts, proper form in the weight room, functional movement screens and treatments after practices and/or games."
When the trainers identify something they are concerned about, they communicate that to Dr. Huckle as the team physician, then they make a plan for preventing injury. Dr. Huckle is also involved in pre-participation physical exams.
"I've seen the benefits of having the student athletes' healthcare under one banner, and I've seen the chaos that can ensue with having their healthcare being shifted in several different directions," Dr. Huckle says. "Having all healthcare accessible 'on one team' is extremely important, as it allows for easier communication between the athlete, university and all healthcare team members assisting in their care."
Georgia Southern University in Statesboro also has a dedicated sports medicine and athletic training team on campus. Brandy P. Clouse, senior associate athletic director for Sports Medicine and head athletic trainer, has been a part of the program for 20 years.
Clouse oversees the medical care for Georgia Southern's student athletes and helps ensure they are receiving the right medical care for their overall well-being. This may include mental health issues, setting up care on campus or even setting up care at athletes' homes if needed.
Clouse's team is affiliated with Optim Health System and supports about 400 student athletes participating in 16 intercollegiate sports and the cheer team. Her team helps diagnose and treat just about every sports-related injury you can imagine, from a minor ankle sprain to an ACL tear that may require major surgery. "We work hard to make sure student athletes have everything they need to not only get through the injury physically, but mentally as well," Clouse says. "We work with them from Day 1 to the final day of clearance on their surface of play and are there for them daily to see to it that their return is safe."
On a typical day, Clouse heads to the university early – some days start as early as 5 a.m. to prep for the 6 a.m. arrival of student-athletes. Her team assists with rehabilitation, attends sport staff meetings and covers practice for specific sports in the evening. They also work with weight-lifting classes and student-athlete conditioning. And when teams travel for competitions, Clouse's team is along for the ride, setting up a mobile athletic training room in a hotel to provide the care GSU student-athletes need daily.
---
VIP Partners
Emory Healthcare is the official team healthcare provider for a number of Georgia's professional sports teams, including the Atlanta Hawks, Atlanta Braves, Atlanta Falcons and Atlanta Dream.
Scott D. Boden, MD, director of the Emory Orthopaedics and Spine Center and vice president for business innovation, has helped foster those long-term strategic partnerships, which started with the WNBA Atlanta Dream team in 2007.
He says the benefit of partnering with each professional team is different. But with the Hawks, it's been about helping them develop a program — and even a facility — that better supports not only the team and staff, but the community as a whole.
In 2016 when the Hawks ownership changed, there were only about 10 teams that didn't have a modern practice facility, says Dr. Boden. Hawks players were practicing on a full-court gym under what is now State Farm Arena in downtown Atlanta and they worked out in a weight room that was inferior to most Division 1 college football programs.
"They had as a priority to build a practice facility," he recalls. "We also started having a conversation about whether we could assume their medical care, and we had some sports medicine and sports science ideas that we thought could be interesting for them and elevate the overall care for the players."
After visiting practice facilities across the country, Dr. Boden worked with Hawks leadership to develop an idea that would include attaching a new practice facility to a sports medicine center where the sports medicine team could also care for the public.
"The benefit was that by co-locating with our sports medicine practice, they would have multiple physicians and advanced imaging on site, which allowed for quicker diagnosis, physical therapy, training and sports performance. At the time, that was really unprecedented for the NBA," says Dr. Boden.
Named the Emory Sports Medicine Complex, the 90,000-foot facility in Brookhaven opened in 2017 and now provides a great benefit to the community and the Hawks.
Andrew Saltzman, executive vice president and chief revenue officer for the Atlanta Hawks and State Farm Arena, says the Emory partnership goes back to the Hawks' overall business model, which includes winning championships and becoming a championship franchise.
"To do that, you have to have top talent, and to get top talent, both on the basketball and business side, having premier facilities is critical," Saltzman says. "There's also been a trend in sports to go to a much more integrated sports science and sports performance-type sports facility, so we embarked on a process on who could be our partner through this endeavor."
An example of such integration occurs if a player is injured during a practice. He is placed in a VIP elevator at the complex and is on an exam table in a matter of seconds, being checked out by an Emory sports medicine professional. "Health and wellness is just critical from the basketball side because if you can extend a player's career, that puts significant dollars in everybody's pocket," Saltzman adds. "This has given us a chance to put a really comprehensive and fully integrated partnership in place, and it has delivered beyond our wildest dreams. … It has really been an incredible partnership on so many levels, and we are excited to continue to keep it going and look at ways we can enhance it."