North Fulton County: A New Day
Parks, smart development and lifestyle quality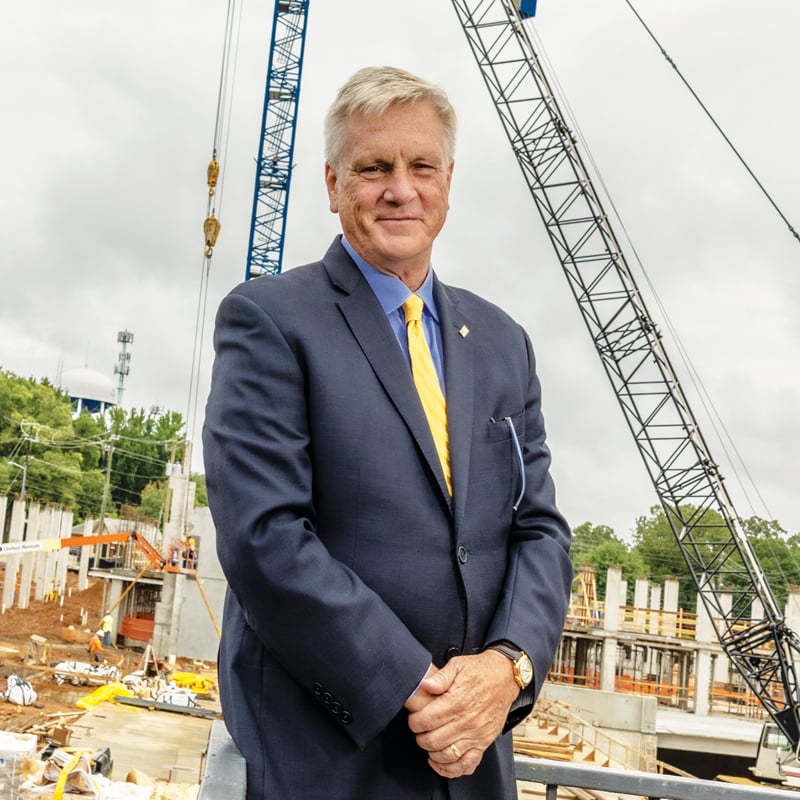 In many ways, it's a new day in North Fulton County. New mayors took office in Roswell, Milton and Johns Creek in January. And for Alpharetta and Mountain Park, changes are coming that look to the future yet keep some of the best aspects of small-town living.
All three new mayors have ambitious goals for what they would like to accomplish in the next four years, but Roswell Mayor Kurt Wilson has promised "bold, visionary leadership" to establish Roswell as the "jewel of North Fulton."
"Probably the thing I'm most excited about in the first six months is we're marching toward completion of our 100-day plan," Wilson says. "I'm really excited about how everyone has come together to get things done."
As part of that plan, Wilson and the city council have outlined plans to make the city's next budget zero-based for personnel expenses. In addition, they changed council meeting times to evenings to increase public participation, created a seven-member citizen Transportation Advisory Commission, commissioned an outside review of city finances, increased pay for the police department's 157 officers, raised officers' starting salaries by 20% and hired the city's first economic development director, among other things.
"We've completed eight of the 11 objectives in the first 100 days, and we'll have the other three items completed within the next 60 days [by Sept. 25]," Wilson says. "We ran on making Roswell the No. 1 family community in America. We want to base our growth on being a dynamic, aspirational city, rather than base it just on growth in population. We want Roswell to be a place where people aspire to live."
Yet to be completed on the new mayor's to-do list: develop a master plan for the city; approve the Roswell River Parks Master Plan, which has been on the books since 2016; and approve the five-year renewal of the recreation and parks department's strategic plan.
"Master planning is the No. 1 priority," Wilson says. "If you don't know where you're going, you're never going to get there."
In November, the city will ask voters to approve three general obligation bonds, including $107.6 million to invest in the completion of the river parks master plan, which envisions a unified river park system along the northern bank of the Chattahoochee River, and to fund part of a bike and pedestrian master plan. A second bond will seek $52 million to invest in the police and fire departments, including a new public safety building. A third, $20 million bond is for construction of a parking facility in downtown.
"We would like to see implementation of a full-time fire department phased in within five years," Wilson says. "We are the largest city in the U.S. without a full-time fire department."
Meanwhile, cranes are up and work continues on the $100 million Southern Post project, a six-acre, mixed-use development in the heart of downtown. Project plans include 128 luxury apartments, nine townhomes, 95,000 square feet of loft office space, 40,000 square feet of retail, restaurants and a parking deck.
Also making headlines is Wellstar North Fulton Hospital's $12 million expansion of cancer services, which will be the North Fulton Cancer Center. The additional 12,000 square feet will house surgical, medical and radiation oncology, and a CyberKnife system, a fully robotic radiation delivery system.
"When the cancer center is complete you can do all of your cancer treatment in one place and that had not been established in North Fulton. You had to go all the way to the Perimeter," says Steve Stroud, executive director of Roswell Inc., the city's economic and business development arm. "It brings additional doctors and medical facilities and it keeps our community healthier, which builds a stronger workforce." The North Fulton Cancer Center is expected to open by the end of next year.
---
Containing Sprawl
As Roswell works to chart a new path for its future, the residents of Milton like things the way they are. Milton Mayor Peyton Jamison ran on a platform of "Keep Milton, Milton," a slogan designed to convey a desire to keep urban sprawl from gobbling up the city's more rural areas. According to Jamison, the key to containing sprawl is keeping the city's zoning intact and denying developers' requests for sewer extensions.
"As a percentage, we're the fastest-growing city in North Fulton, and so we are trying to adapt as best we can to give our citizens what they need but still maintain the quality of life we all love here," he says. "I was on the planning commission for about five years, then on the council for four years, and I've never approved a sewer extension. Once sewer was approved, we had a pretty firm stance on not extending sewer and it's really helped us out in the long run with our growth expectations."
Beyond controlling growth, in 2016, voters approved a $25 million greenspace bond, money the city used to purchase "hundreds of acres of passive land," Jamison says, noting the goal is to open passive parks with trails. Additionally, in 2018, using a portion of the greenspace funds, the city purchased a defunct golf club and turned the course into connected trails and the clubhouse into a community center. The park, which is just under 140 acres, opened in April.
"I am hoping in the near future we will acquire and build a new active park for ballfields," Jamison says. "We have one main active sports complex and it's busting at the seams and we need to get another one online."
---
Capitalizing on the River
Also happy with his city's quality of life is Johns Creek Mayor John Bradberry, who began his life in public service as the founder of Preserve Johns Creek, a group of citizens dedicated to protecting the residential character of the city and its quality of life. Before being elected mayor, Bradberry served as a city council member for four years.
"Currently under construction is a 203-acre park along the Chattahoochee," Bradberry says. "Cauley Creek Park will double the size of the city's existing park space. It will be a really phenomenal premier park." With more acreage than Piedmont Park, Cauley Creek Park is located in the eastern half of the city, adjacent to the Rogers Bridge Trail and the soon-to-be-completed Rogers Bridge, a pedestrian bridge that will connect Johns Creek with Duluth over the Chattahoochee River. According to city officials, the park will feature a 5K rubberized trail, lighted sports courts, lighted grass and synthetic-turf playing fields, pedestrian bridges and river overlooks. The new trail segment is one of only a few rubberized 5K trails in the U.S. Construction of the park is expected to be complete in 2023.
"I think the Chattahoochee is such a special natural feature, it's our longest boundary," Bradberry says. "As the city of Johns Creek, this will be the first time we've done an active project to capitalize on the river. Our name is Johns Creek, water is in our DNA."
While capitalizing on its natural assets, Johns Creek is also busy creating a downtown by transforming a stagnant technology park into a new town center, which will eventually include housing, hotels, retail shops, restaurants and recreational amenities throughout the 194-acre property.
"Johns Creek was born out of thin air, so we don't have a natural crossroads or nucleus that would be the start of a town center. We're doing that basically from scratch," Bradberry says.
This summer the creation of the new town center got a huge boost toward fruition with two major announcements, including a $350 million, mixed-use development by Mark Toro, the same developer who created Avalon in Alpharetta.
"It will be built on 43 acres of the old State Farm property," Bradberry says. "The plans are not to build another Avalon, but to build a very high-end, high-quality entertainment, hospitality and retail center that will also add a great deal of vibrancy to the town center."
Preliminary plans for the redevelopment include keeping 110,000 square feet of office space, building up to 800 apartments, 150 townhomes and a civic building and construction of 200,000 square feet of retail space.
In other news, Boston Scientific, a leading manufacturer of medical devices, announced in June it will construct a new $62.5 million manufacturing and supply chain facility in the new town center. As a result, about 340 new jobs are expected to be created over the next seven years.
"The town center will come out of the ground during my time as mayor," Bradberry says.
---
Economic Catalyst
Long known as a technology hub, Alpharetta is also hoping to cash in on Georgia's growing life sciences sector. This spring, the city amended its code to allow for up to 50% lab space and light manufacturing in all of its office zones. City officials believe Alpharetta is the first city in Georgia to make this change.
"The Alpharetta of today has a population of over 65,000 people, with one of the most educated and diverse workforces in the nation," Mayor Jim Gilvin says. "Twenty-four percent of our population was not born in the U.S. What we have been able to do in Alpharetta is create a place that's not only a great place to do business, but a great place to live and raise a family."
Key to the quality of life Alpharetta offers is "a tremendous park system and trail system that continues to give people the opportunity to enjoy amenities like downtown, Avalon and the Alpharetta Greenway, which runs eight miles long on Big Creek," the mayor says.
"What Alpharetta has done and continues to do is connect our workspaces with our amenities and restaurants, creating the type of environment that's very attractive for remote workers and for companies who want those workers," he says. "I think part of the character of Alpharetta is that while we have become a major technology hub with over 700 technology companies, we have managed to retain some of that small-town Southern charm that made us so attractive in the first place."
Acting as a catalyst for the region's continued economic development and business growth is the Greater North Fulton Chamber of Commerce, which moved into its new digs at Avalon earlier this year.
"It's definitely a very exciting and aspirational move that's been transformational for the chamber," says chamber President and CEO Kali Boatright. "We've experienced tremendous growth since we moved, gaining members at every size. In the last six months we have grown by 200 members and that's pretty exceptional."
For the first time in its history, the 1,200-member chamber has received five-star accreditation from the U.S. Chamber, Boatright says, "putting us in the top 1% of all chambers nationally." The chamber received perfect scores in five of nine areas: governance, human resources, technology, facilities and program development.
"What that means is we're doing a great job, but it also speaks to the fact that the organization is running successfully," she says. "We would not be in a very good place to support our businesses if we were not running successfully as a business ourselves."
---
Changing Demographic
Though the city of Mountain Park is as big as it will probably ever get (population 583, according to the 2020 census), this small community tucked away in the western part of North Fulton is seeing a resurgence of families with small children, according to Mayor Jim Still.
"We were actually one of the three cities that [made up] Milton County up until 1932," he says. "We are strictly a residential community, there is no commercial development here."
Although the city is only about a square mile, it is home to two lakes, Garrett Lake and Lake Cherful, which gave rise to Mountain Park as a summer retreat for families from Atlanta and Decatur back in the '20s. A changing demographic is returning the city to its roots, Still says.
"We were, for a couple of generations, [a place of] people that were born here and grew up here, but we seem to have more [new] families moving in, especially young families with kids," he says. "We're coming back around to the family-oriented community we were originally."
These new families are purchasing older cottages and houses in the community for renovation, though there have been some teardowns, according to Still, who notes Mountain Park has strict zoning laws and requires additional buffers around state waterways beyond state and federal regulations. "We don't want to lose what Mountain Park is and that's a beautifully natural environment," he says. "It's very natural, it's very pretty, with mostly very narrow little roads and densely treed residential areas."
Already home to some of the most coveted zip codes in metro Atlanta, North Fulton continues to capitalize on its natural assets, while creating synergies between the urban lifestyle of live, work, play and the close-knit communities of their rural beginnings.
---
LOCAL FLAVOR
Wedding Enchantment
The Cherokee once called the area where Roswell is located "Enchanted Land," and for many couples seeking to tie the knot, the city on the northern banks of the Chattahoochee River is as magical a wedding destination as any foreign shore.
While glass slippers are bring-your-own, there is a fairy Godmother of sorts to help couples choose the venue of their dreams, book hotel rooms and provide welcome bags to out-of-town guests, including maps, attraction information and a brochure on free things to do in town.
"We have more than 20 event facilities, public and private, that we promote," says Ted Basco, director of sales for Visit Roswell. "What we have to offer versus other communities is, No. 1, the fact we have multiple venues that are all flexible, that come in all different shapes and sizes, and that [are] conducive to any customer and their specific needs for the night of their life."
For the couple who loves history, vows can be exchanged at several historic homes in the city, including Naylor Hall, the Old Mill Machine Shop and Primrose Cottage, the first permanent home in the c colony. There are also the city-owned Historic House Museums, including Barrington Hall, Bulloch Hall and Smith Plantation.
"The Old Mill Machine Shop, which is owned by the city of Roswell, is the only building remaining of the 1839 Roswell Manufacturing Company," he says. "With its overhead beams and original hardwood floors, it's yet another venue that you can't find anywhere else."
Another popular wedding venue is an outdoor pavilion that extends over one of the lakes at the Chattahoochee Nature Center, according to Basco.
"The nature center itself is Roswell's version of the Atlanta Botanical [Garden]," he says. "The old Burlington Coat Factory, which is now the Computer Museum of America, has a 10,000-square-foot industrial-style ballroom that hosts a bunch of different events, and we sent a wedding [event] there."
According to Visit Roswell, of the more than 5,100 hotel room bookings the organization helped coordinate last year, 85% were wedding blocks. Visit Roswell estimates roughly 50% of wedding guests are booking hotel stays in neighboring cities, due to the shortage of upper-upscale hotel types in Roswell compared to what is available in neighboring cities; however, two new upper-upscale hotels under construction are expected to help fill the void when they open in mid-2024.
"The wedding market has been, and continues to be, hot in Roswell," Basco says.