Students unload much-needed cargo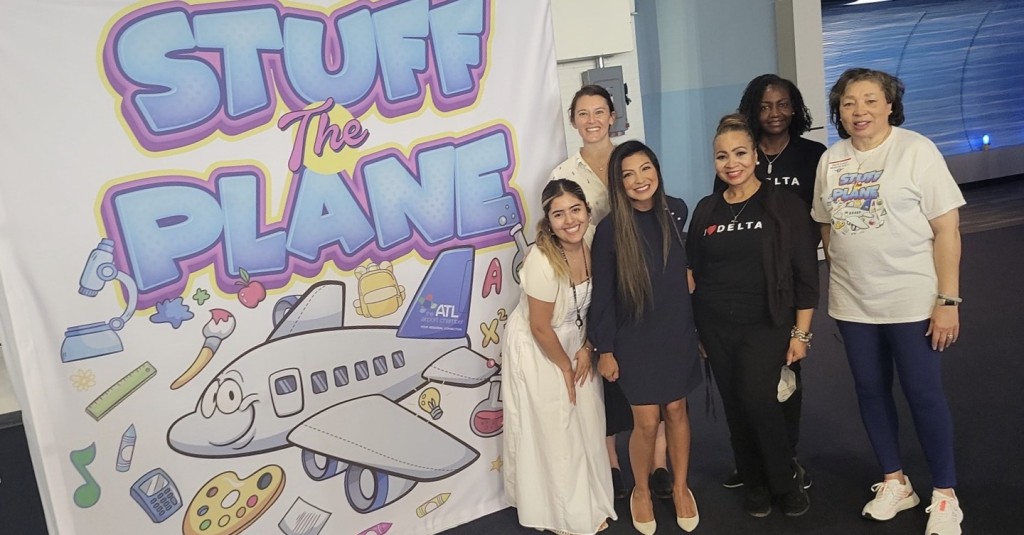 The back-to-school season is upon us and that means shopping and school-supply drives. But last week representatives of the ATL Airport Chamber soared above the normal start-of-school events with the first ever Stuff the Plane School Supply Drive. About 275 students from Clayton County, Fulton County and Atlanta Public Schools boarded the historic Spirit of Delta Boeing 767 aircraft at the Delta Flight Museum to receive clear bookbags stuffed with paper, pencils and highlighters.
Graduates of the Chamber's Elevate ATL South Metro Leadership Academy organized the unusual school-supply drive to help students in need. With rising prices for just about everything, the drive aimed to give these students the right stuff for a productive launch to the school year. Before boarding the plane, the students toured the Hapeville museum.
The event was truly a community effort with sponsors that included Aerotropolis Atlanta, Amazon, ATL Airport Community Improvement Districts, Aviation Infrastructure Solutions, Benchmark Management, Blue Scorpion Reputation Management, CareSource, CERM, Chick-fil-A, CIM, Clayton County Chamber of Commerce, Delta Air Lines, Eat Right Atlanta, Georgia Coach Lines Inc., Georgia Power, Greater South Fulton Chamber of Commerce, Hartsfield-Jackson Atlanta International Airport, Impact Church, Jamaican American International Chamber of Commerce, Jaudon Photography, Oasis, Renascent, Siemens, Terracon, The Ludacris Foundation, Walmart and WSB-TV.
Photo provided by the ATL Airport Chamber. Shown are Delta Air Lines employees pictured with ATL Airport Chamber President and CEO Carmenlita Scott (right) at the Stuff the Plane School Supply Drive.
Do you follow us? Find us on Linkedin, Facebook, Twitter and Instagram.