Augusta | Richmond County: Adding Tech to the Total
Cybersecurity, downtown renewal and recreation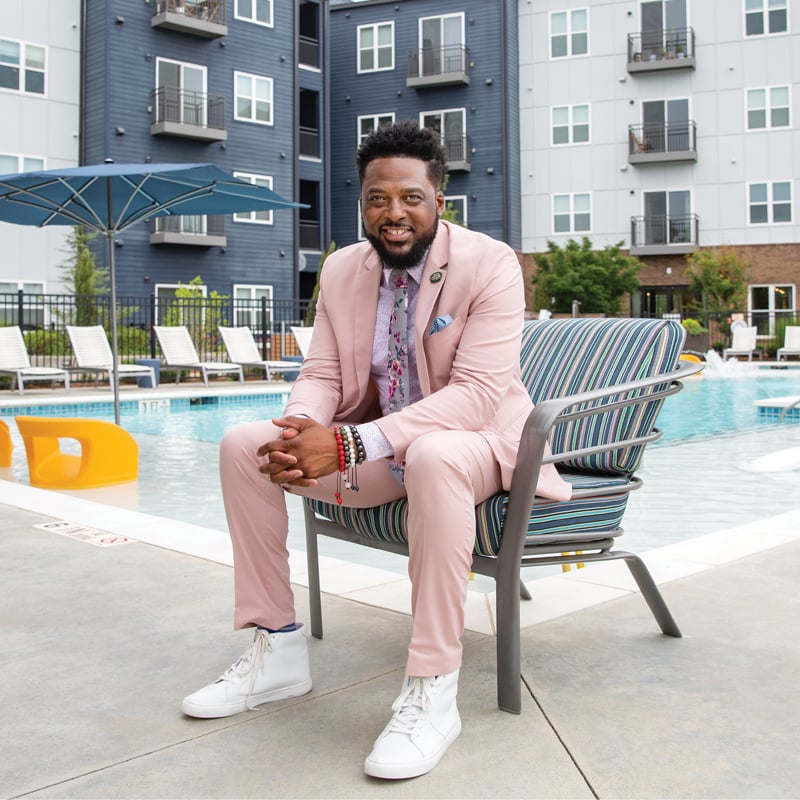 It can be said with certainty that the Masters Tournament in Augusta captured the sporting world's attention in early April. Yet, every other week of the year – and historically – the Garden City of Georgia is driven by three different M's: medicine, manufacturing and the military. Recently, Augusta added another letter to its alphabet: C, for the high-demand field of cybersecurity.
"For the past several years the city has taken a major step forward with the growth of cyber- and cybersecurity-related opportunities and is quickly becoming the cybersecurity capital of the nation," says Hardie Davis, Jr., Augusta's 84th mayor.
Fort Gordon, Augusta's biggest employer, celebrated its 80th anniversary in 2021. But the Army base isn't acting like a typical octogenarian when it comes to technology. Next year marks a decade since the decision to locate the Army Cyber Command (ARCYBER) Headquarters at the 87-square-mile installation. It's now home to the U.S. Army Cyber Center of Excellence, a single Army institution responsible for cyber, signal and electronic warfare and training to support national, strategic, operational and tactical Army cyber missions. The move to Augusta consolidated and coordinated Army cyber and network operations under one command for the first time.
"With almost 40% of soldiers and civilians dedicated to 24/7 operations and $2 billion for modernization, to include $900 million for six military construction projects, seven restoration and modernization projects and 11 demolition projects, the Fort Gordon leadership team is taking cyber and signal training into the future," says Tom Clark, executive director of the Central Savannah River Area (CSRA) Alliance for Fort Gordon, which promotes economic development through partnerships leveraging the information technology, communications and medical expertise prominent at the base. "With its 32,000 workers, Fort Gordon has long ceased to be known as just a schoolhouse installation [for training]."
In June 2020, U.S. Army Cyber Command Headquarters consolidated eight separate facilities in Virginia, Maryland and Washington, D.C., and moved them to Fort Gordon, a globally engaged, multimission, multiservice military installation providing support across a wide spectrum of training, operational and sustainment needs. Using the U.S. Department of Commerce's economic multiplier of 2-to-1, Fort Gordon's nearly 32,000 military, civilian and contractor employees have brought approximately 64,000 community jobs to the area. The estimated total economic impact exceeds $2.4 billion annually.
"Including serving as the catalyst for the Fort Gordon Cyber District to become a nationally recognized cyber center of excellence, the CSRA Alliance for Fort Gordon is constantly working to enhance the military value of Fort Gordon and the economic development in the greater Augusta region," Clark adds.
---
Housing Refresh
Impressive growth like that seen at Fort Gordon and its cyber center yields opportunity and also comes with obligations. One of the biggest of those in Augusta might be housing. The Laney Walker/Bethlehem revitalization project, which was started in 2008 by the Augusta Commission, aims to regenerate nearly 1,100 acres of the city's urban center, including renovating homes in two historic but neglected neighborhoods.
Turning another challenge into opportunity, Augusta partnered with the U.S. Department of Housing and Urban Development to launch the Lead Grant Hazard Reduction Program. The $3.3 million initiative has produced jobs while increasing the value of homes, which then increases the city's tax revenue. The program aims to help protect children and families from lead-based paint and other home hazards.
"It is no secret that 60% of the housing stock in the city of Augusta was built before 1978," says Hawthorne Welcher Jr., director of the City of Augusta/Richmond County Housing and Community Development (HCD) Department. "Not only does the lead-reduction program increase our housing stock, this also makes Augusta marketable and more attractive to individuals looking for homes during this almost-dry housing market."
The HCD has invested nearly $2 million in housing and supporting retail developments in the Laney Walker/Bethlehem area. The Ashley Landing townhome development opened in June, and the Armstrong Galleria Revitalization project is scheduled for a first quarter 2023 opening. The retail renewal effort on the main thoroughfare in Augusta's target downtown district will also bring 35 new jobs.
In 2020, Augusta's HCD partnered with Warrick Dunn Communities to launch the organization's first three homes in the Laney Walker/Bethlehem area. Other partners that have been instrumental in the downtown residential revival are Vetted Investments & Acquisitions, which focuses on veterans' housing; CD Capital Investment Group, an investment firm providing high-quality affordable housing; and Volume Income Properties, owned by identical twin brothers Chris and Calvin LaMont from HGTV's Buy it or Build it, who build and renovate homes.
---
Resources, Resilience and Recycling
Thanks in large part to the military presence, including the unique stimulus of cyber, the GDP of the Augusta-Richmond County MSA nearly reached $30 billion in 2020. That represents growth of more than 37% over the prior decade, according to the Federal Reserve Bank of St. Louis. Low cost of living, a diverse economy and the warm climate have supported net migration.
"Augusta continues to stand out from other cities in Georgia because of the diversity of our economy, proximity to the Georgia ports and a strong and growing workforce," Davis says.
Regarding the crucial labor supply, for the fifth consecutive year Augusta Metro Chamber of Commerce's Students2Work program has provided high school students with paid summer internships, connecting 80 rising juniors and seniors with jobs across nine different economic sectors ranging from professional services to healthcare and manufacturing. That investment in the next generation by Augusta's business community exceeded $200,000 in 2022 and more than $800,000 overall, according to Sue Parr, president and CEO of the Augusta Metro Chamber of Commerce. The chamber also launched an innovative one-stop solution technology platform for careers, training and job search called Talent2Work.
"The chamber is very active in the workforce development space at a time when our members are at their highest need for talent," she says. "The best utilization of the chamber's influence and resources has been to ensure a healthy pipeline of future workers by connecting high school students with experiential learning and soft skill development."
Augusta's workforce and business-friendly approach are getting noticed globally. German company Aurubis AG, the largest global copper recycler, is investing $340 million to build a new facility in the city. When complete, it will be the largest multimetal recycling plant in the country, expected to process 90,000 tons of complex materials annually and create more than 100 jobs.
"This represents the single largest capital investment made by any German company in the state of Georgia," says Davis, calling the massive project a strong sign of the continuation of the city's "renaissance in manufacturing. This investment will significantly contribute to America's raw materials resilience while supporting e-mobility, renewable energy and sustainable infrastructure."
Parr notes that current manufacturers and new industry coming to Augusta benefit from the fact that their energy costs are not subject to a local excise tax, which saves millions of dollars annually for some of the city's largest manufacturers such as TSV, Starbucks and now PureCycle, a waste chemicals recycler that will invest $440 million in Augusta to set up shop near Aurubis in the Augusta Economic Development Authority (AEDA)'s 1,700-acre industrial park.
"Although we are proud of every business that has survived and even grown during the past three years, we are particularly excited to welcome two major economic pillars to our community that we think will fit in wonderfully," says Cal Wray, president of the AEDA.
Concentrating on major industrial development, AEDA reported a dramatic increase in the pandemic years of 2020 and 2021 in the number of large companies interested in Augusta. The number of jobs per potential project tripled between 2019 and 2021, while the capital investment increased by a factor of five, according to the authority.
"The economic turbulence of the pandemic, which has continued with subsequent geopolitical turmoil and supply chain issues, has caused companies to prioritize political stability and easy access to reliable infrastructure, including our interstate and rail systems, along with easy access to the nearby Savannah port," Wray says. "This trend indicates just how bright the future is for our state and city." Returns are obviously good, but resilience can say a lot more about the spirit and cohesiveness behind a city's production. Despite COVID-19, there was a net gain of 53 new businesses in the downtown Broad Street corridor, three business expansions and $83.1 million in private investment, according to the mayor's office. Approximately $1.3 million in small business relief grants were distributed during the pandemic.
"Leading our city during the global pandemic allowed me the unique opportunity to see how resilient our business community, healthcare providers, education systems and community are and how they could bounce back and position Augusta for sustained growth and development," says Mayor Davis, calling it the biggest highlight of 2021.
---
A River Runs Through It
There's a rhythm to every city, but Augusta's tempo is timeless. At its core are the golfing "tradition unlike any other" every April that serves as a global reminder of the appeal of Georgia's Garden City and the steady flow – and attraction – of the Savannah River. Even during the pandemic when the tourism and hospitality industry in metro Augusta fell from the third-largest employment sector to fifth, people could still flock to the river for fun.
"We are a river city and everyone enjoys and expects access to the water," says Bennish Brown, president and CEO of the Augusta Convention & Visitors Bureau (ACVB). "Families were looking for destinations that offer a variety of outdoor experiences on land and water. That suited us perfectly with our abundance of hiking, walking, cycling and waterway trails. At the end of the day, it's all about creating unforgettable experiences."
Following its "Destination Blueprint Masterplan," Destination Augusta – the tourism arm of the ACVB – has supported the city's restoration of the decommissioned Fifth Street highway bridge as a pedestrian walkway. The bridge will include a history walk, an art zone for kids and an ultra-modern playground with sensory panels. The Savannah River crossing to South Carolina can even host festivals and events. The department is intent on working with the city, Augusta Metro Chamber of Commerce and Augusta Downtown Development Authority to add a zipline on or near the bridge.
"We'd love to see the zipline cross the width of the river, carrying the adventurous between the two states," says Brown, whose Destination Augusta team is working with other unique Augusta attractions to help them create additional immersive experiences with plans for a 2023 rollout.
There's another major flow into Augusta, as film and television production posted a banner year in 2021. Shoots included the Discovery Channel and Discovery+ television series Getaway Driver; independently produced films Agent Game and Applewood; and The Hill, a baseball underdog movie starring Dennis Quaid. Multiple productions hired local crews, purchased local goods and services and featured many local actors as cast. Combined, the productions generated approximately $3 million in local spending.
Destination Augusta also emphasizes the city's behind-the-scenes appeal. Augusta's ease and accessibility mean that authentic, uncharted experiences await.
"Augusta's pace of life, focus on great Southern hospitality and laid-back attitude make for a nice escape from the hustle of daily life," Brown says.
---
Local Flavor
Hands-on Hospitality
From its resort-town heritage dating back to the early 20th century to the present-day global-event spotlight and more than $100 million economic impact of the Masters Tournament each April, Augusta knows a great deal about hospitality. And that deal is getting a whole lot sweeter with Helms College's new culinary operations initiative.
"The Culinary Operations in Resorts and Clubs (CORC) program is the only culinary degree program in the Southeast dedicated specifically to this segment of the hospitality industry," says James Stiff, president of Goodwill Industries of Middle Georgia and the Central Savannah River Area, which launched Helms College, a private, independent post-secondary career school, in 2007. "The initiative is to provide students with a hands-on program that stirs their artistic passion and gives them an elevated skill set. The hope is that this experiential learning approach to hospitality education will make our students top candidates for employment at luxury resorts and prestigious clubs throughout the world."
The Helms College CORC degree program's approach is on full display at Edgar's Above Broad, Downtown Augusta's new restaurant and entertainment venue that not only serves up breakfast, lunch and dinner in the city's burgeoning Arts District but also offers a putting green and bocce ball court.
"With the revitalization of downtown Augusta, many new restaurants have emerged to host these talents and we are proud that Edgar's Above Broad further provides an outlet for cultivating talent," Stiff says.
There, CORC students benefit from post-classroom and culinary-lab applied learning for the resort portion of their two-year study. They take that learning with them to externships at The Cliffs, Augusta Country Club, Reynolds at Lake Oconee and dozens of other partner resorts and clubs. Edgar's Above Broad is part of the Edgar's Hospitality Group, which includes Edgar's Grille, Edgar's Bakehouse, Snelling Conference Center and Edgar's Catering in the Central Savannah River Area and The Pinnacle Club, where CORC students learn the important differences of being a chef in a private-member club.
"Augusta's resurgent food and hospitality scene provides a great backdrop for Helms College CORC and culinary students to prepare for their careers," Stiff says. "The cornerstone of that is obviously the [Masters] tournament in April, which for nearly 100 years has brought the world to Augusta — and countless opportunities for our students to learn and expose themselves to one of the great sporting and culinary events in the country.
"And because of Augusta's proximity to some of the most robust food and hospitality scenes in the South — Atlanta, Savannah and Charleston — our students are near some of the most prestigious dining experiences in the U.S."