Overcoming Challenges, Improving Lives
The 2022 County Excellence Awards highlight much-needed solutions to pandemic-related problems.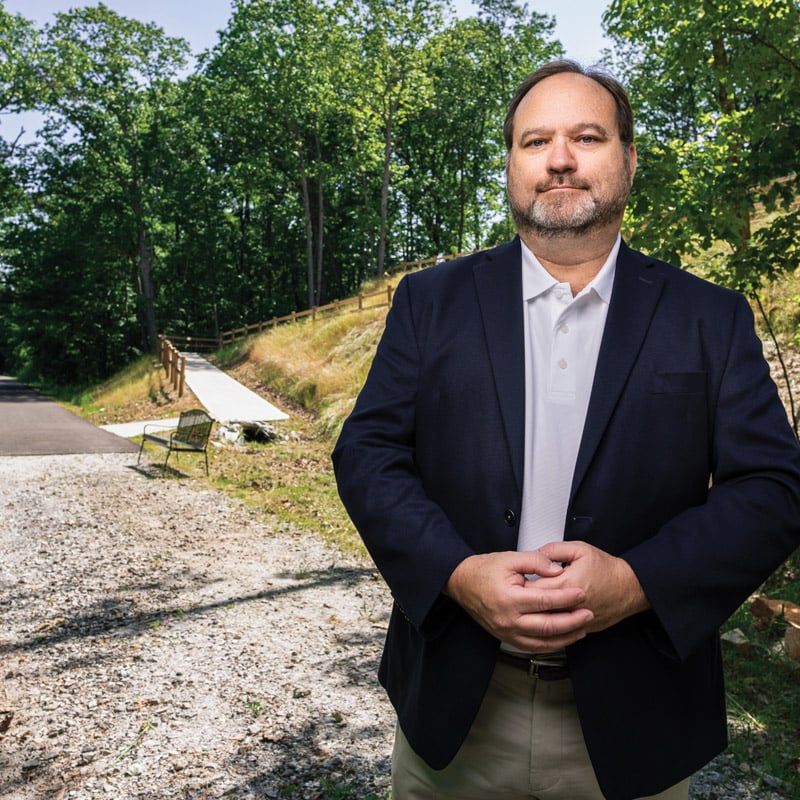 As COVID-19 continued to impact our lives last year, county governments across the state stepped up to address critical needs. Georgia Trend and ACCG, a nonprofit serving county governments, teamed up to recognize six initiatives that not only solved pandemic-related issues, but will also offer a positive return on investment for those communities in the future.
Projects in the spotlight helped keep people facing evictions in their homes, reduced seniors' isolation, created opportunities for outdoor recreation, provided free transportation, improved emergency communications and brought high-speed internet to an underserved rural area. These projects showcase the versatility and effectiveness of the counties' efforts to improve citizens' lives.
"The Georgia County Excellence Awards are regarded as a way for ACCG to recognize counties for their re- sourcefulness and innovation," says ACCG Executive Director Dave Wills. "This year's program focuses specifically on the ingenuity of county officials and how they addressed the negative impacts the pandemic posed on their communities." – Mary Ann DeMuth
---
Harris County
Enhancing Livability
Few amenities enhance livability like a well-managed community trail system. Paved, accessible pedestrian trails offer safe spaces to walk and bike, create much-needed greenspaces, provide economic and transportation benefits and even bolster civic pride. And during the pandemic, such trails have seen increased usage as more people have sought outside activities.
In 2008, Harris County commissioners (in partnership with Callaway Gardens) took advantage of the opportunity to develop a recreational trail by purchasing 21.5 miles of abandoned rail line from the Georgia Southwestern Railroad for $300,000. The tract runs from the Meriweather County line to the Columbus-Muscogee County line, connecting the towns of Pine Mountain and Hamilton. For eight years, the project lay dormant, though it was part of the county's Comprehensive Plan. But in 2016, the county received a federal Transportation Enhancement grant.
"We implemented the federal grant and paved the first phase [one mile] in 2019 in downtown Pine Mountain," says Randall Dowling, Harris County manager.
The now five-mile trail has gone through three expansion phases, from downtown Pine Mountain through the intersection of U.S. 27 and State Road 354 and finally to the Callaway Country Store on top of Pine Mountain. The most recent expansion opened in 2021. The county also renovated and rehabilitated the railroad bridge that crosses U.S. 27, repainting it and adding safety features and nighttime lighting. Overall, the project required several funding streams, including grants, county Special Purpose Local Option Sales Tax (SPLOST) and Transportation SPLOST (TSPLOST) funds. Next up, Phase V.
"With our own TSPLOST money, we're going to spend another $3.4 million and take the trail from the Country Store, five miles to downtown Hamilton [the county seat]," Dowling says. "That [project] is on bid right now."
Dowling says without community partners, this project wouldn't get done.
"Not only did Callaway Gardens help us pay for [the trail] in 2008, but they gave us access points and permanent and temporary construction easements wherever we wanted," he says.
Agreements with the City of Pine Mountain assist with park maintenance in that portion of the trail. The nonprofit Southern Research: Historic Preservation Consultants provides information for the trail maps and historical information about the area at trailheads. And the Chamber of Commerce, which branded the project the Man O' War Railroad Recreational Trail for the type of trains that used to operate on the tracks, paid for signage and mile markings.
Plenty of locals are using the trail and it's a regional draw as well, attracting hikers from other cities counties, and states. Ultimately, it could potentially connect with the Columbus Trail System.
"We see it as an economic development generator," Dowling says, "enhancing and attracting visitors to our community, to Callaway Gardens and area shops and restaurants." – PR
---
Forsyth County
Overcoming Isolation
The COVID-19 pandemic caused significant disruptions in the lives of senior adults, especially those who are homebound. And while most Americans could pivot to online activities, some older community members suddenly found themselves completely cut off from the outside world.
According to Ruthie Brew, director of Forsyth County Senior Services, about 400 Forsyth County seniors needed help during the pandemic either because of food insecurity, the need to isolate to avoid getting COVID or the need for some other form of help such as respite care. Typically, these seniors would have food brought to them by volunteers for Meals on Wheels and other programs or they'd participate in activities at a senior center, often driven there by friends or volunteers. But senior centers were closed and volunteers, often seniors themselves, could not help because they were also isolating. Instead, Brew's staff of 30 picked up the slack.
"We couldn't go into their homes, but we could meet them outside," she says.
The community pitched in, too. Donations of hard-to-find household supplies came pouring in from every quarter. Local nonprofits Age Well Forsyth and Meals by Grace donated meals and funded the purchase of fresh produce delivered by Meals on Wheels, which experienced a 34% increase in demand.
"Suddenly, people's awareness of what it was like to be isolated was enhanced," says Brew. "Our homebound people have always been at home, but now people had greater sympathy for it because they were experiencing it themselves."
Volunteers helped create an entire online programming schedule, running several programs a day, five days a week. And they provided one-on-one technology instruction to elders, who were eager for connection. At one point, about 700 people a month accessed online programming.
"People think the older generation doesn't do technology," Brew says. "Well, guess what? They can learn, and they did. They may not have computers, but almost all our seniors have smartphones and they learned how to Zoom. They started joining online discussion groups, games and presentations and they created an online community of participants."
Forsyth senior services arranged phone groups for those less tech-savvy, developed at-home activity kits and made driveway visits. Even after senior centers reopened, the hybrid programs continued.
"Because of the pandemic, we have improved and enlarged the services we provide in the home," Brew says. "The hybrid programming is here to stay. We're excited about it. It's a new way for us to reach people." – PR
---
Fayette County
A High-Tech Boost for 911
Pinpointing the site of an emergency is a critical step in the 911 response, but mobile phones make that challenging. And the ubiquity of cell phones makes it easy to call 911 from virtually anywhere, meaning emergency response centers deal with more unpredictable information, making the job of 911 operators harder. Fayette County, which received 81% of its 911 calls via cell phones in 2021, found an IT solution in a cloud-based emergency communication response platform called Carbyne. Its location accuracy is an impressive 97% – 30% more accurate than the previous 911 operating program.
Katye Vogt, Fayette County's 911 director, notes how important this kind of accuracy is for emergency responsiveness. "The joke used to be that Dominos and Uber can find you, but 911 can't. Without location, we can't get help to the caller."
Like smartphones, Carbyne uses GPS to improve location accuracy, including being able to detect the floor or level the caller is calling from. Video calls with operators add location details of an emergency and can benefit callers who can receive visual instructions about what to do. Acknowledging that 911 operators may witness traumatic scenes on video calls, Fayette County now provides stress-management resources and training to help its operators.
In 2017, Fayette County 911 became the first center in the U.S. to use Carbyne technology. The county worked with the developers in customizing the software for the American 911 model. The system was fully implemented in July 2020. The Peachtree City Police and Fire Departments are helping educate citizens about the changes and benefits in the 911 center.
They're already seeing the benefits. In 2019, when one of the Canadian Snowbirds' (a military acrobatic flying team) planes crashed in a field prior to a scheduled air show, calls came in from at least seven different locations. Fayette County's 911 service was able to pinpoint the spot of the crash in a wooded pasture and quickly reach the pilot, who was uninjured.
In another case, a 911 caller who had been hurt in a car accident was only able to say, "I have no idea" when asked where she was. Despite that, the system was able to locate her and send responders to help.
With a proven track record, Fayette County 911 Communications and Carbyne are now partnering to lead other call centers around the country to implement this kind of emergency call-taking system. – SH
---
Camden County
Ticket to Ride
Access to reliable public transportation is an ongoing challenge in many rural counties, and the pandemic only made it worse. To address the transportation barriers for affected county residents, the Camden County Board of Commissioners proposed using American Rescue Plan Act (ARPA) funds to provide free trips within the county via the Coastal Regional Coaches.
Residents use the Coastal Regional Coaches, buses operated by the Coastal Regional Commission, for door-to-door transportation to doctor's offices, grocery stores and more. The cost to riders is $3 per trip, anywhere within the county. Concerned that the pandemic stressed residents' budgets, Camden County joined with the Coastal Regional Commission and the city of St. Marys to form a Rural Transportation Partnership that would cover these fees temporarily for citizens of St Marys, Kingsland, Woodbine and unincorporated Camden County.
In November 2021, the Camden County Board of Commissioners approved the request. The free rides began a month later when the County Board of Commissioners approved using $10,000 of the more than $10.6 million in Camden County's ARPA funds. St. Marys then matched the Board of Commissioners' contribution. Together, the amount nearly equaled all the ridership fees that were paid by county residents in 2020.
Eric Landon, ARPA Program Manager, emphasizes how this equity-based partnership provides flexibility by serving all county residents, regardless of incorporated and unincorporated boundaries. "No matter who you are or what your circumstances, they will take you wherever you need to go," Landon says.
The Rural Transportation Partnership aims to support public health by delivering citizens to vaccine sites, doctor appointments, mental health and substance abuse treatment and domestic violence shelters. It also provides free transportation for unemployed workers to job interviews and workforce training. Those with food insecurity now have rides to grocery stores where they would otherwise not have access. The CRC fully staffs drivers and a call center using existing staff.
In just three months – as of March 1 – residents had taken more than 500 rides. The funding should provide for rides through at least the end of 2022, fulfilling the program's initial goal to pay ridership fees for at least 12 months.
Not only is it providing much-needed mobility for Camden County, the program could also serve as a model for other counties with rural transportation systems like the CRC's. – SH
---
Cobb County
Keeping People Housed
Cobb County evictions were climbing even before COVID-19 hit. "Essentially, eviction hearings were routinely happening in Cobb County as early as August 2020," says Chief Magistrate Judge Brendan Murphy, whose court is responsible for hearing these cases. Federal moratoriums on evictions helped but were limited in scope.
Cobb County was able to help some residents stay housed, thanks to federal funds through the Emergency Rental Assistance (ERA) programs targeting those in danger of eviction due to pandemic-related hardship, loss of income or any other COVID-related hardship. Two tranches of funding have already been received and disbursed: $22.8 million (ERA-1) and $9.2 million (ERA-2). Additional funding is still pending. The Center for Family Resources, Homefree-USA/Homesavers, MUST Ministries, Star-C and Sweetwater Mission have served as partners in the process, assisting the county in evaluating applications and disbursing the funds.
"The point of all these programs was that during a global pandemic and health emergency, the federal policy was to try to keep people housed because that would slow the spread of COVID," Murphy says. "They also had to make sure the landlords were made whole. The idea was that the rental assistance would go to the landlords, allowing them to maintain economic feasibility while allowing the tenants to remain in the property.
"For Cobb's program, approved funding is generally released directly to the landlord, regardless of who initiated the applications," he says. "Importantly, an eviction case does not have to be filed in court for a landlord and/or tenant to apply for and receive the assistance."
To speed up the process of disbursing federal funds, all parties – tenants, landlords and rental assistance providers – have had to meet at the courthouse. Having rental assistance providers right there has been essential in establishing trust in the program.
"If landlords were asked to continue cases indefinitely without any hope of ever seeing the funding, that's a tall ask," Murphy says. "But when you have somebody here, available at the courthouse for both parties to talk to, help them apply, and assure them the funding would come through quickly, we got a lot of buy-in that way."
Murphy says bringing the parties together in this way wasn't new, but access to extraordinary resources was. That will end in September 2025, and hopefully, so will the need for the funding. But there are lessons learned they'd like to implement, like an eviction-diversion program built into the Accountability Courts model that offers stabilizing wraparound services to families facing first-time eviction.
"The court is not a social agency and the agencies are not a court, but that doesn't mean we can't talk to each other to make sure our county has the best outcomes possible," he says. – PR
---
Chattahoochee County
Bringing in Broadband
Chattahoochee County had been largely overlooked by private internet service providers for years prior to the pandemic. One challenge is the presence of the U.S. Army's Fort Benning, which encompasses about 80% of the county and is a major employer. But its presence also means the county doesn't qualify for rural federal funding, and it makes it seem like the local government serves more residents than it does.
Chattahoochee's lack of adequate broadband internet service became dire during the pandemic. Children couldn't do schoolwork from home, work-from-home was not an option and even government operations were impacted because of unreliable internet service. With no time to court potential providers, the Chattahoochee County Board of Commissioners made the bold decision to allow the county to become its own internet service provider.
With that decision, Chattahoochee County was able to develop a brand-new utility and have it up and running within three months of its approval. The county is one of the first rural counties in Georgia to bring in broadband on its own – and do so within an incredibly short period of time.
In May 2021, Echo Technologies, a telecommunications company based out of Atlanta, partnered with Chattahoochee County to create ChattNET, a new utility providing local high-speed internet service for county residents. The following month, ChattNET built towers throughout the county, and customers' installations started in August.
As of February 2022, 188 households in the county were using ChattNET. Plans are to add additional towers in the outlying areas of the county so every resident can have reliable high-speed internet service at an affordable price. The aim is to provide broadband to any county resident who wants or needs it.
American Rescue Plan Act funding covered the costs of implementing Chatt- NET and the service provides an additional revenue stream for the county, with a percentage being shared with Echo Technologies for its technical support. Echo maintains the equipment, purchases the bandwidth, houses the servers and handles all installations and residential service calls. One additional staff member of the Chattahoochee County Utilities Department serves as customer service liaison for ChattNET.
County Manager Laura Lee Bernstein says it was relatively simple to implement the service – and relatively inexpensive, too, considering the benefits for residents and the potential revenue stream for the county.
Some neighboring counties, especially those with small annual operating budgets, have expressed interest in the potential for ChattNET to provide service to other rural Georgia residents. – SH