2021 Governor's Awards for the Arts & Humanities: Celebrating Cultural Vitality
Honoring outstanding individuals and organizations for valuable contributions.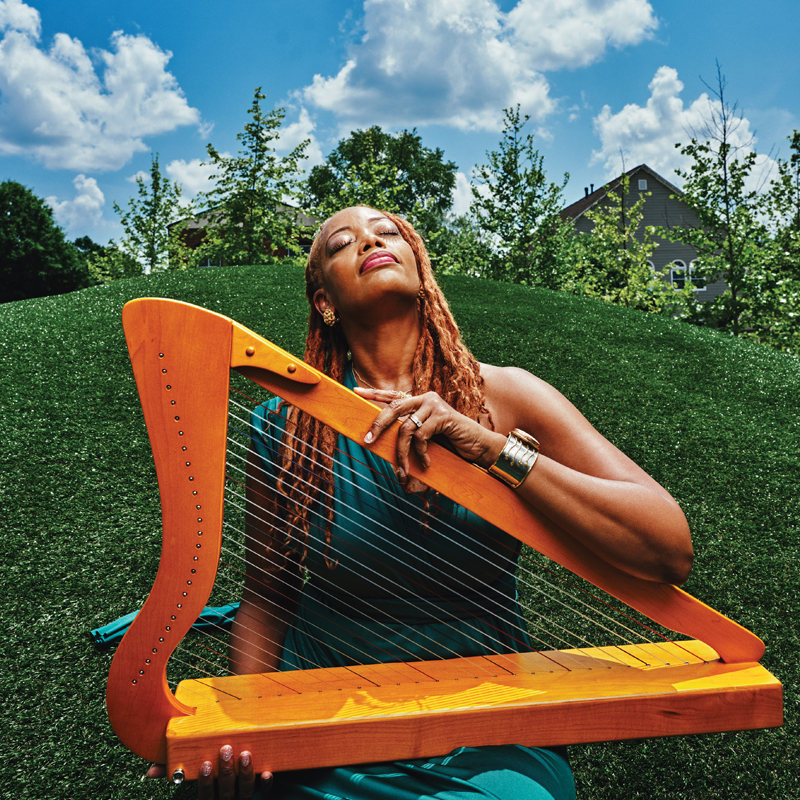 A playwright who chairs his county's board of commissioners. A spoken-word poet determined to carry on his mentor's work in the community. A hip-hop harpist. A champion of history. A contemporary artist and curator.
These five individuals, along with five other groups and organizations, are the recipients of the 2021 Governor's Awards for the Arts and Humanities. Each year for the past 10 years, the Georgia Council for the Arts and Georgia Humanities have partnered with the governor's office to honor people and organizations that have made significant contributions to the state's civic or cultural life.
"This award program is a way of recognizing the important roles and diverse ways in which these people and organizations are strengthening our state," says Laura McCarty, president of Georgia Humanities. Not only does it strengthen cultural life, it also helps economically. McCarty calls the arts and humanities Georgia's "secret sauce" that has helped the state top lists of best places to do business year after year.
"When you think about preserving a community tradition or bringing untold stories forward or creating works of art that make people think about things in different ways, it brings economic development into those communities in a lot of ways," she says.
If you want to see that in action, look at the actual award given to the 2021 recipients: a traditional low-country sweet grass basket, handwoven by master basketmaker Yvonne Grovner, who was a 2020 recipient herself and who promotes the art of sweet grass basket-making through classes, stories and tours of Sapelo Island.
As for this year's awardees, they can tell their own stories better than anyone else. Here they are, in their own words.
---
Marquice Williams
"We're all just looking for a sense of purpose. We're looking for a sense of belonging. We're looking for a community to be a part of, and that community exists. The only way we can begin to find that community is when we begin to tell our story and then like-minded people will begin to flock to us.
I would not be here if it were not for Mr. Powell [who cofounded Spitfire Poetry and the Savannah Spoken Word Festival] sitting me down and telling me that my stories matter, that I am enough, that all I had to do is show up 100% as me. It's not just spoken-word poetry. This is therapy. This is our lives.
Mr. Powell used to say all the time, 'What you're doing today will affect what you're doing 10 years from now.' I tell [the youth I work with] all the time, 'Everything I give you, this is not just for you. This is for your communities that you will create one day. Somebody will come to you and look up to you, and it's going to be up to you to share your knowledge with them.'
I want to keep letting them know, hey, your story matters. Your story is teaching you specific things for specific people you will meet in your life down the line, and what you went through, you needed to go through so that you can help people in your life."
---
Sheffield Hale
"People have a natural curiosity [about] where they live and a place like the Atlanta History Center can help connect them to that community.
Perspective is extremely important and it's something that all of us, especially me, need more of. The more perspective you get –from the way other people live, and what they believe and think, and what their experiences are –can help you understand how to better navigate the community and how to help build a better community in the future. It's really hard for people to recognize that they're in a bubble. I'm in a bubble. I don't know how big it is, but it's pretty damn thick and it's hard for me to break through. I just can't figure out exactly where it is, but I think that all of us need to make consistent efforts to achieve the possibility of taking in new perspectives.
At the Atlanta History Center, we don't try to force a new perspective on somebody, we just try to give people the opportunity to see new perspectives. And we think that's an extremely important part of living in a democratic system where, even if you disagree with somebody, you can understand where their point of view is coming from. And you don't have to necessarily demonize the person, but you can try to understand and then determine how you want to react to that."
---
Lyrika Holmes
"I was classically trained all the way through college and I got my master's in music education. But since I'm more of a jazz and R&B singer and person, I found a way to meld the genres together so that I can feel what I need to feel when it comes to playing the music.
My father had a jazz band, and they played acid jazz and new-age jazz. Then my uncle and my grandfather both played in the church, and so they had the gospel and then they had the blues thing going on. So I was always open to a lot of different styles of music.
The harp can do everything that the piano can do. It's a classical instrument, and it can sound like you're playing something classical, but it's trap. You're playing trap hip-hop with it, and it gives it another feeling.
The reason why I teach harp is because I know that if I wasn't exposed to it [in] school, I probably never would have gotten an opportunity. It's not something that is usually looked upon as affordable, or that's convenient when it comes to carrying it around. I think teaching it is a way to give back to the community and to bring up a whole new family of harpists that can do anything with the harp."
---
Didi Dunphy
"My curatorial style is one of community building – it's like putting together a dinner party and your guests all have something in common, but really the better dinner parties are when the conversations come up about what they don't have in common.
So you start with a baseline. And then the differences of opinions, the differences of approaches are what makes a provocative experience. It's about people-matching and pairing. And for me as a practicing artist, that's what I do. A lot of the subjects of my work are people. I invite people to play, whether it is actually physically – like get on a swing set or engage in play activities – or while viewing a video through one of my embroidered QR codes over your shoulder. I think that there is inherently this idea of playtime and gathering friends together to create something that is above and beyond what you can do individually.
My first home in Athens was used for a movie. [The crew was] in the house for probably 14 hours straight and probably the most [that was used] in the film was maybe 15 seconds. I asked the director how he managed this time, 14 hours versus 15 seconds. And he said to me, "My play is my work and my work is my play." That really stuck with me. So when I am curating, I consider that to be a playground. And when I am making my work and exhibiting my work, I also consider that my playground, but both of them are work."
---
Donald Lovette
Poetry was singular. It was just me and my writing, pouring out thoughts. But plays – I get to, for lack of a better word, invest in people. I get to share in the development of young actors. I get to see them grow.
I've always believed just because you're from a smaller community doesn't mean you have less talent. This award validates that belief. I have been honored to write several well-received productions. I've also worked with some great local talent that have gone on to further their education and careers in the dramatic arts. Performing in local theater gave them a platform to showcase and finesse their craft.
I write by inspiration. Once I get in the zone, I can hear the characters speaking. I hear their voices. We're in conversation, and [I] just follow where it takes me.
As I discover [stories], then I want to tell them. For instance, the last African American legislator to serve in the Georgia legislature [after the end of] reconstruction was from Liberty County. No one knows about him. Samuel A. McIver is his name. So when I find stories like that, it's like, 'Wow. Who is this guy? Why don't we know about him?' I've been able to use playwriting as a gift to complement with the history, to tell these [stories] through these unsung heroes especially."
---
Also receiving the Governor's Award this year:
Dad's Garage Theatre, Fulton County
Out of Hand Theater, Fulton County
Synchronicity Theatre, Fulton County
The Hambidge Center for the Creative Arts and Sciences, Rabun County
Georgia Council on Economic Education, statewide organization based in Fulton County