Harris County: Driven to Success
Manufacturing, construction and healthcare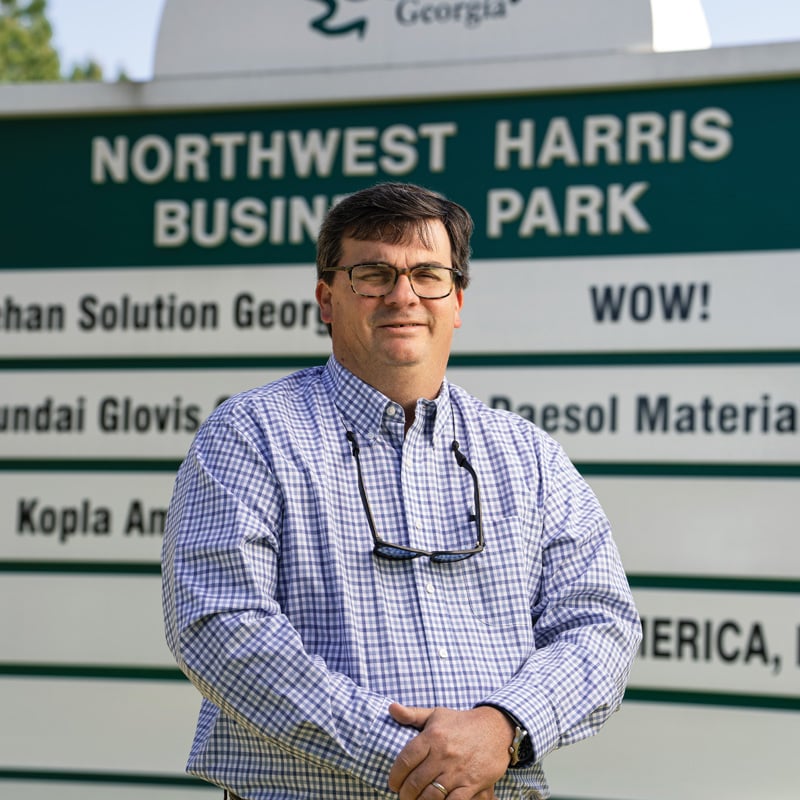 Don't let the size of Harris County fool you. Recent growth in residential construction and the continued arrival of industries supplying the KIA plant just over the county line have aligned to signal a brighter future than was on the horizon a decade ago. In fact, even with a total population under 35,000, Harris ranks as Georgia's seventh-wealthiest county and continues to find success as a bedroom community for nearby Columbus.
---
Winning on the Sidelines
While KIA's sole U.S.-based manufacturing plant is in Troup County, Harris is also reaping the rewards as secondary and tertiary suppliers to the automaker are filling up the more than 450 acres at the county-owned Northwest Harris Business Park, says Craig Greenhaw, Harris County Development Authority chair. He credits county leaders with having the foresight to create the business park and get it ready for occupancy. "And then Kia came in, and it was just perfect timing," he says. Collectively, the companies currently operating in Northwest Harris Business Park employ about 800 to 1,000 workers, says Greenhaw. Among them are Adient, maker of automotive seat systems and door panels; Daehan Solution Georgia, an automotive noise reduction systems producer; Daesol Material Georgia, manufacturer of automotive fiber padding; Kopla, specializing in automotive plastic injection molding; and Glovis Georgia, an automotive parts consolidation and inventory management company.
The county will use a $500,000 One Georgia grant as part of a larger plan to fund the construction of a new road, grading of the new site and additional utilities. The overall plan will prepare another 35-acre site for a future tenant and have another 60 acres in reserve in the next phase, says Greenhaw.
"Our commissioners, our board, West Point – everybody in this area that's affiliated with it all worked together to make this a successful project. We're ready to get that built and to get our next new win for the business park and good diversification of our tax base," says Greenhaw.
Speaking of taxes, Harris County has collected about $1 million in TSPLOST (Transportation Special Purpose Local Options Sales Tax) funds each year since voters in the 16-county River Valley region approved the referendum for a 1% tax in 2013. Funds have been used to resurface county roads, repair county bridges, construct portions of the Man O' War Railroad Recreation Trail, install turn lanes into Ellerslie Park and widen U.S. Highway 27, says Randall Dowling, Harris County manager. The initial referendum lasts through the end of 2022, and voters in May will be asked once again to approve a 10-year TSPLOST. If approved, Harris County is expected to receive about $14 million over the 10-year collection period.
---
A County of Leisure
If there is one thing Harris County isn't lacking it's opportunities for relaxation and outdoor exploration. Home to a major tourism and economic generator, Callaway Resort and Gardens, as well as Franklin D. Roosevelt State Park and Lake Harding, a 5,850-acre reservoir on the Chattahoochee River, Harris is a draw for tourists from across the state and beyond.
Sprawling across 2,500 acres in Pine Mountain, Callaway boasts a mission of creating memories worth repeating. Return guests make up about 65% of visitors each year, says Sonny Horton, vice president and general manager.
One way Callaway earns repeat visits is through innovation in offerings. These include major new additions to the popular Fantasy in Lights Christmas event in 2020 and 2021 and the creation of two new signature events last year, the Spring Flower Fest and Pumpkins at Callaway. Both created significant growth in resort visits.
"[Pumpkins at Callaway] is a fantastic event that really brought people to Callaway in September and October, which historically has been a period of time when there hasn't been a lot going on in Harris County," says Horton. "We noticed a significant number of new people coming into Pine Mountain and Hamilton, shopping in the stores and eating in the restaurants, so it's significantly increased business there."
Callaway is the county's largest employer, with an average of 500 workers year-round and another 150 added during special events. "We take that responsibility very seriously," says Horton, adding that Callaway is also part of the county's work-based learning program, employing local high school students and teaching them valuable skills.
"It's important to us that we take care of [not just] our people, but also our community," says Horton, noting that he and other Callaway leaders serve on chamber boards and tourism committees for Harris County and Pine Mountain. A quarterly blood drive with the American Red Cross and the Ida Cason Callaway Foundation are other ways they give back, he says.
To improve outdoor recreation countywide, Callaway partnered with Harris County in 2008 to purchase 21.5 miles of abandoned gravel rail line under the National Trails System Act. Since 2019, the county has opened 4.7 miles of the Man O' War Recreation Trail – so named for the type of train that operated on the line – developed in four phases for about $2.2 million. Completion is expected by the end of this year on the 5.4-mile Phase V, also funded by TSPLOST, with an estimated cost of $3.4 million. If voters approve the TSPLOST referendum, another $5 million allotment will enable the 16-county River Valley Regional Commission to continue the trail's development, says Dowling. "The hope is to eventually have the two cities of Pine Mountain and Hamilton connected in the next year," says Harris County Commission Chair Andrew Zuerner, regarding continued trail development. "Harris County is full of natural beauty and steadily growing. Receiving these [funds] allowed us to add to the quality of life of our citizens."
---
If You Build It …
On average, Harris County is currently seeing the construction of 220 new single-family homes per year, says Dowling. Development of the 1,100-acre Mulberry Grove master-planned community at the southwestern tip of Harris County has been a long time coming. While the zoning was approved in 2007, the real estate and financial crisis was not far behind, putting an extended hold on the development, says Charles Ray Sheffield, CEO of Woodruff Real Estate Services in Columbus.
By 2016, the sewer project was completed for the development, which is zoned for 2,198 residential units, he says, including single-family, townhomes and multi-family. Stone Martin Builders of Auburn, a southeastern regional home builder, started constructing houses in Mulberry Grove in 2021. Construction also began last year on Greystone at Mulberry Grove, a luxury multifamily community consisting of 223 units. The multifamily community is being developed by Greystone Properties, LLC, in partnership with Woodruff Real Estate Services, LLC. The community is also zoned for more than 2.4 million in commercial square footage, including retail, office, highway commercial and industrial, says Sheffield.
Among other commercial offerings, Sheffield hopes to see a full-service grocery store, something currently not available in Harris County.
Also doing a lot of building in Harris County is Hughston Homes, based in Fortson. The homebuilder has constructed about 300 homes at the south end of the county over the past four years, says President Richie Eubanks, and it will put up another 75 over the next 12 months. Of late, they've seen a shift in their typical buyer profile, beyond the many buyers employed by Kia, Fort Benning and other major employers in the surrounding area.
"We are seeing more buyers coming in from out of state that want a little bit more land, a little bit more freedom, to be honest about it. Also, there's the move-up buyer out of Columbus," says Eubanks, noting Hughston Homes' average price point of just over $400,000.
Kim Tharp, CEO of the Harris County Chamber of Commerce, agrees. She credits a low crime rate and outstanding schools for increasing the demand for residential housing. "Also, as people retire from Fort Benning, they're choosing to stay in the area and move to Harris County," she says. It isn't just the population that's increasing. Tharp says the chamber "had a record year for chamber memberships last year," with about 35 new businesses coming on board. She attributes the increase to the benefits they receive. These include the Chamber Smart program that allows small businesses to be part of a self-insured health plan as a result of the Harris chamber's partnership with the Georgia Chamber of Commerce.
"We're able to offer a reduced rate on health insurance," to member businesses, with as few as two people on staff. "I think that's been huge for our members."
New homes and apartments in Harris County will undoubtedly bring more students into its school system, where about 5,600 students are currently enrolled. The Harris County School District's Assistant Superintendent of Business Services and Technology Justin Finney says they are prepared for the growth and looking forward to it.
"We just built a new Harris County Carver Middle School and are trying to meet the growth of the county," he says of the $28 million project. They'll break ground this summer on a $13 million renovation to the school system's athletic facilities, including an indoor multiuse practice space. In addition, the old middle school is being repurposed as a science and technology center for high school students. Also in that vein, two Harris County elementary schools are already STEAM-certified (science, technology, engineering, arts and math-certified) and the other two are in the process of receiving certification, says Finney.
---
A Healthier Community
The mission of Mercer's School of Medicine is to educate physicians and health
professionals to meet the health care needs of rural and medically underserved areas like Harris County, and they take that mission very seriously, says Dr. Jean Sumner, dean. In fact, students are selected for the school based on not only their academic qualifications but also on their interest in Mercer's mission.
"You look across Georgia, and you can accept these young people from rural communities, but they need a place to go and practice. So, we were thinking of ways to facilitate that, and we had a plan to put these clinics in down the road," she says.
These plans were expedited following a call from former President Jimmy Carter. He'd lost his own doctor in Plains, and residents there needed access to healthcare close to home.
"The infrastructure of rural health is fragile, and our purpose is never to undermine that. We want to make a difference by going places that would benefit," says Sumner, adding that additional clinics opened in Fort Valley and Clay and Putnum counties.
Harris County reached out to Mercer with a request for a clinic of its own.
"They have 3,000 schoolchildren in Hamilton, [the county seat], every school day, and there was essentially no care in that county," says Sumner. "School children do better when they are healthy and can access preventative care."
Sumner says the community embraced the project immediately, with leaders also recognizing that industry looks to locate somewhere with access to healthcare for its employees. Together, they identified the old library as a viable location and, while supply chain issues slowed the opening, they cut the ribbon on the new clinic this spring.
The facility employs a doctor and a nurse practitioner and offers basic health care services, telehealth and x-ray and lab services. They also hope to bring mental health services to the area. "We're really devoted to making this state a healthy state, and I have great respect for these rural communities. If you can work with them and earn their trust, you can change this state, and that's what we're trying to do," she says.
Taken as a whole, the amenities and advantages Harris County offers continue to drive its success.
---
Local Flavor
Historic Connections
At just over 9,000 acres, F.D. Roosevelt State Park is Georgia's largest state park and one with an interesting history.
It's no secret that, while he was still governor of New York, Franklin Delano Roosevelt was drawn to the warm springs in Meriwether, just one county over from the park in Harris County. Disabled after having polio, he believed the warm water was healing for himself and others.
But it was the state park where Roosevelt often ventured, attracted to the scenery, especially the vast view from Dowdell's Knob, the highest point in Harris County.
"That's where Roosevelt used to go and picnic," says Park Manager Desmond Timmons, adding that the site features a life-size statue of Roosevelt and is popular among visitors, especially hikers. The Dowdell Knob Loop is a 4.8-mile trail that allows hikers to bring dogs on leashes.
When he was president, Roosevelt created several projects in the state park for the Civilian Conservation Corp (CCC), a work relief program that gave millions of young men employment on environmental projects during the Great Depression.
Among them was the unique Liberty Bell swimming pool, still open to the public from late May through early September. Lined with natural stone from the area, the spring-fed pool appears darker than a traditional pool and is surrounded by ample green space for spreading blankets, unfolding chairs and sharing picnics.
"Basically, they used native rock from this area, the same rock that the office is built out of and our stone cottages," says Timmons, referring to the CCC-built facility that houses the park office and a gift shop. The nearby stone cottages, also constructed by the CCC, are just one option for lodging here. Wood cabins and ample camping spots are available, too. "The first swim at the Liberty Bell was in 1942."
While no swimming is allowed in the park's Lake Delanor, visitors can rent kayaks, canoes and aqua cycles from the park office. Unique to this park is guided horseback riding, organized through the onsite Roosevelt Stables. Several pricing options are available and themed riding events are scheduled throughout the year, such as a wine and cheese riding trip.
F.D. Roosevelt State Park charges a $5 parking fee. You can also purchase an annual pass that is valid at all Georgia State Parks for $50.
For more information, visit gastateparks.org/FDRoosevelt.