Celebrating loggerheads' return to the sea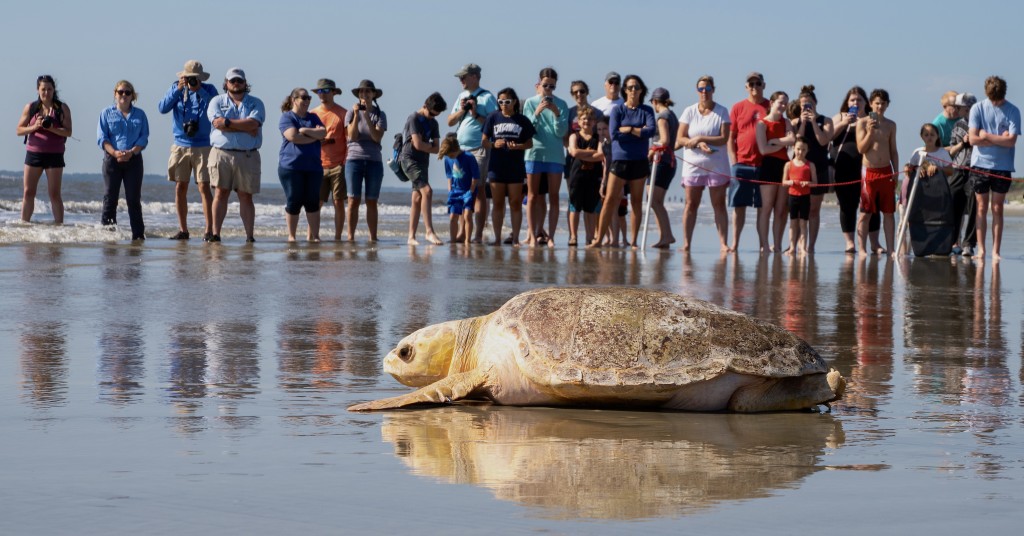 Just ahead of nesting season, which begins in May, staff members from the Georgia Sea Turtle Center on Jekyll Island released two rehabilitated sea turtles at Great Dunes Beach. About 500 people, including three busloads of students, witnessed the return of the two 30-plus-year-old female loggerheads to the ocean. Both had been at the center for nearly a year.
The loggerheads were found near Jacksonville last summer and transported to the center, which has been rehabbing sick and injured turtles since 2007. "Genie," weighing in at 164 pounds had been hit by a boat strike and arrived at the center with a fractured head and a chunk missing from her beak. "Margoi," a 216-pounder, was found debilitated with barnacles, algae and leeches on her shell and skin, and an abscess on her left front flipper joint. Both were treated with antibiotic, wound-care and pain-management medications. Their successful recovery gives them a chance to potentially return to the Georgia coast in the future as nesting mothers.
The release of the two turtles – the first public event since 2019 because of the pandemic – is important because loggerheads are in danger of extinction and are protected under the Endangered Species Act. According to the Georgia Dept. of Natural Resources, only seven species of sea turtles remain worldwide and five of these are found along Georgia's coast. Boaters should proceed with caution in coastal areas to reduce the chance of colliding with one of the massive turtles. The public is asked to call 1-800-2SAVEME if a sick or injured loggerhead is found.
About an hour and a half north of the Georgia Sea Turtle Center, a tiny male loggerhead was rescued from a nest in 2020. He's growing in a tank at the Tybee Island Marine Science Center until he's big enough to be released sometime next year. Learn more about "Ike," other ocean creatures at the Tybee Center and how Chatham County is faring in the wake of the pandemic in this month's feature, "Strong Rebound."
Photos provided by Jekyll Island Authority
Do you follow us? Find us on Linkedin, Facebook, Twitter and Instagram.