South Metro Atlanta: Writing a New Script
Residential, manufacturing and transportation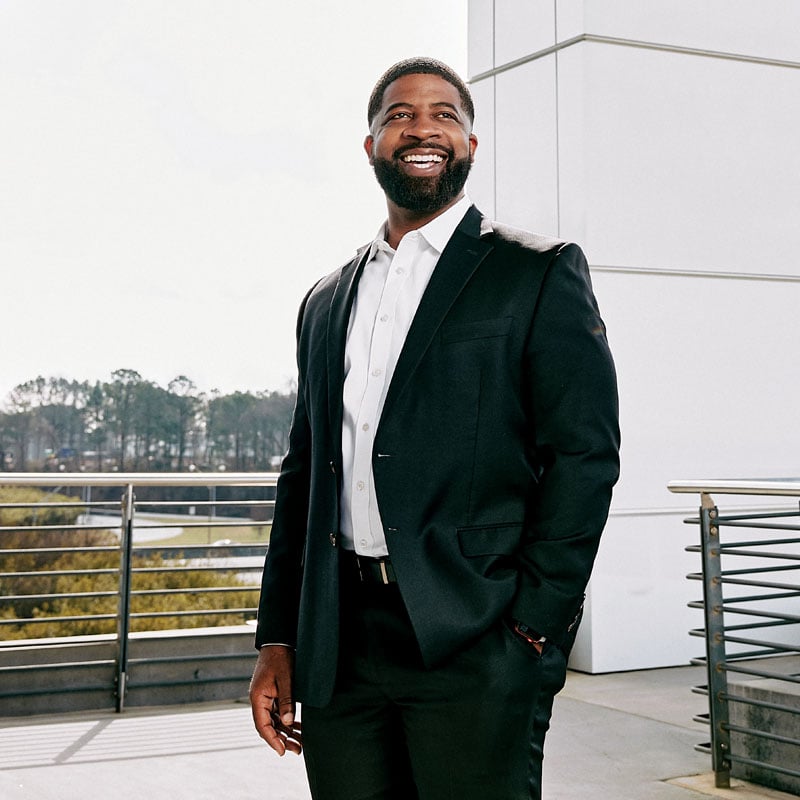 The South Metro Atlanta region was perhaps destined to become an industrial hub. It is home to the world's busiest airport and has access to four interstates and two major railroads. But the six counties that make up the region – the southern end of Fulton County and Clayton, Coweta, Fayette, Henry and Spalding counties – are flipping the script and evolving to become much more than job centers.
Take for example Trilith, a 935-acre live-work development in Fayette County that caters to Atlanta's thriving film and creative industries. The development encompasses Trilith Studios, home to the Marvel superhero movies and TV shows, as well as a European-inspired town, complete with its own houses, restaurants and schools.
"Trilith Studios continues to go gangbusters; another expansion is underway," says Megan Baker, president of the Fayette County Development Authority. "The studios are one of the largest purpose-built film and television facilities in the world with 24 stages and 1.2 million square feet." As the fortunes of Trilith Studios rise, so do the fortunes of its supporting cast.
In October, MBS Equipment Company (MBSE) announced it will open its new East Coast headquarters at Trilith Studios. MBSE is the largest studio-based equipment company in the world for film, television and events. At 100,000 square feet, the new headquarters will be the company's largest global hub when completed.
"MBSE has been supporting production at Trilith since 2014, and they have grown along with the studio," Baker says. "As Trilith continues to grow, MBSE is growing to supply film productions at Trilith and [this growth] continues to build our film and entertainment ecosystem."
---
Housing Resurgence
Another transformational development on the Southside is Six West, a $1.5 billion mixed-use development in Clayton County. Six West is being built on more than 311 acres owned by the City of College Park and is slated to include 260 multifamily units, 100 single-family units, 120 townhomes, 550,000 square feet of retail for restaurants and shops, 2.3 million square feet of office space, six hotels plus other recreation and entertainment amenities.
The project has encountered challenges, however. As a result of the COVID-19 pandemic and the resulting loss of tax revenues in the hotel-and-hospitality-dependent community, infrastructure construction was delayed until alternative financing could be found, according to Artie Jones III, College Park's director of economic development.
"The contract to install the roadway that runs north and south from Camp Creek Parkway up to Redwine Road in the Six West development was executed on Jan. 2 and it is under construction now," Jones says. "That's great for the project overall, and since that project is underway we are now about to close on a 56-acre transaction for the major residential component of Six West."
Jones says he expects construction of the roadway to be completed next spring and the first phase of the housing development, which will be the multifamily component, to begin this fall.
"We will build [housing] as demand dictates," he says. "Usually, it would take three to four years to build out a housing development like this completely, but ours will take 2.5 to 3 years maximum. There's such strong demand for residential in general on the Southside of Atlanta."
In addition to the housing options within Six West, there will be 1,000 new homes in College Park in the next year, bringing approximately 2,500 new residents to the city, Jones says.
"We have three major residential developments and several smaller – six to 10 homes – under construction, as well as infill development where homes are being built on vacant lots," he says. "The character of College Park once was a residential community, but since then all you've seen on the Southside is logistics and industrial-type stuff. We wanted to try and . . . build back a return to a more residential community as it started out – more of a live, work, play atmosphere rather than a pass-through for the airport."
---
Paradigm Shift
A multiuse development with 240 multifamily units on West Fayetteville Road will also contribute to the paradigm shift happening on the Southside – a shift that is welcome news to Shannon James, president and CEO of Aerotropolis Atlanta.
Aerotropolis Atlanta traces its roots to the region's efforts to land the $100 million Porsche Experience Center and Porsche Cars North America headquarters in 2015. The organization brings together corporations, two counties, local governments and community improvement districts to attract jobs and development around Hartsfield-Jackson Atlanta International Airport.
"Everyone knows this region as an industrial hub," James says. "We're trying to serve as a balance. As the industrial sector continues to advance, we want to balance that with more mixed-use development and creating the ecosystem for more people who want to be, live, learn, work and play in this area."
As Aerotropolis Atlanta continues working with its partners to bring the next big development to the region, the COVID-19 pandemic has resulted in a more "holistic vision" around what success means in the region, James says. While job creation is fundamental to any community's success, what do the people who live there want?
"The pandemic really made us focus on communities and their stakeholders," he says.
Armed with a grant from the Atlanta Regional Commission (ARC), last year Aerotropolis Atlanta spearheaded a study of the Willingham Drive Corridor, in conjunction with the cities of East Point, College Park and Hapeville. It was an effort to understand the corridor better, including its communities, existing businesses and the Flint River. One finding revealed that residents want "cool spaces and food truck spots," according to James.
In addition, College Park was able to acquire a site from MARTA that will be turned into a nature preserve in partnership with Finding the Flint, an organization that seeks to raise awareness for and care of the river's headwaters near the airport.
"We were able to understand existing conditions, and the communities that surround the corridor, to now think more cohesively around our aspirations," James says.
The ARC has provided funding for Aerotropolis Atlanta's "Blueprint 2.0," the organization's forthcoming economic, community and workforce development strategies for the next five years. Also addressing development in the area, the South Metro Development Outlook conference celebrated its 20th anniversary in March. The region's largest development conference – founded by Michael Hightower, managing partner of land-use planning company The Collaborative Firm – focused on economic growth issues and solutions.
---
A Region of Makers
With 80% of Hartsfield-Jackson Atlanta International Airport located in Clayton County, Erica Rocker says she thinks of passengers on the 2,700 flights a day arriving and departing at the airport as visitors to the county.
Last year, New Rest, a company that provides inflight meals, opened in Clayton County, investing $45 million and creating 800 new jobs. The company's biggest client is Atlanta-based Delta Air Lines, which makes up 85% percent of its business, according to Rocker, the county's economic development officer.
"Clayton County is a place where things are moved and made," she says. "We have unprecedented access to four major interstates and 11 exits; we're only 243 miles from the Port of Savannah; and three of the top five exporters are in Clayton County. The speed to market is what we tout."
That speed to market was undoubtedly a deciding factor for Amazon, which opened a new "last-mile" fulfillment center in the county in October. The fulfillment center, representing an investment of more than $300,000, will provide same-day delivery to the Southern Crescent, Rocker says.
"And we just made the local news with Kroger, which is opening its first robotic fulfillment center here," she says.
Kroger's massive new distribution facility at the Gillem Logistics Center in Forest Park will fill and deliver online grocery orders to metro Atlanta and beyond. The 350,000-square-foot building is basically next door to the grocery chain's existing 1.3 million-square-foot warehouse that serves stores across the region; now it will serve ecommerce customers, too, with next-day delivery up to 90 miles away.
"Kroger's selection of Forest Park as the location for its new, state-of-the-art Kroger Customer Fulfillment Center is a testament to the strength of our supply chain network and the quality of our workforce," says Forest Park Mayor Angelyne Butler. "Through the investment of innovative companies like Kroger, the Gillem Logistics Center has quickly proven to be a hub for technology and logistics with over $500 million in development and the creation of over 3,000 local jobs."
Even more new jobs and several expansions were underway in the region last year, including Rinnai, a manufacturer of gas appliances, including tankless water heaters, kitchen appliances and heating and air conditioning units.
Rinnai's new 300,000-square-foot facility in The Lakes at Green Valley "eco" mixed-use park in Spalding County is expected to open late this year and create about 300 new jobs, according to David Luckie, executive director of the Griffin-Spalding Development Authority.
"There are seven lakes on the property, which are beautiful, but on the other hand, you can't put a building on a lake," Luckie says. "There are also several easements on the property, so we developed in between all of the easements and all of the lakes, but it left us with the largest site being only 40 acres." In order to accommodate Rinnai's new facility, the development authority filled in a valley between the 40-acre site and connected it with a 20-acre site on the other side.
"It is difficult to attract certain projects because most of our sites have been 40 acres or smaller," Luckie says. "We've developed 450 out of the 600 acres in the park. In the future we're hoping to get larger tracts so we can attract other-sized projects as well."
In addition to the industrial component of The Lakes at Green Valley, there is a site set aside for a hotel and conference center. Other mixed-use parcels include an 11-acre commercial center and a 43-acre residential town center that will contain 70% green space and include 27 half-acre lots.
The Lakes at Green Valley and its sister industrial park, Green Valley Park, were built with the proceeds of successful Special Purpose Local Option Sales Tax (SPLOST) referendums. "A SPLOST is a great mechanism for advancing industrial parks," Luckie says.
---
Improving Infrastructure
Improving transportation is also very important to economic development, Luckie says, noting Spalding County voters approved a Transportation Special Purpose Local Option Sales Tax (TSPLOST) in November. The approval raised the county's sales tax by one penny with 55.7% of voters supporting the proposal.
"The community as a whole is undergoing a comprehensive transportation plan," he says. "You have to plan where and how you want to grow – that's an important component of economic development." According to County Manager Steve Ledbetter, it is the first single-county TSPLOST in the county's history. The county is anticipating a windfall of more than $37 million from the new tax, while the city could receive more than $20 million.
"There are three things the county is really pushing for with the TSPLOST," Ledbetter says. "The first is resurfacing our roads to make sure our roads and infrastructure are meeting the needs of our growing community. The second is sidewalks because not everybody has a vehicle and not everyone wants a vehicle, so we want to make sure we're taking care of pedestrians. And third is the replacement of what we commonly refer to as 'Big Blue.'" Big Blue is a 52-passenger tour bus that is available to residents for transportation to special events around the community – and beyond.
"The seniors may take it to a senior event somewhere in the state," Ledbetter explains. "It's a really cool way for our community to utilize a service that is provided by the county."
About 30 minutes north in Henry County, voters also approved a $245 million TSPLOST last November to address infrastructure stresses that resulted from being the metro area's second-fastest-growing county and the 9th largest county in Georgia.
"We just passed a TSPLOST to help accelerate numerous transportation infrastructure projects," says Josh Fenn, executive director of the Henry County Development Authority. "There will be a variety of projects throughout the county, including road widening, resurfacing, and relief and improvement projects for non-I-75 infrastructure."
A traffic relief project – a new exit on I-75 at Bethlehem Road in Locust Grove – has been fully funded, although it is not associated with the TSPLOST.
"It's going to be a big game-changer for our economy because it opens up a new area of our county for development," Fenn says. "It's in the design phase now and we expect it to be completed by 2027 at the latest."
Funded by the 2015 statewide gas tax increase, the Western Parallel Connector project in Henry County will change the transportation landscape by connecting to major commercial corridors, according to Fenn. The corridor runs between Jonesboro Road in McDonough and Hudson Bridge Road in Stockbridge along the western side of I-75. "It will also open up additional areas for commercial and residential development," he says.
---
Job Growth
In the last five years, Henry County has attracted more than 8,000 jobs and about $1.1 billion in new capital investment, according to Fenn, including the creation of more than 2,200 new jobs and about $217 million in new capital investment last year alone.
"We had a record-breaking year in job attraction again," he says. "These jobs were created by new companies [coming to Henry County] and also established industries that have expanded." New to town is Pregis, a manufacturer of protective packaging, including ecommerce envelopes used by Amazon, The Home Depot and Walmart. Opened in December, it's the company's first manufacturing facility in the Southeast and will create 120 new jobs, Fenn says.
Last year, Purple Innovation, the maker of Purple Mattresses and other products, opened in Henry County. About two weeks before the ribbon-cutting, the company announced it was going to expand by doubling its production facility and adding a call center, bringing an additional 500 new jobs, Fenn recounts.
Henry County is not alone: Coweta County had job growth and industry expansions of its own last year, according to Candace Boothby, president and CEO of the Newnan-Coweta Chamber.
Paris-based NYCO announced in January it will expand its U.S. headquarters in Coweta County by investing in a manufacturing facility in Newnan. The company, which is an international provider of highly specialized, non-petroleum-based aviation and industrial products, has been in Newnan since 2016. The expansion will create 16 new jobs.
In other good news, Semperit Group opened a new manufacturing facility for rubber gaskets and relocated its North America headquarters and distribution warehouse to Newnan. The $9 million investment will result in 70 new jobs.
But numbers alone don't tell the full story of South Metro. Just after midnight in January 2021, a powerful tornado struck Newnan, destroying the high school and denuding tree-lined neighborhoods. Luckily, no one died as a result of the storm, Boothby says.
"It was [one of] the worst [storms] in Georgia history in the last 70 years," she says. "There are several neighborhoods by the high school that are very established and known for their greenery. It looked like a war zone when it first happened."
As with every storm, however, there was a silver lining.
"The silver lining in all of this is the level of community support and how everybody came together and worked together. It was amazing to watch neighbors helping neighbors," Boothby says. "The sense of community we have, this amazing sense of place. We're close enough to the gravitational pull of Atlanta and can take advantage of its amenities, but still remain a self-contained community with a heart and soul. We are continuing to grow in a fashion that honors that sense of place and heart and soul so that we don't lose that."