Organizations: Furkids
Furkids works tirelessly to provide a loving sanctuary for animals.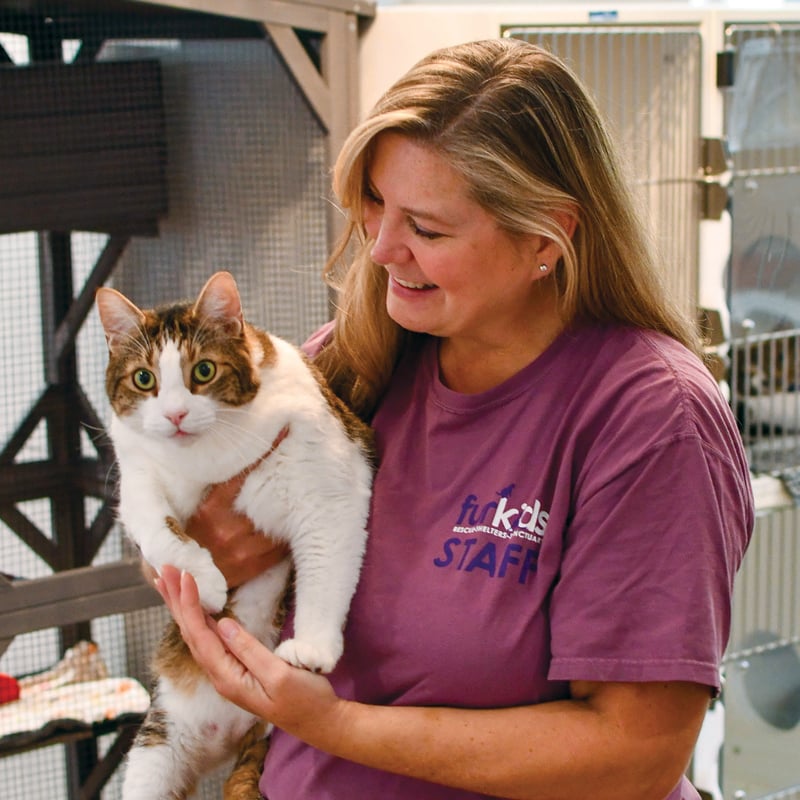 Metro Atlanta's Furkids is not your typical animal shelter. The Cumming nonprofit, Georgia's largest no-kill animal shelter, is a mostly cage-free destination for visitors seeking pets or pet services – or for anyone who just wants to spend time with animals (and the people who love them) in a tranquil setting.
The organization adopted the "Destination Furkids" theme when it moved in 2020 to its current nine-acre campus, in the former Wakoola Water Gardens, with creeks, ponds and fountains.
"Every one of us has a destination and purpose in our lives," says founder and CEO Samantha Shelton. "We have embarked on a journey to our destination: an imaginative, highly advanced animal rescue and sanctuary combined with a human getaway and green space designed to revitalize the bodies and souls of both animals and people."
Shelton started Furkids 20 years ago with one mother cat who was hit by a car. "I didn't want her to be euthanized just because she didn't have a home," Shelton says. Today, Furkids cares for around 800 dogs and cats at any given time, including cats with FIV (feline immunodeficiency virus) – one of the few shelters in Georgia to have such a facility. Volunteers of all ages are welcome.
With no government funding, Furkids depends on donations, grants and sales from its thrift stores. Last year it had to cancel its largest fundraising event due to the pandemic. This year, to celebrate its anniversary, the organization is hosting a gala on April 9 from 6:30 to 10 p.m. with guest speaker Jackson Galaxy, of Animal Planet's My Cat From Hell fame.
"The painful truth is that more than half of all animals that enter into Georgia municipal shelters won't leave those alive," Shelton says. "This is where Furkids works tirelessly to make an impact."