Creating a Skilled Workforce Pipeline
TCSG's HOPE Career Grant addresses the need for workers in high-demand industries.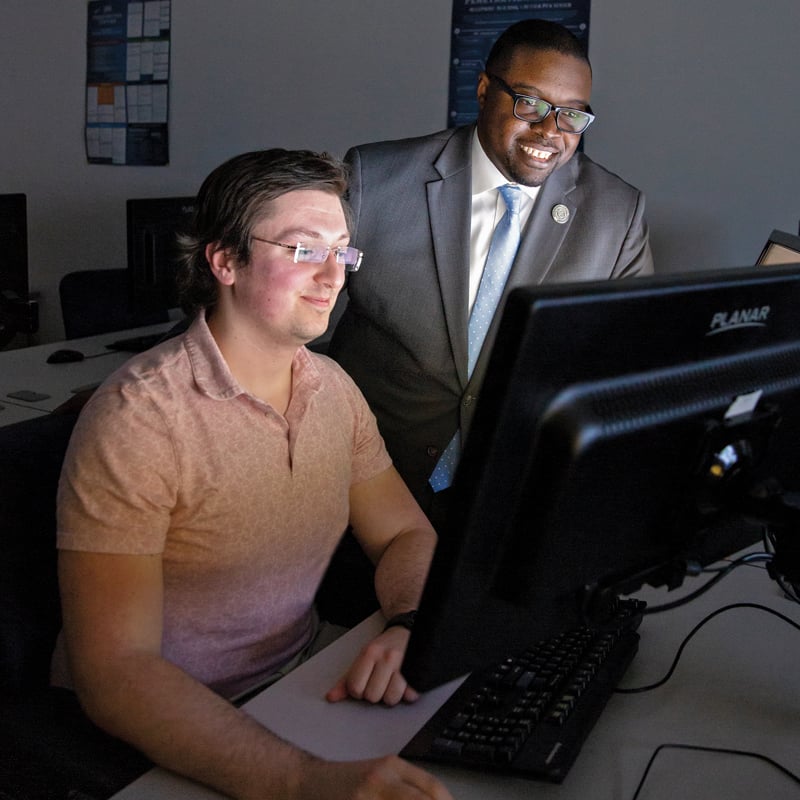 It's hard to remember the economic conditions in Georgia when Nathan Deal became governor in 2011. But Deal certainly does.
"We were still in the midst of the Great Recession," he says. "We had a 10.4% unemployment rate. It was a signal that we needed to do something different."
And that something different needed to involve the state's educational resources, in particular the Technical College System of Georgia (TCSG).
Deal recognized that there was a mismatch between the jobs available and potential workers who lacked the training to fill them. The governor and his economic development team convened relevant partners – including economic developers, government officials and leaders in education and private-sector industries, especially those identified as high-demand career pathways – to give their input on workforce concerns. They got an earful.
---
Identifying the Demand
With an aging workforce eyeing retirement, employers could read the handwriting on the wall. They needed younger, skilled, work-ready employees. And they needed workers who understood soft skills like punctuality, teamwork, communication and problem solving. The state needed more internships and on-the-job training programs, better partnerships between industry and education and an increased emphasis on science, technology, engineering and math (STEM) education.
Armed with that information, Deal created the High Demand Career Initiative (HDCI) which expanded the Strategic Industries Workforce Development Grant (now called the HOPE Career Grant or HCG) in 2014. It's one of the most transformative programs in the history of the Technical College System of Georgia (TCSG) and one that has successfully evolved over time. Today, TCSG partners continue to pursue ways the grant can reach its fullest potential.
In a nutshell, the grant program covers tuition for qualified students enrolled in majors specifically aligned with high-demand industries. Programs are offered at all 22 TCSG institutions, in person and online, and at four other public institutions: Atlanta Metropolitan State College, Columbus State University, Dalton State College and Middle Georgia State University in Macon.
Because these are high-demand fields of study, the programs take 18 months or fewer to complete and students are awarded certificates, diplomas or Technical Certificates of Credit. The goal is to get students into the workforce as quickly as possible.
The HCG started with three areas: early childhood care and education, practical nursing and commercial truck driving.
Since its 2014 launch, other high-demand careers have been added. In 2015, computer programming, computer technology, diesel equipment technology, health science, and welding and joining technology were added. By 2021, there were 17 programs including automotive, aviation and construction technology; certified engineer assistant; electrical line worker; industrial maintenance; logistics and transportation; movie production set design and precision manufacturing.
---
Need for Speed
In 2014, TCSG enrolled 10,821 HCG students and 3,000 graduated from the programs they entered. As career fields were added and word got out, enrollment steadily grew. Despite disruption in enrollment caused by the COVID-19 pandemic, more than 42,000 students enrolled in HCG programs in the 2021 academic year alone.
"In 2021, there were 29,491 high-demand career graduates; 99% overall were placed, with at least 90% placed in their field," says Ray Perren, deputy commissioner for technical education with the TCSG and former president at three technical colleges.
One of the HCG program's biggest challenges is students completing the training.
"Because the HOPE Career Grant programs are one year or less, typically once a student gets about a semester's worth of knowledge, they get poached," says Jermaine Whirl, president of Augusta Technical College, which had 1,345 HCG graduates in 2020 and 2021 combined. "We have a hard time graduating them. Using welding as an example: Once they get some skills, they get employed pretty quickly. If John or Nancy is working at a local grocery store getting $10 an hour and then they get a semester of welding and they can go earn $30 an hour, that's a positive net plus for our community. What we have to work on is ensuring they're able to come back and finish that credential so they have the paper behind them and don't worry about that down the road. Those programs are extremely important."
Phil Sutton, vice president at Kubota Manufacturing and TCSG board member, agrees and offers a suggestion for improvement.
Kubota, located in Hall County, has hired HCG graduates from welding and industrial maintenance programs, and while Sutton and his industry counterparts speak highly about the quality of workers coming out of technical colleges, the problem is the same as it was in 2011: There just aren't enough of them.
We need a fast track – whether it's accredited or not," he says. "But in order to get the HCG, [students] have to go through the accredited program. We probably need to consider even faster programs that would get somebody to work, like a Quick Start-type. But only new and growing industries qualify for that."
Perren says the TCSG is listening.
"We're working on developing what we call a boot-camp approach to training, which would be an intense program that would last up to eight weeks and students would be in class up to five days a week, six to eight hours a day, rather than stretching it out three hours a day for 15 weeks," says Perren. "We piloted one boot camp with the poultry industry last year that was very successful so we're taking that format and developing curriculum in other areas."
Meanwhile, Sutton and his counterparts on the TCSG and workforce development boards could look at a recently unveiled program at Augusta Tech. In an attempt to address the need to get high-demand workers into the workforce quickly (especially in light of the Great Resignation) the college developed 90-day-or-fewer trainings called FAST – Focused Accelerated Skills Training – with tuition costs covered by a grant from Bank of America.
"The HCG is typically a year-long program," says Whirl. "We know there are individuals in the community who want to make a career change but they don't have the year to study." These FAST programs – including manufacturing fundamentals boot camp, forklift and OSHA training and medical scribe skills, which document physician-patient encounters in real time – can be completed in 90 days and launch a student into a new career.
The ability to create innovative programs like FAST is one reason why Deal looked to the TCSG to develop the HCG in the first place.
"We have a great university system, they do an amazing job," says Chris Carr, who served as Deal's economic development commissioner from 2013 until 2016 and is now the state Attorney General. "But our technical colleges are so nimble. A lot of what we needed were certificated programs and [TCSG's] ability to get them up and running and to market was great."
---
Not Just a Skills Gap
Another struggle with programs like the HCG is that often the people who need them the most don't know about them, can't access them, don't understand them or a combination of all three. Clearly, information is not filtering down. Those who care about workforce and technical education agree: There's more than a skills gap. There's a communication gap.
"One of the things that we did [when the HCG began] was mount an advertising campaign," recalls Deal. "We spent around $2 million of state money to advertise what [students] could get if they went to a technical college and studied in one of these high-demand areas. For the first time we began to break through that mentality that your child is not going to be successful unless they have a college degree. When we started showing not only the parents but the students what kind of income they could expect to receive from earning a technical degree in some of these very specific areas, their eyes opened and they realized, 'This sounds like something that I need to explore,' and they began to get on board with it."
But that was a while ago.
"I don't think there's been a huge campaign since that $2 million was spent," says Kubota's Sutton. "And if you asked the average 11th-grader, 'Do you know what a HOPE Career Grant is?' they couldn't tell you."
Maybe they could in Houston County. Central Georgia Technical College, located in Warner Robins, serves a broad 11-county region and had the highest HCG enrollment in the technical college system (3,930) and the highest number of HCG graduates (2,001) and awards (3,019) conferred in academic year 2021. The most popular program area was health sciences (600 graduates), followed by welding and joining technology (253), construction (192), computer technology (151) and computer programming (131).
Those numbers reflect a commitment to ensuring students understand the availability of tuition-free post-secondary-education options and the importance of the high-demand career categories to the local workforce ecosystem since most graduates remain in the area. And thanks to a partnership with the Houston County School System to grow dual enrollment at the county's five high schools, the institution also shattered its own year-on-year enrollment figures by 18% in fall 2021 – from a total enrollment of 8,140 students in 2020 to 9,608 students in 2021. Out of the 9,608 students, just over 4,000 students were dual enrolled with over half of those students attending Houston County public high schools.
"The [Houston County] superintendent [Mark Scott] wanted to make college courses available inside the high school, removing the transportation barrier that a lot of students hit when it came to dual enrollment because normally, they have to come to our campus," says Janet Kelly, assistant vice president for enrollment services, marketing and public relations at Central Georgia Tech.
In Fall 2020, Central Georgia Tech began a pilot program offering a dual-enrollment economics course to juniors and seniors on five high school campuses. The following year the program expanded to include two history courses for juniors and a sociology course for seniors.
"The superintendent eventually wants to get to the point where every student in every high school that's eligible for college enrollment can get at least 15 hours of college credit before high school [ends]," says Kelly, who says dual enrollment is a natural gateway to the HCG or any other postsecondary educational goals students may have.
---
Have We Got a Job for You
Post-college placement has always been a big selling point for the technical college system. TCSG boasts an overall 91.1% placement rate and an 87% placement rate in-field, meaning within the graduate's program of study. Sutton says a Lanier Tech HCG graduate in industrial maintenance working at Kubota will soon move into a supervisory position.
"He is at that level very quickly," Sutton adds.
Caleb McKenzie is a film and television production student at Southern Crescent Technical College in Griffin. The Newnan native chose Southern Crescent not just for its proximity to home, film studios like Trilith Studios (formerly Pinewood) and excellent film program. He was also attracted to the program's partnership with the Georgia Film Academy and the potential for a studio internship that could jump-start his career.
"Getting placement further down the line will be greatly assisted by getting that internship," McKenzie says. "It's kind of a hard industry to get into if you don't know someone, so being able to work on a film set will be super useful."
Garyth Suri is studying cybersecurity at Augusta Tech; he'll earn his associate degree in applied science in May. The two-year degree is not an HCG program but his experience prepared him for a paid internship as a security analyst at TaxSlayer, a software company based in Augusta. The company asked him to stay on permanently, immediately benefiting from his experience.
"There are things you have to learn, especially in this field – tailored tools that you would use and tailored processes to the specific company – but in terms of the overarching principles and ideas, I think it's a good framework," Suri says about the program.
In addition to exemplary cybersecurity programs – a high-demand field in Augusta – the college now offers a cloud computing associate degree. The program was a direct result of consultations with local business and industry.
"It was birthed out of our advisory board," says Whirl. "It's the only two-year degree in the state in learning how to build and manage cloud networks. That's the power of talking to business and industry."
There is a need for new programs to address Georgia's growing alternative energy industries and more robust marketing of the HCG to fill the skilled-worker pipeline. But most observers in economic development, industry and education consider the program a success.
"I would give the HCG an A+," says Central Georgia Tech's Kelly. "This initiative has been vital in affording access to higher education to more Georgians than ever before, without the burden of education debt. And, not only is it about access to education, but it's about access to great-paying, in-demand, essential careers. The HOPE [college scholarship] program set Georgia apart from many states in making sure citizens had a pathway to higher education. However, the HCG has really helped focus in on what's important for the economy, the state and the people."
Kelly says the need for skilled workers in high-demand careers is stronger than ever.
"By putting extra emphasis and funding toward these programs that support creating a pipeline of well-qualified workers," she adds "the state of Georgia and its economy will reap the benefits of business and industry leaders' recognition and the citizens will benefit by gaining a meaningful career."
( This story was produced as part of the Higher Education Media Fellowship at the Institute for Citizens & Scholars. The fellowship supports new reporting on issues related to postsecondary career and technical education. )

---
Educating Georgians
The Technical College System of Georgia (TCSG) offers more than 600 state-of-the-art educational programs. Last year, more than 37,000 students graduated from the following TCSG colleges, and 99% are now employed or are furthering their education.
---
Albany Technical College
---
Athens Technical College
---
Atlanta Technical College
---
Augusta Technical College
---
Central Georgia Technical College
---
Chattahoochee Technical College
---
Coastal Pines Technical College
---
Columbus Technical College
---
Georgia Northwestern Technical College
---
Georgia Piedmont Technical College
---
Gwinnett Technical College
---
Lanier Technical College
---
North Georgia Technical College
---
Oconee Fall Line Technical College
---
Ogeechee Technical College
---
Savannah Technical College
---
South Georgia Technical College
---
Southeastern Technical College
---
Southern Crescent Technical College
---
Southern Regional Technical College
---
West Georgia Technical College
---
Wiregrass Georgia Technical College