Inspiring Excellence
How six female leaders work to provide opportunities and mentor the next generation.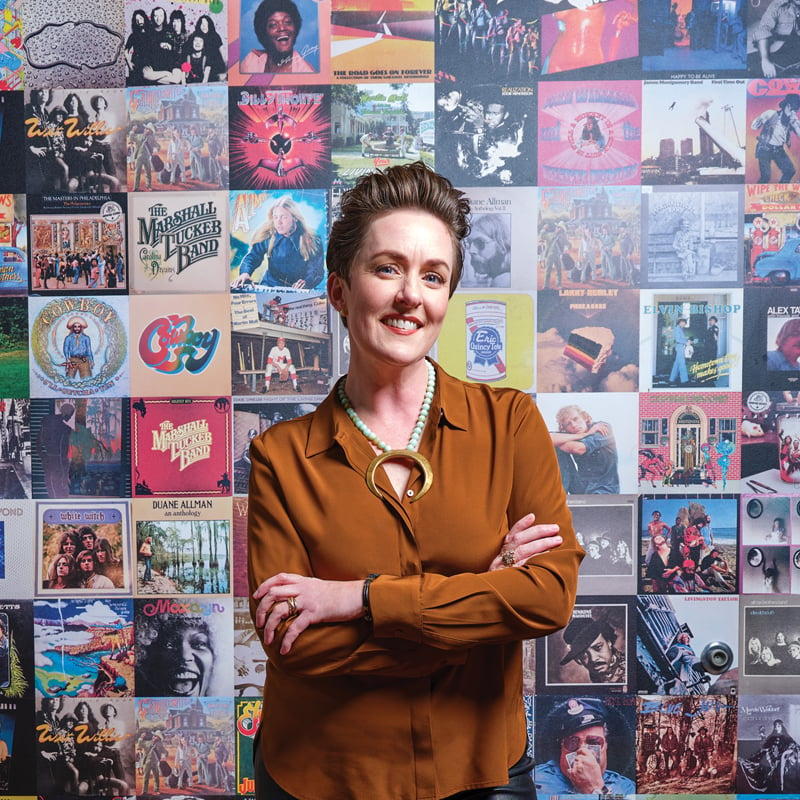 Whether they are business owners or executives in well-established and respected firms, women in Georgia are demonstrating their unique leadership qualifications. As they're heading a wide variety of businesses, they're also mentoring the next generation, promoting diversity in executive ranks and the pursuit of innovation, harnessing social media for good, using their influence for positive change and encouraging entrepreneurialism.
Georgia Trend writers Betty Darby, Susana Hills, Charlotte Norsworthy and George Spencer caught up with six women from throughout the state who are not only at the top of their leadership games but are helping to lift up other women for success in business. Their stories are an inspiration for us all. – Mary Ann DeMuth
---
Promoting Diversity
Chanel Frazier always seeks to leave everything better than she found it. It's something she learned from her grandmother, who was a preacher and pastor in South Carolina.
"She used her position of power to bring people along on the journey, including creating leadership experiences for other women in the community," Frazier says. "She made the intentional decision to take up space for the sake of making something better."
Throughout Frazier's career, which started in law, she's used this mindset to create spaces and opportunities for those around her. Frazier joined BlackRock in 2013 as a corporate tax attorney before becoming chief of staff for a financial investment team. She now serves as the head of business strategy for the portfolio management group as well as the lead for the asset management company's new Atlanta Innovation Hub. BlackRock is the world's largest public asset manager with more than $10 trillion in assets and its new Innovation Hub seeks to use innovation to address global financial challenges.
Frazier says she is filling the Hub with the best and brightest Atlanta minds and the latest technologies. The company plans to expand the Hub to 1,000 employees by 2024 and Frazier aims to have these newcomers reflect the diversity of Atlanta's population.
She has a history of commitment to diversity, equity and inclusion initiatives at BlackRock, serving as the executive committee sponsor and a member of the company's Black Professionals Network.
"If you are to innovate, you have to bring together diverse perspectives," Frazier says. "People from different backgrounds or people who think about a problem in a different way." – CN
---
Leadership Sweet Spot
Jessica Walden remembers buying steaks from the back of Joseph Egloff's pick-up truck at a Macon farmers market. Today, thanks in part to Walden's efforts, his Rocking Chair Ranch Cattle in Forsyth has grown into a major operation.
Meeting small business owners in Central and South Georgia — and helping them thrive — is all in a day's work for Walden. She plays a dual role as the Business and Leadership Advisor for both the University of Georgia's Small Business Development Center (SBDC) and its J.W. Fanning Institute for Leadership Development.
"I wear two hats. I'm always looking for that sweet spot where business and leadership have a need," says Walden, whose home base is her native Macon.
In communities as far-flung as Vidalia, Clarkesville, Albany and Savannah, she assists chambers of commerce, nonprofit organizations and small business owners with leadership development and business creation, retention and expansion.
Walden, the niece of legendary Capricorn Records founder Phil Walden, also co-owns the Macon music history tour company Rock Candy Tours with her husband, Jamie, and cofounded The Web, a women-centered work club in downtown Macon that offers community, workspace and online programming.
Most days, though, find her on the road. Since last July she's put in 5,000 miles traveling both to meet civic and business leaders and to her Fanning Institute office in Athens.
"I carry with me that empathy of a small business owner. It's the one-to-one counseling, the marketing data and the trainings that are so valuable to businesses – and at no cost," she says.
During COVID, she made virtual visits and developed virtual leadership and business programming. A former radio host, she developed, wrote and coordinated the podcast Leadership Matters for the Institute. Working with Macon's SBDC, she helped create and host a virtual women's business summit.
"It's now a signature event and continues to grow," says Walden. "We've created an exciting space with women small business owners from all walks of life and every age and stage of business." – GS
---
Helping Others Succeed
Augusta's Nancy Carolyn Powell was still in high school when she started doing office work at her mother's Powell & Associates real estate firm in in Lincolnton. She enrolled in the basic real estate course as a teenager and later earned her license. She seemed destined to sell property her entire life – until the Great Recession turned the real estate world upside down.
Powell used those lean years to study history and political science in college. From there, it was on to politics, working on David Perdue's 2014 Senate campaign, among others. But in 2015, she got the itch to return full-time to real estate. The next big leap came in March 2020, right before most of the world hit pause, when she and her mother agreed it was time for Powell & Associates to transition to the next generation.
She moved the office 40 miles or so to Augusta and, despite the general gloom and doom of 2020, had her best year ever. So much so that the business will expand into Covington and Conyers this year.
"It's our responsibility as professional women who have made it to help the next generation of women coming up. That's just the way I feel. Nothing makes me happier than to see other people succeed. I actually mentor men, too," she says.
She's deep into community involvement. She co-chairs the Augusta Metro Chamber Ambassador Board and is on the chamber's Women in Business Board. She networks with Young Professionals of Augusta. She also helps with everything from interview coaching and wardrobe needs for unemployed women to assisting local foodbanks, all through her work with Women in Philanthropy, which supports groups and projects addressing the unique needs of women.
The Augusta real estate business, meanwhile, is looking up, she says. "I've had lots of people say they simply cannot afford where they are living, so they are coming to the South. I get to sell my city to them, and that is one of my favorite things to do." – BD
---
Nurturing Innovation
Elbi Elm aims high. A former Air Force intelligence analyst, Elm saw downtown Savannah was missing something – a Black-owned hub for creative and business empowerment. Last year she opened The Culturist Union, a hybrid coffee shop/retail store/event space. Located at 48th and Bull Street in the Ardsley district, this indoor-outdoor venue promises to be a place to nurture innovation among people of color and one where anyone can gather and be inspired.
"Savannah was ripe and ready for this," says Elm, who won $10,000 from BizPitch Savannah in 2019, which she used as seed money. She also received $50,000 in funding from Savannah College of Art and Design (SCAD), Southern Restaurants for Social Justice and an American Express program for Black female entrepreneurs. The idea came to her while she was studying at SCAD. "Creators who were people of color didn't have a place to gather," she recalls. "I wanted to fill that void by creating a safe space for us."
To make the Union the go-to place, she lined up 55 local artists and business vendors. "I want people to see Black-owned products in this store and know that their neighbor created this, and they can buy it," she says.
Beer and wine are sourced from African-American breweries and wineries. She chose coffee supplier Good Citizen for its efforts to support African growers. Diverse events are planned that range from business retreats for self-employed creatives to meditation and yoga classes.
Inspiration for the Union came from Elm's hero Madame C.J. Walker. The first African-American female millionaire, Walker made her fortune in beauty and hair care. In 1917 she hosted a national sales, marketing and management convention for her "beauty culturists" licensees. Its name? The Culturists Union.
"I love that she was able to do that, and the times are parallel," says Elm. "They were in the middle of a pandemic, and there was a lot of racial reckoning in the country then, too. It just felt like the path had already been paved. All I had to do was follow the template." – GS
---
Growing Opportunities
Lifelong fan of the great American road trip, Stephanie Stuckey has been revitalizing her family's brand since 2019 when she assumed her role as CEO of the Stuckey's roadside empire. A former state representative and trial attorney, she brings her ability to advocate for difficult causes to her mission at her family's "scrappy come-back brand," as she calls it.
Across 17 states, there are currently 65 Stuckey's locations and roughly 200 retailers that sell Stuckey's pecan snacks and candies. They have their own distribution center based in Eastman, along with a pecan and candy plant. You can also purchase Stuckey's candies and pecans through an online retail store.
When Stuckey took over the company, she inherited a trademark, a warehouse of dead inventory – stock that hadn't moved – and six boxes full of papers and photos from her grandfather, who founded the business in 1937. "I learned so much about running a business from reading his papers," she says. She learned from him the importance of sharing the wealth, in profit and leadership. She could also see the large role her grandmother had in the behind-the-scenes operations as a bookkeeper, on top of being the creator of Stuckey's iconic pecan log roll.
She uses social media to build the Stuckey's community across the states. "A lot of consumers are on social media. It's a great equalizer for mass media advertising," she says. On platforms like LinkedIn, where audiences are open to consuming a paragraph or two of content, she gets to tell the story of her family's company.
As former Atlanta Chief Resilience Officer under Mayor Kasim Reed, Stuckey is an eager mentor for those in pursuit of careers in sustainability. She has an open-door policy, encouraging people to reach out via social media to discuss the environment and sustainability, as well as business, agriculture, manufacturing and distribution.
On her first day as CEO of Stuckey's, she applied for the company's Georgia Grown certification, which helps state producers more efficiently and effectively connect their products with buyers. As head of a third-generation Georgia- grown company, she's proud of the roots that have anchored the family business and created so many opportunities for Georgia workers. "Our focus is not just about growing Stuckey's, but growing economic opportunities in the state of Georgia," she says. – SH
---
Doing Things Differently
Karen Jenkins had a shaky start – literally. After living through the Loma Prieta earthquake in San Francisco in 1989 and seeing so many wrecked buildings, she was inspired to earn master's degrees at Georgia Tech in architecture and structural engineering.
Today she's a managing partner at Shear Structural, Georgia's only all-female owned and managed structural engineering firm, which she cofounded in 2017 with partners Holly Jeffreys and Malory Atkinson. From offices in Atlanta, she oversees commercial and residential projects in 11 southeastern states.
Shear specializes in new construction for education, industrial, civic, retail and faith-based projects. The 15-employee firm has established a reputation for high-profile adaptive reuse projects, such as Atlanta's Ponce City Market and the upscale Westside Provisions District mall, which have helped win it clients around the region.
"Atlanta is well known for building bigger, better newer. It means a lot to me to save these resources – the fabric of the city," says Jenkins, who has served as the past president of the Atlanta chapter of the American Institute of Architects (AIA). Engineering Georgia magazine has repeatedly named her one of the state's "Most Influential Women in Engineering."
She and her partners founded Shear "because we thought we could do some things differently that we discovered along our path didn't really work well for us as women." Toward that end, Shear hires female engineers who are stay-at-home moms and want to keep their skill sets fresh as contract workers.
At the AIA, she created Back to Work, a database that connects nontraditional workers with firms offering on-demand contract work.
Jenkins says giving back helps Shear thrive. The firm donates time and money to Atlanta's Community Food Bank and Dress for Success, a group that empowers women and helps them get jobs. "We're happy to do the work and help our community excel, because when the community excels, we all excel," she says. – GS