Growth and Innovation
Emory University continues to achieve new heights by focusing on student retention, top-notch faculty and advanced research.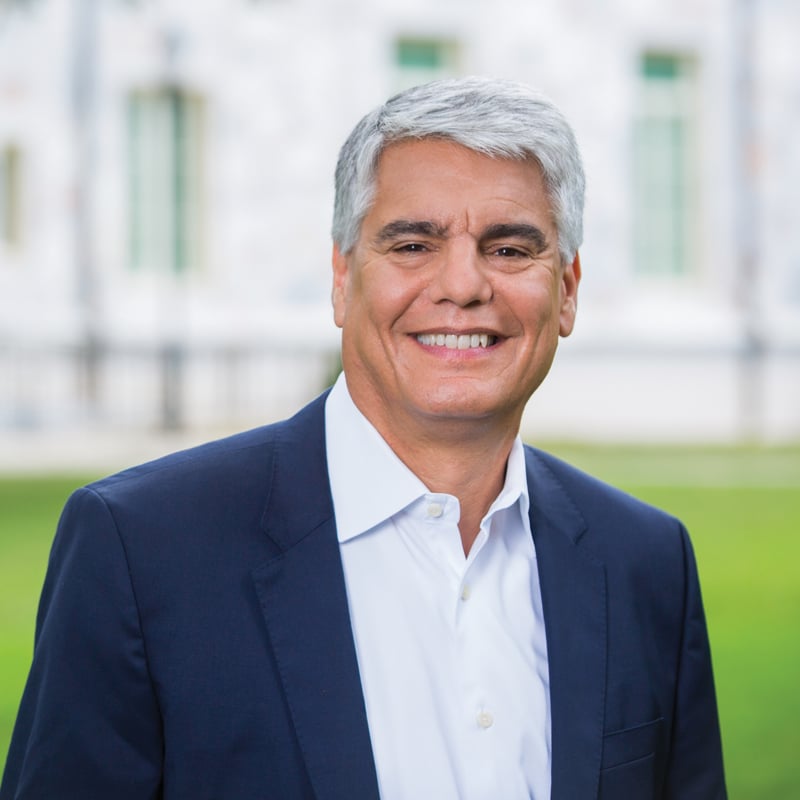 By almost any metric, Emory University is a behemoth in Georgia higher education. Founded in 1836, it is the state's second-oldest private university (just five years younger than LaGrange College) and the highest-ranked private school (21st by U.S. News & World Report). With more than 32,000 employees, it is the largest employer in Metro Atlanta and second-largest in Georgia, contributing a whopping $9.24 billion in economic impact in 2019.
The pandemic has only enhanced its global reputation in health sciences and medicine:
• In 2021, the oral drug molnupiravir, developed at Emory to treat COVID-19 patients, received emergency use authorization from the U.S. Food and Drug Administration (FDA) in December and made its way to pharmacies by early January 2022
• Researchers attracted an Emory-record $894.7 million in grants in fiscal year 2021 in the fields of medicine and health disparities, climate science, racial and social justice, and many other topics
• The Goizueta Foundation announced a $50 million gift to establish the Goizueta Institute @Emory Brain Health
• A $5 million gift from Kathelen and Dan Amos to the Emory University School of Medicine established a medical student loan forgiveness initiative while also addressing the shortage of rural primary care physicians
• In November, senior Ahmed Aljohani became the 21st Emory student to be awarded a Rhodes Scholarship.
Equally important, the university's new president, Gregory Fenves, who came to Emory from the University of Texas at Austin in August 2020, made a seamless transition. That included navigating the university through COVID-19 protocols and countless adjustments, from starting the fall semester online and accommodating 50% capacity living in the dorms at the time, to ramping up a massive saliva-based testing system for weekly COVID-testing of students living on campus (which changed to twice-weekly when the surge hit in January 2021).
"We kept an indoor mask requirement and if you were to go inside a building at Emory, everyone wears a mask," says Fenves. "We have a very high compliance."
Vaccinations were required when they became available. More than 97% of Emory's students, faculty and staff are vaccinated. Like many universities, Emory made adjustments in response to the COVID surge in late 2021. In December, the university announced all employees, faculty and students would be required to get a COVID-19 booster by mid-January and Fenves later announced the Spring semester would begin online, with in-person classes starting at the end of January as a precaution against the rapid spread of the omicron variant.
---
A Bicentennial Campaign
In October, Fenves also helped launch the public portion of a capital campaign building toward Emory's bicentennial in 2036, which aims to raise $4 billion including $750 million for student support and $900 million to support faculty. The campaign stresses three core areas: student flourishing, faculty eminence and research excellence. There's room for improvement in each area, Fenves says.
Under student flourishing, Fenves wants to increase the first-year student retention rate to 97% or higher in the next three years. Emory's current retention rate is 93%, reflecting the loss of some first-year students, especially first-generation students or those who show promise but require extra support. "They need wraparound services," he says. "And we need to assess whether those services are meeting the needs of students so they have the tools to be successful."
These services include academic coaching, financial aid guidance and emotional and psychological counseling, among others. Fenves says that often first-year students and first-generation students aren't aware of the availability of such services.
There is another group of first-year students who leave because Emory wasn't their first choice – they reapply to their first choice and are admitted.
"We need to re-recruit those students for whom Emory wasn't their first choice and give them reasons to stay," says Fenves.
A top-notch faculty often gives students a reason to stay. Through the 2036 campaign, Fenves is committed to increasing the number of endowed professorships that provide resources for professors to pursue research and recruit colleagues in their departments in what Fenves calls the academic "free agency labor market."
"Emory is woefully underfunded in faculty endowments," he says. His goal is to nearly double the number of endowed professorships, adding close to 154.
"That will give us a little more than 300 endowed professorships, just putting us on par with a number of competing universities," he says. "We think it's an ambitious but realistically achievable goal for the capital campaign."
---
More Discovery, Better Patient Care
When the Goizueta Foundation made a $50 million gift to establish the Goizueta Institute @Emory Brain Health (the initiative launched in May 2021 and was initially called the Emory Brain Health Personalized Medicine Institute), it was a big stride toward research excellence. This world-class treatment facility will apply large-scale data collection and analysis to create customized therapies for prevention and treatment of brain diseases and disorders including Alzheimer's disease, Parkinson's disease, ALS, epilepsy, stroke and depression. The institute is led by Dr. Allan Levey, chair of the department of neurology at Emory's School of Medicine.
A 17-story cancer facility on the campus of Emory University Hospital Midtown is slated for completion in March 2023. "What we will have, when this is all said and done, is a transformative facility that provides research-driven care with the patient at the center of everything," says Dr. Suresh Ramalingam, a thoracic oncologist and the new executive director of Winship Cancer Institute, which is undergoing the largest expansion in its history. "The patient is the center of the universe in the building. The exam rooms, operating rooms, radiation oncology facilities and radiology suites have all been designed with the single intent of making it most convenient for patients to have a great experience while going through their treatment at the Midtown tower."
Winship Cancer Institute is the only National Cancer Institute-certified comprehensive cancer center in Georgia, and is currently undergoing its recertification process, a review that takes place every five years. It will submit the application in May 2022.
"The NCI will be looking for how we have done over the past five years; our plans for the next five years; the level of support from the community, from the institution; how are we meeting the needs of our catchment area, which we define as the entire state of Georgia," Ramalingam says. "We have outstanding scientific programs, great clinical trials infrastructure, and we have incredible support from Emory University and Emory Healthcare, which positions us well to be successful in this next step."
Alumni are critically important to the mission at Emory. Dan Amos, CEO of Aflac, and his wife Kathelen, an Emory alum, registered nurse and trustee of both the Daniel P. Amos Foundation and Emory University, pledged $5 million to create the Kathelen and Dan Amos Medical Student Loan Forgiveness Program.
Under the terms of the program, medical students and residents can receive anywhere from $40,000 up to $160,000 in loan relief in exchange for agreeing to work in Georgia for two to five years, depending on the amount of the grant. Though the award will not eliminate all medical school debt, the hope is that easing some of the financial burden will help students have more options when choosing specialties and where they practice. To be eligible, students must be training in pediatrics, internal medicine, family medicine or geriatrics.
---
Dissolving Boundaries
It may be best known for its medical school, but Emory is greater than any one field of study. The university offers more than 80 majors, more than 60 minors and more than 10 preprofessional programs. Emory undergraduates are encouraged to look for connections to other disciplines and to take courses outside their major. In fact, Emory's Integrative Studies Program (or interdisciplinary program) was ranked No. 1 by BestColleges.com in 2020.
In 2021, the Institute for the Liberal Arts (ILA) at Emory started a pilot program called Learning through Inclusive Collaboration (LINC), a unique initiative designed to dissolve disciplinary boundaries and help students get out of their silos.
"For example, Dr. Andy Kazama teaches the psychobiology of post-traumatic stress disorder (PTSD)," says Robyn Fivush, ILA director, describing the program. "It's very biologically oriented. Another professor, Dr. Chris Eagle in [the department of] human health teaches a literary, text-based course on war and trauma. They read novels, memoirs and poetry."
Three times during this past semester, those classes came together around a common reading. Students in Kazama's class reading neurobiology were asked to read an excerpt of a memoir of a soldier and the students in Eagle's class who were reading literary texts read a scientific article on the neurobiology of PTSD. Then they came together for discussion in a larger group. Fivush says that by having multiple ways of understanding a similar problem or question, students gain a better understanding. And the faculty and students love it, she says.
The popular program went from two to four linked courses for the spring 2022 semester. Classes include such pairings as Dance Literacy (Theater and Dance) and Differential Equations (Mathematics), and Concepts in Biology (Biology) combined with Spanish and Portuguese and Theater workshop (Arts and Sciences/Theater). Though the ILA hasn't compiled assessments about the program's efficacy, there's plenty of data about the value of interdisciplinary studies.
"We know that students who are able to make connections across disciplines during their undergraduate experience develop better critical thinking and critical writing skills," says Fivush. "One of the core components of a liberal arts education is facilitated by this ability to think across disciplines in a more intentional way. One of the other core principles of a liberal arts education is understanding multiple perspectives in the broadest possible sense of that term. If you're interested in something like grief, you can understand it by understanding biology, chemistry, reading historical documents. This is true of any of the big issues of the day which we are facing. We have to have multiple perspectives and multiple voices across the community."
---
Thriving and Connecting
Biology major Ahmed Aljohani would probably agree. Aljohani, a senior and native of Saudi Arabia, was awarded a 2022 Rhodes Scholarship that provides all expenses for two or three years of study at the University of Oxford in England where he hopes to further his biology studies. But in addition to outstanding academics and community engagement, Aljohani says the Rhodes selection committee took notice of his many film classes while at Emory.
"My background is more research, STEM and biology so [the selection committee] asked why I took film," Aljohani says. "I mentioned that one of the reasons was that there's a big gap between scientists and the general public in terms of communicating science. I wanted to explore that potential, communicating science through film."
"Emory offers a lot of chances to explore who you are, your hobbies and other career options," he adds. "But branching out is the best thing I did. I took a photography class this semester and even though it was very demanding, it was my most enjoyable class. It gives you a boost, something for yourself."
Emory was Aljohani's first choice and more than lived up to his expectations.
"I felt this was the perfect place for me to thrive," he says. "I was surprised by how connected the student body was. I wanted to be in this place where I felt some kind of belonging."
That connection is something Fenves wants to nurture, both at Emory and beyond in university clusters like the one created by Emory, Georgia Tech, Georgia State University and others. These clusters are important ingredients in the creation of vibrant, connected communities.
"As I've studied various places around the country, and lived in a couple, an important common denominator is having clusters of universities," he says. "One of the things I'd like Emory to do is be part of strengthening that cluster so that we can further innovation and economic growth in Atlanta and Georgia."
---
Bram Stoker Papers Find a Home
In 2019, Jennifer Gunter King, director of Emory's Stuart A. Rose Manuscript, Archives and Rare Book Library, was contacted by Stuart Rose, an Emory alum, businessman, rare book collector and benefactor for whom the library was renamed in 2015. He told her about a private collection that was about to become available that he thought would be a good fit for the library: extensive archives related to Bram Stoker, the 19th century Irish novelist best known for writing "Dracula."
King agreed. The Stoker collection was a great fit for the library.
"Emory has a really well-known creative writing program and Irish Studies program, so the Stoker collection is connected to a much larger collecting area where we've been building … collections for years," she says.
The Stoker archive was acquired through a dealer, Kenny's Bookshop in Galway, which brokered the purchase from a collector in Ireland. The Rose Library provided some of the financial support, which enabled Emory to acquire the Stoker collection in 2020.
"It was an unprecedented experience and a huge accomplishment of the Rose Library team at Emory and the Kenny's Bookshop team at Galway because they managed over the course of less than 12 months to get several thousand items from Ireland to Atlanta while both of our countries were essentially on lockdown," says King.
The goal is to make the material as available as possible and that means physically preserved, catalogued and organized and available for use on the Emory campus. It also means that the collection will be digitized so that unavailable print materials become available online.
The acquisition has already inspired the development of one course based on the archive and collection for the spring semester. King hopes for a public exhibition of the materials, which would open in Atlanta.