Celebrating innovation in Georgia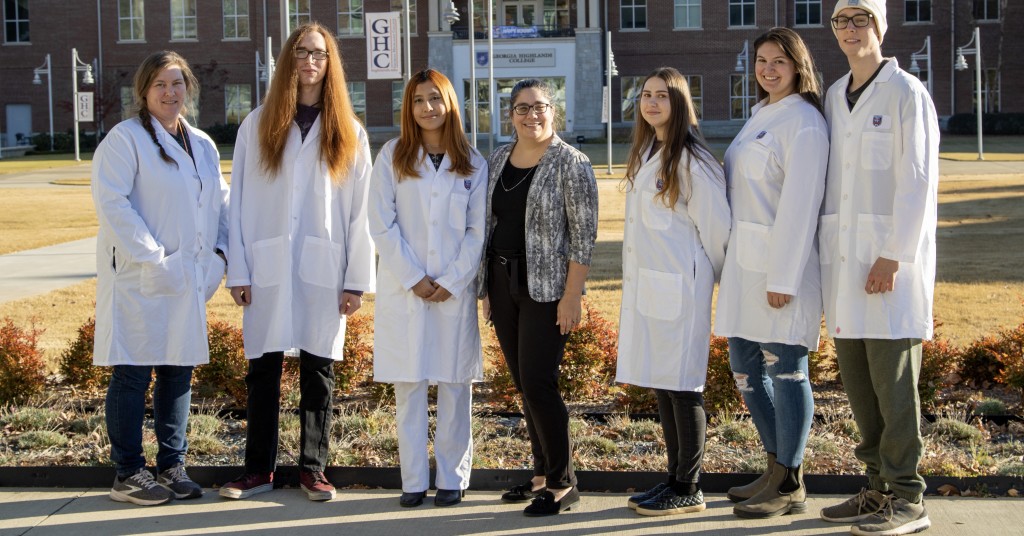 New projects to help ensure clean hands and clean water won recognition from the Partnership for Inclusive Innovation, with the inaugural awards going to the Augusta Happy Hands Project and the Georgia Highlands College/Lake Allatoona Association Research Project.
The Happy Hands team won the PIN Community Award, given to a team whose makeup consists of a community or city and a researcher from a local college or university. For this group of Augusta University students and advisors, innovation meant gamifying hand hygiene. Using data showing that positive reinforcement – and specifically happy faces – can encourage good habits, the team decided to focus on hand sanitizer units after learning that hospital-acquired infections are often spread by healthcare workers' germy hands.
They designed a sanitizer feedback unit that shows a red, frowning face when someone is nearby that changes to a green smiley face when someone uses the hand sanitizer. The Happy Hands units are inexpensive and will work with different kinds of hand sanitizer units.
Georgia Highlands College students, the Lake Allatoona Research Group and the Lake Allatoona Association won the PIN Student Team Award for their joint efforts to collect and test water samples from Lake Allatoona, about 30 miles northwest of Atlanta. Students collect samples and bring them to a lab where they are tested for chemicals and bacteria. Students learn scientific skills while the Lake Allatoona Association gets important data about the lake's health.
One student who participated in the project has been accepted to present at the National Association of Biology Teachers, while others hope to present to the National Council for Undergraduate Research.
The Partnership for Inclusive Innovation, a public-private partnership, began in 2020 to promote innovation, opportunity and shared economic success across Georgia, to help position the state as the technology capital for the East Coast. Partners include a number of corporations, the state of Georgia and Georgia Institute of Technology.
According to PIN, the awards recognize collaborative teams accomplishing meaningful community research with smart technologies in the areas such as sustainability, resiliency, and inclusivity.
Photos provided by PIN. Shown are the Georgia Highlands College/Lake Allatoona Association team, top, and the Augusta Happy Hands team, above
Do you follow us? Find us on Linkedin, Facebook, Twitter and Instagram.