2022 Georgia Trustees: Dan Cathy and Shirley Franklin
This year's recipients of the state's highest honor are individuals who build community and lead by serving others.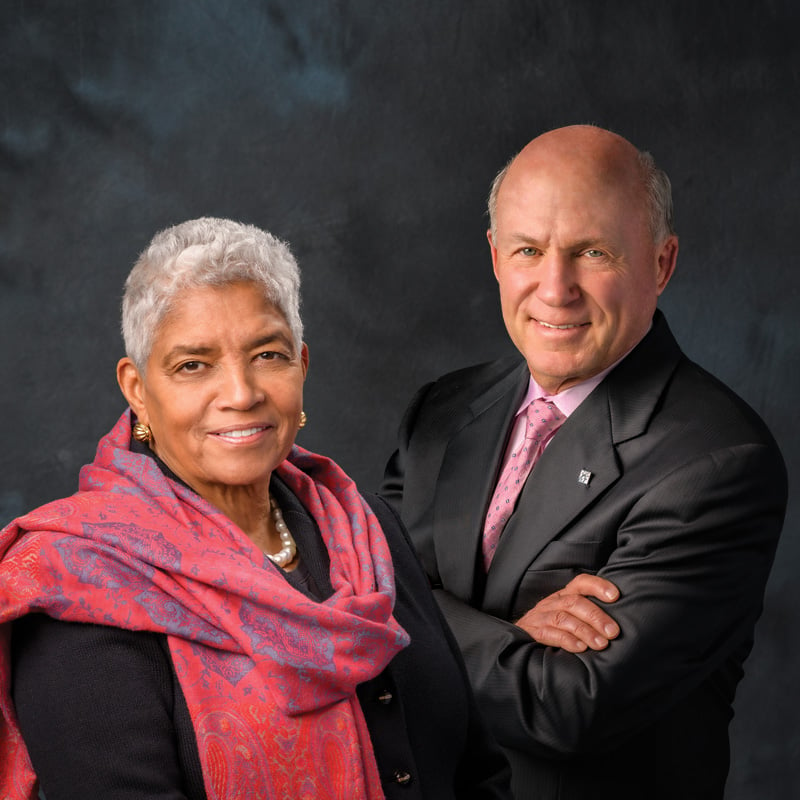 The Georgia Historical Society (GHS) teaches history in order to create a better future – to give the people of the state an understanding of how we got to this point, along with the education, tools and perspective to make a difference going forward. Part of that mission is the annual selection of the Georgia Trustees, the state's highest honor.
Charged by England's King George II in 1732 with establishing the new colony, the first Trustees represented the motto upon which Georgia was founded: Non Sibi Sed Aliis, meaning "not for self, but for others." The Trustees disbanded after about 20 years, but the state reestablished the honor in 2009 to recognize contemporary Georgians.
The original Trustees' motto reflects the values today's honorees exemplify in their lives.
"These people are now part of the history of Georgia," says Todd Groce, president and CEO of GHS. "They are historical figures and they've had an enormous impact, a positive impact on the state."
The 2022 honorees are Chick-fil-A Chair and former CEO Dan Cathy and civic leader and former Atlanta Mayor Shirley Franklin. Both are known as visionaries and servant leaders who accomplish impressive feats by building coalitions.
"It's important in this day and time, particularly," says Groce, "that we are holding up people who unite people, who build community. People who know how to lead by serving others, putting the emphasis on helping the people who follow them to succeed."
---
Dan Cathy
Inspiration and Influence
Dan Cathy has been the driving force behind one of the country's most successful restaurant chains while working to improve lives and communities.
To say Dan Cathy is a multifaceted individual is an understatement. The Chick-fil-A board chair and former CEO is a true renaissance man. Among the hats he wears are aviator, Bible-study teacher, community supporter, entrepreneur, family man, former competitive wrestler, musician, philanthropist, visionary and embodiment of his company's highly regarded culture of service.
As head of the 2,600-restaurant chain that generated more than $14 billion in sales last year via 1,800 franchises throughout the U.S. and Canada, Cathy spends little time behind the desk in his office. Instead, he's preferred to be at individual restaurants to increase his understanding of customer needs while providing an example of service to about 190,000 workers. The leaders he admires most – Sam Walton of Walmart, and Arthur Blank and Bernie Marcus of The Home Depot – were also as at home mingling with employees in the field as they were in the boardroom. Like them, he embraces the mission that he is here to serve rather than being served.
"It's always fun for me to kind of lead in defiance of what people might expect my behavior to be," he says. "I like surprising people."
Many of the leadership lessons he learned were from his father, Truett Cathy, founder of Chick-fil-A. Dan literally grew up in his dad's restaurant business, beginning with the first location, the 75-year-old Hapeville Dwarf House, which is currently undergoing renovation. There he would do odd jobs like scraping chewing gum off the table bottoms and sometimes singing for guests.
After attending Georgia Southern University, he returned to the family business for a decidedly more glamorous job, director of operations for the then 50-restaurant chain. As the company grew, so did his responsibilities until he became CEO in 2013 and board chair a year later, after his father's death. He passed the CEO torch to his son, Andrew, in November.
"Dan is the first second-generation Georgia Trustee because his father was also inducted," says Todd Groce, president and CEO of the Georgia Historical Society. "I think it shows you the importance of generationally teaching by both word and example. It's really remarkable and speaks to the quality of who they are."
This quality can be felt throughout the Chick-fil-A enterprise, which is dedicated to not only delivering delicious food, but also to what Cathy calls "second-mile service" that has an impact on society.
"I love the term 'restaurant,'" he says. "It's a French word that means a place of restoration and that's the kind of restorative experience we're providing to millions of people, six days a week.
"And there's something about food service and hospitality that even addresses the deepest needs of society. To set the table and to prepare a place where people can set aside their differences and recognize so much we have in common. Chick-fil-A is that common table in communities all over the country."
---
Realizing a Vision
For Cathy, being a leader means influencing the behavior of others by inspiring and motivating them and he says it's a "terrific calling." What was not initially a calling was becoming a movie mogul. But following the 2008 state legislation that expanded Georgia film tax incentives, he was presented with opportunities he couldn't refuse, and he began to have a role in producing some of the most popular movies of the late 2000s.
First, he leased an empty airplane hangar in Peachtree City to a film production company. Next, U.K.-based Pinewood Studios approached him about opening film facilities in Georgia and they partnered to put together a successful joint venture. The original five stages that were built on farmland south of Atlanta in Fayetteville opened in 2014 and then became home to the MCU (Marvel Cinematic Universe) blockbuster movies and TV shows, from The Avengers to Spider Man: No Way Home to Hawkeye.
"Since then, we continue to expand those facilities," he says. "I think now we have about 25 stages and have assembled about 1,000 acres of land of which we've developed about a third at this point. So we've got quite a long runway to go."
In 2019, a group of investors bought out Pinewood's ownership share and the operation was rechristened Trilith Studios, which takes its name from an architectural term meaning gateway or portal.
Describing the Trilith concept, he says, "We've got two upright stones and a cross stone, reminiscent of Stonehenge. The top stone is all about the story – the craft of storytelling – supported by the two vertical pieces," which represent technology and placemaking.
"At any given day here at Trilith, we have about 3,000 people that badge into our lot," he says. Along with the stars of the productions, "it's a wide range of employment … and includes hairdressers and wardrobe and costumes and makeup and fabrication, carpentry, metal, painters that [are] required for these big-budget movies."
Trilith has become North America's biggest movie studio outside of Burbank, Calif. But Cathy was not content to stop there. He envisioned an entire town associated with the studio. So, right across the road he and a group of investors built the community of Trilith that revolves around filmmaking. "This is a community for creators, for innovators, for entertainers, for all genres of art," he says. "Not only moviemaking but music, culinary skills as well. This entire ecosystem for creatives is one that creates quite a lot of synergy – of very talented people who are living and thriving in the same community."
Many are moving from California to take advantage of the town's walkable amenities, including a private school, parkland and a brew pub, as well as close proximity to the studio. More than 200 homes have sold so far and demand continues to increase. A hotel and cinema are being planned as are nearly 1,000 more homes. In all, Cathy and his investors have plowed $430 million into the studio and town and it's estimated that figure will exceed $1 billion within three years.
He gives credit to the Georgia legislature for getting the ball rolling.
"It was a very bold and courageous move for our state legislature to use the tax incentives to leverage a tremendous industry to Georgia," he says. "It's a clean industry; it doesn't leave a big carbon footprint. It's also great for employment in Georgia."
Of his moviemaking involvement, Cathy says, "It's been a remarkable adventure.
"One of the things I learned [from my dad] is to have enough white space on your calendar and margin in your checking account that you can take advantage of unexpected opportunities."
---
Strengthening Society
At about the same time Cathy was investing in what would become Trilith Studios, his checking account enabled him to become an early supporter and momentum-building investor in the Westside Future Fund. Since then he's devoted significant leadership resources and philanthropic capital to the nonprofit dedicated to revitalizing these historic Atlanta neighborhoods.
Along with the challenges that accompany generational poverty, the Westside neighborhoods surround the world's largest consortium of historically Black colleges and universities. Many of Atlanta's Black academic, religious, political, business and Civil Rights Movement leaders – including Dr. Martin Luther King, Jr. – have called the area home.
Cathy says that while he was all for building the $1.5 billion Mercedes Benz stadium across the street from the Westside neighborhoods, the inequity was impossible to ignore.
"That is the most notorious zip code in the state of Georgia for homicides, for incarcerations, for drug and gang activity," he says. "Less than 45% of students graduate from high school in that community. It's just a devastated area and accentuates the tremendous inequities that we're seeing in society."
Cathy has challenged Atlanta business leaders to invest in the community and in 2018, he walked the talk by opening the neighborhood's first Chick-fil-A to help spur economic development and employment opportunities for residents. His and others' efforts are yielding some results.
"I'm proud to say that we're seeing terrific success," he says. "We've seen a tremendous drop in crime. We have some beautiful parks that have opened up, giving us the green space that we need and in a safe environment for children. We've got a lot of wind at our back."
The list of his involvement in other efforts to strengthen society is lengthy. In 2018, he floated the idea of the Midtown Connector that's currently gaining traction. It's an effort to unite the communities on either side of Interstate 75 that were divided when the highway was built. His proposal for a 10-block park for pedestrians and cyclists over the interstate from North Avenue to 10th Street is being seriously studied as a way to increase greenspace and improve traffic safety in the area.
As the 2019 chair of The Carter Center's Board of Councilors, he is a big supporter of the nonprofit's efforts to eradicate disease and promote peace throughout the world. "What they've done around the world – fighting poverty, fighting disease, fighting for free and open elections – and leveraging [Jimmy Carter's] position as a former U.S. president has absolutely maximized that for the benefit of humanity," he says. "I think we would all agree that he's the most successful former president we've ever had. I'm very inspired by him."
Cathy has also served on the boards of Eagle Ranch, one of the Southeast's largest residential children's programs dedicated to reuniting families; the Metro Atlanta Chamber; the Atlanta Committee for Progress; and the Georgia Aquarium. He's received numerous leadership honors, including the Zig Ziglar Servant Leadership Award, being named the Atlanta Business League's Herman J. Russell CEO of the Year, the Atlanta Business Chronicle's Most People-focused CEO honor and the African American Film Critics Association's Film Critic Advocate Award. But according to Groce, Cathy's biggest accomplishment is "the huge impact that he's had on the people that work for him – those individual lives.
"William T. Sherman one time said, 'An institution is simply the long shadow of a single person,'" Groce says. "I think you feel that with Dan, and I think he has that kind of impact. He sets up a model and a standard, which fits with his faith and his personal philosophy because he's following an example. He sees himself not as the guy at the top giving the orders but the guy at the bottom supporting everyone else."
Now that he's free of daily and weekly operational meetings at Chick-fil-A, he says he's going to enjoy being on his tractor, cutting grass on his farm south of Atlanta because he relishes seeing something being accomplished.
But he'll still have a hand in charting his company's future. He's going to encourage the next generation in the family business and continue to be part of Chick-fil-A's rapid growth.
Between showing up unexpectedly to sit-in with his trumpet at jazz gigs, flying his plane, hitting the road on his motorcycle with the Moo Cow Bikers and spending time with his growing family, he will have plenty to keep him productive and busy.
---
Shirley Frankin
Leader and Activist
Former Atlanta Mayor Shirley Franklin is a trailblazer who has devoted her time to civic betterment and creating opportunities for those in danger of being left behind.
The former mayor of Atlanta describes herself as "a retiree, like many across the city and state, who has stayed active in civic and business affairs." Accurate perhaps, but it hardly does justice to a trailblazer who made history as the first African-American woman elected to lead a major Southeastern city and whose time since leaving office has been spent as a college professor at Spelman College and the University of Texas; a leader of nonprofits, including the National Center for Civil and Human Rights; and a corporate director, who served on the Delta Air Lines board and has a current seat on the board for Mueller Water Products, a manufacturing enterprise.
Shirley Franklin, a Philadelphia native, took office in 2002 and served two terms as arguably the best-prepared mayor in the city's history, having worked in the administrations of two previous mayors, Maynard Jackson and Andrew Young. She was Young's chief administrative officer, responsible for most of the day-to-day operations of the office. She received the 2005 John F. Kennedy Profile in Courage Award from the Kennedy Presidential Library and Museum in recognition of her work in providing ethical leadership and restoring financial stability to the city.
"When I was born, when I graduated from high school, from college, I could not expect to be mayor of Atlanta, yet 20 years ago I was elected," she says. "Some of that I did, most of it I didn't. Most of it was groundwork that was laid by people I never met and never knew. It was Title IX, it was the Civil Rights Act, the Voting Rights Act. It was Ivan Allen, [mayor of Atlanta in the 1960s,] who I met but didn't really know – and his courage during the Civil Rights era. It was Grace Hamilton, [the first Black woman elected to the Georgia General Assembly,] and the courage she brought to the legislature. It was literally hundreds of people who laid the groundwork for that to be possible. I walked through an open door."
As mayor, she inherited an $82 million budget deficit and an office that had lost the public's trust. That required some tough calls. She confronted the mundane and the lofty with equal resolve. She cut 1,000 municipal jobs and pushed the city council to increase sales and property taxes. She undertook a $4 billion overhaul of the city's sewer system and formed a "pothole posse" to make quick street repairs, and she led a coalition of local leaders who raised funds to ensure that Martin Luther King Jr.'s papers, about to be put on the auction block, remained housed at Morehouse College, his alma mater. The Atlanta BeltLine Partnership was formed during her first term and construction on the international terminal at Hartsfield-Jackson Atlanta International Airport began during her second.
---
Civic Involvement
Drawing on an energetic blend of pragmatism and idealism, Franklin has remained engaged in the city's philanthropic and political life. She took an active role in the Atlanta mayor's race last fall as a staunch supporter of Andre Dickens, who was elected with more than two-thirds of the runoff vote. Although Dickens will face his own set of challenges, one crucial aspect of the job remains the same: "The most significant challenge for public officials is gaining and maintaining public trust," Franklin says. "It's something you have to live as a public official. If the public, businesspeople, civic leaders don't trust you, it will be very hard to take transformative steps and take initiatives that will actually transform the community.
"You have to be honest, have to be forthright and candid, have to be transparent, have to be hard-working, have to be knowledgeable, have to be persistent, have to have thick skin and not take things personally. You have to be objective."
And another prime requirement: "In today's world, you have to be innovative. What we did five years ago or 10 years may not be what works today."
Since leaving the mayor's office, much of Franklin's time and energy has been focused on civic betterment and helping create opportunities for those in danger of being left behind. A key example: her work with Purpose Built Communities, a nonprofit community redevelopment organization, established by Atlanta's venerable developer Tom Cousins with philanthropists Warren Buffet and Julian Robertson. The goal, she says, is "to help communities where there has been concentrated poverty," by replicating the work Cousins did in Atlanta's East Lake neighborhood that focused on mixed- income housing, with "cradle to career" education and community wellness components.
The organization has grown from the original East Lake model to projects in more than 25 cities. Franklin was executive chair from 2015 until 2020.
She also works with Volcker Alliance, an organization started by the late Federal Reserve Chair Paul Volcker, who personally recruited Franklin. It seeks to educate and train public administrators and promote best practices in government and higher education.
---
Social Justice
For the last ten years, Franklin has been chair of Atlanta's National Center for Civil and Human Rights. In that capacity, she is likely to get busier. The center has embarked on a $50 million capital campaign to expand its facilities and programs, a particularly timely endeavor in light of increased awareness of the need to address racial justice issues, which Franklin views in clear-eyed fashion.
"There's no question that we have much more dialogue about racial justice and gender and human rights today than we have had in a long, long time – in my lifetime," Franklin says. "I think the progress is that we are able to share experiences, look at our history – where there are strengths and weaknesses. People are galvanizing around solutions to age-old problems. I find that heartening and very encouraging. It's also very frustrating, because many of us would like to solve the problems overnight; and, unfortunately, it's been hundreds of years in the making, so it's going to take time. "We have to be persistent, and we have to be honest with each other about both what we're doing and what we need to do – and also how hard it's going to be to change course."
She believes, though, that ensuing generations are bringing the benefits of a broadened outlook to the struggle. "I'm encouraged that young people of all backgrounds are engaged – the very young, like elementary school children, but also college students and young professionals and people significantly younger than me."
Franklin grew up in a predominantly Black community. "Children today have access to multicultural information. It's not as foreign to them," she says. "It is hard, don't misunderstand. And there are many issues that seem intractable and impossible. And many opportunities that seem impossible to even take advantage of, because so much is going on. But the younger generation is better equipped to do that. The solutions can't be superficial."
Younger generations, she believes, are better able to use technology to aid them in finding those solutions. She jokes that when her generation says we need to be more interactive, more engaged, they are likely thinking of more town hall meetings. Younger people? "They think of how we can use technology."
She considers technology a powerful force to use in dealing with issues the new mayor faces, whether that's policing or the need for more affordable housing.
"Part of what we know about what's going on with police use of power is a result of the use of technology," Franklin says. "The incidents are not new. What's new is that we see it on video." Still, technology alone doesn't make the basic problems disappear. "You can't take away issues of poverty or gaps of wealth and education and employment, but you certainly can understand it and analyze it better."
As regards housing, "You have to apply that technology to a goal, which is to increase affordability. Then we have to define affordability. Who is it that's unable to live in the city because of the cost of living, cost of housing – what impact do low wages, COVID or childcare or lack of transportation have? Those are all problems we can solve. Affordable housing is tied to all of those things."
Whatever the issue, she says, "You have to start with the information – the research, the data, the history, the culture – then find opportunities and build solutions from there. The research might be anecdotal or anthropological – how we feel matters. Look at crime statistics: crime is up in some categories, not in others. But fear has quadrupled. That's how people feel, and that matters when you are trying to change direction. You can't take that out of the equation."
---
History Buff
Because she didn't grow up in Georgia, Franklin had to learn local history. "Atlanta is a land of opportunity and has been since the 1800s," she says. "Atlanta was founded as a railroad crossing and commercial center where goods and services were traded and sold. A significant thing about railroads – people are always getting on the train and always getting off, and when they get off, bringing new ideas." In Atlanta's case, "this led to the development of a culture that is open to new ideas."
Her appreciation of that openness has made her a cheerleader for the office of mayor and a champion of those she believes used it effectively to make the city better and create opportunities for Atlanta and Atlantans.
"Ivan Allen was a mayor," she says. "He was the only white elected official in the South who was willing to stand up and support the Civil Rights Act. Not a senator, a governor, a civil rights leader. He was a businessman who was the mayor, and that made a huge difference."
She cites Mayor William B. Hartsfield, "who stood up and said we need to do an airport"; Andrew Young, "who said we are an international city, we need to take advantage of that"; and Maynard Jackson, "who said we need to open the door for business to minorities and females." Undoubtedly, the new mayor's job is different from previous mayors', but he will have many more tools in his kit than she had 20 years ago.
"I am encouraged. Some people see this as a time of chaos – I think it's a time of change," she says. "And some of the chaos is a result of the resistance to change."
---
Past Trustees
2021
David Abney
UPS
Former CEO
---
2021
Juanita Baranco
Baranco Automotive Group
Co-founder, COO, Executive Vice President
---
2020
Robert Brown Jr.
RL Brown & Associates
President & CEO
Robert Jepson Jr.
Jepson Associates
Founder & CEO
---
2019
Frank Blake
The Home Depot
Former Chair & CEO
John Schuerholz
Atlanta Braves
Vice-Chair Emeritus
---
2018
Ed Bastian
Delta Air Lines
CEO
Paul Bowers
Georgia Power
Former Chair & CEO
---
2017
Duane Ackerman
BellSouth
Former CEO
A.D. "Pete" Correll
Georgia-Pacific
Former CEO
---
2016
Jim Blanchard
Synovus, Former CEO
Philanthropist
Muhtar Kent
The Coca-Cola Co.
Former Chair & CEO
---
2015
Alana Shepherd
Shepherd Center
Founder
Paula Wallace
Savannah College of Art & Design
Founder & President
---
2014
Arthur Blank
The Home Depot Co-founder
Atlanta Falcons Owner
Atlanta United Owner
Billy Payne
Atlanta Olympics Visionary
Former Augusta National Golf Club Chair
---
2013
Truett Cathy
Chick-fil-A, Founder
Author, Philanthropist
Herman "HJ" Russell
H.J. Russell & Co., Founder
Civil Rights Leader
---
2012
Tom Cousins
Cousins Properties Founder
Philanthropist
Andrew Young
Former United Nations Ambassador
Former Atlanta Mayor
---
2011
Vince Dooley
University of Georgia
Former Athletics Director & Football Coach
Sam Nunn
Former U.S. Senator
Nuclear Threat Initiative Founder
---
2010
Hank Aaron
Atlanta Braves
Baseball Legend
Ted Turner
Businessman
Philanthropist
---
2009
Bernie Marcus
The Home Depot Co-founder
Philanthropist
Marguerite Neel Williams
The Georgia Trust for Historic Preservation
Founding Trustee