Influential Georgians honored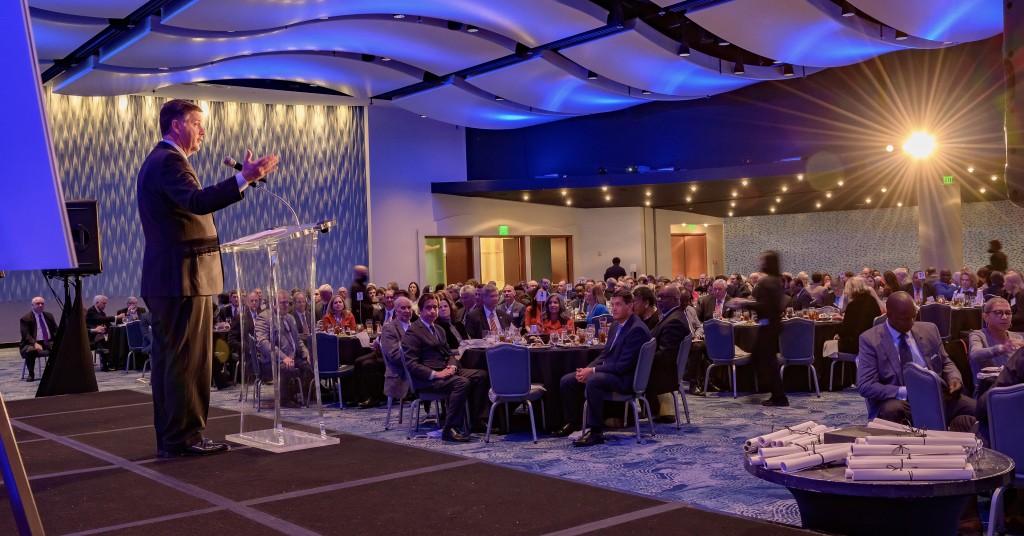 Nearly 400 of the state's movers and shakers and their guests attended Georgia Trend's annual luncheon this week honoring the magazine's 2022 Georgian of the Year, Hall of Fame inductee, 100 Most Influential Georgians (MIGs) and Notable Georgians. Held at the Georgia Aquarium, the event was a high-energy reunion after being canceled last year due to the COVID-19 pandemic.
New Atlanta Mayor Andre Dickens, one of this year's 100 MIGs, welcomed attendees and gave brief remarks about his view that the best leaders are servant leaders, which he said he strives to be.
The servant leadership theme continued throughout remarks by Hall of Fame inductee Doug Hooker, retiring executive director of the Atlanta Regional Commission, and Georgian of the Year Griff Lynch, executive director of the Georgia Ports Authority (GPA). Both men called out mentors, partners and colleagues who have contributed to their success. Lynch went on to refer to the University of Georgia football team, saying they would never have won a national championship without a full team.
Thanks to the GPA team, including the board of directors, 1,500 employees, the International Longshoremen's Association of maritime workers and others – along with a $1 billion – investment by the board — Lynch explained that on Tuesday there was only one container ship at the Savannah port. It's a startling turnaround from a few months ago when supply chain disruptions led to as many as 30 vessels queuing up to unload and load in Savannah. "That's not something any other port [in the nation] can say," he said about the reduced amount of port traffic.
Lynch also thanked the Georgia Department of Transportation, Georgia Department of Economic Developmentand elected officials for their support, saying all the partners throughout the state are part of a symphony that's "the beautiful thing about Georgia."
Learn more about Lynch, Hooker, the MIGs and Notables in this issue of Georgia Trend.
Photo 0f Griff Lynch at the Most Influential Georgians luncheon by Daemon Baizan
Do you follow us? Find us on Linkedin, Facebook, Twitter and Instagram.