Sports Desk: Getting it Done
How Atlanta became the football capital.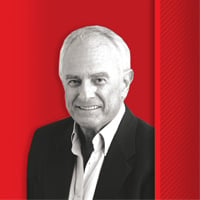 Atlanta is the football capital of the world!
Who says so? Gary Stokan, president and CEO of Peach Bowl Inc., for one. Stokan is a Pittsburgh native who played basketball at North Carolina State University – not the sort of credentials to turn your head when it comes to boasting about the status of a game that has become holy to many in the state and South, except that Stokan is no ordinary soothsayer and promoter. He has been around and can get things done as well as anybody who has ever called Atlanta home.
As a kid growing up in Pittsburgh during the sixties he lived on a hill with a park at the bottom of the neighborhood, where he played after school. Football, basketball, baseball, whatever was in season, Stokan played. That is where he developed a love of sports that would endure.
But it was basketball that became his ticket to a college scholarship via what was initially a walk-on opportunity at N.C. State, and, more importantly, a degree in business management. At first he planned to coach and teach, but ultimately, he chose a different career path: sports marketing.
This is a man who at the age of 29 was negotiating shoe contracts with basketball royalty including Larry Bird, Magic Johnson and Michael Jordan. He represented Converse when the company signed Johnson and Bird in the same year and was later part of the team at Adidas that tried to sign Michael Jordan. According to Stokan, Jordan loved Adidas and was willing to sign a $2.5 million contract that Stokan had put together. But Adidas wasn't willing to lay out that kind of money. Meanwhile Nike was close to bankruptcy but the company managed to sign Jordan and reaped $126 million from that contract in the first year. The rest is Air Jordan history.
The sporting goods marketing arena was a fruitful experience for Stokan, getting to know coaches and athletes who found his gentlemanly manner, integrity and square dealing refreshing.
But there is something else that sets Stokan apart. He has an indefatigable work ethic.
This was among the qualities he brought to Atlanta in 1998 when, tired of constant travel, he wanted to have more time with his wife, Tia, and his two young daughters. He became president and CEO of Peach Bowl Inc. and president of the Atlanta Sports Council. He had energy to burn, if not dollars, but he knew something about filling the coffers. And seats.
With an ultramodern, multipurpose arena (the Georgia Dome), abundant fans addicted to college sports, an active city and the world's busiest airport that could easily accommodate big-time sporting events, Atlanta only needed the right person to fill the arena and the calendar with showcase sporting events. This is what has happened on his watch since 1999: Peach Bowl Inc. events have generated an economic impact of $1.22 billon and $72.84 million in direct government tax revenue for the city of Atlanta and the state of Georgia. The Chick-fil-A Peach Bowl has been positioned as one of the best bowl game organizations in the country, making it one of the "New Year's Six" bowl games that rotate hosting the College Football Playoff semifinals. Contracts with Mercedes-Benz Stadium and Chick-fil-A run through 2025, with Chick-fil-A continuing to sponsor both the bowl and the Kickoff Game.
The Chick-fil-A Peach Bowl has achieved sellouts in 22 of the past 24 years and has distributed $251.3 million in payouts to the participating teams. The organization has also donated a record $57.9 million to charity. In 2019, Peach Bowl Inc. donated a record $20 million to Children's Healthcare of Atlanta to find a childhood cancer cure.
It was Stokan who originated the Kickoff Game, capitalizing on the football passion in the Southeast by matching top teams to start the football season, which quickly got network attention. Schools such as Alabama and Georgia opening the season in Atlanta brought healthy ratings – a recipe now copied by other stadiums.
Stokan and his team convinced the National Football Foundation to locate the College Football Hall of Fame in Atlanta. He created the Peach Bowl Challenge charity golf tournament, which has given $8.73 million for scholarships and charity. He elevated the Dodd Trophy, one of the leading college coaching awards, to national status. By the time this profile reaches print, he probably will have generated another idea or initiative that will enhance the financial health of Atlanta and the state, to say nothing of the acclaim that supports the notion that Atlanta is truly the football capital of the world.