South Fulton County: Changing the Narrative
Logistics, arts and quality-of-life amenities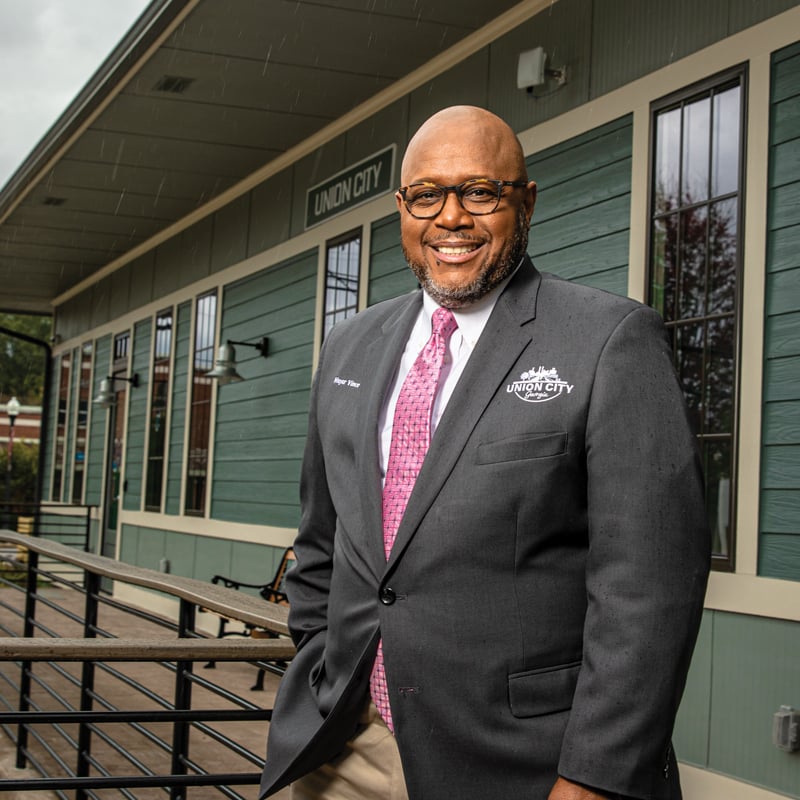 When your corner of the county is home to the world's second-busiest airport and is crisscrossed by most of the major interstates in Metro Atlanta, it makes sense that industries like distribution, fulfillment centers and hospitality would dominate the landscape. But what happens when people want to live and shop close to where they work? The answer: A new South Fulton County emerges.
The eight cities of South Fulton County – Chattahoochee Hills, the city of South Fulton, College Park, East Point, Fairburn, Hapeville, Palmetto and Union City – are playing up their proximity to the airport while expanding their community portfolios from job centers to live, work, play communities.
---
Parks and Rec
Union City can trace its roots as an industrial town back to 1908 when the Dixie Manufacturing Co., a producer of straight razor blades, called the town home. Today, the city is host to Amazon facilities, Procter & Gamble, a Walmart e-commerce fulfillment warehouse, Menlo Worldwide Logistics and ASOS, a British online fashion retailer that announced this summer it is investing another $100 million in its fulfillment center. Much of the funding will go toward increased automation, but the company expects to add new jobs in engineering and software development to its more than 1,000-employee roster.
Mayor Vince Williams estimates more than 12,000 jobs have been created in the city over the last four to five years.
"The biggest thing driving us right now is creating a robust parks and rec system here in the city," he says. "We just did a ribbon cutting for the addition of an upcoming skate park at the Highway 29 ballfields. Our young people spoke passionately about wanting a skate park, which should be completed in the next three to six months."
The city is also the recipient of 1,000 acres that is being cleared for walking paths and bike trails and there is discussion about using some of the parkland for riding all-terrain vehicles (ATVs). But that's not all.
The city hosted a ribbon cutting on a new depot in October, Williams says. "The new depot will create another space for citizens to come and hold HOA meetings and it will provide additional workspace and training space for city employees and fill a great void for where we are and what we're doing as we continue to grow and create additional amenities for the citizens."
---
Residents and Retail
Providing more amenities for residents is also top of mind for city administrators in College Park, where work continues on Six West, a 320-acre mixed-use development just west of downtown. The public-private project will include 2.3 million square feet of Class A office space, 1,700 hotel rooms, 700,000 square feet of retail and golf entertainment amenities, says Economic Development Director Artie Jones III. It will also add at least 1,300 new residences to the city.
"Six West was in the planning stages prior to COVID and when COVID hit, a lot of funding strategies had to change," says Jones. "We had to find alternative ways to fund the infrastructure, all the roads, streets, curb and gutter. Now that things are changing, we seem to be moving those infrastructure projects forward and we're starting to close on real estate deals for the development."
Six West will fill a couple of serious gaps on the southside of Atlanta, Jones says. "There's a significant drought of retail on the southside of Atlanta," he says. "College Park is considered to be a food desert. We have to go to East Point and the city of South Fulton to get the type of groceries that we need."
In years past, what College Park hasn't lacked was visitors, with 36 hotels operating within its 11.1 square miles. It's a sector that was hit particularly hard by last year's pandemic shutdowns. Jones says hotel occupancy rates dropped from 89% to 8% at their lowest point.
"Those numbers have, of course, gradually increased to about 56%, creeping up 2 to 3% a month, but still historically low," he says.
College Park is also home to Sysco Foods, a wholesale restaurant food supplier, and its 880 employees, as well as the Federal Aviation Administration office (the largest outside of Washington, D.C.) and its more than 1,300 employees. The city is also home to professional sports teams, including the NBA G League's College Park Skyhawks and the WNBA's Atlanta Dream. It is also the birthplace of popular musicians like rappers Ludacris and 2 Chainz and singer, television personality and actress Kandi Burruss.
"College Park is a very diverse community and a very welcoming community," Jones says.
---
Arts Destination
Located at the "back door" of the airport is the city of Hapeville.
"The airport is the engine that keeps our doors open and our region as strong as it is," says Mayor Alan Hallman. "I jokingly refer to Hapeville as a small town with a big airport."
Hallman says he and the city council are very strategic when it comes to growth, focusing on maintaining the integrity of the community's neighborhoods.
"The neighborhoods are the heart of our community," he says. "We had an abandoned gas station that the owners deeded to the city probably four years ago, that will soon be home to the Atlanta Printmakers Studio, which is relocating here from Atlanta."
The former 1950s Amoco gas station is being transformed into a 3,000-square-foot studio featuring a printmaking museum, gallery, store and outdoor space.
"This is a group that keeps alive old printing techniques," Hallman says. "It's the arts for the printing world. We reached out to them because of our focus on the arts and it was an opportunity to revitalize a piece of property that wasn't attractive."
Hallman says the addition of the studio builds upon the city's burgeoning arts scene and supports its rise as a destination for the arts.
Hapeville is also a destination for the Porsche Experience Center Atlanta, part of Porsche's North American headquarters. The company just opened a new service center onsite, which will be a model for the Porsche brand.
"Before COVID, there were 40,000 visitors a year that came for the Porsche race car experience," Hallman says. "They're talking about a track expansion, which we're very excited about. Again, this makes Hapeville a destination."
Like the musicians native to College Park, Hapeville has its own famous connection: Truett Cathy, founder of Chick-fil-A. In 1946, Cathy opened the Dwarf Grill in Hapeville, birthplace of the original Chick-fil-A chicken sandwich. The company is reconstructing an 11,324-square-foot restaurant on the site which will reflect the history and evolution of the Chick-fil-A brand, Hallman says.
"Our tagline is, 'A community with a heart,'" he says. "It sounds corny, but it speaks volumes to who we are. In Hapeville you really do know your neighbors, and to me that small-town charm that we've managed to hold onto in the midst of a metropolis like Atlanta, to me that's the secret sauce that we've still got."
---
Growing Fast
Tarika Peeks, director of planning and zoning for the city of Fairburn, thinks her community also retains its small-town charm, but its fast-growing population has the city touting its proximity to Atlanta and the airport as points of pride.
"You can be anywhere in 30 minutes and to the airport in 10 minutes," she says. "'Situated to succeed' is our tagline. It speaks to our geographical location."
According to the 2010 Census, there were 12,950 full-time residents in Fairburn. The 2020 Census shows the population at 16,768.
"By 2040, we're expected to be around 21,570 residents," Peeks says. "That's a growth rate of 37.2% over 20 years, from 2020 to 2040."
Highway 74 is the main commercial corridor in the city and where several new businesses have recently opened, including a Piedmont Urgent Care and an IHOP.
"We didn't have medical services in the city before," Peeks says. "The closest medical facilities were Piedmont Fayette or Piedmont Palmetto. Under construction now is Iron Horse Self-Storage and a Chipotle. They both should be open this year."
With three new subdivisions also under construction, the new retail and dining options are welcome additions, Peeks says, noting about 980 new single-family homes have been built in the city since 2015.
Much like their neighbors 14 miles north in Hapeville, Fairburn is looking for opportunities to bring people together through the arts. In the case of Fairburn, the focus is on public art in the form of murals.
"We did a call for artists in July and made the artist selection in August," Peeks says. "A new mural [went up] in October in the historic district on a wall by the passenger depot on Southwest Broad Street."
The city has also created a space to gather between the municipal court building and the Southside Theater Guild building, adorning the alleyway with string lighting between the buildings, flower- filled planter boxes and temporary art.
A $5 million streetscape project from Strickland to Malone Street includes sidewalks, landscaping, trees and new benches and seeks to create a more pedestrian-friendly downtown. Additionally, a small plaza area was created across from Landmark Christian School under the Highway 29 underpass, with benches to encourage people to gather.
---
Creating Jobs
East Point Economic Development Director Maceo Rogers thinks his city should be known for its proximity to the airport, too, as well as its access and connectivity.
"East Point has a lot of valued resources, including [shopping center] Camp Creek Marketplace. It continues to thrive and has not skipped a beat," Rogers says. "It's the city's No. 1 revenue generator."
The local economy includes logistics, high-tech, manufacturing, distribution and service industries, all of which continue to be job creators, Rogers says.
The Home Depot is on the verge of opening a 650,000-square-foot fulfillment center, which represents a $70 million investment and 348 jobs.
"We're very excited about that particular project," he says. "These are great-paying jobs, and it will do a lot for employment opportunities for those who are looking to work."
In the soft stage of development is a 250,000-square-foot, $400,000 Microsoft data center in the Southmeadow Industrial Park that will create 30 to 50 new jobs. Announced earlier this year, the project is part of Microsoft's East US 3 data center region that will span East Point, Palmetto and Douglas County.
"It's a significant project that's coming our way and we're very excited about it, without a doubt," Rogers says. "It's not under construction yet. We're talking to them about going through the planning and zoning review processes."
There's also a planned 30-acre mixed-use development in downtown that will feature greenspace, retail, some commercial and in-town living options.
"The East Point Exchange project is about creating spaces for people to connect, to gather, to shop and spend time and also work," Rogers says. "The perception is in many cases that development has been lagging on the southside [of Metro Atlanta] in terms of what you would see in other areas, and we are changing that perception."
The city also had a good time last summer with a series of free concerts called Wednesday Wine Down in The Point that brought people outside for great music. The popular summer concerts included local hip-hop stars Goodie Mob – featuring Big Gipp, Ceelo Green, Khujo and T-Mo; R&B artists Silk, Melvin Riley & Ready for the World, Regina Belle, Angie Stone and Freddie Jackson.
East Point continues to be a hotbed for Georgia's film industry, with movie scouts constantly scoping out the old city hall, the old auditorium and the city's old library, all of which were erected in the early 1930s and are listed on the state's Historic Register. The movie Hidden Figures as well as the Netflix series Stranger Things filmed in East Point.
"The city captures the rental fees for buildings, as well as parking lot fees and additional rental fees for things like chairs, tables, desks, then there's the ripple effect of businesses and residents who lease space out," Rogers says. "The house in the new The Wonder Years is the house of an East Point resident. There's a tremendous economic impact."
---
Expanding Distribution
Palmetto Mayor J. Clark Boddie can remember a time when his city didn't issue a single building permit, but times have changed. Microsoft's second $400 million data center in South Fulton County, this one in Palmetto, is part of a hot streak in industrial growth.
"We have three distribution facilities that are built and another five, not counting Microsoft, that are due to start after the first of the year," the town's former police chief says. "That kind of growth and that kind of employment brings a lot of jobs to the area and the residential growth follows that."
There are two "pretty good- size subdivisions" in the works, Boddie says, both a mixture of single-family homes and townhomes with some apartments. One development consists of 841 units, while the first phase of the other development consists of 1,800 homes, with a final build-out number of 5,400 units.
"The next growth spurt we expect will be in the commercial area," he says.
Palmetto has also caught Hollywood's attention. The new Starz series Heels was shot in Palmetto's old cotton mill, among other spots. While residents grumble when streets are closed due to filming, local businesses benefit from the inconvenience.
"They use a lot of the local businesses to shoot outside and inside, and they pay them quite handsomely," Boddie says. "They've also used local churches as staging areas to put their cantinas and park their automobiles. I would say it was a pretty good shot in the arm as far as economics go."
---
A New Downtown
While residential growth followed job growth in Palmetto, there is another way for a city to grow: annexation. In June, the city of South Fulton annexed most of the unincorporated area of Fulton Industrial Boulevard, adding about 800 businesses into the city limits, according to Economic Development Director Christopher Pike.
"Fulton Industrial is the largest industrial corridor east of the Mississippi River, so that has been a big transition for us," Pike says. "Everything south of I-20 was annexed into South Fulton."
While South Fulton's sister cities work to revitalize and re-imagine their downtowns, the city of South Fulton recently released preliminary plans for creating a town center of its own. The town center will be a 600-acre development off Camp Creek Parkway. In a series of town hall meetings, residents expressed a desire for fine dining restaurants, specialty retail shops, more grocery store options, opportunities for recreation, movies, bowling and Top Golf-like entertainment, as well as the potential for downtown living.
"Right now, it's just called 'town center,' but I'm sure it will have a fancy name before it's all over," Pike says.
---
Protecting Land
With residents across South Fulton County asking city leaders to make their communities more live-, work- and play-friendly, there is a community nestled in the southwestern corner of Fulton County where that is the only way of life.
"Our zoning permanently protects 70% of our land mass as forest, field, farm and park basically," says Chattahoochee Hills Mayor Tom Reed. "With some very limited exceptions, the only kind of development we allow is mixed-use, walkable, town center-style development."
Reed says his town looks and feels a lot like Alpharetta did in 1970, which is to say there's not much there. But where urban sprawl has consumed what was once farmland and corner convenience stores have replaced churches, Chattahoochee Hills and its 40,000 acres is, "mostly nature with development, not development that keeps a park somewhere."
The mayor lives in Serenbe, a 1,000-acre tract of land, only 300 acres of which will ever be developed. The community consists of homes, restaurants and businesses, including "a great wine store." There is a community supported agriculture program, and of course, a local farmers market.
"The best kind of economic development is mixed-use, town center- style and it also creates the best quality of life," he says. "We will end up with thousands of acres of public parks and thousands of acres of working farms with little towns plopped in the valley."
Whether offering meals for first responders, hosting COVID-19 testing and vaccination sites, providing grants to struggling small businesses or converting downtown parking spaces into "parklets" for more outside dining options, the cities of South Fulton County are serving their citizens in new and unique ways, and in the process, changing the narrative on the southside.