Kids' Care Zone
Georgia's pediatric hospitals specialize in treating pint-sized patients.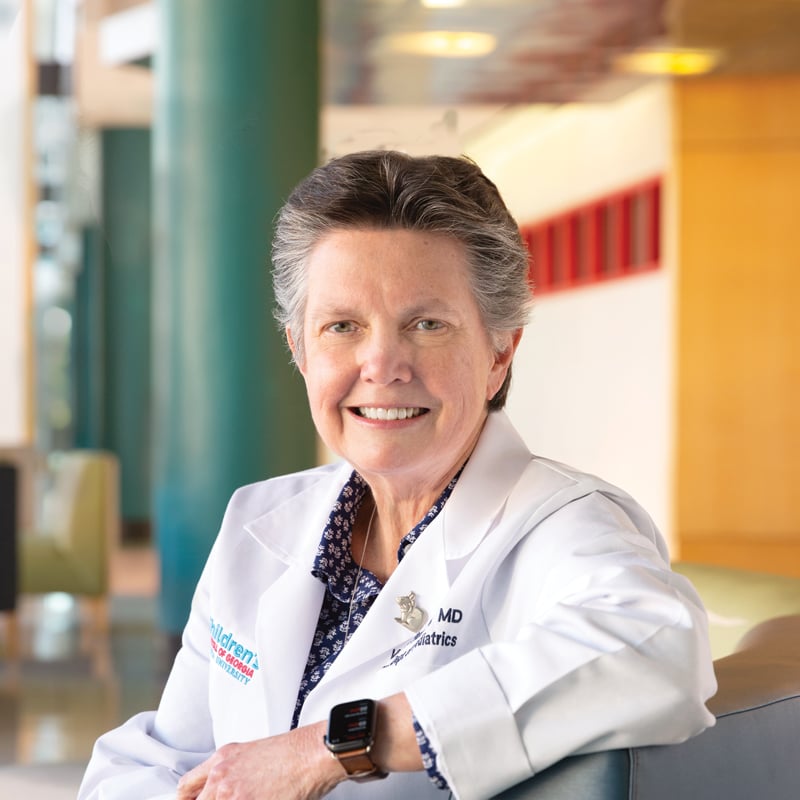 In just two years, the number of pediatric hospitals in Georgia doubled, from two to four. In 2019 Atrium Health Navicent's Beverly Knight Olson Children's Hospital opened in Macon, and in March 2021 Memorial Health's Dwaine and Cynthia Willett Children's Hospital of Savannah opened its doors. They joined Children's Healthcare of Atlanta, which is itself in the midst of building the new $1.5 billion Arthur M. Blank Hospital, and Children's Hospital of Georgia, part of the Augusta University Health System.
Of course, the new freestanding hospitals were years in the planning, fundraising and construction phases. But they provide dedicated pediatric and specialized care to regions of the state where it is greatly needed. It's hard to overstate the difference it makes to a parent – and a child – to be able to drive even an hour or two for treatment versus having to relocate the whole family to another city and stay there for the duration.
"Having to bring your child to the hospital for any reason is already a stressor," says Dr. Bradley Buckler, physician-in-chief at the Savannah children's hospital. "Not having to travel to other cities to get the care you can get [close to] your home and support network is vitally important." And these hospitals are designed with kids and their families in mind, from the largest diagnostic machines to the smallest details of color and furniture. They offer services like access to child life specialists, pet therapy, play areas, family spaces and even computer workstations, in addition to pediatric subspecialists ranging from cardiologists to oncologists.
"Children are special – they're not just small adults," says Delvecchio Finley, president and CEO of Atrium Health Navicent. "They have different needs and we have these amazing healthcare professionals who, from the design of our facilities through the workflows to the care we offer, both clinical and diagnostic, are uniquely focused on doing what's in the best interests of the kids, guided by the best practices of pediatric care."
At Children's Healthcare of Atlanta, they call it the pediatric differential. "Everything we do at Children's is about the child and their family," says Dr. James Fortenberry, chief medical officer. "It's really important. As a pediatrician, one of the first things I was taught was that you really have two patients: You have the child and you have their family."
When designing the new hospital in Savannah, the team held focus groups with families and kids to ask what was important to them. Among the answers were having a dedicated space in the room where they weren't constantly having to move to accommodate the care team, having workstations so caregivers could continue to work remotely when possible, and being able to find their way around easily.
That last desire led the hospital to create a wayfinding system that would be the envy of any building: Each unit has a color and a theme. As families come into the hospital, they see the "tree of many colors" with color-coded lines that start at the tree and run all the way to each unit. "Say you're going to the pediatric emergency department," says Heather Newsome, the hospital's administrative director. "We can tell our families, 'You're going to the River Street unit, which is the ED, and you need to follow this blue line all the way through.'"
The Memorial Health children's hospital chose a theme to run through the building: All Things Savannah. Thus, the River Street unit, and others such as Tybee Island for the pediatric intensive care unit (PICU). The theme arose from another focus group, this one with the care teams. "They really saw this facility as being a community asset, so it was important to us to tie it back to Savannah," says Newsome. Kids may be most interested in the boat settled in the outdoor healing garden, which features an interactive experience letting them drive the vessel through the coastal waters.
"A big part of a child's healing process is how we can get them back to some sense of normalcy sooner rather than later," Newsome says of the garden, as well as rooms that are set up to encourage kids and teens to play and have fun.
That focus on the patient experience isn't unique to pediatric hospitals, but it reaches its zenith there. The Atlanta hospital's new campus will have kitchenettes, family lounges and washers and dryers on every floor. The first-in-the-nation Seacrest Studios (funded by the Ryan Seacrest Foundation and already operating at a current facility) will continue to teach kids about the world of radio and TV broadcasting while allowing them to introduce songs and even perform. Outside will be a one-acre-plus great lawn for games and activities and 20 acres of green space with three miles of trails. "We know the importance of nature in healing," says President and CEO Donna Hyland. "And hopefully we can host some events so that kids will come to the hospital when they're not sick, so they'll think this is a friendly place. It's a serious place, but we want it to not be scary for kids or families."
Macon's hospital uses a music theme (a nod to the city's history) and even Children's Hospital in Augusta, opened in 1998, designed its facility with input from parents. Including things like trundle beds so both parents or caregivers can stay overnight with their kids and abolishing visiting hours in almost all units "were unheard of at the time," says Dr. Valera Hudson, the facility's pediatrician-in-chief. The Augusta Health System was among the first to adopt patient- and family-centered care, she adds.
---
Consolidating Clinical Services
The benefits of a hospital just for children go beyond the design, as important as that is. There are advantages to having all services under one roof, says Dr. Edward Clark, medical director of the Beverly Knight Olson Children's Hospital and chair of the department of pediatrics at Mercer University School of Medicine. Both medical centers in Macon and Savannah previously had pediatric hospitals-within-a-hospital; but even though entire floors were dedicated to kids and pediatric subspecialists from endocrinologists to cardiologists were on staff to provide care, children still had surgery in adult operating rooms and got imaging tests in the same departments as grown-ups.
Now the Macon children's hospital has four ORs for pediatric surgery and three pediatric surgeons on staff and is recruiting for another. "There's less patient transport throughout the whole hospital, so you decrease the risk of problems or complications just with the transport," Clark says.
The hospital is now able to have a 24/7 pediatric emergency room with a dedicated pediatric entrance (it was part of the adult ER before) and has expanded from about 2,500 square feet to 15,000, says Dr. Mitch Rodriguez, neonatologist and business development director. The neonatal intensive care unit (NICU) went from an open-bay 17,000 square foot setup to 50,000 square feet with private rooms, so parents can "basically be there as long as they want," says Rodriguez. "They have the privacy they need to be there with their child." Parents also can get updates via the EASE app, which "allows a nurse at the bedside to communicate with parents multiple times a day," Rodriguez says.
And as the only pediatric hospital in Middle and South Georgia, its reach extends far beyond the walls. A partnership with Phoebe Putney Memorial Hospital sends pediatric endocrinologists and surgeons to Albany (both in person and virtually). So, for example, patients can do their pre-op visit in their home city, travel to Macon for the surgery, and then do a post-op visit from home as well. The Macon children's hospital also offers pediatric neurology in Albany through telemedicine. "We feel strongly that … we need to partner with other hospitals, other communities in the area," Rodriguez says. "It's a large geographical area with transportation being a problem for families."
In similar fashion, a partnership with Levine Children's Hospital in Charlotte (part of the Atrium Health System) allows the Macon hospital to consult via telemedicine with pediatric infectious disease specialists and pediatric psychiatrists in North Carolina, filling a gap in Middle Georgia. The Savannah children's hospital also has four pediatric operating rooms, and two induction rooms that allow a parent or caregiver to be present without wearing a gown when their child is given anesthesia before surgery. It's often a stressful experience for children and parents, and being together helps relieve everyone's anxiety. "They still look like mom or dad to the child," says Newsome. Parents and kids both appreciate an MRI with surround sound and full video capabilities, so kids can watch movies while the scan takes place. In fact, some parents appreciate it so much that Buckler says they have told him they'd like to be able to use that MRI scanner and watch movies, too. In August, the hospital launched a pediatric and neonatal transport service for the region, so that patients at referral facilities can be moved quickly to Memorial when needed. "It really is about how do we continue to support our region in children's services, what is next, and how do we keep kids here in our area," Newsome says.
Children's Healthcare of Atlanta may seem to already have an abundance of offerings in clinical care, but the new campus will bring such innovations as a GMP (good manufacturing practices) lab that can provide state-of-the-art cell therapies and a 3D printing lab that can create implantable devices to treat or correct congenital problems. "We're designing it with the future of medicine in mind," says Hyland. The new hospital will also be the only level-1 pediatric trauma center in the state.
---
Subspecialties and Research
The Atlanta and Augusta facilities are the largest and second-largest pediatric hospitals in Georgia and the ones that offer fellowships (training in subspecialty care, like pediatric oncology or hematology). They train the largest number of pediatric residents in the state, and both offer the highest level NICU and PICU care in Georgia. Together these hospitals treat some of the sickest kids and the ones with the most challenging conditions.
"Many children with chronic diseases require more than one specialist, and really require a team that is more than just the physicians but also other healthcare providers such as respiratory therapists, dieticians, physical therapists and [others]," says Hudson. "Providing those comprehensive programs gives them a more holistic approach rather than seeing a physician in isolation for their care.
Training pediatricians, subspecialists and other healthcare providers such as pediatric nurses "is very much a core mission for us, assuring the workforce for future healthcare in Georgia," she says. Not only is that crucial to the lives of the state's children, it's also important for Georgia's economy. "Part of the infrastructure and support that's needed to attract the best workers is to have access to world-class healthcare for their families," Hudson says.
The Augusta children's hospital has continued to expand its programs in the midst of the COVID pandemic, adding faculty and positions to its pediatric heart program and recruiting a pediatric cardiothoracic surgeon in 2020, and bringing on a new chief of pediatric hematology/oncology to establish a pediatric bone marrow and stem cell transplant program.
The hospital is also in the early stages of creating a pediatric behavioral health and wellness center. "We're eager to have that fully developed because the mental health needs were already great and the pandemic has only exacerbated that," Hudson says.
With three hospitals in Atlanta, three research university partners as well as a partnership with the CDC, doctors at Children's Healthcare often combine the bench (lab) and the bedside (clinical care). Through its partnership with Emory University, the pediatric health system was tackling COVID even before the surge that hit kids in fall 2021.
Dr. Evan Anderson, an attending physician at Children's in Atlanta and associate professor of pediatrics and medicine at Emory University School of Medicine, led the clinical trial of the Moderna vaccine at Emory for kids ages 6 months to under 12 years and has been an outspoken advocate for vaccinating children, says Fortenberry. (Anderson also led the earlier clinical trial for adults at Emory.) "Completing that connection from infancy to older age is really key to stopping the pandemic," Fortenberry says.
Dr. Wilbur Lam, also a PhD, is a pediatric hematologist and oncologist at the hospital's Aflac Cancer and Blood Disorders Center and an associate professor of biomechanical engineering at Georgia Tech, another of the facility's research partners. With $54 million in grants from the National Institutes of Health, Lam is one of three principal investigators leading a partnership of Children's, Emory and Tech in validating and verifying COVID tests to help determine which ones should get additional federal support. Children's Healthcare established a testing site early in the pandemic that helped families get their kids tested and also provided samples for Lam's research.
The Atlanta hospital has also participated in a number of studies investigating MIS-C or multisystem inflammatory syndrome in children, a rare but potentially dangerous complication that affects some children after a COVID infection. And thinking of the future, the new hospital will have a special care unit that can treat kids with infectious diseases. "There will always be new infections for us to deal with," says Fortenberry.
The Beverly Knight Olson Hospital in Macon is thinking about the future, too, as it recruits two pediatric nephrologists. It's especially important for the pediatric hospitals to continue to add services and subspecialists in critical areas and to partner with hospitals in underserved parts of the state because, says Rodriguez, having access to care closer to home means that kids actually get care. "We always thought that if we weren't able to provide the service, the families would go to Augusta or Atlanta," he says. "We found that's not necessarily the case. If families aren't able to get the care locally or nearby, they may sometimes go without care altogether."
Each of Georgia's pediatric hospitals considers it their mission to care for kids in the community, with programs and partnerships outside the walls that focus on wellness as well as treatment. Finley calls it a "health-promoting ecosystem" that involves efforts like nurses working with schools to promote healthy behaviors.
But if and when a child does come through the doors, these hospitals hope the reaction will be like the one Buckler relates in Savannah. "We have kids who, when we discharge them, they're actually a little sad to leave the hospital," he says. "You want them to be happy to go home, but also really, really happy with the care they've received."