Game On
How Georgia has become a major player in Esports.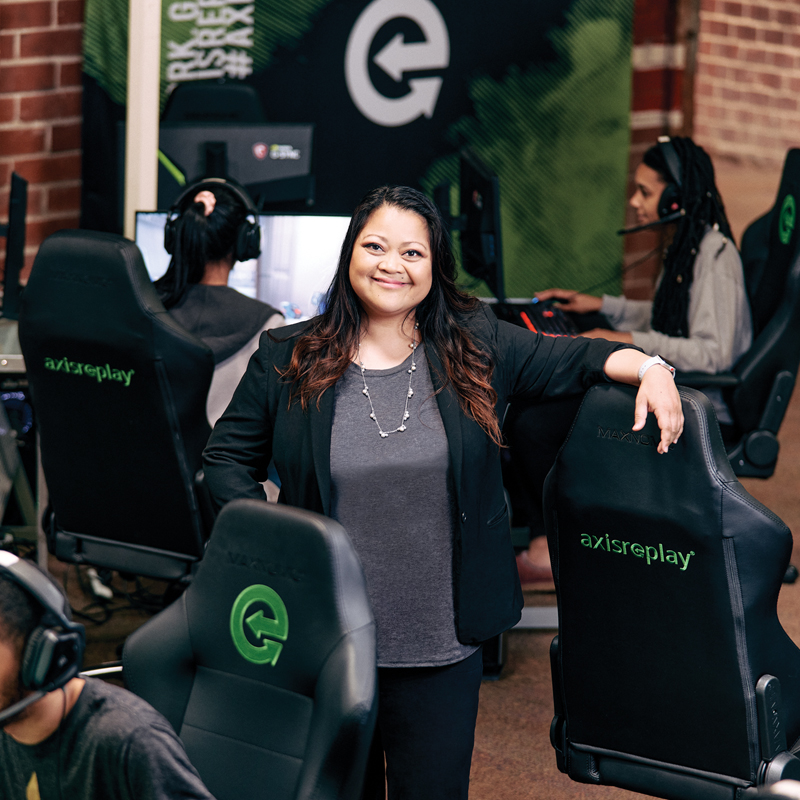 Remember when we used to think of video games as a solitary activity or one where a few friends play together virtually for fun? Certainly those scenarios still exist, but today video games have emerged from the sidelines to become the sport of the century.
Competitive electronic gaming – esports – is fueling a global market valued at more than $1.08 billion. Esports competitors train on specific games in pursuit of millions in prize money. And the appeal of esports now rivals that of traditional sports like soccer, football, baseball and basketball. Worldwide, 474 million viewers are expected to watch their favorite esports competitors play this year on streaming services like YouTube and Amazon-owned Twitch, and even on cable TV with TBS broadcasting its own Eleague.
As global esports growth has exploded, Georgia has become a winner and Atlanta is being called the nation's esports capital by some enthusiasts, including the Georgia Department of Economic Development (GDEcD). According to GDEcD, digital entertainment is a $550 million industry in the state, responsible for more than 12,000 direct and indirect jobs.
"Georgia, at least in my mind, [is] going where nobody has been yet," says Asante Bradford, GDEcD industry engagement manager. "And now gaming and film and TV are coming together. We've been waiting on this moment."
He cites three reasons for the state's esports dominance: the Georgia film tax credit legislation enacted in 2005 that provides incentives for game publishers and broadcasters, the availability of skilled talent and the quality of life here, which includes the relatively low cost of doing business. "The creative talent is huge," he says. "That's probably moved into No. 1, past the tax credit now. And then, especially when we're recruiting outside of Georgia, quality of life is huge."
Andrew Greenberg, executive director of the Georgia Game Developers Association (GGDA), adds a further explanation for the state's burgeoning esports industry. "In addition to having great talent here, we're one of the very few places in the world with a complete esports ecosystem," he says. This ecosystem encompasses game creators, professional players, top-tier livestreaming companies, venues for gamers, world-champion college teams, varsity high school teams and programs for youth at middle schools and recreation centers.
---
Making Magic
GGDA is a nonprofit membership association for corporations, professionals and students who have an interest in electronic game development in Georgia and the organization's growth has paralleled that of the industry in the state. When GGDA launched in 2005, it had seven members; today its membership roll has swelled to nearly 600. "At the start of 2005, [there were] five game studios in Georgia with [fewer] than 40 employees," Greenberg says. "Now there are more than 160 game development and related studios around the state, with 4,000 employees earning an average of $70,000 per year."
Game developing studios and publishers create, acquire and distribute new games and often fill multiple roles within the esports ecosystem. For example, game developers might also form leagues and organize tournaments for their own games' competitors.
Founded in 2005, Hi-Rez Studios is Georgia's largest game developer with about 400 employees at its Alpharetta headquarters and another 50 in the U.K. and elsewhere. The three games it produces in Alpharetta are SMITE, Paladins and Rogue Company, with an estimated 100 million people worldwide playing these games on platforms like Xbox, PlayStation, Nintendo Switch and personal computers. The company is currently developing games for mobile devices.
Alex Cantatore, Hi-Rez brand director of live games, says game development "is this crazy combination of tech and art and creativity. Having the right people to create that magic and define the fun is not easy, and Hi-Rez is very fortunate to have created three games that have drawn really large audiences and [that] people fall in love with."
Hi-Rez games are free to play, which is one of the things that differentiates the company. It earns revenue from players purchasing in-game upgrades or costumes for characters. "The vast, vast majority of our revenue comes from people who choose to buy cosmetic costumes for their characters, because they want to look different than the normal character looks," he says. "They want to make the characters their own and show off their style."
Along with creating games, Hi-Rez operates esports competitions for players of all skill levels. The company has an in-house entry-level league and a mid-tier league called the Challenger Circuit that is semi-professional and feeds into its top professional league, the SMITE Pro League. Players from all over the world move to Atlanta to compete in this elite league, which has eight teams and a total of 48 players. The end of each competition season culminates in a world championship event Hi-Rez has hosted since 2015 at the Cobb Energy Center.
Before the pandemic forced Hi-Rez to cancel its in-person championship event this past January, the company worked with the Cobb County Commission and the Convention and Visitors Bureau to accommodate fans. "We had basically two or three hotels completely booked with people who were coming to attend the event," says Cantatore. "It was going to be 4,000 people and 500 of them were local. It was going to be a sellout crowd."
He says there are no live events planned at this time but the hope is that 2022 will see a return to in-person events. "It's great for not just the players to play in front of a live audience, but for all the fans to meet up from around the world, to come out and meet people that are as passionate about this game as they are," he says. "And for our developers, honestly, to meet with these super-hardcore fans, and feel the love and the passion, there's something really special about the feel that occurs around these esports events that I think we're all really missing and looking forward to getting back to."
---
Social Opportunities
For community competitions, Hi-Rez has occasionally partnered with Axis Replay, a high-tech entertainment and event facility for video games and esports. The in-person venue was founded in 2019 by CEO Allie Young as a place where gamers could gather socially and play side by side. As a gamer herself, Young says the experience of playing next to friends, over beers, and having fun was what gave her the idea for the startup. "We were able to high-five each other and the vibe from that was just incredible," she says. "I equate it to [going] to a Braves game or a Hawks game or Falcons game. Why do 70,000 people go to the stadium to watch a game instead of watching it at home on their TVs? It's the same thing with video games – humans are social."
Unfortunately COVID necessitated a temporary shutdown for the venue that hosted 160,000 people playing video games on state-of-the-art equipment in 2019. She says those customers, who paid a membership fee, spent an average of 2.5 hours in the 12,000-square-foot facility near the Atlanta BeltLine.
"When we closed our doors, we knew that we needed to make some pretty quick pivots if we were going to make it through," she says. "So we immediately converted [previously scheduled] events into livestream events." Included were a fundraiser for HBCU (Historically Black College and University) esports, a virtual prom event and a livestream concert for last year's Juneteenth holiday that sold 35,000 tickets.
She says the company name reflects its position at the axis of esports, entertainment and traditional sports, having investors that include a pro-football Hall of Famer and a Grammy-nominated musician. However, the focus remains on catering to the average gamer. "You know, 67% of the U.S. population plays video games," she says. Most aren't professional players, just like folks who go to Topgolf (the golf-focused entertainment spot) aren't typically professional golfers. She says Axis Replay customers are 24-to-44-year-olds, about evenly split between men and women.
The venue is open on a limited basis now for private events like tournaments and fundraisers, but Young expects it to fully reopen to the public soon. Future plans include expanding to other cities, which reflects the success of her idea.
"As a female minority entrepreneur in an industry that's very progressive and innovative, it's been a lot of fun," she says. "And I'm super appreciative of how Atlanta and Georgia have supported our efforts."
---
Franchise Fever
Like the pro athletic teams the city supports and promotes, Atlanta has become home to four professional esports franchise teams. These teams are part of franchised leagues that limit membership and require a big investment buy-in. Players are salaried and bound by contracts. (Think Matt Ryan of the Falcons.)
According to the Atlanta Esports Alliance, a nonprofit comprised of local leaders dedicated to furthering the region's esports dominance, three pro esports franchise teams sprang up in 2018 and one was added last year.
The Atlanta Hawks got into the game with Hawks Talon GC, which competes in the National Basketball Association's 2K League, and Atlanta United began to field a team to play in the eMLS (Major League Soccer) League. Atlanta United's team features a 17-year-old Brazilian esports competitor who was ranked No. 1 in South America last year.
Media, communications and automotive company Cox Enterprises also caught the fever and partnered with Province Inc., Georgia's largest esports investor, to form Atlanta Esports Ventures. The partnership now owns and operates two teams: the Atlanta Reign, which competes in the Overwatch League against 19 other city-based teams across North America, Europe and Asia; and the new Atlanta FaZe that takes on 11 North American and European teams in the league formed for the world's biggest video game franchise, Call of Duty. Seven players from the U.S., U.K., Finland and South Korea make up the Atlanta Reign while the Atlanta FaZe has five Americans on its team.
Cox entered into the esports franchises to further its goal of bringing more cutting-edge technology and culture to Atlanta and the metro community, says Matt Kogan, senior manager of strategy and corporate development. "Atlanta is an amazing city and the perfect fit for the rapidly growing esports industry," he says. "[It's] already a great sports town and has shown the capacity to welcome an expansion sports team with open arms, as seen in the rapid ascent of Atlanta United. We believe esports is the logical evolution."
---
Boosting Skills
The esports team action extends to colleges, universities, high schools and some middle schools in the state, and many of these educational institutions offer courses and degree programs to train students for esports careers.
GGDA launched the Georgia Esports League in 2017 to enable varsity college teams around the state to compete for internships at video game studios as well as scholarships. The league is open to public universities, technical schools and private colleges, and hosts tournaments throughout the state in addition to a state championship. Greenberg says more than 20 Georgia colleges are participating, and the league is the only one of its type in the U.S. Georgia Southern University, University of West Georgia, University of Georgia, Georgia State University and Savannah College of Art and Design (SCAD), among others, have very competitive varsity and club teams, he says. In fact, SCAD's student center in Savannah boasts a dedicated esports arena with three dozen gaming stations and comfortable seating for fans.
According to Greenberg, at least 21 colleges in the state offer game development-related degrees. One of the newest is Atlanta's Morris Brown College, an HBCU that last year received a $160,000 grant to establish an esports performance degree program along with the Ronald Floyd Thomas Center for eSports and Innovation. The grant from Atlanta-based esports education company Pharoah's Conclave aims to promote increased diversity and inclusion in tech industries by leveraging esports. In addition, Morris Brown is launching an esports certificate program to connect with high school juniors and seniors and allow them to earn up to 24 credits in esports-specific courses.
Also last year the Georgia Film Academy (GFA), in partnership with esports production company Skillshot Media, launched its first-ever esports program at Georgia State University. GFA's Fundamentals of Esports course is the initial offering toward the ultimate goal of helping more Georgians work in the state's entertainment industry. The program will provide real-world professional workforce training while enabling students to explore career paths available at esports companies throughout the state. GFA plans to expand esports training beyond the introductory program to offer specialty courses, mentoring and internship opportunities.
"Esports is a nascent industry, with untold potential in economic activity and economic development," says Jeffrey Stepakoff, GFA executive director. "What the film academy is doing is working to incentivize this new business to make Atlanta and Georgia its hub from a workforce perspective and from a thought leadership perspective. We are taking what we've learned with regard to how to use the existing resources of the entire university system and the entire technical college system to train and put Georgians to work. First we did it with film; now we are doing it with esports." The esports courses are being developed with GFA's partners in the industry to ensure they're relevant.
"Just as games and livestreaming are THE media of the 21st century, so are the skills that go with it integral to building the workforce of tomorrow," says Greenberg. "We know that the desire to make games is now what draws children into studying technology, and Georgia has recognized the need to teach computer science at every level of education. These are skills children can learn as easily in Rome, Georgia, as in Atlanta."
When Bradford thinks about esports, one thing comes to mind: jobs. "When I look at the amount of jobs that are going to be created in this industry, it follows the same track as the film [industry] here in Georgia," he says. "It's all about these creative industry jobs and just bringing new opportunities."