Leading the Way
How six female trailblazers have succeeded in business.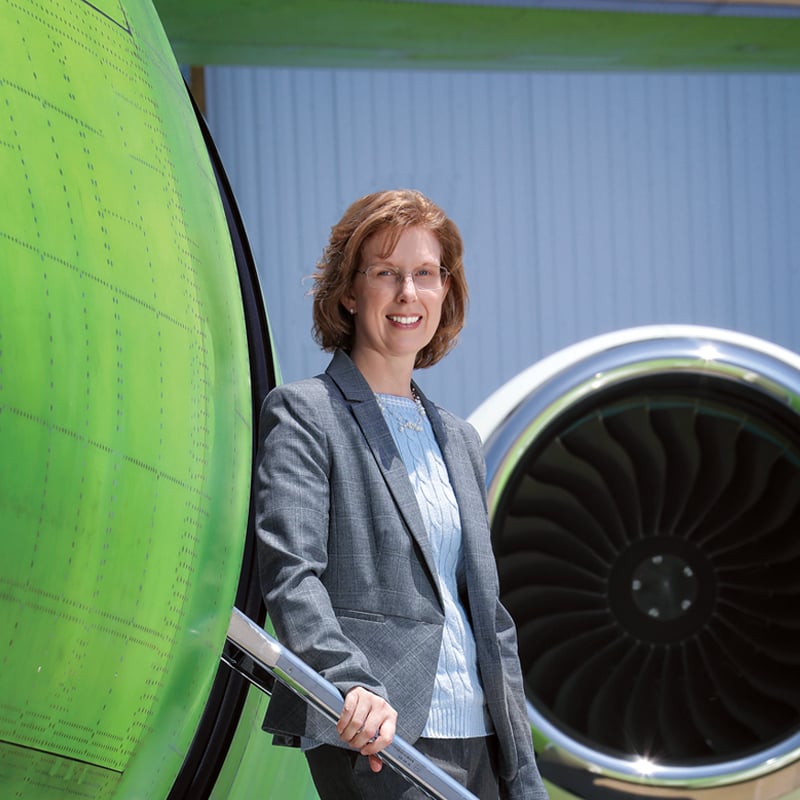 Women are leading Georgia businesses in record numbers, from ascending to the C-suite to building their own companies to taking the torch from previous generations of family-owned companies. According to the National Women's Business Council (NWBC), an estimated 42% of all U.S. businesses (nearly 13 million) were women-owned in 2019, and that number is growing.
A 2018 report by American Express found the number of women-owned firms in Georgia was over 522,000, and Women Business Enterprises (WBE) are one of the state's fastest-growing segments.
Georgia Trend talked with six women – business owners, executives and entrepreneurs – leading the way. And to a person, these trailblazers tell other women in their industries the same thing: Keep pushing because the sky is the limit.
---
Prepared for Opportunities
Teresa White credits her mom with impressing the importance of preparation on her from an early age.
"She always talked about college and making sure I prepared myself for a career," says White, the first female and first Black president of Columbus-based insurance provider, Aflac U.S. "We didn't really speak to what career, but making sure I allowed myself to have choices. She helped create this platform for me to be ready when the opportunity came."
And White says her mom offered sound advice about thinking through the choices and potential limitations of her decisions.
"She really just taught me that the decisions I made as a young adult would impact where I ended up as a mature adult," White says.
Those lessons in long-term thinking netted career-making consequences. White became a self-described logical-thinking problem solver who learned to code and realized that, for her, it wasn't so much where she worked as what she was doing.
"I didn't wake up one day and think, I want to go over there and work for AT&T or Aflac or wherever," she says. "I saw opportunity and discussed it with the leaders who were hiring. I fell in love with the work and the problems they had. I developed strong relationships. I thought I might bring to the table something that would be helpful to these organizations."
Aflac is known for servant leadership, a style White embraces."Servant leadership for me is about making sure you don't come in solving the problem from your perspective [but instead] granting people the opportunity to provide input," she says. "You become a listener, coach and collaborator."
It's leadership she's bringing to her role as 2021 chair of the Georgia Chamber of Commerce, spearheading initiatives promoting diversity and inclusion. The chamber looks to curate content facilitating conversations around diversity and equity in businesses, especially small businesses.
"So many people are afraid to say the wrong things," says White, who is the first Black woman to lead the Georgia Chamber. "People are trying to find their footing so they can have meaningful conversations in a sincere way. I'm asking people to be patient with others who are trying to ask questions. Yes, you're going to ask questions that are going to feel uncomfortable, but I think that people will give you grace because you're asking, and trying to seek to understand."
---
"Representation Matters"
Cathy Downen is director of compliance assurance and type certificate programs and administrator of the organization designation authorization enterprise program at Gulfstream Aerospace Corp. in Savannah. That's a long way of saying she signs off on every aircraft the company puts into the sky. Downen is also the connection between Gulfstream and regulatory entities in the U.S. and Europe that certify aircraft.
If there's an issue on a plane, she asks the questions to determine what type of certification – safety, design – might be required.
"I'm now responsible for the people who do [certification work] on each of the aircraft programs," she says. "I've gotten authority from the FAA to serve as a program administrator, with limited authority on behalf of the FAA to make certification decisions." Those decisions ultimately determine whether or not an aircraft is certified to fly.
While her engineer father fanned the flames of her aviation and engineering interest, her mother, a successful executive, modeled the idea that women could be bosses and leaders.
"She taught me how to organize, to lead projects from start to finish and that really helped me when I became the program manager for the G600 aircraft program," says Downen, who as program manager was in charge of the success of the G600, with responsibility for everything from ensuring design completion to aircraft completion to regulatory work.
She calls that project her proudest accomplishment to date. "You work together for years to design an airplane. It takes so much expertise for all the people on the team and a lot of hard work to get there," she says.
Opportunities for women exist in aviation but it's still very much a man's world.
"Representation matters," says Downen. "If you don't see someone who looks like you, who inspires you, then you may not choose aviation as a career. And I think culture matters. Once you inspire a woman to get a complex engineering degree, she needs to feel valued and respected to stay. I've had incredible opportunities and have been fortunate to work with amazing women and supportive men. Women can thrive in this industry, but I'd love to see more."
---
Use Your Superpower
Cathy Cunningham will tell you everything she did wrong on her way to becoming a 2021 Small Business Rock Star honored by the Georgia Department of Economic Development. The founder and CEO of Mama Geraldine's Bodacious Food Co. in Jasper quit her day job too soon, racked up soul-crushing debt and by her own admission didn't know squat about the food business. But she had a couple of important things going for her.
"No one can sell this brand better than me, that's it," she says. "That's my superpower. And we make the best damn cheese straw because we use the best ingredients. We scrimp on nothing."
Cunningham was a sales whiz in the Atlanta radio market, but by the 1990s she was burned out. So, armed with her mom's recipe – hence the name – she decided to cash out in the mid-90s and "introduce the world" to cheese straws. After moving to Jasper, buying a manufacturing facility and securing financing (which involved talking to 18 banks) she got her big break.
"The Kroger Co. chose me to be the first packaged cheese straw they were going to sell," Cunningham says.
She thought sales would go through the roof. Instead, because it was a one-time buy, it was the start of a slow, steady march. But it was a start.
"The business grew exponentially from 1999 to 2003 to 2004 from zero to almost $2 million, with some stellar competition," she adds.
There were little bumps and sensational jolts (like the Great Recession) along the way, but Cunningham clung to her belief in her recipe, using high-quality ingredients and her own abilities.
"I'm a 25-year-old business but we really didn't get things rolling until 2000," she says. Her business got a big boost from e-commerce. "It's a whole different dynamic because I can put Mama Geraldine's online anywhere and nobody can say no," she says.
Cunningham has no time for barriers as a woman entrepreneur. "I blow through barriers, and sometimes not in a fashionable or likeable way," she says. "You can't be timid."
---
Venturing Out with Plan B
Allyson Eman worked in marketing and didn't have an inkling she'd end up working in the venture capital (VC) field, much less building and running Venture Atlanta – the largest venture conference in the Southeast, hosting more than 1,200 entrepreneurs, investors and business leaders. But after the company she worked for went under in 2007, Eman was considering her Plan B.
"This venture capital offer fell in my lap," she says.
Through her network she learned that Allen Moseley, managing general partner at Atlanta VC firm Noro-Moseley Partners, was working with folks in the local technology sector to start a venture conference. "Send your resume," she was told, and did, with the caveat that she had no experience in VC, running conferences or in technology.
"They interviewed tons of people with nonprofit experience, executive director experience, but Allen said I was the only one that had the passion, the drive, and the marketing and event background," Eman says. "He said he could teach me the rest."
Eman was a quick study.
"I also had the gumption to ask for help," she says. "I wasn't trying to build it alone."
That's not to say it was easy.
"For the first couple of years, 90% of the time, I was one of two women in the room," she says. And the guys in the room didn't always want to help. Nevertheless, she persisted.
Now the CEO of Venture Atlanta, Eman is proud of what they've achieved.
"When Venture Atlanta started in 2007 you could name three VC funds in Georgia," she says. "Now, there are close to three dozen. Fast forward to 2019, we had 350 investors ready to write checks at our conference. Our companies have done extremely well and have raised close to $6 billion from participating in our conference."
Eman says women entrepreneurs are still more hesitant to step out and apply for funding, waiting until things are "perfect."
"But the women that participate kill it every time," she adds.
---
Strategic Thinking
Gwen Collins, president and owner of Collins Manufacturing in Macon, never thought about owning her business. After graduating from Mercer University with a degree in biomedical engineering, she worked at Robins Air Force Base as a software engineer in software development and maintenance. A former military kid, the sense of mission appealed to her.
However, in 2005 her husband Larry (also an engineer working for a Macon precision manufacturing firm) had the opportunity to purchase an established machine shop. After weighing the pros and cons, the couple soon took the plunge. But even with stellar credentials and experience, they couldn't break through to get contracts.
"Neither of us was from Macon," says Collins. "Other shops were preferred because they were 'known.'"
It was time to think strategically. Collins left her job at Robins and became the majority owner in their company.
"Getting certified as a Woman Owned Small Business (WOSB) became one of my first goals," she says. "I figured if we couldn't get into the local doors, I knew government or big corporations had requirements to contract with women-owned businesses. It would also limit the competition."
Collins was equally focused on achieving certification as an 8(a) Small Business (Economically Disadvantaged Women-Owned Small Business). The federal government designates women-owned small businesses as economically disadvantaged. It's a designation that helped lead Collins to success.
"Not only do companies have smaller pools [of suppliers from which to source]," she says, "they're allowed to sole source. They can come directly to us as long as we have the capability to perform a contract and our costs are fair and marketable."
After receiving the 8(a) certification, Collins and her husband earned a Navy contract that tested their build-to-print capabilities – which means they had to build components, parts and equipment to exact specifications. They passed with flying colors.
"That contract built our reputation with their office," Collins says. "Work didn't just trickle in, it flooded. Because we were successful, we were able to hire more people, buy more equipment and expand our facilities."
---
Legacy Building
"I don't think anyone saw it coming," says Jane Marie Kinsey, vice president of McKnight Construction Co., referring to the fact that the 60-year-old, family-owned construction firm in Augusta is now owned not just by the fourth generation, but all women. "We're excited to lead and set an example for women in the industry, but also just to continue to lead this great company."
Kinsey is the daughter of the company's president, Will McKnight. She, along with her husband and two of her three sisters, serves on the company's board, which is currently working through a transition while McKnight still runs day-to-day operations.
"We're changing things and implementing ideas but this transition is not going to be a quick one," she says. "We're lucky because my dad has been very successful, knowledgeable and wise and is open to our ideas. We're able to implement them with him and his leadership. It's an exciting time to be here."
But she wasn't always sure this was where she wanted to be. Kinsey worked at the family business during high school and college – she attended Georgia Tech, majoring in industrial engineering – but her first post-college jobs took her away from construction. Turns out it was the right move.
"I was able to see how other businesses are run," she says. "And I brought so much of that back here. That was valuable time."
The best part of the job? The days are never the same, she says. "Every project is different and full of challenges," she adds. "I get excited about building buildings, building communities. We build schools, libraries, courthouses. Because our projects are part of communities we get involved. It's rewarding."
Kinsey joined the board of the Associated General Contractors of Georgia in June. To women looking at construction as a career Kinsey says, "Come on! People in construction, leaders in construction, are excited that new people are coming into construction," she says. "I know it sounds cheesy but it's true."