Newton County | Covington: Charm and Impact
Film production, high-tech and workforce training.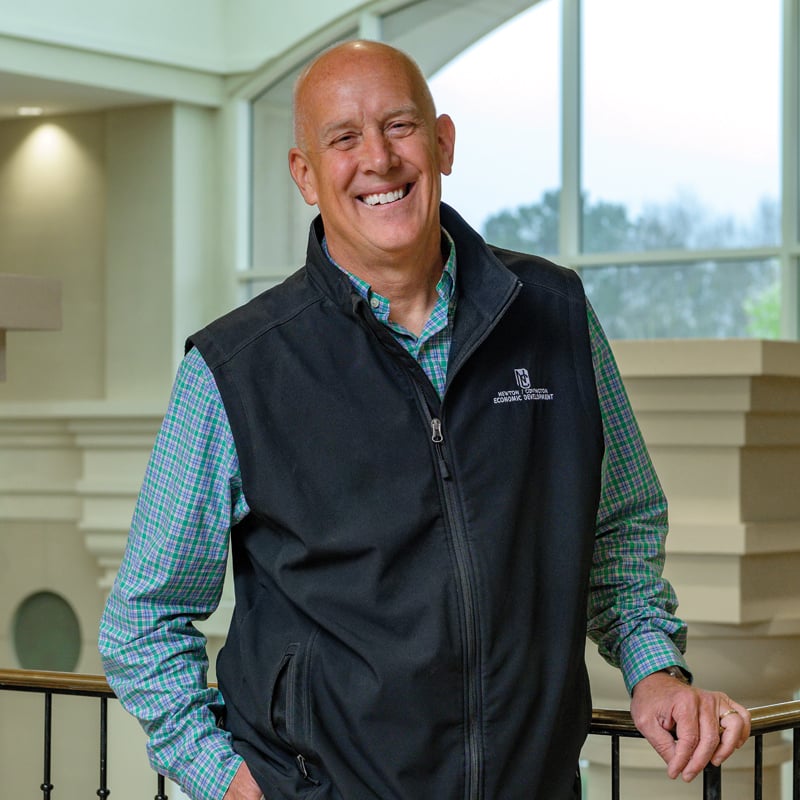 It's 7 p.m. on a February Saturday night on Covington's town square during the pandemic, and the frosty air is buzzing with activity. Parking is scarce, trees twinkle with lights and eateries City Pharmacy and The Social Goat Tavern have lines out the door – with everyone socially distant and masked.
The city welcomed just under 30,000 visitors to downtown last year, despite a nearly 30% reduction due to the pandemic.
Ron Carter, Covington's Welcome Center coordinator, estimates the vast majority come for film tourism. The leafy square, antebellum homes and old-fashioned sidewalks have only become more recognizable with the success of television shows like Netflix's Sweet Magnolias, which is filming a second season in the area.
A new Film Museum, housed along with the Welcome Center in the town's original city hall and police station, spotlights the area's extensive entertainment history that includes more than 120 films and television shows spanning over 65 years – but it's the vampires that bring the most visitors.
Carter, a Covington native who has seen dozens of film crews working their magic in the area, says "Mothers and daughters come a lot." Like the bus and carloads of teenagers and young adults on the square, they come to see the real-life locations of the popular CW series Vampire Diaries such as the iconic clock tower.
After the shutdown ended last spring "people did come out and start supporting our businesses," says Covington Mayor Steve Horton, who was elected in November 2019. The city initially pulled back on hotel/motel tax projections, he says. "But when we looked at those numbers we only had some loss – nothing as dramatic as what we thought."
"If you want to know how well we stand, just drive by any evening and see the vehicles, people supporting local businesses," says Horton.
A new generation of visitors are showing up, bringing a welcome energy. "Ten years ago the square was just professional offices. Our kids would leave and not return," says Lanier Sims, a third-generation Covington resident and former county commissioner who chairs the industrial authority board. "To see that come back to life has been great."
---
More Movie Magic
Starting in 1954 with the film A Man Called Peter, Covington has hosted crews and entertainment professionals on a sweeping range of productions. With its proximity to Atlanta, mix of Southern charm, greenspaces and streetscapes, it was the logical place for a studio. The city has even trademarked the term "Hollywood of the South," which comes in handy for branding.
In 2016 developer Rahim Charania of American Fueling Systems met with the Newton County Industrial Development Authority's David Bernd and Covington's former mayor, Ronnie Johnston. They discussed building a major film and television studio on close to 200 acres on Highway142 near I-20. After raising capital and finding a co-owner (Chicago-based Cary Goldman of the Timber Hill Group), Three Ring Studios broke ground in 2017.
A merger with Cinelease, a lighting and equipment company with 40 years' experience in the entertainment industry, was announced last summer and the company is now the managing partner. Three soundstages are complete and the name has been changed to Cinelease Studios – Three Ring. The timing couldn't have been better, as demand for new content is high.
"Right now we have a quarter of a million square feet built," says Charania, "and we are 100% occupied into the foreseeable future." Plans for a phase 2 are in development, he adds.
Charania says that 90% of the studio's 22 employees are from Covington and Newton County. While outside labor is sometimes brought in, "we do hire local businesses first," says Gannon Murphy, Cinelease's general manager, mentioning that janitorial, construction and other workers are local.
Filming is a way of life in Covington. It's normal to see a shop off the square being decorated with new signs and names in the window by a crew of painters – only to find it's for a movie shoot (at press time the Showtime series First Lady was filming nearby). "We consider it a huge success story for the city and the county," says Murphy. "It's a real cultural fit out here."
---
Record-setting Investments
Newton County has much more than charm to offer, and industries have noticed. When Site Selection named the state the No. 1 place for business for the eighth year in a row last year, it was not surprising Gov. Brian Kemp chose Covington's Bridgestone Golf manufacturing plant as the location to make the announcement. The announcement coincided with the rescheduled Master's Tournament in November, where, as it happened, both Tiger Woods and Bryson DeChambeau were using Bridgestone golf balls.
Over the course of the pandemic, the manufacturer saw demand for its golf balls grow, and in February 2021 announced a 30% increase in production levels for two models of golf balls. The company plans to hire additional workers for its 120-person plant, according to Bridgestone President and CEO Dan Murphy.
"We found out that work from home led to more golf," Murphy jokes. "We have also attracted a lot of new people to the sport."
That's understandable since golf is the ultimate social-distance sport.
Bridgestone's success is just part of an enormous wave of industry that Newton County has seen in the last four years. After the state established the Georgia BioScience Training Center, Shire (now Takeda) Pharmaceuticals opened a $1.2 billion plasma manufacturing facility in 2018 at the Stanton Springs Industrial Park west of Covington off of I-20. Takeda, which employs 1,100 in Newton County, has since doubled its investment to more than $2 billion and made international news last year when it formed an alliance with 11 other pharmaceutical companies to develop plasma therapy to fight COVID-19.
One of the most notable investments at Stanton Springs is Facebook's 2018 announcement of a $750 million, 1-million-square-foot data center that's currently under construction.
Facebook found the welcome at Stanton Springs so warm that last year the company announced a $1 billion expansion.
And it's not stopping there. In March, the Joint Development Authority (JDA) – which includes Jasper, Morgan, Newton and Walton counties – voted to approve a $42 billion bond issuance and purchase-sale agreement for another expansion of Facebook's already huge presence in the area. The new $42 billion figure is on top of the original $42 billion in bonds approved for Facebook by the JDA in 2018. Beyond the company's expansion, Facebook is making inroads to the community by reaching out to small business owners, says Covington-Newton County Chamber of Commerce President Debbie Harper. The social media giant donated $175,000 last year to the chamber's One Newton Small Business Resiliency Fund.
The chamber ultimately was able to help 65 Newton County businesses with relief totaling $180,000, funds that in many cases kept the doors open. "Talks began with Facebook in early April [2020] and we were able to have the money in the businesses by the end of May," says Harper. "This just shows the amazing community partners we have and how they give back." Facebook also presented the Newton County School System with a $50,000 gift to help provide technology equipment for students in May 2020.
Looking ahead, the county is counting a new $100 million distribution center and southeastern regional headquarters for German grocery chain Lidl as a win. Utility and pad work were nearing completion at press time on this, the company's fourth such center in the U.S. Hiring will start for 270 employees this summer, says Bernd.
Some of Covington's longest-running employers have increased investments and jobs as well. FiberVisions, a subsidiary of Indorama Ventures Public Co. Limited, announced a $48 million expansion and 21 more jobs last November. The company has been part of the community for more than 50 years and makes fiber hygiene products including facemasks. General Mills, with a plant based in Covington for 30 years, boosted production of Cinnamon Toast Crunch cereal, adding 40 jobs to the existing 400 late last year. Brake pad manufacturer Nisshinbo added 100 jobs with a $72 million investment in 2018; the Japanese company has called Covington home for 23 years.
---
Living Local
Investors are anticipating more housing and retail in parts of the county and in the small towns of Oxford, Mansfield, Porterdale and Newborn. Research by Georgia Power in 2016 found the county was losing over $40 million a year in "retail leakage" as residents traveled to Atlanta or other neighboring counties to shop.
The new $300 million, 180-acre Town Center mixed-use development located at Alcovy and City Pond Road plans to help stop this economic drain. The development will include apartments, shopping and hotels within easy reach of Cinelease Studios, the Covington Municipal Airport, Stanton Springs Industrial Park and downtown Covington.
Last December, developer Harry Kitchen of South Carolina-based Foxfield Co. broke ground on The Cove at Town Center, a 26-acre, $57 million high-end apartment complex with 350 units. He says the venture makes good sense in the growing area. "We had never seen a community that was underserved in every category. Once we identified the need, we had to find the right site."
Two flagship Marriott hotels will anchor the center, bringing a $32 million investment – and creating 150 jobs – from Topaz Hotel Group. The 123-room Residence Inn and 99-room Courtyard by Marriott will cover about six acres of the development, which will also contain a Staybridge Suites, Publix, a movie theater, apartments and office space.
Kitchen says the completed project will create some 1,550 new jobs for the area and generate more than $5 million in property taxes annually. He says $12 million in infrastructure – lighting, green space, common areas – has already been put in, and four miles of walking trails and sidewalks will enhance livability.
---
Providing for Growth
As new industry brings more people, the need for quality healthcare is increasingly important – and Piedmont Newton Hospital's CEO David Kent has plans.
Since coming to Newton last April, Kent has added four new members to the organization's board. "The board is a strong representation of Newton County," says Kent. "We have various areas of the community included: religious, economic development, business. They have a diverse way of thinking, expertise and background across all of those areas."
Current priorities at the hospital include hiring physicians, particularly those who practice family medicine. Kent is also looking to expand specific departments and programs such as urology and obstetrics. "We're about bringing the best healthcare to Newton County, including more satellite physician offices," Kent says. "That helps the hospital grow as well."
Workforce development is another important part of the community and new initiatives should fill gaps within local industry. Looking specifically at the lack of qualified workers for advanced manufacturing jobs in Newton, DeKalb and Rockdale counties, six industries entered an agreement with Georgia Piedmont Technical College (GPTC) last December to train 10 student apprentices. The program partner is Rockwell Automation and the agreement specifies a three-year commitment that includes on-the-job training and technical classroom instruction.
"We can bring this high level of training to our industry partners to keep them upskilled with the latest technology and equipment," says Irvin Clark, GPTC vice president of economic development. "It is critical to our industry." During the pandemic there was even more use of automation, he notes, a trend that will increase.
K-12 education has made great strides in recent years, says Bernd, pointing to a county graduation rate that was just under 90% for the first time last year. Newton County School Superintendent Samantha Fuhrey was named the 2020 Georgia Superintendent of the Year, and during her seven years of leadership results have included higher SAT scores and Eastside and Newton High Schools being honored as AP STEM schools.
"We would not be seeing all the improvements in Newton County without the drastic change in our schools," says Bernd.
---
Local Flavor
Family Affair
For Bread and Butter Bakery owner Kelley Johnston, business is about family. While co-owning the Mystic Grill in Covington (a nod to the fictional Mystic Falls, Va., in CW's Vampire Diaries that filmed locally from 2009-2017), she and husband Ronnie Johnston started a side baking business in 2013 to produce bread and desserts "out of a little 600-square-foot building," she says.
Finding that the late hours of a restaurant and bar didn't suit their family with young children, Kelley Johnston shifted the family's focus to baking. They got out of the restaurant/bar business and opened Bread and Butter Bakery across the town square in 2016, while Ronnie was serving one of two terms as mayor of Covington.
These days Johnston is joined at the bustling bakery and coffee shop by her mother, who works twice a week, as well as her son Zac, who joined her as a business partner after college and experience with Farmview Market in Madison.
The corner spot has adapted to suit the needs of customers. The mouthwatering aroma of house-roasted fresh coffee mingles with the scent of cinnamon rolls, scones, and sausage and cheese breakfast buns. The Russian Tea Cookies are a signature item, winning a best product award from the University of Georgia (UGA) food science department, and the Georgia Pecan Bars won a 2018 Flavor of Georgia award in the UGA contest. The bakery also sells homemade sides and casseroles and has a full catering service. Johnson recently added wine and beer with many local options and eco-friendly growlers.
"Everything is made fresh, in-house," she says proudly, "with ingredients you can pronounce. They are the same things I would put down on the table for my family." The bakery uses local produce and dairy products and is an enthusiastic partner in the Georgia Grown initiative.
Community is another focus. This is a spot where neighbors meet, students from nearby Oxford College of Emory University study for exams and ideas are hatched. Johnston's community room has a take it/leave it library and knitters, Bible study groups, Dungeons and Dragons gamers and businesspeople are welcome to use the space. "A customer called us 'Covington's Front Porch,'" she says with a smile.
The business is infused with a mother's wisdom as well as a personal symbol – an elephant Johnston adopted while raising her four children. "When my kids were little I learned how to draw it, and I would put it on lunch bags and use it to sign my name. The whole thing kind of started with that," she says.
Johnston appreciates the slower pace in Covington, having moved from Alpharetta over a dozen years ago. "We had always loved the town," she says, "and it brought our four children around the dinner table again."