2021 Georgia Trustees
This year's recipients of the state's highest honor represent the best of who we are as Georgians.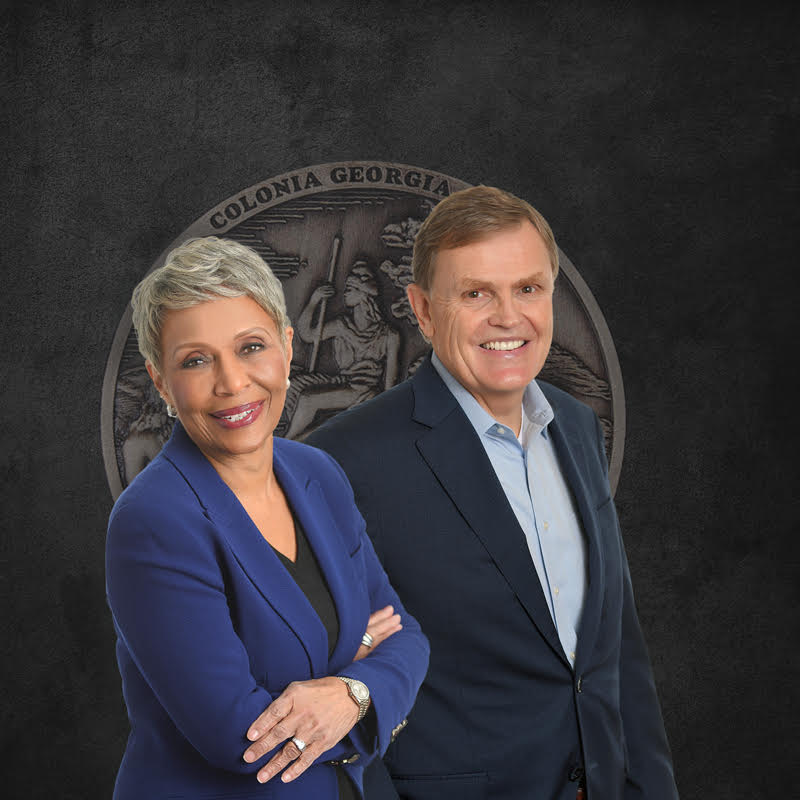 One of the reasons Georgia is a great place to do business is the caliber of its business leaders. Not only are they successful in their careers, they tend to be focused on improving the quality of life for individuals throughout the state.
Each year, the Georgia Historical Society (GHS) and the Office of the Governor name two such leaders as Trustees based on their business, advocacy and philanthropic achievements. David Abney, former CEO and executive board chair for UPS, and Juanita Baranco, co-founder, COO and executive vice president of Baranco Automotive Group, are the 2021 Georgia Trustees.
Abney calls himself a history buff and at one time thought he would be a history professor. That strong interest, he says, makes his selection even more meaningful. "I consider this a real honor – to be a 2021 trustee with Juanita Barranco," he says. "I was just blown away by the honor and how this is not [only] about championing individuals but recognizing people who try to help others to make the world a better place."
Baranco agrees with his sentiment. "With the trustee award, it truly is the highest honor that one can receive, particularly in the state of Georgia," she says. "It does carry with it a sense of responsibility."
England's King George II chartered the original trustees in 1732 and charged them with establishing the new colony that became Georgia. The group disbanded 20 years later, but the state re-established the honor in 2008 to recognize contemporary Georgians.
The original motto of the trustees, Non Sibi Sed Aliis, which means "not for self, but for others," is the foundation for each year's selection process. The lives and accomplishments of those chosen as trustees have had a positive impact on the state.
"When I think of the Georgia Trustees motto – not for self, but for others – David Abney and Juanita Baranco immediately come to mind. They are the perfect Georgia Trustee inductees, especially given the dramatic events going on around us," says W. Todd Groce, president and CEO of GHS. "In so many ways they represent who we are today as Georgians. From humble beginnings in the pre-Civil Rights Movement South, both have reached the pinnacle of their careers. They are the kind of leaders who bring people along with them and inspire by their example. They show us that, no matter who you are or where you come from, the values that we share – hard work, perseverance, a commitment to doing right and putting others first – are greater than anything that has historically divided us."
GHS will induct Abney and Baranco as the newest Georgia Trustees on Saturday, June 5, at the Trustees Gala in Savannah.
---
Finding A Home
David Abney knew from an early age his career would be with UPS.
When he was an 18-year-old Delta State University student in Mississippi, David Abney took a part-time job at a UPS facility because it paid better than the grocery store, which was his other option. By the time he became head of the global delivery and supply chain giant 40 years later, both he and the company had come a long way.
"For probably the first year, I saw it as a college job," says Abney, who started in 1974 as a package loader and retired last year as CEO and executive chair of the board. "I didn't even know what UPS was. I don't know that in my neighborhood, growing up in kind of a poor part of the Mississippi Delta, that we ordered much. I never remember a UPS truck coming by."
He credits an early supervisor with recognizing his abilities and encouraging him to pursue a career with the company. "I had a manager that put his arm around my shoulders and told me what a great company UPS was, and then he started to talk about the greatness he saw in me. At 19 years old, other than my parents, no one ever talked to me like that."
The man saw beyond the hair Abney wore down to his shoulders and the "cool" leather hats he favored, and convinced him he and UPS had the makings of a great team. And did they ever.
"From that point on," he says, "I became a UPS-er. I just knew that was what I was going to be for the rest of my career. A few years down the road it went from being a career to being just a great part of my life."
His association with UPS changed him, Abney says. And he returned the favor, ascending through the ranks – with a stint as a driver – to the executive level and then to the very top, an increasingly rare pathway in today's corporate world. He served as president of UPS International, growing the company's global capabilities, and as chief operating officer, overseeing all aspects of the company's transportation network.
During Abney's time leading the company, UPS grew significantly, reporting $74 billion in revenue as of 2019. The company now operates in more than 220 countries and territories and employs a workforce of some 528,000 worldwide. It delivers 21.9 million packages and documents a day, via ground, air, rail and ocean, and has become a leader in sustainability, increased its commitment to diversity and expanded its philanthropy.
The company was founded in Seattle in 1907 and developed steadily but modestly, going public in 1999. When Abney joined in 1974, it was still a small package delivery company. "All UPS did was ground delivery and only in the U.S. I had to memorize a lot of zip codes of places we could not go to in the U.S. because we didn't have authorization."
Abney attributes the company's ascension to global powerhouse to its "constant evolution," with steps like adding air service, establishing its own airline, expanding delivery destinations and going fully international, all of which paid off.
---
Growing, Changing
Even as UPS was growing, so was Abney. He credits his tenure with expanding his worldview and his personal commitment to inclusion, which he says is foundational to the company.
"Growing up in the very segregated Mississippi Delta," Abney says, "I spent my childhood [as] 'separate but equal,'" the terminology used by many Southern localities to justify segregation. "We were separate from Blacks," he recalls, "but there was nothing equal about it."
He says UPS was the first real integrated environment he had ever been in. "I got my degree from Delta State, but I got my honorary master's in diversity and inclusion from UPS."
The lessons started early on in his employment as he was loading packages. "Working side by side with people, you have all those packages coming at you. You're not concerned about what gender, what race, what religion, any of the stuff that makes you different. It's just everybody working together."
At the company, he says, "even in the Deep South in the 1970s, there was a clear message about how people were going to be treated." This had an impact on him, and he has made inclusion and diversity a priority.
At UPS, even as he honed his executive skills, he established himself as a civic and business leader. He served as 2019 chair of the Metro Atlanta Chamber and has been a board member of Catalyst, an organization that works to advance women in the business world, and the World Affairs Council of Atlanta. He is currently a board member of Macy's, Inc. and the Northrop Grumman Corp. and a trustee of the Annie E. Casey Foundation. In 2018 he was inducted into the Horatio Alger Association of Distinguished Americans. He also chaired the UPS Foundation, his company's philanthropic arm.
---
The Business
The rise of e-commerce was the single biggest change Abney saw during his time with the company and he believes it will continue to fuel future growth. "We're a technology company," he says. "When I was a driver, it was clipboards and carbon paper."
When he started with UPS, some 90% of deliveries were business to business but residential deliveries grew steadily. Before the COVID crisis hit, the business to residential ratio was about 50:50, but the pandemic changed that abruptly – to the point that about 70% of all deliveries were residential. "It dropped a little," but came back when COVID infections spiked, Abney says. "I don't think it will ever go back to where it was."
Looking to the future, developing countries will provide more and more chances for growth and expansion. And he sees a rapidly increasing role for the company in healthcare, with many opportunities tied to the delivery of COVID-19 vaccines. It's a challenging task made more complicated by the need for them to be kept at extremely cold temperatures, from the time they leave the manufacturers to the time they're delivered to hospitals and other medical facilities.
"What's about to unroll will be one of the most complicated logistics supply challenges," Abney says, involving mammoth freezer farms, or cold-storage units, which the company maintains in Louisville, Ky., and near its Cologne, Germany, air hub.
"They are going to play a big role. A lot of companies keep their inventory there."
The vaccine delivery task is worldwide and presents a major challenge. "We take it as a huge responsibility. It's an opportunity from a revenue standpoint, but it's much more. We can save lives."
---
Philanthropy, Service
Abney takes pride in the UPS commitment to sustainability, a natural for the company. "When you have 125,000 or so trucks and almost 600 planes, then obviously you have to take sustainability seriously," he says. "We really focus on alternative fuels, whether they are 'bridge' fuels to take us from the present to the near future, such as liquified natural gas and compressed natural gas" or more permanent solutions. "We are big on all of those different technologies to reduce our carbon footprint. It's the right thing to do."
UPS has invested heavily in tree planting and in supporting employees' volunteerism. The company set a goal of planting 15 million trees worldwide by 2020 but achieved it a year early. Same for its volunteer goals.
"The first public speech I gave as CEO," in 2014, he recalls, "I said by 2020 UPS would have 20 million volunteer hours. We reached that by 2019." Efforts include work on behalf of disaster relief, diversity and inclusion, civic causes and the environment.
"UPS takes its commitment to sustainability and community very seriously," Abney says. It's not a stretch, he believes, to think of practically every neighborhood as a UPS neighborhood, given the size of the workforce and the scope of its deliveries.
As for his personal philanthropy, Abney has worked to raise funds for Grady Hospital, the Fernbank Science Center and, more recently, the Morehouse School of Medicine, where he is chairing the capital campaign. He says his "underdog philosophy" makes him eager to help those who haven't had the opportunities he has.
And, referencing his 43-year marriage to his wife, Sherry, he says laughingly that he likes to think long-term. He is especially proud of the Delta State International Business Symposium the couple established in 2006 at his alma mater, which he describes as "largely a first-generation college." He believes it is the most diverse in Mississippi. Through the symposium, he likes to bring speakers to campus who have backgrounds similar to his own.
"We bring successful people in every year – we try to find people with backgrounds that students can relate to. We tell them, 'Don't let anyone tell you what you can't do. Surround yourself with people who tell you what you can do.'"
This particular project is a consequence of his growing up in the Mississippi Delta, "the poorest part of the state. We had more than some, certainly had less than most."
He was the first in his family to go to college and the first to go into professional work and understands the difficulties inherent in making that leap. "I really look for the opportunity to make a difference."
---
UPS Leave Taking
As Abney prepared to leave UPS, it was important to him that his CEO successor, Carol Tomé, a long-time senior executive with The Home Depot whom he calls "such an excellent choice" for the job, got off to a good start. She knew UPS well, having served on the board for many years. Nonetheless, he stayed on for several weeks after he left the CEO post last summer to help with the transition. He spent time working with Tomé on getting new board members in place and is proud of the five new directors who are female or African-American.
And even in retirement, he still considers that he has a "job" at UPS: "My role is as a cheerleader. I'm a UPS-er for life."
---
Fighting for Fairness
Juanita Baranco has racked up a number of firsts in her career along with widespread admiration for her hard work, perseverance and unshakable ethics.
Juanita Powell Baranco describes herself as a person who speaks up, and most who come in contact with her would agree. The co-founder, COO and executive vice president of Atlanta-based Baranco Automotive Group doesn't hesitate to share her views about businesses' responsibilities and the importance of higher education while championing opportunities for women and minorities. Her forthright leadership and ethical principles have earned her coveted spots on numerous nonprofit and corporate boards along with some of the state's highest honors. In 2020 alone, she was not only named a Georgia Trustee but she also received the 12th Annual Blanchard Award for Outstanding Stewardship and Ethics in Business from the Leadership Institute at Columbus State University.
"I always wanted to be a person who had some power," she says. "I've had women come up to me and say, 'Ms. Baranco, when you speak up it gives me courage to speak up.' I didn't realize I was having that kind of influence on people. But, whether you realize it or not, people are watching you. They're watching how you conduct yourself."
Power is in her DNA. Even though their parents were slaves, by the time her maternal grandparents married they owned a 400-acre cotton farm in Grenada, Miss. It was one of the area's largest Black-owned farms in the early 1900s, something she describes as "almost unheard of." Her paternal grandfather was the first Black doctor in Shreveport, La., where she grew up with an attorney father and a mother who earned a master's degree in special education.
Every summer when Baranco was a kid, she would spend time at the farm. "So much about who I am and what I think and how I conduct myself, the value system was formed and formulated in Grenada, Miss., on my grandmother and grandfather's farm," she says.
She received the subtle message from her grandparents that the farm represented economic freedom and it planted the seed of business ownership, to which she says she always aspired. "Economic freedom is really the definition of freedom in my book," she adds.
---
Attorney and Entrepreneur
Baranco earned her bachelor's and law degrees from Louisiana State University because she figured a law degree would be beneficial for a business owner. Shortly after moving to Atlanta, she and husband Greg opened one of the first Black-owned car dealerships in the metro area in 1978. She says being a lawyer helped her buy groceries in the early years of the dealership. At that time, she worked for former Georgia Attorney General Arthur Bolton as an assistant attorney general.
"It was a great experience," she says, "and it helped me to understand state government."
During her tenure she formed unlikely alliances with power brokers like former Georgia House Speaker Tom Murphy to get legislation passed. "Two people that you would never expect to be buddy-buddy would be Tom Murphy and Juanita Baranco," she says, "but he liked me."
As the Pontiac dealership in East Point grew, she became more involved in its operations and her legal focus shifted to represent it. "You get to learn every aspect of the business," she says, describing employees' legal problems, small claims court and litigation from customers who thought they'd been wronged. "I have a variety of experience because I basically was general counsel for the dealership and also an owner," she says. "So, I [couldn't] afford to lose any money. I had to defend myself vigorously, but I also helped employees with divorce and everything else. I did the whole gamut starting out."
In time, she and Greg acquired other car dealerships. They also founded Mercedez-Benz of Buckhead with former Atlanta Mayor and Ambassador to the United Nations (U.N.) Andrew Young. Their daughter Grené Baranco is currently sales manager there. According to Black Enterprise magazine's 2018 research, Baranco Automotive Group employs 185 and has annual revenue of more than $161 million.
---
Challenging "isms"
While Baranco has undoubtedly achieved great success in business, it hasn't been without challenges. She describes being redlined – a form of lending discrimination that has been illegal since the late '60s – when she and Greg were first starting out.
"[It was] evidence of racism, pure and simple," she says. "You couldn't mistake it for something else."
The discrimination could have caused the couple to give up, but they worked their way through it and she says it didn't taint her vision of the world, even though racism has never disappeared. Fortunately, they were able to find lenders that were happy to work with them and their customers.
"Racism is real," she continues. "Stuff like that happens, to some extent, still today. But nowhere near at the level that we experienced some years ago."
Her experiences have made her a fierce proponent of diversity, which she believes makes the world a better place. For years, she says Baranco Automotive Group employees have "looked like the U.N.," representing as many as 60 different countries.
Racism is one of the two "great 'isms' on the planet" that she opposes, with the second being sexism. "Sexism [is] an even greater bias than racism," she says. "The reason for that is that sexism is almost universal. You can barely go to any part of the planet where women are not being discriminated against at some level or another."
That's why as a board member for a number of organizations, she's pushed for more inclusion for women as well as minorities. "If I've got a seat at the table, then it is up to me to raise these issues," she says. "I will go so far as to say that a part of that fiduciary responsibility is to make sure that there is a fairness principle at work. And in fact, I've turned down board seats because I didn't think they met my ethical standards."
Her mother instilled these standards in her at a very early age. "She would just say 'Juanita, do it because it's the right thing to do,'" she recalls. "And so I always fall back on it. Do I mess up? Yes. Do I make mistakes? Absolutely. But I'm always trying to do the right thing. And I think people ultimately do end up judging you based on the content of your character."
---
Education Advocate
Her mother also had a profound influence on Baranco's beliefs about the value of education and her commitment to supporting it. The late Evelyn Evans Powell worked her way through high school and then college at Clark Atlanta University. While Baranco was growing up, her mother went away to complete a master's degree at Grambling State University, 64 miles from Shreveport.
"My mother was getting a degree in special ed because she wanted to be able to help my [disabled] brother even more," Baranco says. "But I saw what her appreciation for education was. I tell people all the time, my mother and father never, ever said the words, 'you must go to college.' But I was in an environment where it was clear to me that this was the expectation. I never thought of not going to college."
Baranco has taken advantage of every opportunity to promote education among her own four children, in the communities in which she's lived, in the public school system and at the university level. She began by getting involved in the high school near her DeKalb County car dealership. She made donations to the school, formed partnerships and encouraged her employees to tutor and mentor students, especially in the areas of math and science. Eventually the dealership began hiring students from the high school to work part time.
When she was on the State Board of Education from 1985 to 1991, Greg was chair of the Georgia Automobile Dealers Association. Together they created a program to pay a $2,000 stipend to automotive technology students. Technical colleges selected the top graduates to receive the stipends, which were used to buy their first set of tools.
"The tools are really expensive," she says, "and they need their own tools to really make money. It [that program] put out some terrific technicians, which we sorely needed."
In addition to serving on the state education board, she served as chair of the DeKalb County Education Task Force at about the same time. In the early '90s, Gov. Zell Miller appointed her to the University System of Georgia's Board of Regents and in 1995 she became the first Black woman to chair the board. Paying tribute to her mother, she continues to serve on the board of Clark Atlanta University, where she was chair from 2003 to 2013.
In her time on the Board of Regents, she worked to raise the minimum college grade point requirement for those going into education and "fought like mad" to raise beginning teacher pay to $40,000. She believes those two initiatives have helped to "attract the kind of teachers you need." Currently, she's advocating for the starting salary to be $60,000.
These days she's "really into the STEM disciplines," she says, referring to science, technology, engineering and math. "We've got to have people learn how to do critical and analytical thinking."
Baranco believes "with my heart of hearts that we have to have an educated populace. But we have to start with valuing an education."
Part of her rationale is the fact that college graduates make more money than non-college graduates. "But a quality education makes a difference in the individual. It makes a difference in the state and it makes a difference in the universe. It is the key to the kingdom. So much changes."
As a result, she encourages businesses to get involved with education because a more educated populace is going to end up being a better-qualified workforce. "This is not rocket science," she says.
---
Successful Influencer
The list of awards and recognitions she's received for her business and community activities in the past 40-plus years is too lengthy to name here. A few include:
Recognition from Dow Jones for entrepreneurial excellence.
Turner Broadcasting System's first Trumpet Award for entrepreneurial excellence.
Atlanta Business League's Entrepreneur of the Year award.
YMCA's Women of Achievement Award.
Atlanta History Center's Defining Women in Atlanta Award.
Essence magazine feature as one of the best businesswomen in Atlanta.
A finalist for the 2003 Time magazine Quality Dealer Award.
Justice Robert Benham Award for outstanding community service, named for Georgia's first Black Supreme Court Justice.
She's received these honors in part because she's able to connect with others to accomplish significant goals, and because she believes people can come together over basic rights and wrongs.
"Ultimately, I think there is a human connection, that if you use the right tactics – and different tactics for different situations and different people – you get to the right place," she says. "You can reach that common ground upon which we can agree."
---
Past Trustees
2020
Robert Brown Jr.
RL Brown & Associates
President & CEO
Robert Jepson Jr.
Jepson Associates
Founder & CEO
---
2019
Frank Blake
The Home Depot
Former Chair & CEO
John Schuerholz
Atlanta Braves
Vice-Chair Emeritus
---
2018
Ed Bastian
Delta Air Lines
CEO
Paul Bowers
Georgia Power
Chair & CEO
---
2017
Duane Ackerman
BellSouth
Former CEO
A.D. "Pete" Correll
Georgia-Pacific
Former CEO
---
2016
Jim Blanchard
Synovus, Former CEO
Philanthropist
Muhtar Kent
The Coca-Cola Co.
Former Chair & CEO
---
2015
Alana Shepherd
Shepherd Center
Founder
Paula Wallace
Savannah College of Art & Design
Founder & President
---
2014
Arthur Blank
The Home Depot Co-founder
Atlanta Falcons Owner
Billy Payne
Atlanta Olympics Visionary
Former Augusta National Golf Club Chair
---
2013
Truett Cathy
Chick-fil-A, Founder
Author, Philanthropist
Herman "HJ" Russell
H.J. Russell & Co., Founder
Civil Rights Leader
---
2012
Tom Cousins
Cousins Properties Founder
Philanthropist
Andrew Young
Former United Nations Ambassador
Former Atlanta Mayor
---
2011
Vince Dooley
University of Georgia
Former Athletics Director & Football Coach
Sam Nunn
Former U.S. Senator
Nuclear Threat Initiative Founder
---
2010
Hank Aaron
Atlanta Braves
Baseball Legend
Ted Turner
Businessman
Philanthropist
---
2009
Bernie Marcus
The Home Depot Co-founder
Philanthropist
Marguerite Neel Williams
The Georgia Trust for Historic Preservation
Founding Trustee