South Fulton County: Southern Exposure
Mixed-use projects, fulfillment and filmmaking.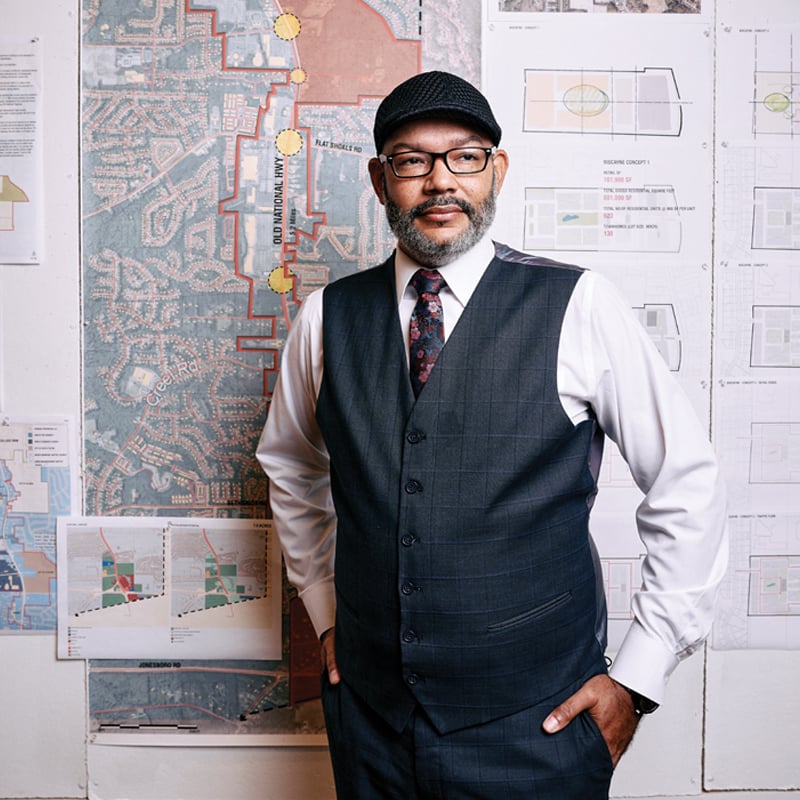 These are different times across the world, in the state of Georgia and in each of the eight South Fulton County cities. The famous Chick-fil-A Dwarf House, which celebrates the history of the College Park-based restaurant chain, features a statue of founder Truett Cathy outside the front entrance. On recent mornings the statue could be seen sporting a face mask.
But the coronavirus and related havoc haven't stopped the cities – Chattahoochee Hills, College Park, East Point, Fairburn, Hapeville, Palmetto, South Fulton and Union City – from barreling along and working to provide their citizens with new opportunities, jobs and housing to open the new decade of the 2020s.
The southern portion of Fulton County is now almost entirely incorporated. The challenges the cities face with incorporation include providing amenities like parks and recreation facilities, walkable downtowns and top-tier housing that will both improve the quality of life for current residents and help attract new ones. Most of the cities boast their own economic development directors, tasked with bringing more construction cranes and retail options to the area.
There's already a solid base to build on. The eight cities' combined population exceeds 200,000. The region is home to MARTA stations and multiple interstates, to the headquarters of Chick-fil-A, Delta Air Lines and Porsche USA, among others, and most importantly to Hartsfield-Jackson Atlanta International Airport, one of Georgia's biggest economic drivers even during a pandemic.
The next steps include more mixed-use developments, more movie and television studios, more breweries, more fulfillment centers, more walking and biking trails and more connectivity with the wider Metro Atlanta region.
"Hapeville's got everything you need," says Mayor Alan Hallman, though he could be speaking about the entire area. "From a transportation standpoint we're right by the world's busiest airport, the interstate system and rapid transit options. It's like the center of the universe. It's a great place to be with big-time amenities and small-town charm."
---
Expanding Options
With the Atlanta airport right in its footprint, it's no surprise to see hotels popping up out of the ground in South Fulton County. A 174-room, 157,000-square-foot Embassy Suites with two pools and a restaurant is under construction in Hapeville and scheduled for completion in 2021. Similarly, a seven-story, 112-room TownePlace Suites is set for completion next summer. For thirsty travelers (and residents), there's Arches Brewing, the city's first brewery.
Porsche is expanding its U.S. headquarters, which is partially located in Hapeville, by constructing a service center that will be used by Porsche dealers in Atlanta. It will be the only Porsche service center on the south side of Metro Atlanta.
A little further south, Christopher Pike enjoys the honor of being the city of South Fulton's first-ever economic development director, launching the office in 2018. His efforts take place in a municipality that covers more than 85 square miles.
"The city of South Fulton is the third-largest city in Metro Atlanta," says Pike. "Not only that, we're huge in land mass. Your average city is between 15 and 25 square miles. Our council district 4 is larger than most cities in Georgia with respect to land mass."
Much of his work to date has consisted of establishing the basics: Creating tax allocation districts, developing an incentive ordinance, drafting a strategic plan and breaking the city into what Pike describes as nine commercial nodes. One of the first big projects consists of 200 acres on the banks of the Chattahoochee River where a developer wants to build a mixed-use project.
Pike feels there's promise for more development, given the city's well-educated population combined with a lot of undeveloped land.
"It's a blank slate, as I tell everyone," says Pike.
Part of the long-term vision is a town center/downtown complete with a city hall along Camp Creek Parkway to give the city a centralized gathering point. Another plan calls for renovating the South Fulton Tennis Center, and the city will soon take over the Wolf Creek Amphitheater from Fulton County.
The city of South Fulton recently celebrated the opening of a $25-million Publix at the intersection of Campbellton Road and Camp Creek Parkway, filling the gap in what had been a food desert. Other projects in the works include a new police headquarters on Old National Highway and a seniors housing facility on Riverside Drive.
Of course residential is always among the most important types of new real estate – retail follows rooftops, as the saying goes. South Fulton (the city) alone is issuing roughly 1,200 new housing permits a year, says Pike.
Nestled in the southwestern corner of Fulton County, Chattahoochee Hills employs a unique zoning model of leaving 70% of its land untouched while compressing the other 30% into walkable mixed-use development.
In addition to the popular Serenbe development, Chattahoochee Hills is working with the city of South Fulton on a $200 million redevelopment of historic Campbellton, a city that was abandoned in the mid-1800s when the railroad was routed through nearby Fairburn. The project is expected to get underway next year.
"It's a river-oriented development," says Chattahoochee Hills Mayor Tom Reed. "We're trying to show that two neighboring cities can work together to create a development that is of higher quality than what people expect of the area."
Serenbe, a community of homes, restaurants, arts, businesses, preserved forests and miles of trails, where Reed lives, is also developing another phase due to high demand.
"Chattahoochee Hills has the best of both worlds," he says. "I can take my dogs, head out the back door and be on nature trails for hours and maybe see one other person. But I can also walk out my front door to check my mail, see 10 neighbors on the way and walk to three Atlanta-quality restaurants. You get to have the best of living in town while still having nature all around you."
If the bucolic nature of Serenbe isn't enough, the 260-acre Chattahoochee Hills RiverLands Park is being developed to add more recreational opportunities. The site is a Trust for Public Land acquisition and includes Chattahoochee River frontage that can be used for water access, camping and events.
---
Runway Rhythm
The Palmetto Logistics Park continues to leverage its location near the Atlanta airport, landing medical equipment manufacturer Drive DeVilbiss Healthcare for a 1-million-square-foot lease in 2019. In 2020, the third phase of the 3.5-million-square-foot logistics park broke ground, promising additional jobs in the future for the city.
Palmetto also recently landed another 1-million-square-foot tenant, a contractor for Lowe's that handles returns whose business has been booming in the COVID era. The city expects to have another five distribution centers under construction within the next year.
"We've got five in the ground and five that will be coming up out of the ground," says Palmetto Mayor J. Clark Boddie.
To handle all those new employees, the city has half a dozen new housing developments that are expected to start in 2021, mostly consisting of single-family homes, and a 27-acre retail development should break ground soon.
"Palmetto has always been a bedroom community, located in South Fulton County and North Coweta County," Boddie says. "We have easy access to I-85, U.S. Highway 29 and South Fulton Parkway. We have three good ways to get in and three good ways to get out. And Palmetto is not so large that it's not considered a small town. Everybody knows everybody."
College Park deems itself "Georgia's Global City" thanks to the part of Hartsfield-Jackson that's inside its city limits. In large part due to that status, the city is home to the Georgia International Convention Center and the Gateway Center Arena, where the WNBA's Atlanta Dream and the NBA G League's College Park Skyhawks play.
COVID-related distancing regulations have put a temporary halt to much of the activity at those centers, but the city's development future remains bright. Arguably the biggest project in College Park right now is the $1.5-billion Six West mixed-use development, which spans a massive 311 acres just north of the convention center.
Six West includes plans for Class A office buildings, retail, restaurants and entertainment options, surrounded by green space and a running trail. It's a project that looks far beyond COVID, with the first phase scheduled for completion in 2025 and the final phase done in 2035.
"We're looking at having 2.3 million square feet of office space," says Artie Jones III, director of economic development for College Park. "We're looking at having over 500,000 square feet of retail, and several parking decks to accommodate everything. A pedestrian bridge has just been approved for between $6 and $7 million … between the Gateway Center [Arena] and Six West. People will be able to walk from the convention center to Six West without [encountering] any traffic."
Multiple hotels are in the mix, too. And all of that space will translate to thousands of jobs both in the construction phase and once the place opens up.
While they attract less attention, fulfillment centers are another important source of employment that similarly benefit from airport proximity. In part due to fulfillment centers, Union City has added more than 6,000 new jobs over the past four years, and Palmetto is benefiting from a $77.6 million warehouse for PVH Corp., which will employ 575 workers. A fulfillment center for The Home Depot is underway in East Point, spanning 650,000 square feet.
East Point has its own hotel project, a Home2 Suites with 99 beds that should open late next year. That city has also planned 26.2 miles of trail that are being built over 10 years, with the first section now open along Norman Berry Drive and eventually linking with the Atlanta BeltLine. On the retail front, the Camp Creek Marketplace power center remains a big draw.
"Camp Creek Marketplace is 100% occupied," says Maceo Rogers, East Point's director of economic development. "We have no more room out there to put potential prospects. That area continues to thrive."
The city is working with Duke Realty to market the area for new projects near the marketplace and should be announcing its own brewery soon as well.
The East Point Commons project, which is an eight-acre tract in the heart of downtown zoned for mixed use, is in the development stage. "We are fully focused on that," says Rogers. "It's a diamond in the rough for us. It'll be right there adjacent to the MARTA station and will make a connection to our newly built city hall."
Film is a big buzzword in Georgia, and has helped lift the fortunes of South Fulton cities along with the rest of the state. The former Shannon/Union Station Mall site is now home to Atlanta Metro Studios, which includes 135,000 square feet of sound stages and 50,000 square feet of office space. Parts of Jumanji: Welcome to the Jungle were filmed there, bringing the likes of Kevin Hart, Dwayne "The Rock" Johnson and Jack Black to Union City.
Union City recently completed a $1.5-million upgrade to Mayor's Park, which includes a walking trail near downtown and has seen a tremendous amount of use since lockdowns began. Union City Mayor Vince Williams describes it as one of the most visited places in town. Also downtown is the city's old train depot, which is being rebuilt. Williams aims to have a more walkable, more livable Union City in the future, with more residential in the central business district and more amenities to keep locals at home.
"When I came in as mayor, we were in a very dire financial situation," says Williams. "But I have a great council, I have some amazing team members on our staff who are focused on the charge that we need to build a financial base that will give us foundational footing to be able to do the things that we want to do."
---
Livability Upgrades
While the Dwarf House draws Chick-fil-A fans from across the country who want to see where it all began, history plays into the South Fulton County restaurant scene in other ways too. The city of Fairburn boasts two old train depots that each serve as restaurants today. One is Armando's Mexican Kitchen and the other is Casablanca Cafe. There's also Oz Pizza, which is something of a local landmark.
Kalanos Johnson heads up economic development in Fairburn and is, like Pike, the first in his job. Johnson brings a wealth of experience to the gig, having served as vice chair for the economic development authority in Clayton County for several years. COVID lockdowns started right at the beginning of his tenure, but he's pushing forward just the same.
"We have a really nice, highly esteemed private school, Landmark Christian, right in the downtown area," says Johnson. "That will be a focal point for redevelopment, and Landmark could become to Fairburn what Woodward Academy is to College Park."
Fairburn will soon be home to a new public school as well, Global Impact Academy, which will have a science, technology, engineering and math (STEM) focus when it opens in fall 2021. The school will be a magnet program helping students learn about information technology, energy systems, healthcare sciences, cybersecurity and even game design to prepare them for the jobs of the future.
Streetscape improvements are underway, adding elements like landscaped medians and traffic control devices, brick pavers and other pedestrian enhancements. Along with the expanding schools and restaurants, Johnson wants to see Fairburn's downtown more active after working hours.
"It's one thing to have the daytime population, Monday through Friday from 8 a.m. to 5 p.m.," he says. "We want focus and attention to downtown on the weekends with arts and culture, downtown murals, green space. A nice sense of place."
Housing is going up all across the county to give those new employees a place to live. Fairburn is welcoming a 270-unit apartment complex called Crofthouse; another, called Solstice Apartments, opened a few years ago. Two single-family subdivisions are also in the early planning stages, according to Johnson.
In Hapeville, the 18-unit Myrtle Garden Townhomes is being developed adjacent to City Hall and scheduled for completion early next year. Another, The Landing at Virginia Park, consists of 12 units and is nearly complete now. Yet another townhome development called Village Walk is in the works, and a new library for Hapeville is being built as well.
In spite of the economic carnage brought on by the pandemic, Union City has seen more than 500 housing permits pulled in 2020. It's a sign of the resilience of the area and its bright future.
"When you look at this particular area of South Fulton [County] and where we're placed on the map, our proximity to the world's busiest airport, and all of the undeveloped land opportunities that are here – the south side will be the future of Metro Atlanta," says Williams. "We're excited about where God has placed us on the map."