Gwinnett Chamber honors small businesses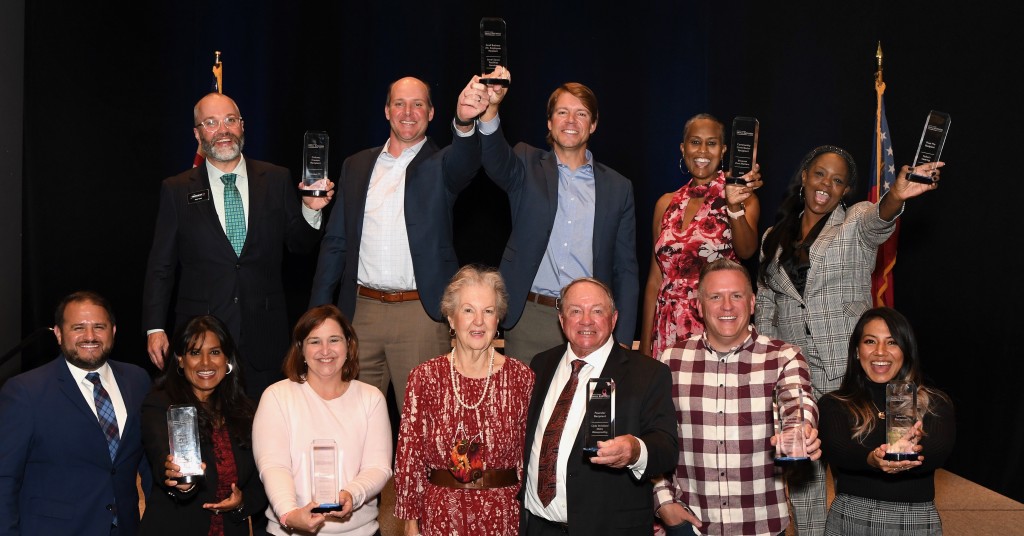 At the Gwinnett Chamber's recent Small Business Awards program, 11 recipients were honored for their best business practices and entrepreneurial spirit. According to President and CEO Nick Masino, more than 90% of the Gwinnett Chamber's 2,200 members have 50 or fewer employees, making small businesses the engines of the county's economy.
Winners of the 2020 Small Business Awards in their representative categories are:
Learn more about Gwinnett County's businesses – small and large – in our September 2020 feature, "Dynamic and Diverse."
Photo of Small Business Award winners by Jennifer Stalcup Photography. Top row, left to right, Matt Hyatt, Rocket IT; Dave Hollister, Level Seven Facilities Services; Steven Tomlinson, Level Seven Facilities Services; Andrea Barclay, Because One Matters; Chef Rosalind Tucker, Tucker's Catering. Bottom row, left to right, Nick Masino, Gwinnett Chamber president and CEO; Sharmin Arefin, Arefin Law Office; Jennifer DeLoach, Bexley & DeLoach; Sandra and Clyde Strickland, Metro Waterproofing; John Reynolds, Slow Pour Brewing Co.; Pierina Anderson, Twin Kookies and Sweets.
Do you follow us? Find us on Linkedin, Facebook, Twitter and Instagram.