Eastman | Dodge County: Resilient and Refocused
Aviation, education and downtown revitalization.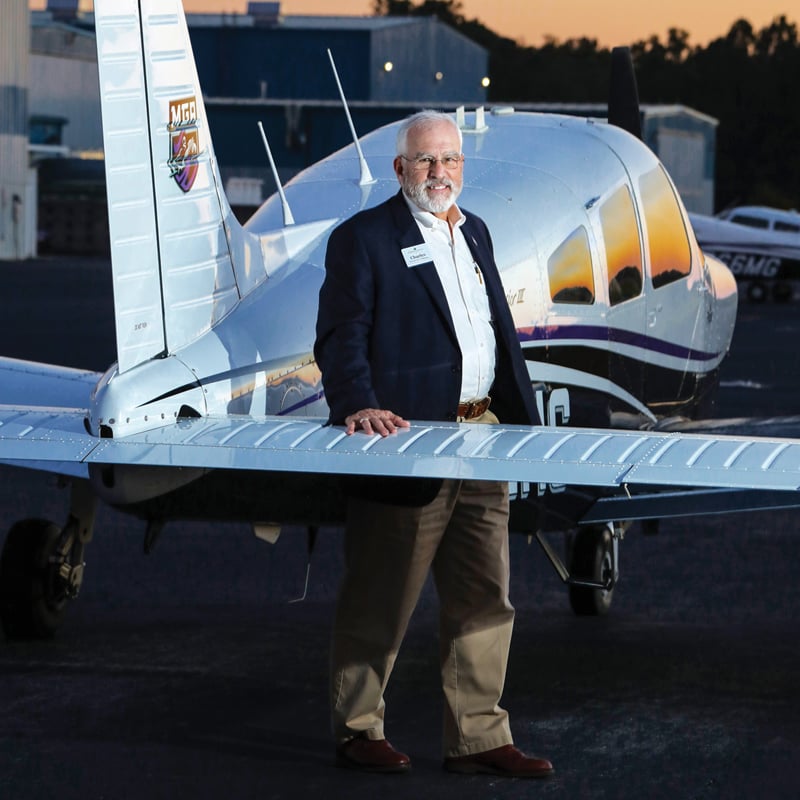 Dodge County, southeast of Macon in central Georgia, has gotten really good at reinventing itself. Over the past 150 years, Dodge and its county seat, Eastman, have lived through booms and busts keyed to agriculture, timber and candy. Now the area is seeking to cement its new identity as an aviation hub.
"That's the thing about this place: it's ridiculously resilient," says Charles Williams, the long-time executive director of the Dodge County- Eastman Development Authority (DCEDA).
The first boom was fueled by the longleaf pines that dominated the land in the county in the 1870s. But they were cut down faster than they could regrow, and much of the area turned to farming.
The second boom was also built from trees, or more accurately the pecans that grew on them. W.S. Stuckey Sr. had a wealth of pecans, and his wife Ethyl had family recipes for candy. The famous roadside Stuckey's chain originated in Eastman during the Depression and the teal-roofed stores were a thriving feature of mid-century road trips, especially in the Southeast. Stuckey's owned or franchised almost 400 stores at its peak and employed close to 1,000 people.
With changing travel patterns and a sale to out-of-state corporate ownership, Stuckey's dwindled and now exists largely as stores within other convenience stores. Stephanie Stuckey, granddaughter of the founder and a former member of the Georgia House of Representatives, runs the company (the family bought it back in the 1980s) and is on a mission to revive the brand. Eastman still plays a role in Stuckey's distribution, but it's not the company town it once was.
Adding to the woes, cotton mills and shirt factories, staples of many small Southern towns, including Eastman, moved offshore about the same time and once again Eastman and environs were in need of reinvention.
---
Aiming High
Here, Williams says, is where Dodge County started looking to the skies. Flexing some political muscle, in the 1960s the area managed to secure state financing for a 5,000-foot runway (since expanded to 6,000 feet), the core that became Heart of Georgia Regional Airport – and sparked a new direction for economic development.
"We had a vision to have an aviation school to train pilots," says Williams of the early plans for Middle Georgia State University's flight program, the only four-year aviation school offered by the University System of Georgia. "We started out with six students."
Middle Georgia's aviation campus is just outside Eastman, running in a strip alongside the airport. On the street side are the regular classrooms; on the airport side are the flight simulators and aircraft maintenance hangers for the college's fleet of small planes and helicopters.
The aviation satellite campus opened Eastman and Dodge County to a pipeline of aviation jobs from commercial pilot to aircraft maintenance workers to airport management.
Now, it's the backbone of a growing business hub. Williams pulls out his maps and starts drawing an oddly shaped geometric figure connecting cities in the region that are home to major aerospace industries: Marietta (Lockheed Martin); Mobile, Ala., (Airbus); Savannah (Gulf-stream Aerospace); and Charleston, S.C. (Boeing). About in the middle of that lopsided rectangle, Williams points out, sits Eastman.
With that in mind, investors in Dodge County began courting aviation industries, banking on the fact that major aerospace assembly plants depend heavily on parts and components made elsewhere. Today, clustered near the airport and the flight school are three businesses that cater to the aerospace industry. Valence Surface Technologies is a metal finishing company. Kencoa Aerospace manufactures and supplies precision machined and sheet metal fabricated parts. And Aremac Heat Treating East provides the complex heat treatments that change the molecular structure of metals used in the industry.
Think of these companies, if you will, as part of a classic industrial assembly line, except instead of work stations you have individual companies, each performing extremely specific and distinct tasks that collectively serve as key cogs in the aerospace supply chain. It's a major part of what makes Eastman and Dodge County's aviation strategy unique.
"We are one of 12 [Valence] facilities in the U.S. and the only one in the Southeast," says Patrick Barnett, general manager of the company's Eastman operation. "If you see it in the air, one of our companies probably touched it in some way."
Ed Grott, general manager of Aremac, is a West Coast transplant to Dodge County. So is Aremac, which moved part of its operations here in 2013 and shut down the last of its operations in California in 2018.
Zoning, regulation and tax rates made manufacturing in California challenging, Grott says – and then the lease on their property ran out. "We already had part of our operation in Eastman, and we felt welcome here, so moving the whole company here made sense."
The development authority owns a key piece of land adjacent to the airport and is on the hunt for more aviation companies to join the trio.
Adon Clark, dean of Middle Georgia's School of Aviation, has taught in both the maintenance and flight tracks of the campus he oversees. His credentials include service with the U.S. Air Force's Thunderbirds maintenance team.
Clark touts the affordability of a four-year aviation degree at the university, which he estimates at $133,000 for students pursuing flight education. The total cost of attendance for four years of tuition and fees, housing, meals and books is $66,000. Students pay an additional $67,000 in fees for flight training over four years.
---
Additional Assets
Dodge County has kept some of its eggs outside the aviation basket. Sprinkled around the county are a number of small industries. Echoing the county's original timber boom, many are related to the building trade, including companies that make industrial bags for construction; Reynobond, which manufactures a layered, colorful composite material used in the skins of skyscrapers and other buildings; and even a new startup that will turn recycled plastic into materials for decks and other outdoor projects.
Nor are all the county's higher education assets focused on aviation. When Macon- based Mercer University closed a satellite campus in Eastman a few years ago, Dodge County found another tenant in Georgia Military College. Eastman's campus, which is open to all students, not just those interested in a military career, is one of 15 scattered across the state. In its first quarter four years ago, the Eastman campus had 60 students. Today, it has 225 in a two-year college designed to articulate with other universities. Dual enrollment, when high school students attend college for both high school and college credit, also plays a large part at the campus and in the community.
"We're one of the largest dual enrollment providers across the state," says Erik Walton, director of the Eastman campus that has dual enrollment students from Dodge, Telfair and Crisp counties.
"We're expanding, and we've reached out to the county and the city to offer discounts to law enforcement. We are trying to build a county-specific program where employees can come back to school, and we've reached out to the hospital too, although that program is not up and running yet," says Walton. Offerings cover 41 different majors, including logistics management and allied health.
Meanwhile, the city of Eastman is looking at some major capital projects, including using grant money to pay part of the tab for a project that will automate reading water meters. The city is struggling with old pipes and sewer lines, and it's "bite the bullet time" for fixing them, according to Buddy Pittman, chair of the Eastman City Council.
"We're in very good financial shape. We have money in the bank, we have CDs and we're [about] to embark on some huge infrastructure projects," says Pittman.
Among those is an outdoor event center in a vacant lot downtown, next to a restored theater. The shape of the amphi- theater is already in place, and Pittman is looking forward to hosting special events to bring people back to downtown Eastman.
In October, both Eastman and Dodge County had planned to observe their 150th anniversaries, one day apart based on the dates the Georgia General Assembly created them. Chalk that particular celebration – a planned street festival and concert – up to another project lost to the pandemic. But the town made the best of the situation, says Andrea McCranie, chair of Eastman's Downtown Development Authority, who headed the project, with colorful banners and artwork on downtown merchants' windows.
Dan McCranie, veteran of 16 years as chair of the Dodge County Board of Commissioners and Andrea's husband, speaks optimistically about a proposed bypass, in the planning phase, that will keep truck traffic out of downtown – thereby helping the restoration – and serve as an "aviation loop."
"It's in the beginning stages. It's a project that'll take a while but if you don't start, it'll never get finished," he says.
It's that optimistic, can-do spirit that keeps Eastman and Dodge County soaring.