Upcoming Georgia History Festival focuses on Cold War era
Sen. Sam Nunn kicks off the festival with keynote address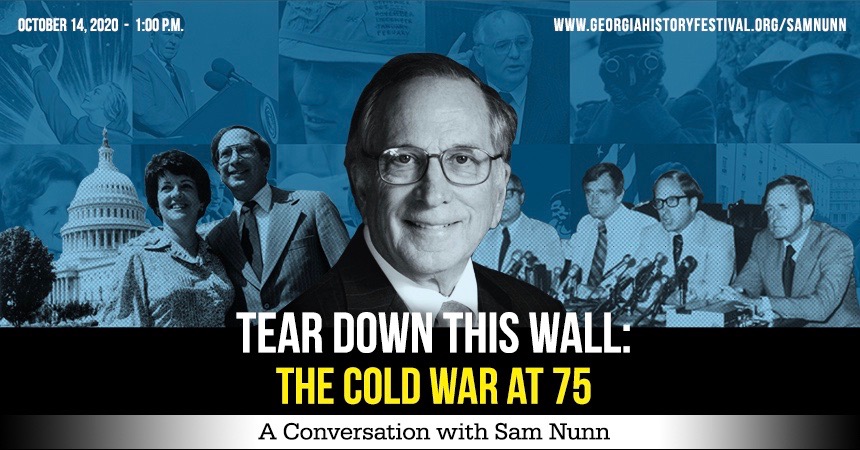 Highlighting the 75th anniversary of the Cold War's inception, the Georgia Historical Society (GHS) is addressing the period of geopolitical tension in its upcoming Georgia History Festival. The theme, Tear Down This Wall: Georgia in Cold War America, is the focus of the K-12 educational program that reaches 250,000 students and teachers throughout the state. The festival also provides educational opportunities for learners of all ages.
This year, the festival's program will be a virtual series beginning on Oct. 14 with a keynote interview of former U.S. Sen. Sam Nunn, who was chair of the Senate Armed Services Committee from 1987 to 1995. He is also co-founder of the Nuclear Threat Initiative, a nonpartisan, nonprofit organization working to reduce the risk and spread of nuclear, biological and chemical weapons. GHS inducted Nunn as a Georgia Trustee in 2011. He will discuss the impact of the Cold War on American foreign policy and national security.
Subsequent installments in the 2020-2021 Georgia History Festival include:
Presidential Leadership During the Cold War, Oct. 21
The Cold War and the Civil Rights Movement, Nov. 19
The Cold War and Popular Culture, Dec. 3.
Nunn's keynote and the series' remaining presentations will be live and will take place at 1 p.m. via virtual platforms. The presentations are free, but registration is required. Details can be found on the GHS website.
Learn more about former Sen. Nunn in our February 2011 feature, "Georgia's New Trustees: Vince Dooley and Sam Nunn."
Graphic provided by the Georgia Historical Society
Do you follow us? Find us on Linkedin, Facebook, Twitter and Instagram.