Georgia Trend's 2020 40 Under 40
Our 24th annual celebration of the state's best and brightest under age 40.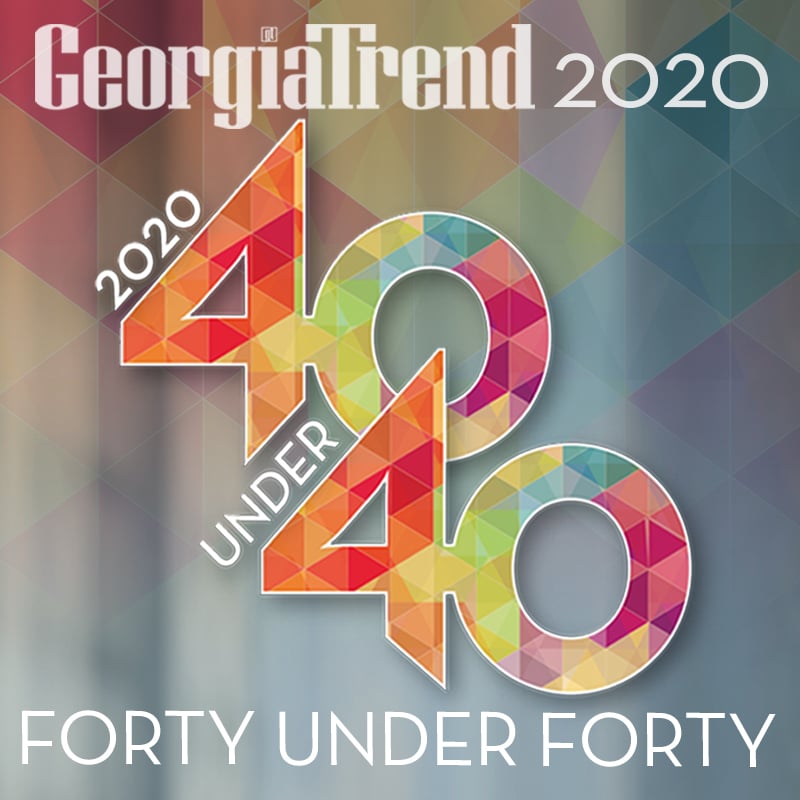 It's been 24 years since Georgia Trend's inaugural 40 Under 40, and each year the winners continue to leave us awed and inspired.
That's especially true during this troubling year, as many in this group of young leaders are working to keep our economy afloat and our citizens healthy. These outstanding people – Georgia's best and brightest – come from every corner of the state and represent the nonprofit, healthcare and legal sectors, large corporations and startup entrepreneurial ventures. As important as their day jobs are, however, they also find time to volunteer and give back to strengthen and grow the communities around them.
This year's 40 Under 40 were selected by the Georgia Trend staff from nominations provided by readers throughout the state who know them well. We're proud to share their stories.
The profiles were written by Anna Bentley, Candice Dyer, Jennifer Hafer, Karen Kirkpatrick, Patty Rasmussen, Randy Southerland and Mary Welch. – The Editors
Please enjoy our compilation video of our Honorees in lieu of an in-person event.
Video sponsor: Mercer University
---
Mahdi Al-Husseini

24
Aeromedical Evacuations Officer,

U.S. Army
CEO,

Anti-Rotational Technologies
Douglasville
Mahdi Al-Husseini commissioned into the Army in 2018 shortly after completing his undergrad studies at Georgia Tech. He's an aeromedical evacuations officer, piloting HH-60M Black Hawk helicopters to bring wounded soldiers to safety.
It's a mission set he fell in love with during a stint at Fort Rucker's U.S. Army Aeromedical Research Laboratory in Alabama. There, he learned about a dangerous complication every hoist mission faces: uncontrolled spinning of the litter, or the stretcher-like basket that holds wounded soldiers.
Al-Husseini developed SALUS, an anti-rotational technology that helps stabilize this spinning, through his R&D firm Anti-Rotational Technologies, which was recently acquired by Vita Inclinata Technologies.
"One of the beautiful things about spending my time with the Army while also being an engineer is that it has allowed me to very clearly funnel those engineering efforts to a very particular cause," he says, "which is to improve the aeromedical evacuation mission." – AB
---
Charles Bethea

38
Staff Writer
The New Yorker
Atlanta
Charles Bethea admits it's a "wild time" to be a journalist. "I've been covering the pandemic and the racial justice issues that are still emerging," he says.
He's not just covering them for a local audience. He's taken his knowledge of the South to the big leagues as a staff writer for The New Yorker, where he has combined talent with the hard work of reporting to ensure Georgia and the South stay top of mind in the nation.
Off the page, he's hiked the Appalachian Trail and has volunteered with the nonprofit teen journalism program VOX to help prepare the next generation of reporters.
"Journalism has taken me to a jail cell in South Georgia," he says, "to Jim Carrey's house in Malibu, to the top of the tallest volcano on earth in Chile's Atacama Desert and a hundred more places I'd never dreamed of visiting." – MW
---
Elise Blasingame

33
Doctoral Student
School of Public & International Affairs
University of Georgia
Atlanta
Before jumping back into academia (she'll begin work on her Ph.D. in January), Elise Blasingame served as executive director of Healthy Mothers, Healthy Babies Coalition of Georgia, where she was on the frontlines of the maternal mortality health crisis in the state.
Among the organization's successes since she took the helm in 2016 is advocacy for two important pieces of legislation that passed this year: HB 1114, which extends Medicaid coverage to mothers for six months after childbirth; and HB 345, an anti-shackling bill that protects pregnant women who are incarcerated. The nonprofit also led the campaign to prevent cuts in state maternal health funding in a difficult budget year.
The job was an opportunity to use "all the skill sets that I had [developed] in research and not-for-profit management throughout the years," she says. – RS
---
Curtis A. Brisco Jr.

32
Deputy Director
Rockdale County Board of Assessors
Conyers
Curtis A. Brisco Jr. loves the television show Parks and Recreation and identifies with Leslie Knope's enthusiastic devotion to community service on the show. "People don't like tax assessors, especially when their taxes go up. But if you do it correctly, it allows a government to properly allocate the money for the benefit of the community."
It's important to him that citizens, particularly senior citizens, know and take advantage of all homestead exemptions. His community outreach programs involve visiting senior centers and business groups to educate people about exemptions.
"I want to redefine what it means to be a public service employee," he says. "I want to get involved in the community, not just work for the government. I want to see a community growing and feel good that I was a part of it." – MW
---
Natalie Crawford

39
Senior Account Executive,

Abrigo
Habersham County Commissioner
Mt. Airy
In her day job, Natalie Crawford sells proprietary financial systems to clients with assets worth more than $1 billion. Her side hustle is serving as a two-term Habersham County commissioner.
After graduating from Piedmont College, Crawford returned to her native Habersham and put down roots. She was compelled into public service around the time of the Great Recession, when she watched industry leave her hometown, two community banks fail and a number of small businesses shutter.
After getting her toes wet as chair of the local hospitality board, she took office as the District 4 commissioner in 2013. In that role, she commissioned the first corridor overlay study and helped form the county's economic development council.
"I grew up a preacher's kid," she says, "and I feel like I'm called to serve." – JH
---
Matt Erickson

39
Vice President,

Radiology & Oncology
LocumTenens.com
Alpharetta
Matt Erickson plays a unique role in the nation's healthcare system. If there is a hospital or community in need of a physician, LocumTenens.com provides them. The goal is to put a clinician in front of a patient where they likely would not have had one otherwise, including medically underserved communities. In the era of COVID-19, Erickson has played a critical role in providing physician staffing services to hospitals in coronavirus hotspots, including Albany, Ga., and New York.
"To know that if we're able to find a clinical skill set match and someone willing to serve, the moment they're on the ground they're impacting patient care and that's a really cool thing," he says.
When it comes to volunteering, Erickson is particularly adept with a hammer and has provided home construction, renovation and remodeling services domestically and abroad, with organizations like the Hephzibah Children's Home, Drake House and World Vision. – JH
---
Jeffrey Fisher

35
Counsel
Kilpatrick Townsend & Stockton LLP
Atlanta
A son of lawyers, Jeff Fisher grew up with a passion for the law. From the beginning he knew that he wanted to be a litigator fighting for his clients' rights in court. He's done just that, arguing consumer class action cases as well as extensive work in the telecommunications industry. His success also allows him to fulfill another passion – defending those who can't afford legal representation, particularity in immigration cases.
"Making an argument and distilling complex information into an understandable form is something that I've always enjoyed doing," says Fisher.
Bringing people together and cultivating understanding is reflected in his civic work. He volunteers with the Anti-Defamation League and the American Jewish Committee Atlanta's youth leadership board. He is active in Project Understanding, a program that brings together people who identify as Black and/or Jewish to share experiences and develop relationships. – RS
---
Elesia Glover

33
Founder & President, Posh Pack Inc.
Senior Project & Policy Manager, City of Atlanta Watershed
Smyrna
Elesia Glover has long been passionate about promoting health for girls and women and the role it plays in fostering not just health, but education as well. Posh Pack provides feminine hygiene products to schools where one in four girls miss class time due to a lack of access to these essential items.
"I want to be able to bridge the gap for students in that way and provide resources for menstrual health for students," says Glover. "It's one of the things that most people take for granted, but when you highlight it, a light bulb comes on."
In addition to her nonprofit work, she is the project and policy manager for Atlanta's Department of Watershed Management where she focuses on state and federal policy, with a particular interest in equity related to water initiatives. – RS
---
Shanteka S. Glover

33
Senior Computer Security Engineer
Savannah River Nuclear Solutions LLC
Augusta
As a young girl, Shanteka Glover was fascinated by computer science. She dreamed of one day creating the next big "it" video game that everyone would play and in turn make her rich. During her freshman year in college, however, she began to have doubts.
"It was completely different than anything I thought," she says. "I wasn't sure I was going to continue in the program, but my dean and department chairs at South Carolina State sat me down and helped me see the big picture, and I'm so glad they did."
Casting thoughts of a business degree aside, Glover stuck with computer science and started her career in software configuration management. She recently switched tracks into cybersecurity awareness, helping her colleagues avoid phishing scams and other threats.
Her community service routinely involves engaging and mentoring students in science, technology, engineering, arts and math (STEAM) fields, and she is a 2018 U.S. Women in Nuclear Region II Leadership Award Winner. She is the current president and one of the founders of Savannah River Site Women in Nuclear. – JH
---
Deidre Grim

36
Nutrition Program Manager
Healthy Savannah and YMCA of Coastal Georgia
Savannah
When it comes to having a role model, Deidre Grim hit the jackpot, coming from a family that valued activism and service in South Carolina.
As the nutrition program manager funded by the Centers for Disease Control and Prevention REACH (Racial and Ethnic Approaches to Health) grant, she works to eradicate food insecurity, provide healthy food options in low-wealth communities and address systemic poverty and racial issues.
She carries her commitment into her volunteer work as well, as the president of the PTSA at her children's school and a tutor and mentor to young people in her community.
"Life is not your own," she says. "If I have an opportunity, then I have to ensure that people after me have an opportunity. I'm not carrying my household on my back; I'm carrying a community." – MW
---
Cindy Quan Hong

37
Art Educator
Bibb County School District
Macon
Thank goodness Cindy Quan Hong wasn't good at chemistry. She began college intending to be a neurologist, until her chemistry professor noticed she spent her class time drawing and suggested she change majors.
"I love seeing the smile on a student who sees that they can do something creative or finding out that some of my former students are art teachers or artists," she says of her work as an elementary school art teacher.
The pandemic has been challenging. She taught on Facebook and Instagram and did socially distant art classes outside. "Teaching needs to go with the flow," she says.
She takes that attitude into volunteer work at the Georgia Industrial Children's Home, where she teaches art, and as she delivers hot meals to people in need.
"Art helps [kids] tap into social and emotional learning," she says. "They tell their stories, and it opens them up." – MW
---
Stephen Houser

37
Director
Twin Lakes Library System
Milledgeville
Male and millennial, Stephen Houser doesn't fit the stereotype of the traditional librarian. But neither does the 21st century librarian, says Houser.
"We are active and engaged in our community," he says. "Librarians of the 21st century leverage the access we have into our community, providing the library as a platform for a host of resources that we haven't done before but make natural sense for us as information providers."
Named Georgia's 2019 Librarian of the Year, Houser managed a local funding crisis with skill and tact, secured an Institute of Museum and Library Services (IMLS) grant – one of only eight in the country – to help make broadband accessible in public spaces and snagged another $49,000 IMLS grant to preserve the oral history of Milledgeville's Central State Hospital, once one of the world's largest mental health hospitals. – PR
---
Henry Jacobs

28
Middle Chattahoochee Director
Chattahoochee Riverkeeper
LaGrange
Saving and chronicling Georgia's most precious natural resources has long been a passion for Henry Jacobs. He manages the Chattahoochee Riverkeeper's efforts to protect the river along with outreach efforts such as the West Point Lake Floating Classroom. Each year, elementary and high school students learn about water quality and lake ecology through hands-on activities aboard the 42-foot vessel, Miss Sally.
He combines his work with a talent for photography, "especially on the river, trying to document what I'm seeing out there –the good, the bad and the ugly – with film," he says.
He and his father created a documentary, Breaking the Silence, on the life of Lillian Smith, the author of Strange Fruit, published in 1944, and one of the first white Southern writers to speak out against segregation. – RS
---
Kwame Johnson

37
President and CEO
Big Brothers Big Sisters Metro Atlanta
Atlanta
The youngest-ever president and CEO of Big Brothers Big Sisters Metro Atlanta, Kwame Johnson has dedicated his life to helping young people reach their full potential.
He found his mission at 17, when he was incarcerated with young men who came from very tough situations. "Their stories and their support of me wanting to get my life back on track was the reason why I decided to go into youth development at 19," he says.
Since then, Johnson has focused on youth education missions for nonprofits like Communities In Schools and PowerMyLearning.
"The overall big goal for me is to solve poverty – not to eliminate it, because there will always be poverty," he says. "If we can help young people get out of high school, that's their best shot to get out of poverty." – AB
---
Christopher Jones

32
Partner and Chief Operating Officer
Secure Records Solutions
Thomasville
Christopher Jones had to leave Thomasville to realize how much he missed it. A self-described overachiever at the University of Georgia, he graduated and worked for Morgan Stanley in Atlanta. "I had zero passion for it."
He returned home to his father's business, SRS. "Growing up, if we complained, we were asked what our solution was." He applied that philosophy to SRS – which was a paper records storage company in an increasingly digital world – and his hometown. Jones reinvented SRS, talking to clients about what they needed and adding service lines to replace paper storage. He also expanded the company's client base from South Georgia to the world and increased payroll by 300%.
Along the way, he became an advocate for Thomasville and Southwest Georgia. He is involved in his church, is a member of the Institute for Georgia Environmental Leadership and is on the Georgia Chamber board.
"I had to leave to gain perspective," he says. – MW
---
Debra Lam

39
Executive Director, Partnership for Inclusive Innovation
Georgia Institute of Technology
Atlanta
Debra Lam believes in the power of technology and communities, which is perfect for her role at Georgia Tech, where she heads up Lt. Gov. Geoff Duncan's new initiative Partnership for Inclusive Innovation, dedicated to making Georgia the tech capital of the Eastern U.S.
"It's an integration and application of technology, data, tools and techniques to improve the quality of life on a local level," she says.
Lam is also director of Smart Cities and Inclusive Innovation at Tech, which brings the university's resources to communities to solve real problems. "Various voices are heard, and if everyone is working in an inclusive fashion, the outcome will be stronger and have a more sustainable community impact."
Lam says that oftentimes research is done in "silos, and community issues are complex, so it's important [to] work together. We bring as many partners together as possible. We're all working together to affect change." – MW
---
Averri Liggins

29
CEO, Black Women Moguls
Senior Administrative Assistant, Georgia Technology Authority
Atlanta
Averri Liggins made history in 2016 when, at the age of 25, she became the youngest member of the executive board of the National Council of Negro Women, Greater Atlanta Section. As the leader of Black Women Moguls, Liggins assists women entrepreneurs to increase their visibility and connections so they can grow their sales. She provides business training, workshops and networking opportunities.
"I want women to dream big and think of themselves as moguls," she says. "Too often we need help with assertiveness in getting capital and credit."
Liggins is an alum of Americorps Vista, a national service program aimed at alleviating poverty, and former Georgia Gov. Nathan Deal's administration. She also volunteers with the Georgia Technology Authority State Charitable Contributions Program (SCCP) Charity Golf Tournament Committee, which raised $34,700 in 2019. – CD
---
Chris Little

33
CEO
Universal Health Services (Saint Simons By-the-Sea)
St. Simons Island
Chris Little has one overriding goal: to take someone in crisis and stabilize them so they can function. The 101-bed behavioral health hospital he helms, Saint Simons By-the-Sea, treats people with mental health issues, including depression, psychosis, suicidal thoughts, schizophrenia, substance abuse and post-traumatic stress.
"I love the challenge," he says. "Every day is different, whether we're dealing with an aggressive patient or regulatory issue. I love seeing people's lives change. We see people at their worst and come out a new person."
He aims to grow the facility's regional footprint and expand services, such as opening a children's unit. He also works to get the word out about mental health issues as a community advocate for these critical topics.
"We have lots of opportunities to branch out and offer services that could be life-saving for folks with mental illnesses." – MW
---
Luneta Louis

33
Quality Special Process Lead
John Deere
Augusta
At John Deere's Augusta facilities, Luneta Louis is the go-to quality expert.
She's been with the company for more than nine years, starting as an intern and rising through industrial engineering, manufacturing engineering and production positions. Today, she leads the plant's quality special processes, where she creates innovative solutions to help ensure that John Deere customers receive consistently high-performing products.
A National Society of Black Engineers (NSBE) presentation introduced Louis to industrial and manufacturing engineering as a teenager. Today, through volunteering with NSBE and the Society of Women Engineers, Louis creates those moments for the next generation.
"Getting exposed to that at such an early age and having those role models, that was truly impactful for me," she says, inspiring her "to reach back and give that experience to someone because someone gave that experience to me." – AB
---
Ana María Martinez

38
President and Co-founder, Georgia Latino Law Foundation
Senior Staff Attorney, DeKalb State Court
Dunwoody
When Ana María Martinez, who is from Colombia, started law school at Georgia State, she didn't know any attorneys. Today, she works as a senior staff attorney in Division 6 of the DeKalb State Court.
In 2015, she co-founded the Georgia Latino Law Foundation. "Our goal is to diversify the legal community with vision and intention," she says. "There are only two Latino judges in Georgia, no Latina, and we're less than 1% of the bar even though we're an estimated 13% of the population."
She coordinates a "boot camp" for aspiring lawyers and a leadership academy that pairs them with mentors. Her organization also has disbursed more than $70,000 in fellowships. Martinez is the only Latina serving on the State Bar of Georgia's Board of Governors and is a member of the Leadership Georgia class of 2020. – CD
---
Mary Diane Martinez

38
Executive Director/Forensic Interviewer
Lily Pad SANE Center Inc.
Albany
Mary Diane Martinez was happy writing traffic tickets as a police officer in Albany when her boss suggested something new: forensic training to work with survivors of abuse and assault.
"I was very reluctant at first," she says, "but within three months I realized it was my calling."
Now, as executive director at the Lily Pad Sexual Assault and Nursing Examination (SANE) Center, some days she writes grants to fund the organization, which is open 24/7, but most days she deals directly with trembling, traumatized clients. "You see the worst of the worst but have to be able to sleep at night."
Martinez is also the Dougherty County child abuse protocol chair, meaning she oversees law enforcement as well as all child-welfare agencies to make sure they are up to date on procedure, and she offers expert testimony in courtrooms free of charge. – CD
---
Deanna Mathis

33
Director of Community Outreach and Corporate Giving
Shaw Industries
Dalton
A Dalton native, Deanna Mathis is committed to serving the community – in both her work and her volunteering – where she continues to make her home. She works as director of community outreach and corporate giving at Shaw, a position she's passionate about.
"I love things that grow and develop our community, whether that be entrepreneurship or the arts or our nonprofits," she says. "It's amazing to be able to work in a role for a company that values creating a better future for the community."
Her workday doesn't end at 5 p.m. In 2018, she and three co-founders opened Dalton Brewing Co. with the goal of creating a family-friendly gathering place downtown. At press time, the taproom was closed due to the pandemic, but to-go brews were available.
Mathis also serves on the boards of the Community Foundation of Northwest Georgia, the Creative Arts Guild and the United Way of Northwest Georgia. – KK
---
Jessica O'Connor

37
Deputy City Manager & Staff Attorney
City of Griffin
Griffin
Jessica O'Connor realized early that the law and public policy could be a prime tool for raising quality of life. As both an attorney in private practice and now a city official, she has worked diligently to use legal codes to remove substandard and blighted houses and buildings.
"Code enforcement sometimes sounds negative, but it's more about making sure that neighborhoods preserve their own identities and values," says O'Connor. "We're going to make sure as the government that we do whatever we can to keep that quality of life for you, regardless of where you live."
For O'Connor, her work and civic involvement are closely intertwined. Whether its her board service with the Salvation Army, work with the Griffin-Spalding Historical Society or the Spalding County United Way, the common thread is making the community a better place to live for everyone. – RS
---
Brent Pease

37
Co-founder, Executive Director
Kyle Pease

35
Co-founder, Chief Inspirational Officer
The Kyle Pease Foundation
Atlanta
Born with cerebral palsy, Kyle Pease just wanted a level playing field. "I don't want any shortcuts," he says. "I want to earn anything I get on my own merit."
After watching his brother Brent compete in the 2010 Louisville Ironman triathlon, Kyle had just one question: can a disabled person compete?
"What we discovered with endurance sports is that it's one of the most inclusive sporting activities," says Brent. "And inclusion is at the core of what we do."
Since 2011 the brothers have competed in more than 75 races together, including four Ironman triathlons. In October 2018, they became the first push-assisted team of brothers to complete the Ironman World Championship in Kona, Hawaii.
But that wasn't enough. In 2011, they founded the Kyle Pease Foundation to support persons with disabilities wanting to experience the thrill of competition. "In 2019, we supported 72 families," Brent says. "I don't think either of us expected it to become what it's become."
For first-time disabled Ironman triathletes, the costs are considerable – around $20,000. The foundation pays for everything regardless of need, so fundraising is a significant part of the work.
In addition to their day jobs – Kyle is a patient greeter at Piedmont Hospital and Brent trains high performance athletes with Dynamo Multisport – the brothers penned the book, Beyond the Finish, and added public speaking to their resumes.
"The number one message people need to hear today is that they have value," says Kyle. "Life is a gift, and we have to embrace that." – PR
---
Jonathan S.E. Perkins

39
Founder
Fountain City Slam
Columbus
Fountain City Slam is a youth literary arts foundation that uses creative writing and the performing arts to teach kids about self-expression and self-exploration.
Jonathan S.E. Perkins, an award-winning spoken word artist, founded the nonprofit in 2011 after reflecting on the impact that slam poetry had on his own life.
"I was thinking, 'How awesome would it be if young people, as young as elementary age, could take part in this?'" he says. "I originally started it just for the slam aspect, but that was nearly 10 years ago, and it's grown to be so much more."
Today, the organization offers creative writing workshops, open mic sessions and slam competitions for youth in Columbus.
"Ultimately I think we've created a movement of young artists that leverage their talents to positively impact their community," he says. – AB
---
Sarah Primrose

32
Associate
King and Spalding
Atlanta
Sarah Primrose likes solving the most difficult cases for her clients. Her practice focuses on financial restructuring, bankruptcy and other insolvency-related matters. She has worked on several large Chapter 11 debtor cases and has also represented creditors in several "mega cases."
"In this area of the law, there's an interesting mix of transactional and litigation work," she says. "There's a lot of complex issues. I really enjoy it, and I like a challenge."
Primrose dedicates upwards of 100 hours annually to work pro bono on Supreme Court appeals, juvenile justice reform and First Amendment rights. She serves on the United Way Young Professionals Board; volunteers with Wellspring Living, a group that works with sex trafficking victims; and is a member of the Junior League of Atlanta, where she volunteers on a variety of philanthropic projects. – JH
---
Mitch Robinson

35
Attorney
Baker & Hostetler LLP
Decatur
Mitch Robinson didn't grow up dreaming about becoming a lawyer. But as is often the case, fate stepped in and set Robinson on his path by providing him the opportunity to clerk for the first Black chief judge for the Middle District of Georgia, W. Louis Sands.
"After clerking with him, I learned really just how fortunate one can be to have a profession in the law," he says. "The law affords you an opportunity to have a seat at the table for important conversations."
What drives Robinson is his desire that everyone have a seat at the table and a voice. He is the president of the Emerging 100 of Atlanta and a trustee for Impact Church, and this year he was appointed by DeKalb County to a bipartisan ad-hoc commission focused on voting rights. – JH
---
Amanda Rostin

26
Project Manager
Lead Edge Design Group
Canton
Most people think of airports as stressful places, but Amanda Rostin believes an airport can be a vital, pleasurable hangout. "To me, they can function like a public park," she says.
Rostin graduated in 2016 with a civil engineering degree from the University of Georgia. Today she designs runways and hangars and works with airports to foster economic development, especially in rural areas. Thanks to $25 million in funding former Gov. Nathan Deal announced in 2018, 11 small airports around the state have been able to make improvements with a 25% match from local governments. That has kept Rostin and Lead Edge Design Group busy.
One of her favorite projects is the Washington-Wilkes County Airport. Her company added a 1,000-foot extension to create a 5,000-foot runway and a café for lingering. "It's the perfect place to fly in and out of for the Master's [golf tournament]," she says.
She also volunteers for KAOS Camp for special-needs children and the Cherokee County Historical Society. – CD
---
Merri Sherman

39
Executive Director
Greater Columbus Sports and Events Council
Columbus
In a unique twist, it was Merri Sherman's volunteer work that led her to a career in sports marketing. As executive director of the Greater Columbus Sports and Events Council, Sherman and her team are responsible for recruiting sporting events to create a positive economic impact on the city. Traditionally, those events generate $17 million annually.
"I've been involved with the Reindeer Run and golf tournament for over 20 years, which led me to coming on with the sports council in 2004," she says. "I love the people we get to meet, and we just like to showcase this place."
Sherman serves on the Columbus State University Athletic Board; on the committee for the Women's Giving Circle, which provides art programs for the Boys and Girls Club; and is an active volunteer at her church. – JH
---
Brian Sirmans

37
Educator/Department Chair
Lanier County High School
Lakeland
Brian Sirmans teaches in the same classroom he was in as a student and wants to have the same impact on his students that his teachers had on him.
Sirmans' educational philosophy is "compassion over compliance." He practices that not only in his classroom, but as chair of the Georgia Professional Standards Commission, the organization responsible for the preparation and certification of educators.
This award-winning educator's community service doesn't stop at the schoolhouse door. Sirmans, who once served as an intern in Gov. Zell Miller's office, has volunteered with the Red Cross, is a graduate of Leadership Lanier and has been the youth director in his church.
"I want to bring to the table an understanding and knowledge about education in South Georgia and bring more teachers into the pipeline." – MW
---
Julia Skinner

37
Founder and Director
Root
Atlanta
Julia Skinner founded Root, an Atlanta-based fermentation and food history company, to help people feel more connected to their food and each other.
Dubbed "historic food for the modern world," Root's workshops, online cooking courses, events and custom recipes teach people about the science and versatility of fermentation, a time-tested food preparation and preservation method that can help reduce food waste.
Through Root's programs, Skinner aims to cultivate a sense of curiosity and connectivity while serving the community. In addition to offering scholarship spots in her workshops and events, she teams with Umi Feeds to provide food to homeless people throughout Atlanta.
Nourishing her community is "kind of at the core of everything I do," she says. "Food is this inherently connected thing, and you want to create a culture around it that feels welcoming, special and inclusive." – AB
---
Shirley Anne Smith

35
Executive Director
Atlanta Fire Rescue Foundation
Atlanta
Shirley Anne Smith serves as founding director of the Atlanta Fire Rescue Foundation (AFRF), the philanthropic affiliate of the Atlanta Fire Rescue Department. She discovered the nonprofit when she was helping nine families that had just survived an apartment fire.
"You could say it caused a spark," she says, pun intended. "Googling 'how to help firefighters,' I found the job. I applied thinking it was a long shot."
Instead, it was a perfect fit. She celebrated four years on the job in August.
The AFRF assists the city's fire and rescue department, which protects more than 135 square miles of land in the city including Hartsfield-Jackson Atlanta International Airport, by providing equipment, training and community engagement primarily through fundraising, creating innovative education programs and through advocacy. This includes investing $70,000 in a pay study that culminated in an historic 20% pay increase announced in November 2019.
The passion for public service started early and was modeled in her service-oriented family. "I'm a community being," she says. "That was the philosophy of our household." – PR
---
Fabiola Charles Stokes

39
Global Sites Management Regional Lead, North America
Google
Smyrna
During a career in the nonprofit sector, with organizations including the Make-A-Wish Foundation and American Red Cross, Fabiola Charles Stokes developed a keen understanding of the role business can play in building quality of life. It is knowledge she continues to use at Google. She helped launch and support programs that increase access to technology, broaden and diversify the STEM pool for underrepresented candidates and provide local communities with resources and training.
"I was able to leverage my nonprofit background, experience and connections to help advance the community initiatives of Google," she says. "Consumers feel more comfortable engaging with companies that support their community."
She has worked with initiatives to bridge the digital divide by training and equipping disadvantaged communities. The digital coaching programs assisted 10,000 minority entrepreneurs to gain skills necessary to market their businesses online, attract investment and gain visibility for their products. – RS
---
Allan Soto

38
Founder and CEO
Soto ALG and Vinea Capital
Augusta
Allan Soto's companies assist adults with developmental disabilities.
"I try to take over where special ed leaves off at age 21," he says. "We help with soft skills like banking and grocery shopping to foster independence."
His empowering empire of 200 employees encompasses clinics and assisted-living homes from Wilkes County to Savannah, providing day care and assisted living arrangements for adults with developmental disabilities and helping children with autism and disabilities prepare for school.
A Johns Hopkins University economics grad, Soto originally wanted to be a doctor, but philanthropy beckoned. "I accidentally found what I was meant to do."
He also recently launched a chic restaurant – the Pineapple Ink Tavern – in Augusta and is active with the Heritage Academy, a no-cost private Christian school for underserved children. – CD
---
Ricky Walia

34
Chief Operating Officer
Walia Hospitality Group
Norcross
Ricky Walia has used a successful family restaurant as a springboard to create a catering and hospitality empire. What began as Atlanta's first Indian restaurant in 1992 is now a company of several local restaurants, event halls and a nationwide catering company. Up next: Turning his Masti Indian Street Eats restaurant into a national brand through franchising.
In addition to his passion for good food, Walia is dedicated to serving his community, and the global COVID-19 pandemic gave him an unprecedented opportunity to do just that. In partnership with other local businesses, Walia provided 15,000 prepackaged meals to 5,000 families in need.
"We just wanted to give back," he says. "And what better way to do that than to get people food, which is a necessity of life." – JH
---
Shara Wesley

39
Executive Director, Community Health & Center for Health Equity
Wellstar Health System
Smyrna
Shara Wesley knew about Dr. Anthony Fauci well before he became a household name due to COVID-19. Just like the nation's top infectious disease expert, Wesley uses science and numbers to create interventions that can send an entire community on a new health trajectory.
During the pandemic, Wesley has led the system's efforts to partner with public health departments to increase testing accessibility in Black and Latinx communities, as well as distribute prevention education and personal protection equipment.
"I organize our community health needs assessments and lead the strategy for how the system will address health disparities," she says. "I feel like public health is the perfect field for me to exercise my passion for people and my faith."
Wesley serves on the Cobb 2020 and Live Healthy Douglas public health advisory boards and is a board member of the Good Samaritan Health Center of Cobb County. – JH
---
Geneva West

39
Acquisition Program Manager, Robins Air Force Base
Founder and Executive Director, Real IMPACT Center Inc.
Macon
Geneva West leveraged a background in marketing and the arts to educate girls and their parents about STEM opportunities. Her nonprofit, Real IMPACT Center, offers summer camps, launched the Macon STEM Festival and hosts weekend and afterschool events that allow girls to learn coding, programming robots, building webpages, and designing cars.
One of the biggest challenges has been creating "a community of believers" around STEM and the reality that girls can do all those things – just like the boys.
"Hey, you can be an engineer, you could be a scientist, you can put this together, you can program a robot and be on our robotics team," she says. "Our mission is to inspire and expose girls to science, technology, engineering and math, while teaching life skills." – RS
---
Matt West

39
President
West Construction Company
Savannah
Growing up on his family's farm in Moultrie, Matt West learned the value of hard work. So when he had the opportunity to start his own commercial construction company, he didn't hesitate. Six years later, West's work is showcased in the Tybee Island Marine Science Center and Savannah's Bouhan Falligant law firm building.
"I saw my parents work very hard, and I've always been attracted to hard work and wanting to do better," West says. "One of the best parts of owning your own company is every day you get to decide what do you want to be when you grow up."
West's commitment to his community is evident through his service as a board member for Union Mission, the Ameris Bank Advisory Board, Savannah Area Chamber of Commerce and the YMCA of Coastal Georgia. He is also a member of the Rotary Club of Savannah. – JH
---
Varun Yarabarla

26
Development Lead
VentLife
Duluth
Varun Yarabarla had an entrepreneurial itch he hoped to scratch. He just didn't think it would happen this soon.
Graduating from Georgia Tech in 2016 with a degree in biomedical engineering and a passion to do good, Yarabarla was in his third year of medical school at the Philadelphia College of Osteopathic Medicine (PCOM) in March 2020 when he joined Vent-Life, a team of engineers, physicians and innovators developing a low-cost ventilator to use during the COVID-19 pandemic and beyond. A former Fulbright Research Scholar who studied Alzheimer's disease in Lausanne, Switzerland, Yarabarla is the youngest member of the team.
"I'm so glad I got to use my engineering degree," Yarabarla says. "When this opportunity presented itself, I jumped on it because I would have the chance to make an impact in the community, and the world." – PR