Columbus State creates virtual world for new students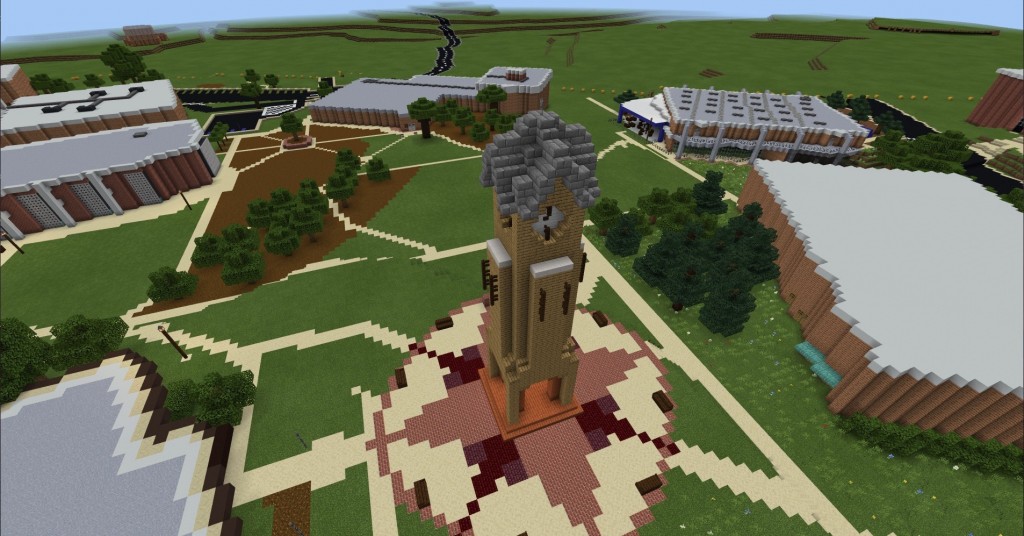 This weekend, Aug. 1-3, Columbus State University (CSU) would normally hold its Camp P.R.O.W.L. (Pride, Relationships, Opportunities, Wisdom, Leadership) in-person event to prepare students to successfully navigate their first year on campus. However, with the COVID-19 pandemic ongoing, the four-day, three-night orientation will now take place virtually via Minecraft, a popular video game.
At the direction of CSU President Chris Markwood, more than 30 CSU computer science professors and students and staff from University IT Services teamed up to create a virtual experience featuring campus tours and activities that provide a preview into the cougar nation. The team built the Minecraft world and set up hosting for both CSU campuses in less than two months. Maps and pictures were used to replicate CSU's unique characteristics, including its iconic clock tower, and engineering computations scaled the campus to size. A virtual bus shuttles participants from the main campus to the RiverPark campus.
During normal years, new faculty members join first-year students in P.R.O.W.L. interactive challenges, leadership development and other activities. But this year, the professors had to learn how to navigate the video game.
In an online letter to students, Markwood says, "This project serves as another game changer as we overcome obstacles and turn them into opportunities for growth amid the pandemic. I had no doubt that our innovative students, faculty and staff could rise to the challenge of creating an exciting virtual adventure for our incoming students."
Although Camp P.R.O.W.L. is being held virtually, CSU's fall semester will start Aug. 17 with a mix of onsite and online courses. Physical distancing and mask-wearing policies will be in place. The latest updates are available here.
Image provided by CSU.
Do you follow us? Find us on Linkedin, Facebook, Twitter and Instagram.