Georgia Trend Daily – July 20, 2020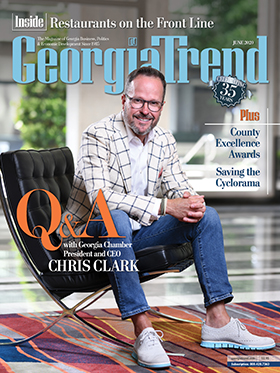 July 20, 2020 WABE 90.1
Staff reports that since the death of Georgia Congressman John Lewis, tributes have been made to honor the life and legacy of the civil rights icon. Lewis died on Friday of pancreatic cancer and is survived by his son, John Miles Lewis.
July 20, 2020 Georgia Trend – Exclusive!
Mary Ann DeMuth reports that Esports – or video gaming competitions – are more than just fun and games. They are a growing industry in Georgia and much of the technology used to develop the games is also used in movie previsualization, creating architecture designs and making TV productions. Proficiency in the technology is needed to fill jobs in all these industries.
July 20, 2020 Atlanta Journal-Constitution
Michael E. Kanell reports, pent-up, pandemic-constrained demand brought out the buyers last month, pushing up sales and prices in the metro Atlanta housing market, while the listings of homes for sale remained in short supply. Sales of homes jumped 31% from May to June in the 28-county area.
July 20, 2020 GlobalAtlanta.com
Trevor Williams reports that Georgia's trade offices continue to field requests for U.S.-made products and raw materials at a time when trade remains relatively dampened as economies grapple with COVID-19. In China, where the country is aiming to purchase more agricultural products to meet the terms of a trade deal signed with the U.S. in January, the state's Shanghai found importers requesting chicken paws (feet), wings and legs.
July 20, 2020 Savannah Morning News
Staff reports that Carver Financial Corporation will receive an additional $50 million in tax credits from the federal government to make direct capital investments in projects in underserved communities. Carver previously received a $30 million award in 2018.
July 20, 2020 Athens Banner-Herald
Lee Shearer reports that University of Georgia fundraising declined sharply in the past fiscal year, like many other colleges in pandemic-stricken 2020. But the university still comfortably exceeded its fundraising goal for an eight-year campaign.
July 20, 2020 Brunswick News
Hank Rowland reports, they came to Glynn County in 2011 looking for land and economic opportunity, the coast of Georgia having provided the means of survival for their Creek ancestors centuries ago. But the quest of the Kialegee, a Native American tribe numbering about 700 today, was in vain.
July 20, 2020 Georgia Recorder
Daniel C. Vock reports that a congressional race in a solid Republican northwestern Georgia district has garnered national attention, because a leading contender for the seat, Marjorie Taylor Greene, has QAnon conspiracy theories and made disparaging comments about Black people and Muslims.
July 20, 2020 Gainesville Times
Jeff Gill reports that Andrew Clyde and Matt Gurtler face each other in the Aug. 11 runoff for the U.S. House 9th District Republican nomination. Here's a look at where they stand on the issues.
July 20, 2020 The Center Square
Nyamekye Daniel reports, some officials in Georgia said they are shocked and confused about Gov. Brian Kemp's executive order that blocks local governments from requiring residents to wear masks. Senate Minority Whip Harold Jones II, D-Augusta, said when he voted to allow Kemp to have more authority during the COVID-19 pandemic, he thought it would ensure blanket safety precautions for all Georgians.
July 20, 2020 Capitol Beat News
Dave Williams reports that a diverse quartet of leaders representing cities and counties, schools, health-care workers and businesses across Georgia are calling on Congress to include local governments in a new economic stimulus package. Legislation the U.S. House of Representatives passed in May includes $1 trillion for state and local governments suffering a huge loss in tax revenues resulting from the pandemic's economic impact.
July 20, 2020 Atlanta Journal-Constitution
Mark Niesse reports that more than 700 Georgia voters incorrectly received nonpartisan absentee ballots instead of Democratic or Republican ballots for the state's upcoming primary runoff election, the secretary of state's office said Friday. Those voters are being mailed replacement ballots, along with a letter asking them to destroy their old ballots.