Georgia Trend Daily – June 10, 2020
June 10, 2020 11 Alive
Staff reports that voting in Georgia brought long lines and delays for many in metro Atlanta. The Georgia primary was moved to June because of the coronavirus pandemic. Millions of Georgia voters requested absentee ballots, many for the first time.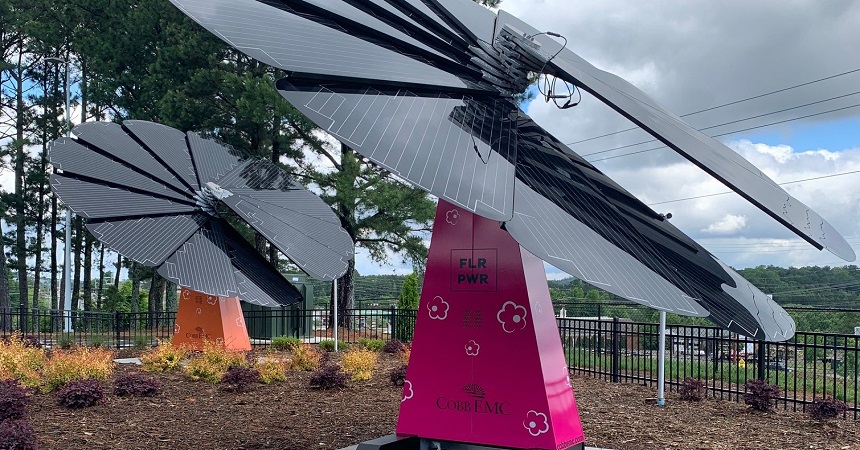 June 10, 2020 Georgia Trend – Exclusive!
Mary Ann DeMuth reports that on Friday, June 12, Cobb EMC, a member-owned not-for-profit electric cooperative, and Gas South, an Atlanta-based natural gas provider, are opening an innovative Solar Flower Garden on the Cobb EMC campus in Marietta. The garden will feature three 18-foot solar flowers installed along Highway 41.
June 10, 2020 Atlanta Journal-Constitution
Kelly Yamanouchi reports that Hartsfield-Jackson International has halted the bidding process for new contracts for airport restaurants, citing the upheaval caused by the coronavirus pandemic. Contracting for airport concessions had already been delayed for years amid a federal investigation into Atlanta City Hall corruption.
June 10, 2020 The Center Square
Staff reports that eighteen companies with headquarters located in Georgia earned a place on Fortune magazine's 2020 list ranking enterprises with the 500 highest fiscal-year revenues in the nation. Home Depot finished 26th on Fortune's extended ranking, making the company the state's highest revenue-generating company, according to the Fortune data released earlier this month.
June 10, 2020 Augusta Chronicle
Staff reports that top Army officials are considering renaming bases named after Confederate leaders, including Fort Gordon, after ongoing protests that have spotlighted racial issues in America. According to USA Today, Army Col. Sunset Belinsky said Monday evening.reported that Defense Secretary Mark Esper and Army Secretary Ryan McCarthy signaled their willingness to discuss scrapping Confederate names on forts across the country.
June 10, 2020 GPB
Sarah Rose reports, driving through the historic part of Kennesaw's downtown area, Wildman's Civil War Surplus store has always been hard to miss. Several iterations of Confederate flags loom from the upper balcony. A sign reading "WHITE HISTORY YEAR" greets visitors next to the front door.
June 10, 2020 Georgia.org
Staff reports that the Georgia Department of Economic Development (GDEcD) today announced that Mark Jaronski, a 25-year travel and tourism industry leader and veteran Disney marketing executive, will lead Explore Georgia, the state tourism office within the Georgia Department of Economic Development.
June 10, 2020 Gwinnett Daily Post
Curt Yeomans reports that Gwinnett County businesses can apply for funding to help them recover from COVID-19 novel coronavirus pandemic, county officials said. The county has $20 million in federal CARES Act loans and grants that it can distribute to businesses.
June 10, 2020 New York Times
Richard Fausset, Reid J. Epstein and Rick Rojas report that Georgia's statewide primary elections on Tuesday were overwhelmed by a full-scale meltdown of new voting systems put in place after widespread claims of voter suppression during the state's 2018 governor's election. Scores of new state-ordered voting machines were reported to be missing or malfunctioning, and hourslong lines materialized at polling places across Georgia.
June 10, 2020 Georgia Recorder
Jill Nolin, Ross Williams, Stanley Dunlap and John McCosh report, at the Fulton County precinct in the former Fanplex complex on Hank Aaron Drive downtown, perspiration beaded on Carlen Funk's face around her mask as she handed out water and snacks to the hundreds of people lined up to vote inside the long-shuttered arcade. It was 4:15 p.m. and she'd already been to two other precincts.
June 10, 2020 Brunswick News
Terry Dickson reports, when the Georgia General Assembly reconvenes Friday after a long break for the coronavirus, the state Senate will take up a House bill that could place state heritage lands and structures in private hands. The Georgia House overwhelmingly approved House Bill 906, which proponents say could put state assets under the control of people who could better care for them while wary opponents assert it could endanger some critically important, environmentally sensitive and historic sites.
June 10, 2020 Capitol Beat News
Dave Williams reports, that Georgia's U.S. Senate primary went into the wee hours Wednesday with the result far from uncertain. With results trickling in very slowly in an election held with new voting machines and during the midst of a global pandemic, investigative journalist Jon Ossoff was on the edge of being forced into an August runoff for the right to challenge incumbent Republican Sen. David Perdue.
June 10, 2020 Atlanta Journal-Constitution
Jim Galloway writes, according to Ryan Anderson, who operates the data tabulation website GeorgiaVotes.com, 62% of voters who cast in-person and absentee ballots as of last Friday didn't participate in 2016 primaries. New voters are often angry voters. They make incumbents nervous.