Cobb EMC unveils flower power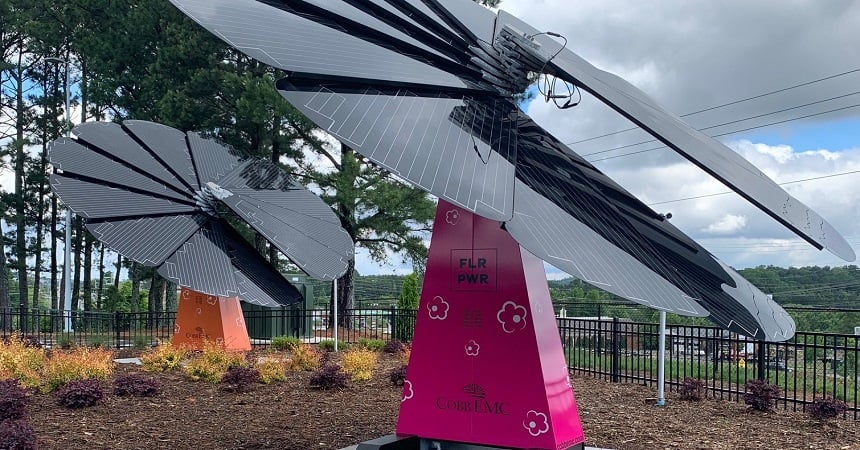 On Friday, June 12, Cobb EMC, a member-owned not-for-profit electric cooperative, and Gas South, an Atlanta-based natural gas provider, are opening an innovative Solar Flower Garden on the Cobb EMC campus in Marietta. The garden will feature three 18-foot solar flowers installed along Highway 41. They're part of a larger solar energy and battery storage project that's helping Cobb EMC learn how to better support members through clean, renewable energy.
Like a sunflower, the garden's Smartflowers are designed to track the sun across the sky throughout the day, catching every ray at the best angle for maximum efficiency. On a sunny day, one Smartflower can produce enough energy to power a small home or charge an electric vehicle or other appliance. One Smartflower can produce up to 45% of the average Cobb EMC home's power usage in a year. Compared to traditional, roof-mounted solar panels, the Smartflower is up to 40% more efficient.
After a year of operation, the Solar Flower Garden's Smartflowers will produce 15,000 kilowatts of clean energy, which is the equivalent of:
175 tree seedlings grown for 10 years
1,193 gallons of gasoline not needed
3,705 fully charged smartphones for a year
Educational signage about solar energy, battery storage and electric vehicles (EVs) is part of the garden as is an EV fast charger for public use.
Cobb EMC and Gas South created the garden as a place for the community to gather and learn about ways to reduce carbon footprint and increase solar power usage. Schools, scout troops, businesses and other organizations are invited to host learning events there. Admission is free and the garden is open from dawn until dusk.
Photo provided by Cobb EMC.
Do you follow us? Find us on Linkedin, Facebook, Twitter and Instagram.