Innovative and accessible graduate education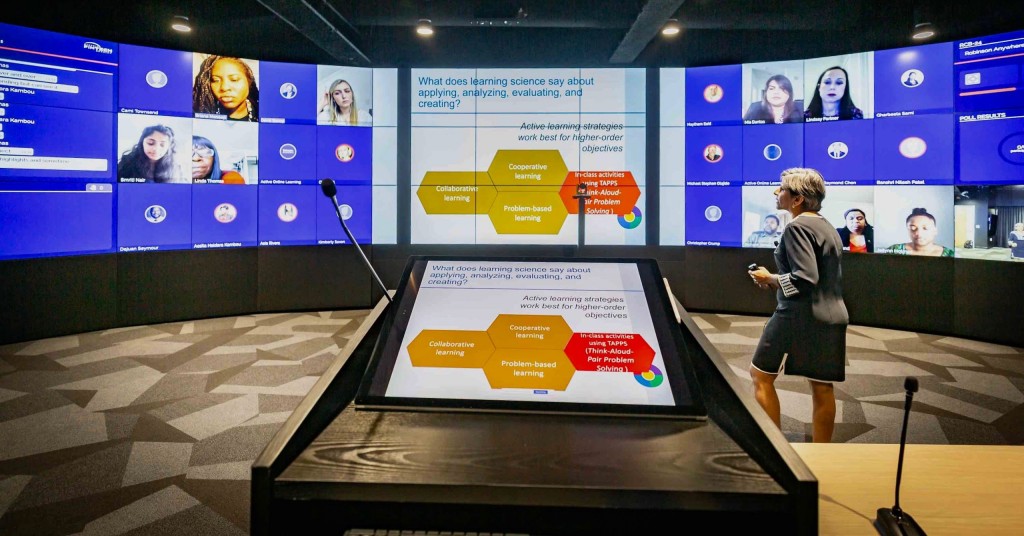 Beginning this fall, students at Georgia State University's Robinson College of Business will be able to attend graduate courses from anywhere – in the state or across the globe — with the aid of leading-edge technology. That's the point of Robinson Anywhere, the culmination of the college's year-long effort to increase the access and convenience of its graduate business programs.
Forget the balky Zoom video courses made necessary by the COVID-19 pandemic. Robinson Anywhere will offer a Digital Board Room powered by mashme.io technology, a real-time, online multimedia platform built for collaboration. The technology features 27 high-definition (HD) video screens, HD robotic cameras that follow instructors around the room, augmented and virtual reality experiences, digital whiteboards, virtual breakout rooms and student polling.
In addition, Robinson Anywhere includes digitally enabled classrooms and teaching studios on the Atlanta campus that allow students attending physically to interact with instructors, guest speakers and other students. Robinson is the first school in Georgia and the third in the U.S. to incorporate the technology, which it says is the most advanced educational platform of its kind in a business school in the South.
The investment in Robinson Anywhere is the college's latest effort to pioneer the way graduate business education is delivered. Other initiatives include offering a part-time MBA and the opening of the Buckhead Center for graduate and executive education.
Learn more about MBA programs in Georgia in this month's feature, "The Launch Pad."
Photo of Ritu Lohtia, associate professor of marketing, in the Robinson Anywhere Digital Board Room, provided by Robinson College of Business.
Do you follow us? Find us on Linkedin, Facebook, Twitter and Instagram.